Why You Should Rethink How You Stretch Your Feet
Joffrey's April Daly. Photo by Quinn Wahrton
Go into almost any dance studio, and you'll find students anxiously trying to stretch their feet. They'll force their body's weight over their toes, or ask a friend to sit on their arches. But stretching your feet might not actually be the most effective strategy to improve your line.
"Stretching is a strategy to go after a tight muscle," explains Mandy Blackmon, a physical therapist for Atlanta Ballet. "But a better-looking foot is not just a range-of-motion issue. What most dancers are after when they want 'better feet' is more about strength and support of the bony structure."
---
To that end, Blackmon recommends that dancers stretch their calves as well as pushing their pointe. Having a good range of motion in dorsiflexion (flex) and plantar flexion (pointe) is key to keeping your feet and ankles healthy, and tight calves can restrict movement in your ankle joint.
Working through your full pointe while seated on the floor with an exercise band is a time-tested warm-up, stretch and strengthener all in one. Blackmon notes that exercise-band work is not just for ballet dancers: "Modern dancers need that strength, too, maybe even more because they don't have the structure of the pointe shoe to work against."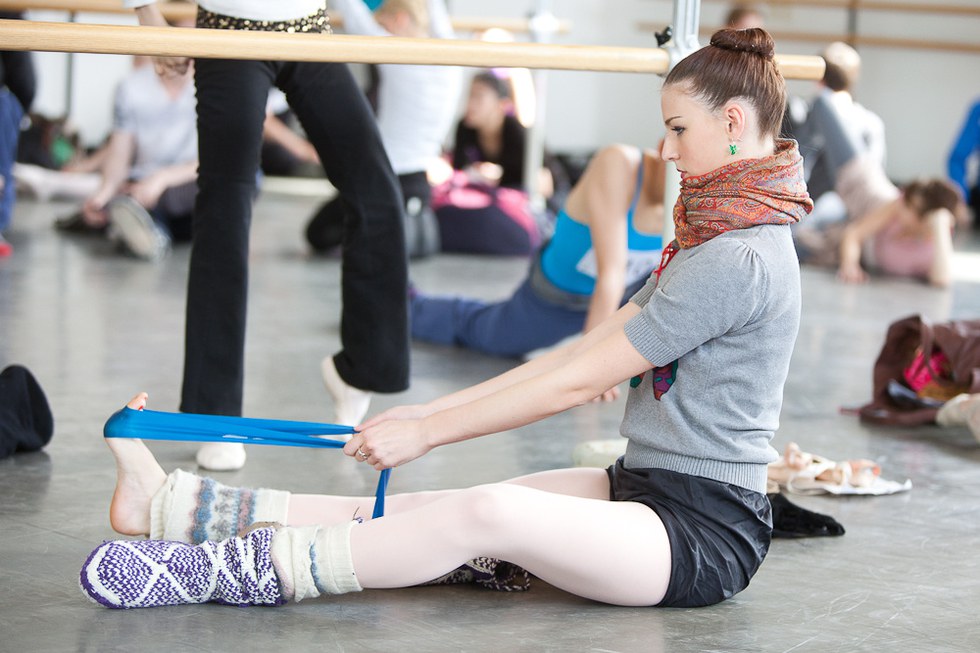 Matthew Murphy for Pointe
For Kathleen Breen Combes, a principal dancer with Boston Ballet, the best foot stretch comes with the process of shaping her pointe shoes. With new shoes on, Combes uses her body weight to push over her pointe shoe, getting a stretch for the top of her foot, even as the underside works to shape the box and shank of her shoe. Blackmon notes that this can be a safe and effective method because it is not simply a passive stretch, but requires foot strength, as well.
As for the controversial foot stretcher? "It can be safe to use a foot stretcher under the supervision of a teacher, say, in a tendu exercise," says Mariaelena Ruiz, director of the professional program at Cary Ballet Conservatory. "But don't sit there for an hour. Every stretch has to be a movement to be useful, and there is no stretch without strength."
A block in either end of your range—whether flexing or pointing—can be an early sign of injury. Get treated before you develop compensations, says Blackmon. Soft-tissue work in the calves and mobilizations performed by a physical therapist can open up your range of motion and keep your limbs healthy.
News
Jul. 18, 2019 05:02PM EST
Frozen put profit-sharing arrangements in place prior to the Equity deal. Photo by Deen van Meer, Courtesy Disney Theatrical Group
For a Broadway dancer, few opportunities are more exciting than being part of the creation of an original show. But if that show goes on to become wildly successful, who reaps the benefits? Thanks to a new deal between Actors' Equity Association and The Broadway League, performers involved in a production's development will now receive their own cut of the earnings.
Keep reading...
Show less
NBCUniversal
Jellicle obsessives, rejoice: There's a new video out that offers a (surprisingly substantive) look at the dancing that went down on the set of the new CATS movie.
Keep reading...
Show less
Via Wikimedia Commons
When Dr. Mae Jemison was growing up, she was obsessed with space. But she didn't see any astronauts who looked like her.
"I said, Wait a minute. Why are all the astronauts white males?" she recounts in a CNN video. "What if the aliens saw them and said, Are these the only people on Earth?"
Keep reading...
Show less
Wayne McGregor. Photo by Johan Persson, Courtesy ROH
It's no surprise that dancers make some of the best TED Talk presenters. Not only are they great performers, but they've got unique knowledge to share. And they can dance!
If you're in need of a midweek boost, look no further than these eight presentations from some incredibly inspiring dance artists.
Keep reading...
Show less