Why You Should Rethink How You Stretch Your Feet
Joffrey's April Daly. Photo by Quinn Wahrton
Go into almost any dance studio, and you'll find students anxiously trying to stretch their feet. They'll force their body's weight over their toes, or ask a friend to sit on their arches. But stretching your feet might not actually be the most effective strategy to improve your line.
"Stretching is a strategy to go after a tight muscle," explains Mandy Blackmon, a physical therapist for Atlanta Ballet. "But a better-looking foot is not just a range-of-motion issue. What most dancers are after when they want 'better feet' is more about strength and support of the bony structure."
---
To that end, Blackmon recommends that dancers stretch their calves as well as pushing their pointe. Having a good range of motion in dorsiflexion (flex) and plantar flexion (pointe) is key to keeping your feet and ankles healthy, and tight calves can restrict movement in your ankle joint.
Working through your full pointe while seated on the floor with an exercise band is a time-tested warm-up, stretch and strengthener all in one. Blackmon notes that exercise-band work is not just for ballet dancers: "Modern dancers need that strength, too, maybe even more because they don't have the structure of the pointe shoe to work against."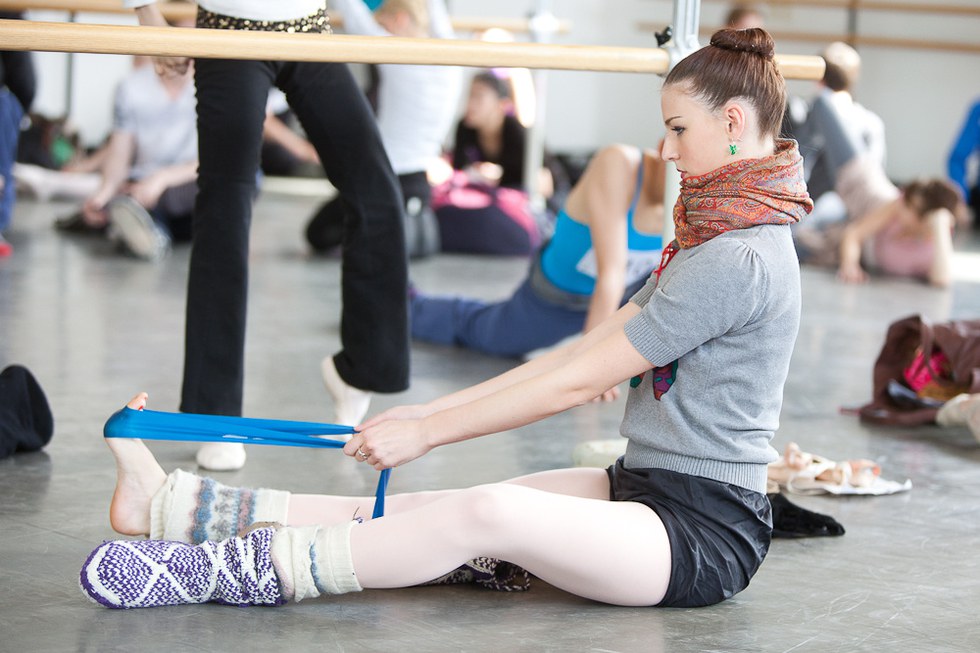 Matthew Murphy for Pointe
For Kathleen Breen Combes, a principal dancer with Boston Ballet, the best foot stretch comes with the process of shaping her pointe shoes. With new shoes on, Combes uses her body weight to push over her pointe shoe, getting a stretch for the top of her foot, even as the underside works to shape the box and shank of her shoe. Blackmon notes that this can be a safe and effective method because it is not simply a passive stretch, but requires foot strength, as well.
As for the controversial foot stretcher? "It can be safe to use a foot stretcher under the supervision of a teacher, say, in a tendu exercise," says Mariaelena Ruiz, director of the professional program at Cary Ballet Conservatory. "But don't sit there for an hour. Every stretch has to be a movement to be useful, and there is no stretch without strength."
A block in either end of your range—whether flexing or pointing—can be an early sign of injury. Get treated before you develop compensations, says Blackmon. Soft-tissue work in the calves and mobilizations performed by a physical therapist can open up your range of motion and keep your limbs healthy.
Many of the dancers of 10000 Gestures weren't wearing much clothing when they started climbing on audience members. Photo by Ursula Kaufmann via nyuskirball.org
Some of my favorite experiences as both an audience member and a dancer have involved audience participation. Artists who cleverly use participatory moments can make bold statements about the boundaries between performer and spectator, onstage and off. And the challenge to be more than a passive viewer can redefine an audience's relationship to what they're watching. But all the experiences I've loved have had something in common: They've given audiences a choice.
A few weeks back, I had a starkly different experience—one that has caused me to think deeply about how consent should play into audience-performer relationships.
Keep reading...
Show less
This high school dance team's Harry Potter routine has gone viral. Screenshot via ThePac Walden Grove's YouTube channel.
What happens when you mix two really good things together? Sometimes, it can be magical. It's practically guaranteed when one of those elements is the wizarding world of Harry Potter, and the other is—wait for it—dance-team–style hip hop.
Keep reading...
Show less
News
Oct. 12, 2018 11:04AM EST
Adam McKinney's HaMapah/The Map. Photo by Lafotographeuse, Courtesy McKinney
When the Bible spoke of the "ingathering of the exiles," it didn't have dance in mind. Yet, this month, more than 100 dancers, choreographers and scholars from around the world will gather at Arizona State University to celebrate the impact of Jews and the Jewish experience on dance. From hora to hip hop, social justice to somatics, ballet to Gaga, the three-day event (Oct. 13–15) is "deliberately inclusive," says conference organizer and ASU professor Naomi Jackson.
Keep reading...
Show less


Get Dance Magazine in your inbox