Why You Should Rethink How You Stretch Your Feet
Joffrey's April Daly. Photo by Quinn Wahrton
Go into almost any dance studio, and you'll find students anxiously trying to stretch their feet. They'll force their body's weight over their toes, or ask a friend to sit on their arches. But stretching your feet might not actually be the most effective strategy to improve your line.
"Stretching is a strategy to go after a tight muscle," explains Mandy Blackmon, a physical therapist for Atlanta Ballet. "But a better-looking foot is not just a range-of-motion issue. What most dancers are after when they want 'better feet' is more about strength and support of the bony structure."
---
To that end, Blackmon recommends that dancers stretch their calves as well as pushing their pointe. Having a good range of motion in dorsiflexion (flex) and plantar flexion (pointe) is key to keeping your feet and ankles healthy, and tight calves can restrict movement in your ankle joint.
Working through your full pointe while seated on the floor with an exercise band is a time-tested warm-up, stretch and strengthener all in one. Blackmon notes that exercise-band work is not just for ballet dancers: "Modern dancers need that strength, too, maybe even more because they don't have the structure of the pointe shoe to work against."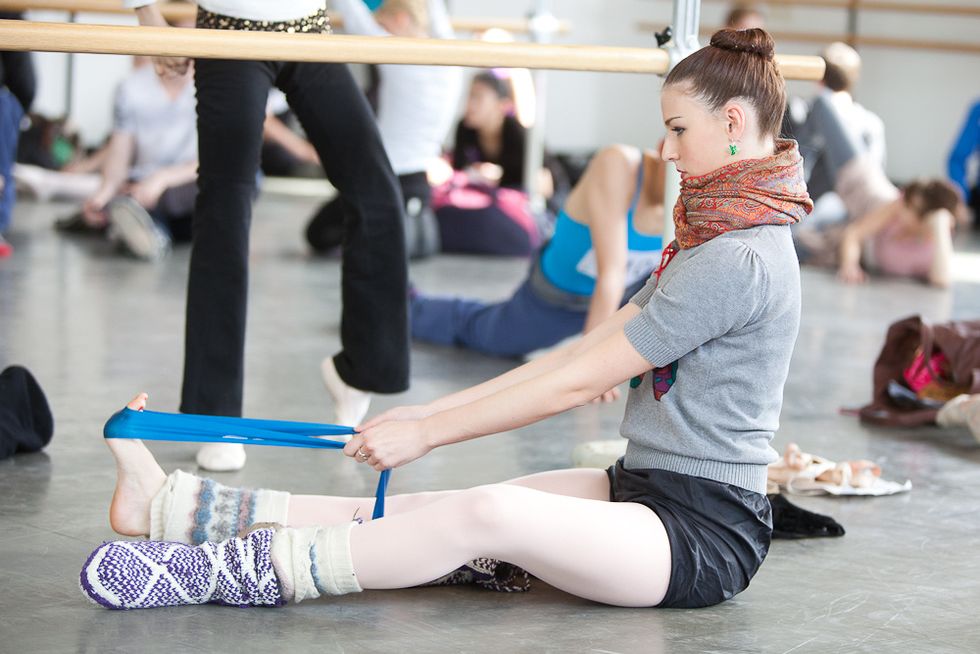 Matthew Murphy for Pointe
For Kathleen Breen Combes, a principal dancer with Boston Ballet, the best foot stretch comes with the process of shaping her pointe shoes. With new shoes on, Combes uses her body weight to push over her pointe shoe, getting a stretch for the top of her foot, even as the underside works to shape the box and shank of her shoe. Blackmon notes that this can be a safe and effective method because it is not simply a passive stretch, but requires foot strength, as well.
As for the controversial foot stretcher? "It can be safe to use a foot stretcher under the supervision of a teacher, say, in a tendu exercise," says Mariaelena Ruiz, director of the professional program at Cary Ballet Conservatory. "But don't sit there for an hour. Every stretch has to be a movement to be useful, and there is no stretch without strength."
A block in either end of your range—whether flexing or pointing—can be an early sign of injury. Get treated before you develop compensations, says Blackmon. Soft-tissue work in the calves and mobilizations performed by a physical therapist can open up your range of motion and keep your limbs healthy.
Rehearsal of Yvonne Rainer's Parts of Some Sextets. Photo by Paula Court, Courtesy Performa.
Yvonne Rainer's Parts of Some Sextets (AKA "the mattress dance") hasn't been revived since it premiered in 1965. Nor has Rainer had any wish to do it again, to ask performers to heave 10 mattresses around while carrying out 31 tasks that changed every 30 seconds. It was an unwieldy, difficult dance. (Even the title is unwieldy.) But Emily Coates, who has danced in Rainer's work for 20 years, became curious about this piece and was determined to see it again—and to dance in it. She will get her wish November 15–17, when the mattress dance will be performed as part of the Performa 19 Biennial.
Keep reading...
Show less
Ailey II artistic director Troy Powell teaching an Ailey Workshop at NYCDA. Courtesy NYCDA
Back in 2011 when Joe Lanteri first approached Katie Langan, chair of Marymount Manhattan College's dance department, about getting involved with New York City Dance Alliance, she was skeptical about the convention/competition world.
"But I was pleasantly surprised by the enormity of talent that was there," she says. "His goal was to start scholarship opportunities, and I said okay, I'm in."
Today, it's fair to say that Lanteri has far surpassed his goal of creating scholarship opportunities. But NYCDA has done so much more, bridging the gap between the convention world and the professional world by forging a wealth of partnerships with dance institutions from Marymount to The Ailey School to Complexions Contemporary Ballet and many more. There's a reason these companies and schools—some of whom otherwise may not see themselves as aligned with the convention/competition world—keep deepening their relationships with NYCDA.
Now, college scholarships are just one of many ways NYCDA has gone beyond the typical weekend-long convention experience and created life-changing opportunities for students. We rounded up some of the most notable ones:
Keep reading...
Show less
Left: Hurricane Harvey damage in Houston Ballet's Dance Lab; Courtesy Harlequin. Right: The Dance Lab pre-Harvey; Nic Lehoux, Courtesy Houston Ballet.
"The show must go on" may be a platitude we use to get through everything from costume malfunctions to stormy moods. But when it came to overcoming a literal hurricane, Houston Ballet was buoyed by this mantra to go from devastated to dancing in a matter of weeks—with the help of Harlequin Floors, Houston Ballet's longstanding partner who sprang into action to build new floors in record time.
Keep reading...
Show less