Why You Should Rethink How You Stretch Your Feet
Joffrey's April Daly. Photo by Quinn Wahrton
Go into almost any dance studio, and you'll find students anxiously trying to stretch their feet. They'll force their body's weight over their toes, or ask a friend to sit on their arches. But stretching your feet might not actually be the most effective strategy to improve your line.
"Stretching is a strategy to go after a tight muscle," explains Mandy Blackmon, a physical therapist for Atlanta Ballet. "But a better-looking foot is not just a range-of-motion issue. What most dancers are after when they want 'better feet' is more about strength and support of the bony structure."
---
To that end, Blackmon recommends that dancers stretch their calves as well as pushing their pointe. Having a good range of motion in dorsiflexion (flex) and plantar flexion (pointe) is key to keeping your feet and ankles healthy, and tight calves can restrict movement in your ankle joint.
Working through your full pointe while seated on the floor with an exercise band is a time-tested warm-up, stretch and strengthener all in one. Blackmon notes that exercise-band work is not just for ballet dancers: "Modern dancers need that strength, too, maybe even more because they don't have the structure of the pointe shoe to work against."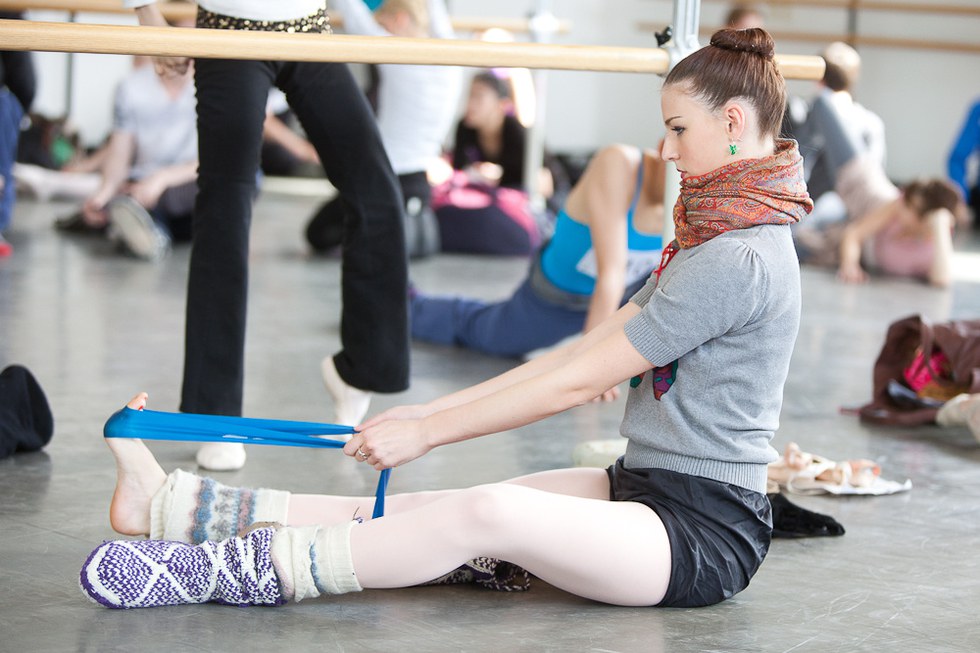 Matthew Murphy for Pointe
For Kathleen Breen Combes, a principal dancer with Boston Ballet, the best foot stretch comes with the process of shaping her pointe shoes. With new shoes on, Combes uses her body weight to push over her pointe shoe, getting a stretch for the top of her foot, even as the underside works to shape the box and shank of her shoe. Blackmon notes that this can be a safe and effective method because it is not simply a passive stretch, but requires foot strength, as well.
As for the controversial foot stretcher? "It can be safe to use a foot stretcher under the supervision of a teacher, say, in a tendu exercise," says Mariaelena Ruiz, director of the professional program at Cary Ballet Conservatory. "But don't sit there for an hour. Every stretch has to be a movement to be useful, and there is no stretch without strength."
A block in either end of your range—whether flexing or pointing—can be an early sign of injury. Get treated before you develop compensations, says Blackmon. Soft-tissue work in the calves and mobilizations performed by a physical therapist can open up your range of motion and keep your limbs healthy.
Dance As Activism
May. 24, 2018 11:54AM EST
Rebecca Warthen teaching at a public school in Dominica. Photo courtesy Peace Corps
Rebecca Warthen was on a year-long assignment with the Peace Corps in Dominica last fall when a storm started brewing. A former dancer with North Carolina Dance Theatre (now Charlotte Ballet) and Columbia City Ballet, she'd been sent to the Caribbean island nation to teach ballet at the Dominica Institute of the Arts and in outreach classes at public schools.
But nine and a half months into her assignment, a tropical storm grew into what would become Hurricane Maria—the worst national disaster in Dominica's history.
Keep reading...
Show less
In The Studio
May. 24, 2018 11:26AM EST
Choreographer Sidra Bell, Photo courtesy David Flores Productions
Sidra Bell is one of those choreographers whose movement dancers are drawn to. Exploring the juxtaposition of fierce athleticism and pure honesty in something as simple as stillness, her work brings her dancers to the depths of their abilities and the audience to the edge of their seats.
We stepped into the studio with Sidra Bell Dance New York as they prepare for their upcoming season at New York Live Arts.

Keep reading...
Show less
News
May. 18, 2018 12:05PM EST
The inimitable Alicia Alonso, now 97, remains at the helm of Ballet Nacional de Cuba. Photo by Leysis Quesada, Courtesy BNC
On the occasion of its 70th anniversary, the Ballet Nacional de Cuba tours the U.S. this spring with the resolute Cuban prima ballerina assoluta Alicia Alonso a the helm. Named a National Hero of Labor in Cuba, Alonso, 97, has weathered strained international relations and devastating fiscal challenges to have BNC emerge as a world-class dance company. Her dancers are some of ballet's best. On offer this time are Alonso's Giselle and Don Quixote. The profoundly Cuban company performs in Chicago May 18–20, Tampa May 23, Washington, D.C., May 29–June 3 and Saratoga, New York June 6–8.
The baby swan can help strengthen your serratus anterior. Modeled by Marimba Gold-Watts, photographed by Jayme Thornton
Ever wonder why some dancers' port de bras appears to be disconnected from their body? It typically comes down to how they stabilize their shoulder blades, says Marimba Gold-Watts, Pilates instructor to dancers like Robert Fairchild.
"Dancers often hear the cue to pull down on their latissimus,"—the biggest muscle in the back—"which doesn't allow the shoulder blades to lie flat," she says. "It makes the bottom tips of the shoulder blades wing, or flare out, off the rib cage."
Keep reading...
Show less
Rant & Rave
May. 23, 2018 04:25PM EST
Jessica Lang's Her Notes, one of ABT's few recent commissions from women. Photo by Rosalie O'Connor
A few weeks ago, American Ballet Theatre announced the A.B.T. Women's Movement, a new program that will support three women choreographers per season, one of whom will make work on the main company.
"The ABT Women's Movement takes inspiration from the groundbreaking female choreographers who have left a lasting impact on ABT's legacy, including Agnes de Mille and Twyla Tharp," said artistic director Kevin McKenzie in a press release.
Hypothetically, this is a great idea. We're all for more ballet commissions for women. But the way ABT has promoted the initiative is problematic.
Keep reading...
Show less
Cloud in Beth Gill's Catacomb. Photo by Brian Rogers, Courtesy Gill
Some dancers move to New York City with their sights set on a dream job: that one choreographer or company they have to dance for. But when Maggie Cloud graduated from Florida State University in 2010, she envisioned herself on a less straightforward path.
"I always had in mind that I would be dancing for different people," she says. "I knew I had some kind of range that I wanted to tap into."

Keep reading...
Show less


Get Dance Magazine in your inbox