Jason Koerner, courtesy of the National YoungArts Foundation
While tapping to Martin Luther King Jr.'s "I Have a Dream" speech, Dario Natarelli finds a way to make something we have all heard before sound new. His choreography alternately matches the rhythmic cadence of King's words and honors the meaningful pauses between them. Watching the masterful control he has over his footwork and dynamics, it's no wonder tap sensation Michelle Dorrance scooped him up to perform with her and serve as her assistant choreographer at Vail Dance Festival—before he's even graduated from college.
Keep reading...
Show less
News
Mar. 22, 2019 09:02AM EST
Photo by Howard Sherman, Courtesy SDC
Karen Azenberg, a past president of the Stage Directors and Choreographers Society, stumbled on something peculiar before the union's 2015 move to new offices: a 52-year-old sealed envelope with a handwritten note attached. It was from Agnes de Mille, the groundbreaking choreographer of Oklahoma! and Rodeo. De Mille, a founding member of SDC, had sealed the envelope with gold wax before mailing it to the union and asking, in a separate note, that it not be opened. The reason? "It is the outline for a play, and I have no means of copyrighting…The material is eminently stealable."
Keep reading...
Show less
Paula Lobo, Courtesy Matt Ross PR
It was only a matter of time before dance super couple Sara Mearns and Joshua Bergasse did a major project together.
After all, the newlyweds first met when Mearns, a New York City Ballet star, was being considered for a part on the TV show "Smash," which Bergasse was choreographing. They hit it off, but the role ended up getting cut.

Fast-forward to today, and they're working on their first full-length musical together: I Married an Angel, which opens next week as part of New York City Center's Encores! season, with Bergasse as director and choreographer and Mearns as the star.
Keep reading...
Show less
News
Mar. 06, 2019 04:00PM EST
Smokey Joe's Cafe cast members Dionne D. Figgins and Jelani Remy rehearse their playful and passionate duet from the song "Spanish Harlem."
As soon as we saw the current off-Broadway revival of Smokey Joe's Cafe, directed and choreographed by Tony nominee Joshua Bergasse, we had to know just how it did it. In 90 minutes, the cast of nine races through 40 songs by prolific pop songwriting duo Jerry Leiber and Mike Stoller. The show includes megahits from the last century—like 1957's "Jailhouse Rock" and 1963's "On Broadway"—and they're all decked out with dancing.
With no dialogue and no narrative, there's plenty of room for Bergasse's choreographic mind to run wild. "Dance plays a huge role in this show," says Bergasse. "Most of these songs were written to get people out on the dance floor, so you kind of can't stop your body from moving." Even though the hits are old, the show definitely isn't stuck in a time warp. "We wanted to make the dancing feel like it isn't of one specific time." You'll see social dances from the '50s and '60s, but Bergasse quickly mentions Michael Jackson as a big influence as well. (Yes, the moonwalk makes an appearance, as do more current crazes like the Nae Nae.)

Keep reading...
Show less
Andy Blankenbuehler in a Bandstand reheasal. Photo by Rachel Papo
Keep reading...
Show less
Photo by Jerry Dalia
It's mad-dash time on Broadway, as shows scramble to qualify for the June 11 Tony Awards. "It is a crazy season," says Andy Blankenbuehler, who won last year for choreographing Hamilton. And the 10 musicals arriving in the two months preceding the deadline, April 27, "are all over the map," he says. "So many different audiences will find a show to really be in love with."
One of them is his own, Bandstand, set in 1945 as GIs resume their lives after World War II. Working with composer Richard Oberacker and writer Robert Taylor, "Andy the Director" focused initially on "music, text, characters—establishing the world," he says, to tell the story of veterans forming a big band.
BandstandPhoto by Jerry Dalia
Keep reading...
Show less
Get Dance Magazine in your inbox
Photo by Jayme Thornton
He's the Emmy-winning, Tony-nominated Joshua Bergasse in the playbill, but just "Josh Bergasse" (pronounced bare-GAHSS) when he affably introduces himself to the 70 people assembled at Broadway Dance Center for his advanced theater class.
They know who he is, of course, and it's the reason they're there. Reese Snow, BDC's associate executive director, calls him "one of the finest theater teachers in New York." He's also the choreographer of the Broadway shows Gigi and On the Town (for which he won the Astaire Award and that Tony nomination), the off-Broadway hits Cagney and Sweet Charity, the NBC series "Smash," and the new musical Charlie and the Chocolate Factory, opening this month at the Lunt-Fontanne Theatre.
Bergasse puts on Adele and starts a strenuous, fluid warm-up to prepare the class for the taxing but lyrical combinations they will dance to Sammy Davis Jr.'s swing-happy rendition of "The Goin's Great," from 1969. "A lot of my movement has fast directional changes, so I try to get their thighs and core really strong and warm," he says.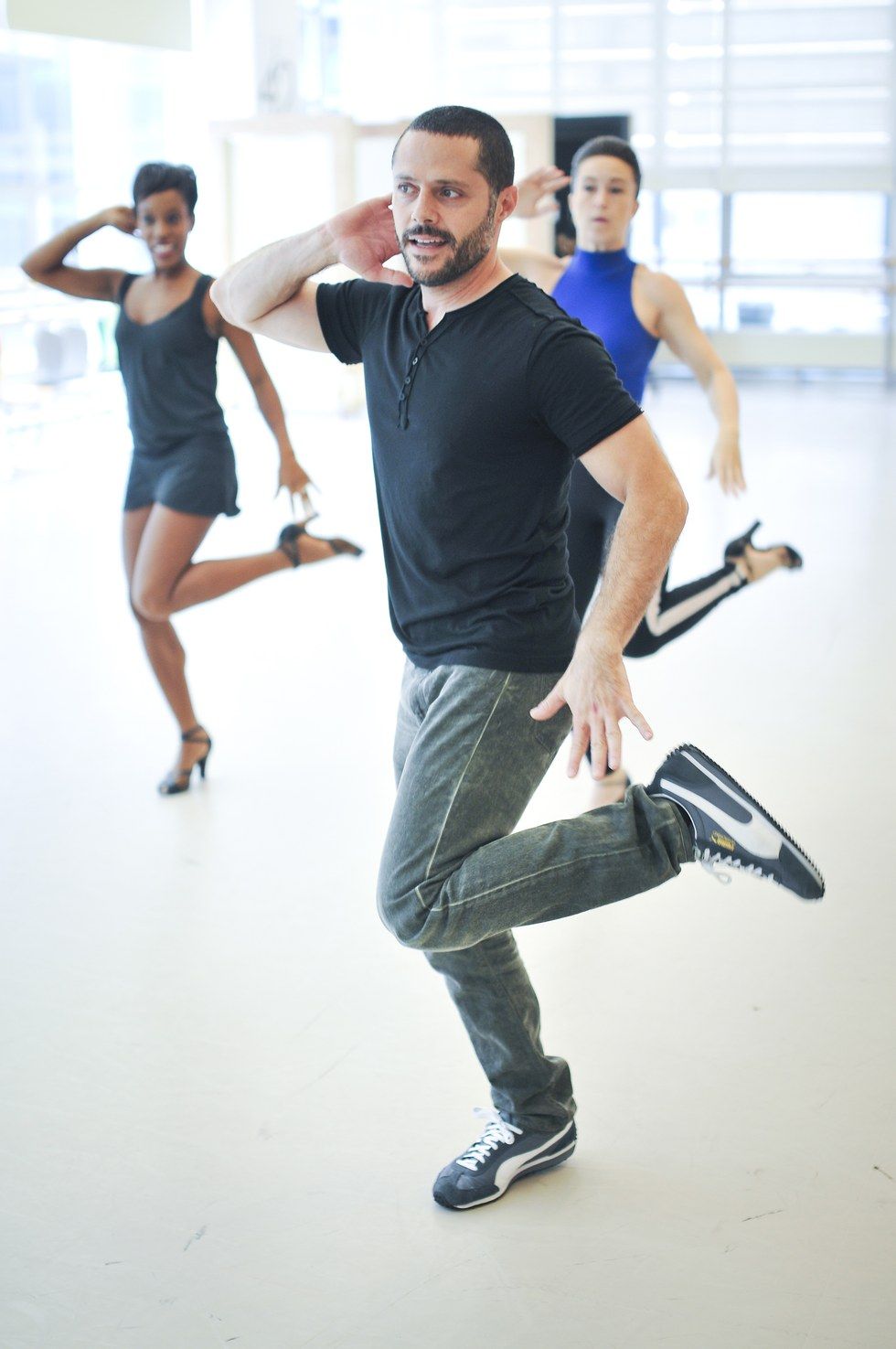 Bergasse leading rehearsal. Photo by Jenny Anderson, Courtesy On The Town
Keep reading...
Show less
Aug. 07, 2015 11:33AM EST
Lin-Manuel Miranda (as Hamilton) and the ensemble. Photo by Joan Marcus, courtesy Hamilton.
On Broadway, there's a certain excitement that comes with old shows (or not so old shows) closing. A closed show means a newly empty theater, a space for a newer, fresher, hopefully dancier show. Yesterday, I was reminded of the Broadway circle of life with the official opening of Lin-Manuel Miranda's hip-hop musical Hamilton, and the announcement that On the Town will close at the end of Misty Copeland's run as Ivy Smith on September 6th.
I love what Joshua Bergasse's interpretation of Jerome Robbins' classic dance musical has meant for Broadway this year. Along with Christopher Wheeldon's An American in Paris, On the Town has granted dance immense storytelling power and brought dancers of impeccable technique and artistry to Broadway stages. Both shows have demonstrated that musicals benefit from incorporating dance early on in their processes, and that the very impetus for a musical can be dance. That being said, I'm not surprised by On the Town's closing. Though I love that Bergasse tells the show's story through dance, it isn't a particularly interesting story.
Hamilton, which opened on Broadway last night after a sold-out run at The Public Theater, wasn't conceived as a "dance musical," and still probably won't be categorized as such. Dance had an early presence in its conception, however – choreographer Andy Blankenbuehler and writer Miranda are long-time collaborators, and Blankenbuehler is known for for his lengthy, tireless process. It shows. Dance feels essential to the world of Hamilton, and like Miranda's quick, clever rhymes, it becomes a part of how these characters inhabit their story.
Blankenbuehler's choreography pushes the genre of the dance musical. Pulling from hip-hop, contemporary and jazz, it is endlessly inventive and musical. The most important moments of the show are conveyed through movement. Dance expresses emotional climaxes and clarifies confusing political plot points. But it is also a constant, subtle presence – the heartbeat of the show.
Dance deserves to be used as a storytelling tool, but it deserves to be used to tell important, engaging and unique stories. I'm ready to say goodbye to On the Town, though of course with the warmest "merde" wishes to Georgina Pazcoguin and Misty Copeland who will finish out its run. I'm more than ready to welcome Hamilton to Broadway. And I'm hoping that whatever's set to replace On the Town at the Lyric Theater will continue to push for more and better uses of dance.
Oct. 01, 2014 09:00AM EST
Few things are more intimidating for a choreographer than redoing a master's work. Luckily for Joshua Bergasse, when he was first asked to update Jerome Robbins' choreography for On the Town, he had no idea the production would become a major hit destined for Broadway. It was supposed to be a summer show in Massachusetts. The stakes were low. So he was unafraid to take the risk—and it paid off in a major way: This month On the Town will mark Bergasse's choreographic Broadway debut. In our cover story, he shares how he's gone about celebrating Robbins' movement, while refreshing it with a slightly grittier, more grounded, 21st-century energy.
For this issue's special focus on Broadway, we also sat down with Steven Hoggett as he choreographed Sting's new musical, The Last Ship. In many ways, Hoggett's the furthest thing from your typical Broadway choreographer: He doesn't do song-and-dance numbers or set routines with kick-ball-changes. But he has an incredible reverence for movement. In his shows, everything—whether a character cracks his knuckles or slides his hands in his pockets—is choreographed with a deliberate intention. "You can't just make a casual gesture onstage," he tells writer Zachary Whittenburg. "That's as mindless as opening your mouth and letting any old words come out."
Right: "When you give dancers that kind of freedom, watch out! They have an innate creativity that is endless."—Hubbard Street Dance Chicago artistic director Glenn Edgerton on his company's anything-goes collaboration with sketch-comedy troupe Second City. Photo by Quinn Wharton.
It's an artistic philosophy that many dancers know well, but maybe none more so than those who perform in immersive theater. We spoke to dancers in shows like Sleep No More to learn how they juggle choreography with carefully calibrated moments between themselves and audience members. As the interactive trend grows in both popular dance theater productions and downtown postmodern dance pieces, more and more dancers are being asked to fine-tune audience interplay as precisely as they would a pirouette. And many find the experience brings out a whole new side of their artistry. Performances become less about trying to show off virtuosity, and more about sharing something personal—and truly making every movement in every moment their own.
Jennifer Stahl
Editor in Chief
jstahl@dancemedia.com
On the Town returns to Broadway—with a choreographic makeover.
On the Town leads Megan Fairchild and Tony Yazbeck. Photo by Nathan Sayers.
At first, On the Town's charm seems far too retro and its storyline a little too thin to make a 21st-century comeback. Take our three wide-eyed sailors, whose ship has docked in New York City, leaving them 24 hours to find a date—"maybe seven or eight." Their dream woman is an exhausting list of perfection: a homemaker who has your pipe and tobacco waiting upon your return, a high-society girl, the perfect arm candy to take to the ball. "She's a frail and flower-like creature. But, oh boy, what an athlete!" You know, just your average girl.
Joshua Bergasse working with the dancers. Photos by Jenny Anderson, Courtesy On the Town.
It soon becomes clear, though, that there's substance hidden within this cheeky story. It's 1944, World War II is raging and these men have been given one day of freedom. Why shouldn't they spend their short time on land living carefree? When the sun rises, they'll have to load back onto their ship and head into battle—who knows what's waiting for them there.
When director John Rando's revival of On the Town hits Broadway this month, those themes that resonated with audiences in 1944 will again take center stage. Rando has kept most of the score and script true to the original version of the musical, which grew out of the runaway popularity of Jerome Robbins' ballet Fancy Free, and introduced Robbins to Broadway. Yet despite that history, Rando's made one major change: updating Robbins' choreography to give it a 21st-century flavor, courtesy of Joshua Bergasse. ­
Unlike the musical's beginnings, today's On the Town didn't begin with dance. It didn't begin with Bergasse or Broadway in mind, either. In 2008, Rando produced a concert version for City Center Encores! to celebrate Leonard Bernstein's 90th birthday. It had less dancing than the full production, and what was included was Robbins' original choreography. But it got people talking. Soon, Barrington Stage Company in Pittsfield, Massachusetts, asked Rando to do the musical for its 2013 season.
From the start, his vision was to follow the original music and book—unlike the 1949 film, which had thrown out much of Bernstein's score—because those elements "just couldn't be better." But he felt the production needed a touch-up to make it relevant to today's audience. Rando approached Bergasse, who, though best known for his work on NBC's "Smash," had performed Robbins' West Side Story and is certified by the Jerome Robbins Foundation to teach it. "Josh is so wonderfully in tune with the tradition of dance and how to make it seem new, relevant and alive," says Rando, who had collaborated with Bergasse on several projects, including Guys and Dolls and Little Me. "He works with a great admiration for the creators, in celebration of them. I needed that sense of invention to build on the storytelling in the script."
It would seem that following in Robbins' footsteps would put an immense amount of pressure on a choreographer—especially given this will be Bergasse's choreographic debut on Broadway (though he has two other musicals, Gigi and Bull Durham, opening within the next year). But mounting the production in Barrington allowed Bergasse to take the risk. "I was lucky. Of course I wanted to do a great job, but there weren't supposed to be a lot of critics there," says Bergasse. "I didn't get into my head too much."
Joshua Bergasse working with the dancers. Photos by Jenny Anderson, Courtesy On the Town.
Once it opened, however, the Broadway community got word that something special was brewing. People were driving up to Massachusetts to get a look. There was talk of a transfer to the Great White Way. The New York Times even dubbed it "one of those rare revivals that remind us what a hit show from long ago was originally all about."
Bergasse's take relishes old-Broadway nostalgia. "We kept asking, 'How would this have been done in the original production?' " he says. "Well, none of the sets would have been on tracks." So he had the actors push scenery onstage themselves. He and Rando also redeveloped the number "Gabey's Comin'," which was cut from the original show. And "Do Re Do" was redone to reference a Robbins scene from a different musical of the same era, High Button Shoes, where the choreography involves a lot of mystery doors.
Bergasse has been criticized by some for choreographing too close to Robbins' style—the movement is rooted in classic jazz that consciously echoes the original's robust steps. But it's clear he's added a refreshing touch. "Josh's choreography is a little more down in the dirt, a little grittier," says Tony Yazbeck, who has been playing the main character, Gabey, since the show's City Center beginnings. "There's an energy onstage that has become very Josh." Somehow, Bergasse has a way of making completely opposite textures melt together: His choreography is undeniably charming, but also steaming with sensuality. It's light and airy, with a muscular punch. It's filled with "real" dancing, but has gestures and quirks that make it so very personable.
Megan Fairchild, who plays Gabey's love interest, Ivy, and has performed many Robbins ballets at New York City Ballet, feels Bergasse has successfully maintained what was great about the original. At NYCB, "we're told stories that Jerry used to say 'Just mark it,' so the choreography didn't look forced," she says. "Josh's work is perfect in that way: Nothing is overdone, but the syncopations and style are in there."
His objective was to put dance at the heart of this story. "You fall in love with these characters through dance," says Bergasse. "It's the way you really get to know them. There's something to be said for the feeling you get when these three sailors come off the ship and start dancing."
It's those feelings that make this musical still so compelling. When Gabey sings "Lonely Town," you sympathize with the isolation war brings, and perhaps realize that those struggles are no different for service members today. There's pride to be found in watching the three spunky, forward-thinking women, at a time when women's rights were taking a great turn. And when Bernstein's "New York, New York" comes crashing in, you feel the sailors' big city wonderment, so bright and naïve. "It's an embrace and celebration of New York," says Rando. "What an amazing and complicated place to be here, to be in love here."
Kristin Schwab is Dance Magazine's associate editor.
Keep reading...
Show less