Whoever told Emma Portner not to move to NYC probably feels silly now. Photo by Quinn Wharton
Raise your hand if you've received bad advice from well-meaning friends or family (or strangers, tbh) who don't know anything about what it really takes to be a dancer.
*everyone raises hands*
Sometimes it's even dance insiders whose advice can send you down the wrong path. We've been asking pros about the worst advice they've ever received in our "Spotlight" Q&A series, and rounded up some of the best answers:
Keep reading...
Show less
Screenshot via YouTube
Keep reading...
Show less
The Joffrey Ballet has created a workout series. PC Cheryl Mann, Courtesy Joffrey
It's an ongoing question for large and small companies alike: How can we increase ticket sales? Tickets are the primary product dance troupes are selling. But what if there were other untapped avenues to make money, and even expand your audience in the process?
Some companies are exploring the possibilities. L.A. Dance Project recently launched the subscription-based ladanceworkout.com, offering streaming workout videos led by company members. Groups of all sizes and even some individual dancers have launched merchandise lines bearing their logos. And, of course, there's the perpetually innovative Pilobolus, which has been in the creative-revenue game for years, with books, advertisements, corporate appearances and more. Companies told us what it takes to expand revenue streams beyond ticket sales:
Keep reading...
Show less
Carla Körbes and Janie Taylor in L.A. Dance Project's livestream from The Chinati Foundation
New York's Metropolitan Opera House seats 3,800 people. Moscow's Bolshoi Theater holds 2,153. When the Royal Ballet hosts a special event in London's massive O2 arena, the dancers perform for a comparatively giant 20,000.
But dancing for more than 200,000 people at a time? That's simply not something most concert dancers are used to.
So when we heard that L.A. Dance Project's series of livestreams over Memorial Day weekend reached more than 500,000 views total, with its most popular stream hitting 211,300 views, it got us thinking. How does that sort of viewership affect a small troupe like LADP? And how does it feel for the dancers to perform for the equivalent of the entire population of Salt Lake City?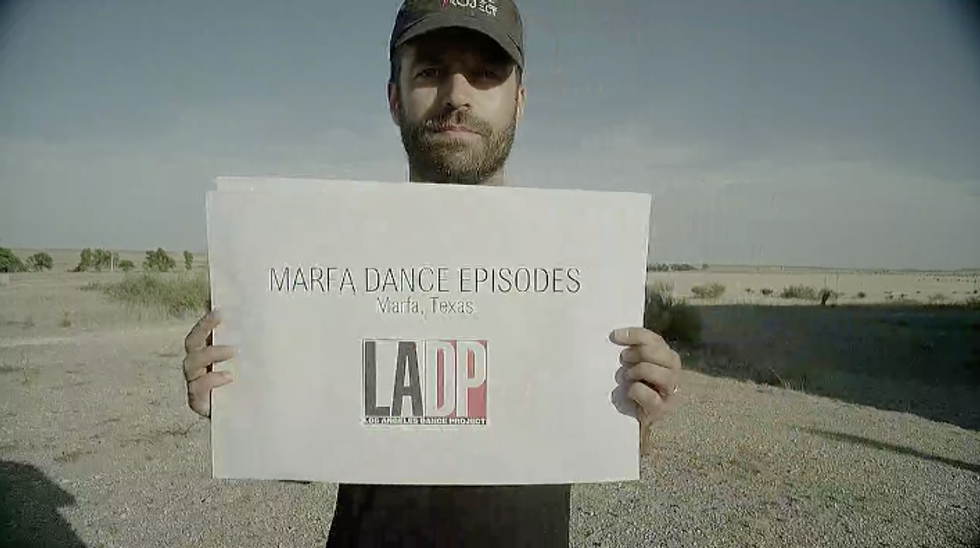 Millepied holding up DIY-style cards to introduce the second "episode"
Keep reading...
Show less
We're not sure what we did to deserve the livestream generosity the dance world is giving us these days, but this weekend, it's getting even better.
PC Joe Toreno
L.A. Dance Project, Benjamin Milliepied's trendsetting contemporary troupe, has been in residence at The Chinati Foundation for the past few days. This weekend, they're showing us what they've come up with—for three days straight.
Keep reading...
Show less
LADP rehearsing Millepied's On The Other Side, photo by Joe Toreno
It's fitting that choreographer Benjamin Millepied named a recent work On the Other Side. After a difficult two-year tenure as artistic director of the Paris Opéra Ballet, he is happily settled in Los Angeles and reemerging with big plans for L.A. Dance Project, the contemporary company he founded there in 2012.
Today, his ambitious vision is redefining what an independent dance company can do: grow into an online dance platform and a lifestyle brand, host a building and performance space, and build an international presence.
Keep reading...
Show less
Get Dance Magazine in your inbox
Morgan Lugo
We had a feeling this news was coming, but now it's official: Benjamin Millepied is directing a movie.
Variety just broke the news that he'll be making his directorial debut with Carmen, a film inspired by Georges Bizet's highly successful opera. The story will focus on a woman traveling from the Mexican desert to Los Angeles "in search of freedom," according to Variety's report.
Keep reading...
Show less
Abraham.In.Motion will make their Kennedy Center debut with Kyle Abraham's The Gettin'. Photo by Ian Douglas, Courtesy The Kennedy Center.
Ballet Across America returns to The Kennedy Center this week with a twist: programming curated by American Ballet Theatre principal Misty Copeland and New York City Ballet soloist/resident choreographer Justin Peck. It's a unique opportunity to get inside the heads of two of the most influential figures in American ballet today—so what companies and choreographers did the superstars choose to showcase?
Keep reading...
Show less
May. 01, 2015 10:15AM EST
Benjamin Millepied on his predecessors, the French style and his ambitious new era at Paris Opéra Ballet
Millepied working with Aurélie Dupont. Photo by Agathe Poupeney, Courtesy POB (2)
Ever since the news broke in 2013 that Benjamin Millepied would be artistic director of the Paris Opéra Ballet, many wondered whether the Bordeaux-born choreographer and former New York City Ballet principal was experienced enough to handle the oft-insular company. The unveiling of POB's 2015–16 season—the first programmed by Millepied—demonstrates that he has the ambition to steer it in a new direction. With 20 creations or company premieres, it puts the focus firmly on new classical choreography. Millepied's masterstroke is the appointment of William Forsythe as associate choreographer; top names in ballet, from Alexei Ratmansky to Justin Peck, will also make the trip to France next season. Local reactions have been mixed due to the quasi-absence of French choreography, but change is in the air: Millepied is shaking up the status quo in everything from health care to casting. As the company gears up for a brand-new era, the young director sat down for a frank assessment of his new home, and a taste of things to come.
You went from a small operation with L.A. Dance Project to the huge machine that is the Paris Opéra Ballet. Was the transition a shock?
I'm very aware that the two jobs are completely different. The idea behind LADP was to create a home for the American modern dance repertory, but Paris is bringing me back to my career as a dancer. It's a ballet company, first and foremost. Of course there are all the issues that go with the size—the bureaucracy, the French laws, the unions. There is stuff in the system that's 150 years old, and there is so much talk about tradition!
How did you construct your first season?
Everything is about choreography and its relationship to music. My goal here is to focus on ballet: I want a repertoire that will challenge the dancers' technique, utilize their talents. In a way it's a transition season with Brigitte Lefèvre because there is also some contemporary work with Anne Teresa De Keersmaeker and Maguy Marin, but I chose pieces where the craft of choreography is almost balletic. The seasons after this one will be more classical.
Millepied giving notes on his Daphnis et Chloé
The season has an American feel to it, with Balanchine, Robbins and Justin Peck. How do you feel about the French repertoire, and choreographers like Roland Petit or Maurice Béjart?
I have to get to know their work. My interest doesn't necessarily lie there, but there are ballets which may be relevant on some programs. My time here is also a chance to do something different for a while, and I don't see why I should deprive myself of the best people making ballet today, from Alexei Ratmansky to Justin Peck. At some point I won't be here anymore—I'm sure they'll get to do other ballets again.
Nureyev productions have dominated the classics in Paris. Do you want to keep them?
We are doing his La Bayadère and Romeo and Juliet next season, and I'm going to keep some of his other works, but not all. There are some where the choreography is really lovely, but essentially he made things that he loved to do himself. He liked difficulty, oppositions, things that are quite awkward. But that's because he loved technique so much: You have to find that pleasure when you dance his choreography.
You immediately started casting young dancers in big roles, starting with Léonore Baulac and Germain Louvet in Nutcracker.
I feel it's very important to give dancers roles at the right time, and you have to start quite young if you want to see an evolution. But I want to try to push everybody up, not just young dancers. I want everyone to have more opportunities, which is why we're doing a ballet like Goldberg Variations next season.
How would you define the French style nowadays?
What I retain of the French style is the elegance, the restraint. But in the last 10 years, I'm missing a lot of the essentials: the épaulement, the musicality... This company had these things at one point, more so than today. There's been too much concern with positions and not with how you move from one to the next. I want more contrast, more life.
Do you plan on doing away with the infamous internal competition, the concours de promotion?
We'll see. I think it's anti-art: You can't rank dancers, and it's completely unfair to judge them on one day. The dancers say it's a chance for them to be seen, but when I started to teach class, a lot of people didn't come because they were afraid to show themselves. There are a lot of contradictions. If they want to keep the concours, in a way, too bad for them.
Injuries have been a major issue at POB. How are you addressing it?
Dance medicine doesn't exist in France, and unfortunately that goes along with not knowing how to take care of your body. I've been looking for staff to work with me. I found a French orthopedist who is aware of the problem, and we're bringing in new PTs, Gyrotonic, massages. The culture is going to change, and I want people I can talk to so I know what's wrong with the dancers and how to cast them.
You've mentioned the need for more diversity. Do you want to hire from outside the POB School?
I want to bring in the best possible people, period. I'm not going to just hire from the school if I have better people from outside when we audition.
How will the new academy for young choreographers work?
I think ballet should be taught like music composition. It's a craft, and choreographers need to have the keys to find their voice. We'll select a few people from the company and two choreographers from outside, and for one year they will have dance history classes and mentors to work with them. William Forsythe will be a part of it as our new associate choreographer. It's everything that I wish I'd had.
Is choreography taking a back seat for now in your own life?
I look at choreography differently now. I want to create work that's right for the company, challenges the dancers, teaches them how to partner. The work I will create next season will be for the corps, to push them.
What are the challenges of being a choreographer-director?
I believe that ballet companies belong to choreographers. You could say some choreographers don't have management skills, but a ballet company should have someone at the helm with a very clear vision for ballet. If you think of Christopher Wheeldon, Alexei Ratmansky or Justin Peck, they make people dance a certain way. The system that I arrive in here makes it hardly possible to do that. The truth is that today the real tradition of ballet, as it should be, is in America. Whether or not you like how the companies are dancing, they are the right size and the director can have a real impact on the dancing, starting in class. Here, with 154 dancers, seven company classes every day, two theaters, it's very hard.
You've been called an American in Paris by the French press—do you feel French or American now?
Both. I have 20 years of experience in America, but I felt French my whole life there. I think when you come in from the outside, you always bring something.
Sep. 01, 2014 01:47PM EST
An international festival celebrates the 50th anniversary of Martin Luther King, Jr.'s "I Have a Dream" speech.
A Dance the Dream event in Houston. Photo by Russell Hancock, Courtesy Dance the Dream.
While addressing thousands of Americans at the March on Washington for Jobs and Freedom in August 1963, Martin Luther King, Jr. went off script and improvised a passage of the speech that became momentous in civil rights activism: "I Have a Dream." To celebrate its 50th anniversary, filmmaker Richard Karz has produced The Dream@50, a yearlong inter­national festival of art contests and musical performances by artists like Usher. It also features Dance the Dream flash mobs, led by choreographers such as Jenna Lee, of English National Ballet, and Mourad Merzouki, of Compagnie Käfig. The festival, which has taken place in more than 30 cities, from Beirut to Boston, culminates in Los Angeles and Seattle this month. Karz says the flash mob is central to his mission. "We are doing these events in public settings, surrounded by daily life, to illustrate that this is about breaking down racial divisions," he says. "But it's also about breaking down boundaries between art and dance and real life."
L.A. Dance Project member Julia Eichten will lead L.A.'s flash mob, danced to Nina Simone's "I Wish I Knew How It Would Feel to Be Free," and an arrangement of H.B. Barnum's "Heaven Help Us All." It will be performed by over 100 local dance professionals and students, and since Eichten pre-released a video of the dance through YouTube and social media, she says it is expected to gather an audience of 5,000 to 10,000 people "who will get to dance right alongside the professionals and students." Eichten hopes the choreography will speak to the city's cultural diversity. "L.A. has such a wide spectrum of nationalities, so we really want to celebrate that through dance and music," she says. "Togetherness is what Dr. King was an advocate for, despite different views or even violence. I would like to think that through this project we can help create a little harmony for us all to share in."
Amy O'Neal is choreographing Seattle's flash mob. For remaining celebration dates, see thedreamat50.com.
Mar. 01, 2014 04:54PM EST
The company will become transatlantic to remain under Benjamin Millepied's direction.
LA Dance Project in Millepied's Reflections. Photo by Laurent Philippe, Courtesy LA Dance Project.
It came as a surprise when the Paris Opéra Ballet announced last year that Benjamin Millepied would succeed Brigitte Lefèvre as the company director. Just four months prior, Millepied had launched LA Dance Project, a boutique contemporary company. His new position seemed to call the fledgling troupe's future into question. What would become of LADP?
Millepied has said he will continue to direct the company, curating repertory from Paris, while LADP remains headquartered in Los Angeles, close to key partners like its new performance home, the Ace Hotel. The emerging plan taps the company's original "artist collective" structure. "LADP was not set up on a traditional model," he says. "From the start, I did not want to be the father figure. We all contribute ideas." Millepied's collaborators—composer Nico Muhly, art consultant Matthieu Humery and producers Charles Fabius and Nicholas Britell—remain committed. And to help manage day-to-day operations, Sébastien Marcovici, who will retire as a principal dancer with New York City Ballet on March 1, has been named ballet master. Current ballet master Charlie Hodges will become rehearsal director. Former NYCB dancer James Fayette is also coming on board as company manager.
The unconventional structure may help with logistical hurdles. And thanks to LADP's heavy European touring schedule, Millepied will often work with the company's eight dancers. (LADP performs this month in France.) Plus, recent events with sponsors like jeweler and major donor Van Cleef & Arpels have helped solidify the company's financial base. Millepied has also hinted of future expansion among staff and dancers. In the end, he sees his position at the Paris Opéra as an advantage to his young troupe. "I have a completely different reach than I did a year ago," he says. "I am seeing more, I have access to more, I am meeting more people."
Sep. 01, 2012 03:19PM EST
Benjamin Millepied's new company tests the city's appetite for concert dance.
Millepied rehearsing his ballet Plainspoken with New York City Ballet dancers. Photo by Paul Kolnik, Courtesy NYCB.
It's hard to keep track of Benjamin Millepied. The man whose surname translates to "1,000 feet" appears to be everywhere at once, with 1,000 hands running 1,000 projects. He may be the dance world's answer to James Franco.
Last November, Millepied announced plans to assemble his L.A. Dance Project, which debuts this month in conjunction with the Los Angeles Music Center. Within the last five years, he has choreographed or staged his ballets for major-league companies like New York City Ballet, American Ballet Theatre, the Paris Opéra Ballet, and the Mariinsky Ballet; danced—and since retired—as a principal dancer with NYCB; choreographed Khovanshchina and The Bartered Bride for the Metropolitan Opera; choreographed the musical Hands on a Hardbody (slated to come to Broadway this season); and directed six short films. He also choreographed the movie Black Swan, met Natalie Portman, started a relationship, and the couple had a son, Aleph. Oh, and he's the face of Yves Saint Laurent's new fragrance L'Homme Libre.
Whew. A free man, but a very busy one.
Right now, however, Millepied is fixing his focus on the L.A. Dance Project. But why Los Angeles, a city historically indifferent to dance? Trips to L.A. with NYCB, he says, made him "fall in love with the city. I thought a lot about how to bring dance here. I know Balanchine wanted to do it." Los Angeles is, not coincidentally, where he lives with Portman and Aleph. But he also likes the youthful energy of the city's often unacknowledged arts movement. "In terms of dance it sort of feels like the visual artists' scene in New York in the 1960s," he says. "It has a feeling of freedom that is encouraging after New York, which is incredibly saturated with so many exhibitions."
Talks with the L.A Music Center prompted Millepied to ponder a new way to produce dance. "I thought, I'll put on one tour and see how it goes," he recalls. Glorya Kaufman Presents Dance at the Music Center serendipitously agreed to commission the first program. Millepied considered Baryshnikov's White Oak Dance Project as a model: six dancers, non-elaborate productions, funding from a foundation, and touring, especially to Europe. Millepied has used his connections to solidify partnerships with Maison de la Danse in Lyon, Sadler's Wells in London, and Paris' Théâtre du Châtelet; each residency will produce a premiere within the next two years.
What he didn't want was to start a satellite Balanchine company. "You need a corps—that's 6 million dollars immediately," he says. "It's not what I was interested in. I have danced Balanchine all over the place. I want to work with artists who are embracing their time."
But he imagines resurrecting seminal, seldom-performed collaborations by venerated choreographers. The premiere program includes Merce Cunningham's Winterbranch (1964), with piercing music by La Monte Young and a set by Robert Rauschenberg. Winterbranch disturbed '60s audiences, who variously interpreted it as images of race riots, concentration camps, or the atom bomb. Millepied simply describes it as "a really riveting piece that is dance-intense." (He loved Cunningham's work so much that he once auditioned for his company, but didn't join because, "I was not prepared to only dance one man's work.")
Also included on the program are William Forsythe's Quintett, an elegiac 1993 piece set to a hypnotic score by Gavin Bryars; and a Millepied premiere, with new music by favorite collaborator Nico Muhly and visual design by painter Christopher Wool.
"Powerful but difficult works" is how Charles Fabius, the producer for the L.A. Dance Project, defines the program. "There is no sense we want to 'please' the crowds in L.A.," he says. "How that goes over remains to be seen, but we think it's an interesting challenge."
Choosing these pieces, says Millepied,"is a statement that even though I'm not American, I have worked and danced here my whole career, so I wanted to be very careful not to be the American company that does all European work."
Pacific Northwest Ballet in Millepied's 3 Movements. Photo © Angela Sterling, Courtesy PNB.
When Millepied speaks of collaboration, he extends the meaning to all those working around him. He calls L.A. Dance Project—notice the absence of the word "ballet"—an "art collective" with composer Muhly, art consultant Matthieu Humery, producer Fabius, and film producer Dimitri Chamblas. (He calls his collaborators his "think tank.")
Will Los Angeles audiences support LADP (which is a resident of L.A. Theatre Center)? "I'm going with what I believe in," says Millepied. "It already has a life." His intention reaches "beyond just putting ballets on the stage" to include projects outside of theaters and in museums, such as his collaboration last summer with installation artist Mark Bradford at L.A.'s Museum of Contemporary Art.
And he's not seeking initial overexposure in the press. "It's going to take time for us to really get a unity and a look," he says. His past executive experience helps. Between directing his own company Danses Concertantes, the Morriss Center Dance Workshop, and the annual summer Nantucket Atheneum Dance Festival, he's produced about 130 performances over a decade. "I've made a lot of mistakes already!" he admits. "I have a chance to walk into this project at a time when everything connects." For now, Millepied isn't pursuing other choreographic gigs or even restaging existing ballets (although he admits he would find time for NYCB or the Paris Opéra).
Ballet du Grand Théâtre de Genève in Millepied's Spectre de la Rose. Photo by GTG/Vincent/Lepresle, Courtesy Ballet du Grand Théâtre de Genève.
Millepied has announced four of his six dancers: Frances Chiaverini (of Armi­tage Gone! Dance and Luca Veggetti's work), Julia Eichten and Nathan B. Makolandra, all Juilliard graduates with experience in choreographing, a skill Millepied prefers in his dancers; and Morgan Lugo, a SUNY Purchase graduate who danced with Morphoses. Millepied also hopes to dance in Quintett this fall. Auditions for dancers who must "permanently reside in California" were held last November at L.A.'s Japanese American Cultural and Community Center.
His decision to retire from NYCB, via a simple press release, was natural: "I felt like I wasn't giving it the necessary discipline," he says about performing. "I wasn't interested in feeling my capacity diminish." Those who remembered the buoyant performer with the gleeful jump could detect a sense of disengagement on the stage as he shifted his concentration to choreography. He desired no fanfare or farewell program. "Dance for me didn't start with NYCB and end with NYCB," he says. "Oh, nooooo. I didn't want the balloons."
At right: The young Millepied in Robbins' 2 & 3 Part Inventions, late '90s. Photo by Paul Kolnik, Courtesy NYCB.
But all those years at NYCB did shape his choreography. Millepied credits the musical and physical finesse Stanley Williams demanded in his men's classes at the School of American Ballet as a major influence: "That movement quality, that fluidity I have in my dances probably has a lot to do with the way he taught ballet." Watching dancers like Peter Boal, Nikolaj Hübbe, and Ethan Stiefel at NYCB in the '90s also had an impact on him. "To me Ethan was the dancer," says Millepied. "He was so good at dancing his heart out to the music."
And then there was Jerome Robbins, who acted as a mentor to Millepied, both in life and art. The naturalistic approach he gained from studying modern and African dance while growing up in France made him feel "super-connected to Jerry's pieces," he says. "Jerry did what he was interested in. That's what I do. There's no reason why I should only be making my little dances in the corner. If I feel also like getting behind a camera, then I'll be making more films in the future."
Another game changer was Muhly, his musical muse, whom he met when the composer was conducting the Philip Glass music for Millepied's Amoveo at the Paris Opéra Ballet. After hearing Muhly's compositions, says Millepied, "I was baffled by how such a young guy could have such a clear, deep voice. There was nothing superficial about it. His facility to re-orchestrate is incredible. He's a dream to work with." Millepied considers Two Hearts, created with Muhly for NYCB last May, the most mature work he has choreographed: "I felt I really showed a lot of restraint that I hadn't shown before."
For Two Hearts, Muhly drew on a European folk song that juxtaposes a lovely melody with gruesome lyrics about a bride's murder. Their choreographic collaboration, which ends with a richly drawn pas de deux for NYCB stars Tiler Peck and Tyler Angle, started out as it almost always does—with a simple diagram "that can fit on a cocktail napkin," says Muhly. "Benjamin's movement is so respectful of the music, but he understands how he can work against it, so there is push and pull."
Millepied, normally chatty, grows uncommonly mute when asked about Natalie Portman. "In the end, like any great relationship, one motivates and inspires the other," he says with the monotone of someone weary of paparazzi. Of his son Aleph, born in June 2011, he describes the "crazy rush of emotions and love that feel like you're opening a bottle of champagne."
"A rich life molds you as an artist," says Millepied, now 35. "I look to the things I am passionate about."
Joseph Carman is a senior advising editor of Dance Magazine.
Where to see the new company: Walt Disney Concert Hall, L.A., CA, Sept. 22–23 • White Bird Dance, Portland, OR, Sept. 26 • Peak Performances, Montclair, NJ, Oct. 25–28 • Westobou Festival, Augusta, GA, Oct. 6 • Le Pin Galant, Merignac, France, Nov. 20–21