Why Some Dancers Are Giving "Hiplet" Serious Side Eye
Hiplet is sweeping the nation. Between TedX, Refinery29, Desigual campaigns, Anna Wintour's #madeforher fundraiser and the plethora of morning show spots, the hybrid dance craze—known for its sassy runway-style walks on pointe and crab-like bent-knee jazzy chassés—has gone viral.
Hiplet is the brain child of Homer Hans Bryant, a former Dance Theatre of Harlem principal who, in 1981, founded Chicago Multi-Cultural Dance Center (then called Bryant Ballet), aka the studio where young Sasha and Malia Obama studied before moving to the White House. Bryant started putting hip hop movement on pointe in 1994 with a piece he choreographed for his students, called The Rap Ballet. That evolved into what became hiplet (a portmanteau of hip hop and ballet), which is now a regular class at his school.
But his curious blend of hip hop sur la pointe has proven to be quite provocative. Some see the blending of the urban and European dance vernaculars as a positive by-product of the black ballerina movement. For me and many others, it sets our teeth on edge.
---
Why such strong reactions? As a former ballet dancer, and current ballet educator, I've attempted to break down why it evokes such icky feelings.
1. The Lack of Ballet Technique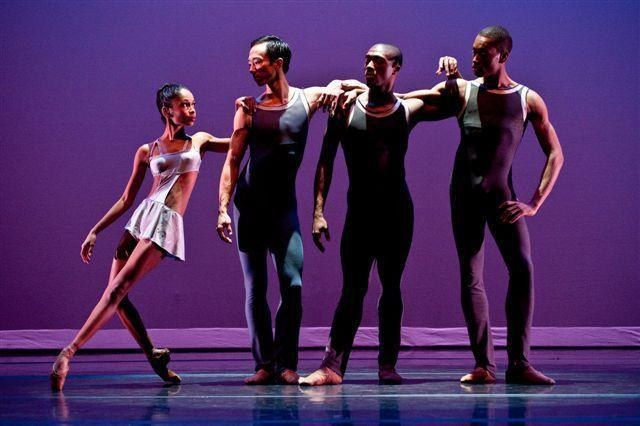 Unlike hiplet, Robert Garland's Return blends ballet with social dance in a way that shows off the dancers' virtuosic technique
Most troublesome for me is the fact that the hiplet ladies have so little ballet technique. To be fair, the three older dancers who are typically featured in the group numbers have beautiful feet and show flashes of solid ballet training. But many of the rest are unable to fully get on their box. It's cringe-worthy and dangerous.
Perhaps if the hiplet dancers exhibited the duality of striking beautiful first arabesque lines in addition to being able to "break it down," there might be less vitriol. For example, Robert Garland's Return set to music by Aretha Franklin and James Brown melds ballet and social dance quite well by highlighting the adroit ballet technique and versatility of Dance Theatre of Harlem's dancers.
But most of the hiplet dancers can't hit those ballet lines, and as a result, the technique is more akin to a toe tapping in a vaudevillian sideshow.
Which is weird, because Bryant is a fantastic ballet teacher, known for his bootcamp-like approach to ballet training. He's famous for employing tactics like non-stop "aerobic" barres, from pliés to battements with no breaks; as you turn from the left side to the right he'll bark out the next combination. I know because I was his student at a DTH summer intensive at age 13. He was inspiring and effective, well-versed in technique, and was a stickler for strength, stamina and precision.
So for people who have danced and trained (in the traditional capacity) with Bryant, hiplet leaves many of us asking the question, "What happened?" Bryant is finally getting some of the recognition that he is due. It's unfortunate is it not for what he is truly gifted at: training technically proficient ballet dancers.
2. It's Neither Hip(Hop) nor (Bal)Let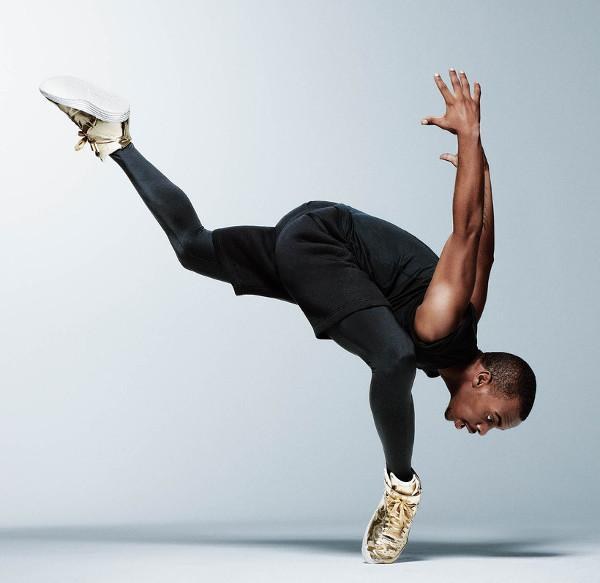 Is Memphis Jookin more balletic than hiplet? Lil Buck uses elements of pointe work in his movement
Hiplet purports to be a blend of hip hop and ballet, but the lack of authentic representation of either genre is another reason some of us are giving it a hard side-eye. The only aspects of ballet would be the use of pointe shoes and some questionably-executed basic ballet vocabulary. And the technique doesn't draw from real hip hop roots, either. The foundational techniques of hip hop are popping, locking and breaking, although Jookin, a Memphis-born derivative (also known as the "Gangsta walk"), sometimes resembles ballet with its elements of gliding and toe work. But hiplet is more of a mash-up of many styles of West African, Horton, jazz, dance hall and social dance.
3. It Undercuts Legit Advances for Black Dancers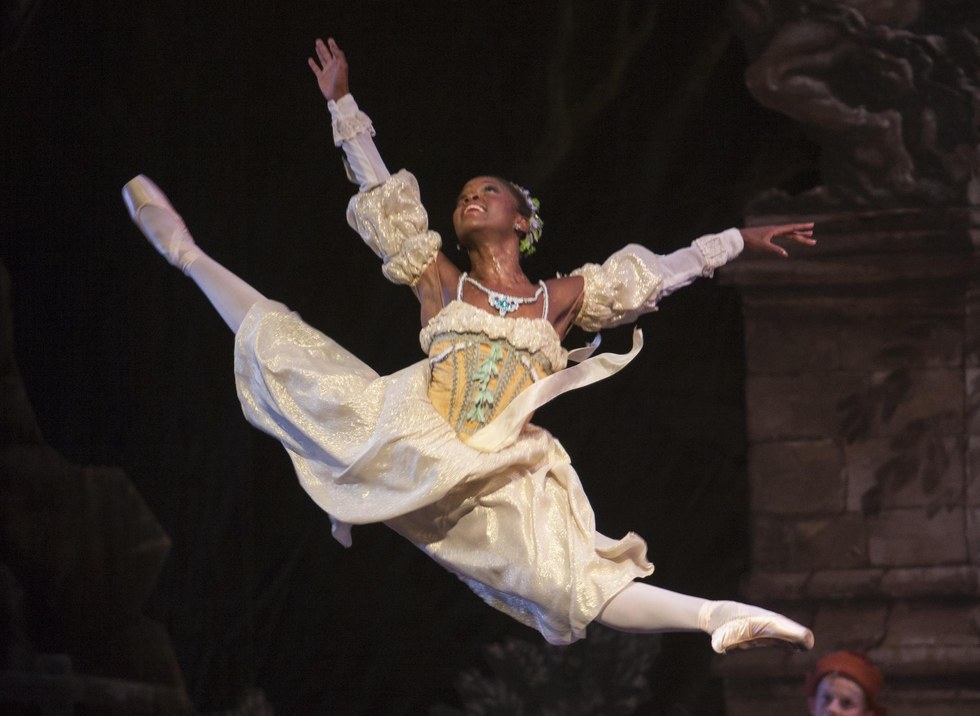 Just when black ballerinas like Michaela DePrince are climbing the ranks in major companies, hiplet presents a caricature of "blacks doing ballet." Photo by Angela Sterling, courtesy Dutch National Ballet
For ballet dancers of color, hiplet is something of an embarrassment. Just when artistic directors are finally taking the need for diversity seriously, and a few black ballerinas are climbing the ranks in major companies, there is hiplet. Just when we can proudly and enthusiastically hashtag #blackballerinas, #blackelegance #browngirlsdoballet and mean it, when we feel like we are the Jeffersons, movin' on up, hiplet is the ghettoization of blacks doing "ballet." Not because it blends African American urban social dance and a European court social dance, but because it does it crudely, without sophistication and hence becomes a mockery of our honest efforts to excel at the latter while not honoring the brilliance of the former.
It is not coincidental that just as we have numerous examples of black ballet excellence, a caricaturized image of "blacks doing ballet" becomes the rage. There has always been a cultural counterbalance that happens when African Americans start to make progress. When movies or televisions shows featuring positive black characters and stories are finally produced, there is always what feels like a backlash, where we are presented with versions of ourselves that are laughable or belittling. It feels like tiny weights have been tethered to our wings just as we think we are about to soar.
4. It Feels Immature and Opportunistic
If a 20-something dance student snapping footage of friends fooling around in a studio complete with the "YASSSSSES" and "WERKS" in the background was responsible for hiplet, people could better understand it, because it feels immature, impromptu, faddish. When you learn that it is the product of a 67-year-old man, it seems...odd. It feels opportunistic, a phenomenon that is riding the wave of conversations about blacks in ballet straight to the bank. There is nothing inherently wrong with that, but you have to ask, "At what cost?" More than ever, images create our reality. Does hiplet help or hurt?
Who knows how long hiplet will be on our radar. I am sure that these young ladies are having wonderful experiences and seeing aspects of the world that they never thought possible. That in and of itself is a positive.
But it is hard to imagine these students growing up become hiplet teachers, or mothers being willing to spend upwards of $80 a pop for pointe shoes for daughters to learn to Dougie on in the long-term. But stranger things have happened.
For now, in old-school fashion, I'll give a nod to Naughty by Nature and say, "Hip hop hiplet, hey, no."
Alice Sheppard photographed by Jayme Thornton for Dance Magazine
It can be hard to focus when Alice Sheppard dances.
Her recent sold-out run of DESCENT at New York Live Arts, for instance, offered a constellation of stimulation. Onstage was a large architectural ramp with an assortment of peaks and planes. There was an intricate lighting and projection design. There was a musical score that unfolded like an epic poem. There was a live score too: the sounds of Sheppard and fellow dancer Laurel Lawson's bodies interacting with the surfaces beneath them.
And there were wheelchairs. But if you think the wheelchairs are the center of this work, you're missing something vital about what Sheppard creates.

Keep reading...
Show less
Omar Román De Jesús in rehearsal with Joffrey Academy trainees. Photo by Todd Rosenberg
So far, the fervor to create diversity in ballet has primarily focused on dancers. Less attention has been paid to the work that they'll encounter once they arrive.
Yet the cultivation of ballet choreographers of color (specifically black choreographers) through traditional pathways of choreographic training grounds remains virtually impossible. No matter how you slice it, we end up at the basic issues that plague the pipeline to the stage: access and privilege.
Keep reading...
Show less
Get the print edition!
Yuka Oba, Ednis Ariel Gomez Mallol and Connie Flachs in Swing by Olivier Wevers. Photo by Ryan Jackson, courtesy Flachs
"I'm sorry, but I just can't possibly give you the amount of money you're asking for."
My heart sinks at my director's final response to my salary proposal. She insists it's not me or my work, there is just no money in the budget. My disappointment grows when handed the calendar for Grand Rapids Ballet's next season with five fewer weeks of work.
Keep reading...
Show less
"Off Kilter" has real dancers playing dancers. Still courtesy CBC Arts
"It just...always looks better in my head."
While that might not be something any of us would want to hear from a choreographer, it's a brilliant introduction to "Off Kilter" and the odd, insecure character at its center, Milton Frank. The ballet mockumentary (think "The Office" or "Parks and Recreation," but with pointe shoes) follows Frank (dancer-turned-filmmaker Alejandro Alvarez Cadilla) as he comes back to the studio to try his hand at choreographing for the first time since a plagiarism scandal derailed his fledgling career back in the '90s.
We've been pretty excited about the series for a while, and now the wait is finally over. The first episode of the show, "The Denial," went live earlier today, and it's every bit as awkward, hilarious and relatable as we hoped.
Keep reading...
Show less
We suspect it will be...a thriller.
Giphy
Christopher Wheeldon is going to be giving Michael Jackson some new moves: The Royal Ballet artistic associate is bringing the King of Pop to Broadway.
The unlikely pairing was announced today by Jackson's estate. Wheeldon will serve as both director and choreographer for the new musical inspired by Michael Jackson's life, which is aiming for a 2020 Broadway opening. This will be Wheeldon's second time directing and choreographing, following 2015's Tony Award-winning An American in Paris.
Wheeldon is a surprising choice, to say the least. There are many top choreographers who worked with Jackson directly, like Wade Robson and Brian Friedman, who could have been tapped for the project. Or the production could have even hired someone who actually choreographed on Jackson when he was alive, like Buddha Stretch.
Keep reading...
Show less
Popular
Jun. 06, 2018 01:13PM EST
Stagestep's Encore hardwood flooring for full-service broadcast production facility, dance center and venue, Starwest, in Burbank, CA.
What is the right flooring system for us?

So many choices, companies, claims, endorsements, and recommendations to consider. The more you look, the more confusing it gets. Here is what you need to do. Here is what you need to know to get the flooring system suited to your needs.
Keep reading...
Show less
In rehearsal for Dreamgirls. Photo Courtesy DM Archives.
Broadway musicals have been on my mind for more than half a century. I discovered them in grade school, not in a theater but electronically. On the radio, every weeknight an otherwise boring local station would play a cast album in its entirety; on television, periodically Ed Sullivan's Sunday night variety show would feature an excerpt from the latest hit—numbers from Bye Bye Birdie, West Side Story, Camelot, Flower Drum Song.
But theater lives in the here and now, and I was in middle school when I attended my first Broadway musical, Gypsy—based, of all things, on the early life of the famed burlesque queen Gypsy Rose Lee. I didn't know who Jerome Robbins was, but I recognized genius when I saw it—kids morphing into adults as a dance number progresses, hilarious stripping routines, a pas de deux giving concrete shape to the romantic yearnings of an ugly duckling. It proved the birth of a lifelong habit, indulged for the last 18 years in the pages of this magazine. But all long runs eventually end, and it's time to say good-bye to the "On Broadway" column. It's not the last of our Broadway coverage—there's too much great work being created and performed, and you can count on hearing from me in print and online.
Keep reading...
Show less
Get the print edition!
It's already on its way to legendary status. (screenshot via YouTube)
Popular
May. 25, 2018 12:14PM EST
Travis Wall draws inspiration from dancers Tate McCrae, Timmy Blankenship and more.
One often-overlooked relationship that exists in dance is the relationship between choreographer and muse. Recently two-time Emmy Award Winner Travis Wall opened up about his experience working with dancers he considers to be his muses.
"My muses in choreography have evolved over the years," says Wall. "When I'm creating on Shaping Sound, our company members, my friends, are my muses. But at this current stage of my career, I'm definitely inspired by new, fresh talent."
Wall adds, "I'm so inspired by this new generation of dancers. Their teachers have done such incredible jobs, and I've seen these kids grown up. For many of them, I've had a hand in their exposure to choreography."

Keep reading...
Show less
News
Jun. 18, 2018 02:12PM EST
MADBOOTS DANCE in MASC. Photo by Scott Shaw, Courtesy Richard Kornberg & Associates
This week, New York City's Joyce Theater presents two companies addressing LGBTQ+ issues.
Keep reading...
Show less
Kerollis and students in his 8-week Absolute Beginner Workshop at Broadway Dance Center
When most people think of dance students, they imagine lithe children and teenagers waltzing around classrooms with their legs lifted to their ears. It doesn't often cross our minds that dance training can involve an older woman trying to build strength in her body to ward off balance issues, or a middle-aged man who didn't have the confidence to take a dance class as a boy for fear of bullying.
Anybody can begin to learn dance at any age. But it takes a particular type of teacher to share our art form with dancers who have few prospects beyond fun and fitness a few nights a week.
Keep reading...
Show less
Get the print edition!
News
Jun. 16, 2018 09:15AM EST
Gina Gibney's organization has grown invaluable to the NYC dance scene. Photo by Scott Shaw, Courtesy Gibney
New York City–based dancers know Gibney. It's a performance venue, a dance company, a rehearsal space, an internship possibility—a Rubik's Cube of resources bundled into two sites at 280 and 890 Broadway. And in March of this year, Gibney (having officially dropped "Dance" from its name) announced a major expansion of its space and programming; it now operates a total of 52,000 square feet, 23 studios and five performance spaces across the two locations.
Six of those studios and one performance space are brand-new at the 280 Broadway location, along with several programs. EMERGE will commission new works by emerging choreographic voices for the resident Gibney Dance Company each year; Making Space+ is an extension of Gibney's Making Space commissioning and presenting program, focused on early-career artists. For the next three years, the Joyce Theater Foundation's artist residency programs will be run out of one of the new Gibney studios, helping to fill the gap left by the closing of the Joyce's DANY Studios in 2016.
Keep reading...
Show less
Jay Sullivan Photography, courtesy Julie Granger
Dancers crossing over into the fitness realm may be increasingly popular, but it was never part of French-born Julie Granger's plan. Though Granger grew up a serious ballet student, taking yoga classes on the side eventually led to a whole new career. Creating her own rules along the way, Granger shares how combining the skills she learned in ballet with certifications in yoga, barre and personal training allowed her to become her own boss (and a rising fitness influencer).
Keep reading...
Show less


Get Dance Magazine in your inbox