Why I Became a Dancing "Super Commuter"
Eduardo Patino, courtesy Kerollis
What lengths would you go to in order to further your dance career? For some of us, we're willing to build our life and work in two separate cities to make our wildest dreams come true.
I recently learned that there is a term for people like me who travel between two major metropolitan areas. We "super commuters" make the choice to ride regional buses and trains up to six hours round-trip, multiple times a week, in hopes of furthering our careers while maintaining our lifestyles and affordable rents.
This ambitious career style is not for the faint of heart.
---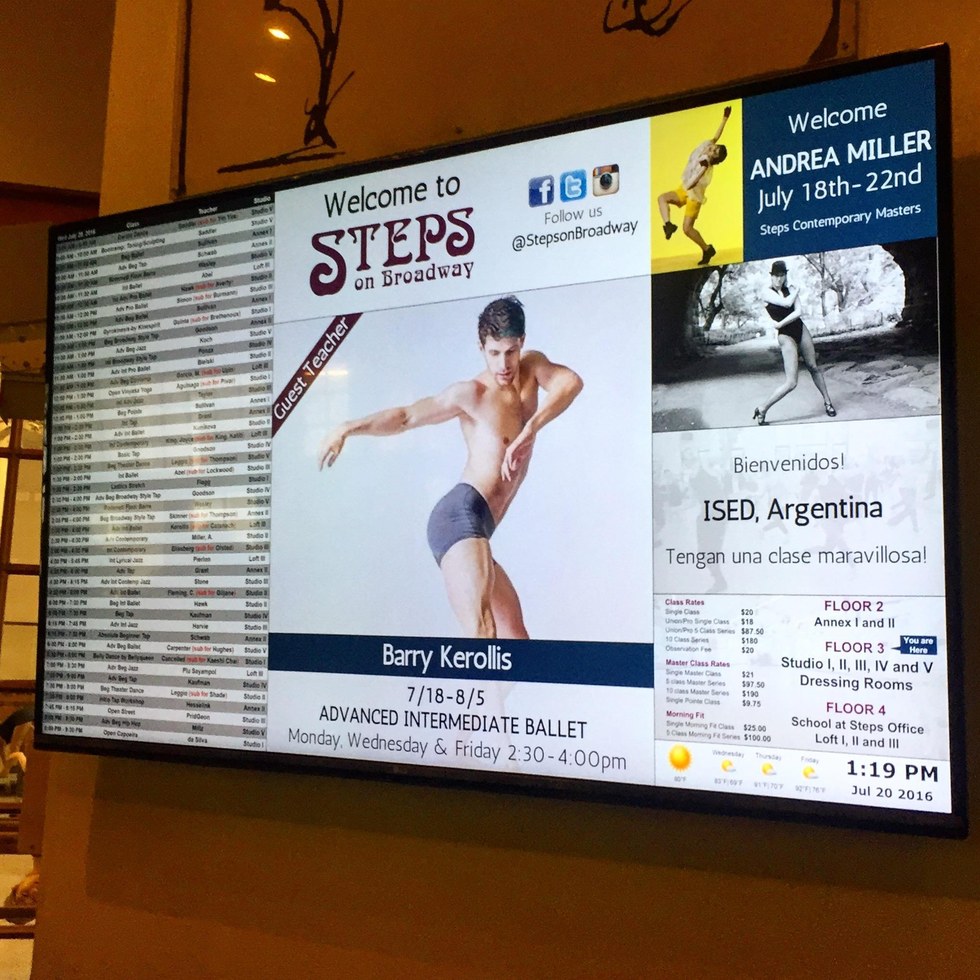 I moved to Philadelphia to dance with BalletX in 2011, after seven seasons with Pacific Northwest Ballet. After an injury, the company released me from my contract mid-season. My husband had just started an organizational business after I uprooted him 3,000 miles for this job, so I felt pressure to remain in the city that had only recently become our home. But a lack of opportunity in Philadelphia pushed me to seek work elsewhere. I turned my gaze two hours north to the capital of the dance world, New York City.
I began commuting between the two cities up to five times a week. While this has required a great deal of dedication and caused a fair amount of back pain, the rewards have come back to me ten-fold.
In my first six months of commuting, I was hired at Steps on Broadway and Broadway Dance Center as guest faculty. I also became head of the contemporary dance department at Greenwich Ballet Academy (a 50-minute train ride north of New York). Additional opportunities have come in the form of choreography commissions for the Columbia Ballet Collaborative at Columbia University and chamber ballet company CelloPointe, plus master classes for the Second Avenue Dance Company at New York University, and speaking engagements for the Actors Fund|Dancers Resource, Gibney Dance's D.E.E.P. series and Hunter College.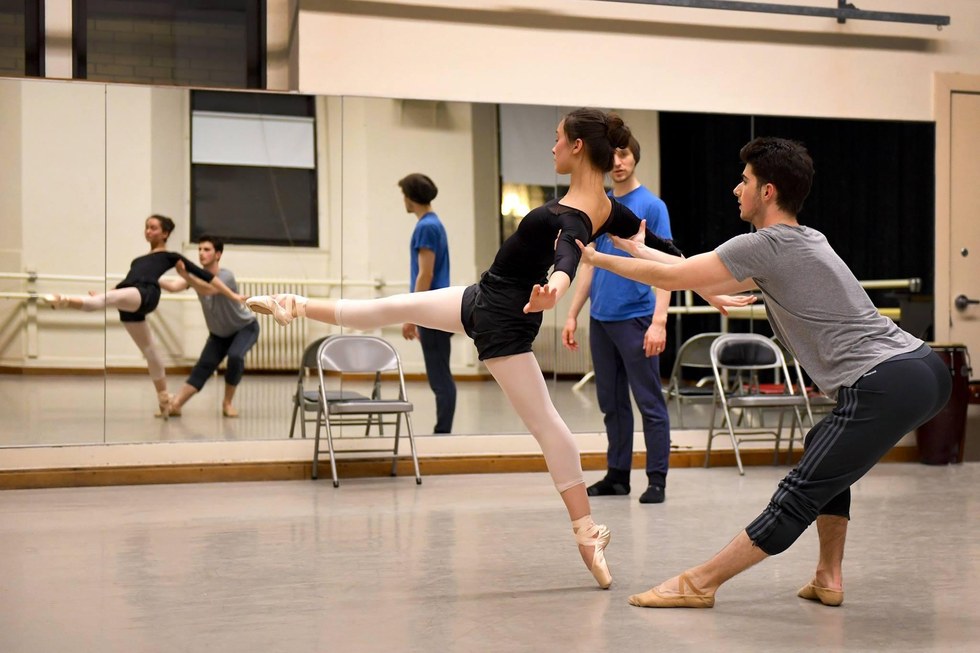 Rehearsing Columbia Ballet Collaborative. Photo by Eduardo Patino, courtesy Kerollis.
In 14 months of super commuting, I've gained new inspiration that I wasn't finding in my home dance scene.
I've also found that I'm not the only dance artist who does this. After months of sharing the same barre in Nancy Bielski's morning pro ballet class at Steps with a lovely dancer named Catherine Gurr, we ran into each other on my regular 8 a.m. Bolt Bus. She has also been making the trek to stay in shape for auditions while studying comparative literature at the University of Pennsylvania.
"I wasn't, and still am not, sure what the future would hold, so this is a good way to prepare for a life outside of dancing while also preparing for a dance career," says the former Ballet West trainee. By super commuting, she's gained connections in New York, received greater feedback at auditions and even obtained a few freelance performance opportunities along her way. This summer, she will travel across the country to dance with a regional ballet company where she is being considered for an apprenticeship.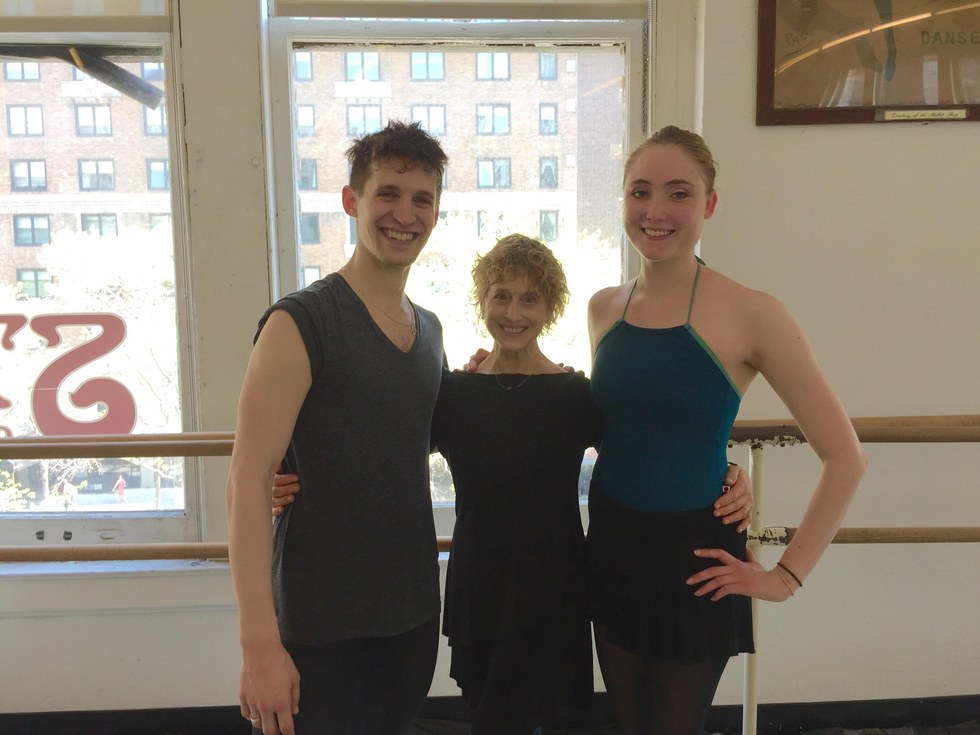 The author and Catherine Gurr after morning ballet class with Nancy Bielski
One common thread found among super commuters is how keen we are in using our time in transit strategically. You are actually more productive when confined to a seat without distraction for hours on end. I use the bus ride to catch up on lost sleep and work on my podcast, Pas de Chát: Talking Dance, and blog, Life of a Freelance Dancer. In fact, I wrote this story while traveling.
Dancers are best known for their physical endurance. It should come as no surprise that our kind also possesses impressive emotional drive as well. Many artists are willing to do most anything to live out their dreams. Though it takes a special kind to travel far and wide.
Indumba investigates an African cleansing ritual. Photo by Ken Carl, via
bam.org
When Kevin "Iega" Jeff saw Fana Tshabalala's Indumba at the annual JOMBA! Contemporary Dance Experience in South Africa, he immediately knew he would ask Tshabalala to set the work on his company.

"There's an ancient energy in Fana's movement, a deep and trusted knowing," says Jeff, director of the Chicago-based Deeply Rooted Dance Theater. "Because I witnessed the raw humanity of his dancer's souls, I wanted my dancers to have that experience."
Keep reading...
Show less
Name calling, physical intimidation and cyberbullying are all-too-common experiences among male dancers. Photo by Goh Rhy Yan/Unsplash
Growing up in a family-owned dance studio in Missouri had its perks for tap dancer Anthony Russo. But it also earned him constant taunting, especially in high school.
"There was a junior in my sophomore year health class who was absolutely relentless," he says. "I'd get tripped on my way to the front of the classroom and he'd say, 'Watch out, twinkle toes.' If I raised my hand and answered a question incorrectly, I'd hear a patronizing 'Nice one, Bojangles.' "
Keep reading...
Show less
StockSnap
When I wrote about my struggle with depression, and eventual departure from dance because of it, I expected criticism. I was prepared to be challenged. But much to my relief, and horror, dancers from all over the world responded with support and stories of solidarity. The most critical response I saw was this one:
"Dance isn't for everyone."
This may as well be a mantra in the dance world. We have become entrenched in the Darwinian notion that the emotionally weak will be weeded out. There is no room for them anyway.
Keep reading...
Show less
News
Apr. 16, 2018 02:42PM EST
Maria Kochetkova in Helgi Tomasson's Trio // © Erik Tomasson
San Francisco Ballet star Maria Kochetkova just announced that she'll be leaving the company at the end of this season, after the much-anticipated Unbound Festival. The exact date will be announced later.
Keep reading...
Show less
Dance on Broadway
Apr. 21, 2018 09:30AM EST
PC Kevin Berne, courtesy Boneau/Bryan-Brown
Choreographer Sergio Trujillo asked the women auditioning for ensemble roles in his newest musical to arrive in guys' clothing—"men's suits, or blazers and ties," he says. He wasn't being kinky or whimsical. The entire ensemble of Summer: The Donna Summer Musical is female, playing men and women interchangeably as they unfold the history of the chart-busting, Grammy-winning, indisputable Queen of Disco.
courtesy www.today.com
Keep reading...
Show less
Dance in Pop Culture
Apr. 20, 2018 12:37PM EST
Ballet Zaida; Courtesy Agnes Muljadi
Have a scroll through Agnes Muljadi's Instagram feed (@artsyagnes), and you'll notice that in between her ballet shots is a curated mix of lifestyle pics. So what exactly sets her apart from the other influencers you follow? Muljadi has made a conscious effort to only feature natural beauty products, sustainable fashion and vegan foods. With over 500k followers, her social strategy (and commitment to making ethical choices) is clearly a hit. Ahead, learn why Muljadi switched to a vegan lifestyle, and the surprising way it's helped her dance career.
Keep reading...
Show less


Get Dance Magazine in your inbox