You'll Never Guess Which Dancers Made Their Stage Debut as a Radio City Clara
Juliet Doherty looking out from the Radio City Music Hall stage
A list of Clara alumnae from Radio City's Christmas Spectacular reads like a star-studded, international gala program: Tiler Peck and Brittany Pollack of New York City Ballet (and Broadway), Meaghan Grace Hinkis of The Royal Ballet, Whitney Jensen of Norwegian National Ballet and more. Madison Square Garden's casting requirements for the role are simple: The dancer should be 4' 10" and under, appear to be 14 years old or younger and have strong ballet technique and pointework.
The unspoken requisite? They need abundant tenacity at a very young age.
---
The girls selected have to perform anywhere from one to three shows per day (an average of six shows per week and 66 for the entire season). Not to mention braving Radio City Music Hall's 6,000-seat theater or, in previous years, multicity tours alongside the world-famous Radio City Rockettes. It comes as no surprise that many of these prodigies go on to successful dance careers.
Dance Magazine spoke with five former Claras about their time in the Christmas Spectacular and the lessons they learned along the way.
Catherine Hurlin, American Ballet Theatre soloist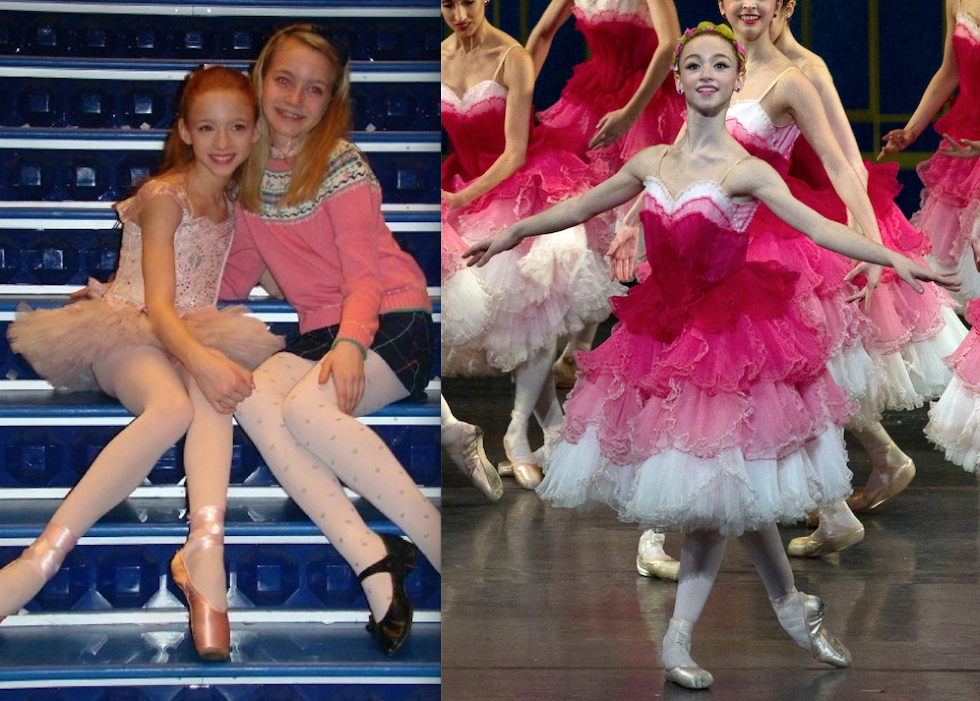 Left: Hurlin with fellow Radio City Clara Allie Parsons. Right: Hurlin in ABT's Nutcracker, photo by Gene Schiavone.
Years as Clara at Radio City: 2007, 2008, 2009
Ages: 11, 12, 13
Location: Radio City Music Hall
Onstage preparation: "My warm-up was 'The 12 Days of Christmas,' the number right before my part. I would do the entire dance with the Rockettes in the wings. There was this one moment where they would look in the wings and I would jump up and down and wave my hands, saying 'You're doing a good job! Keep going.' "
Souvenir: "I still have a pair of pointe shoes from the show, and they're crazy-looking. They're painted bubble-gum pink because that was the look of the costume. And the stage does not have marley on it, so they had to put on rubber tips. So it's this little, itty-bitty shoe, but the block is bright pink, with this big, fat rubber piece on the top."
Takeaways for professional life: "I performed so much that I got used to the stage, and because it's such a big stage you have to project a big smile. Like air-biting: a real cheeseball of a smile in order for the people in the back to see it."
Juliet Doherty, freelance ballet dancer and actress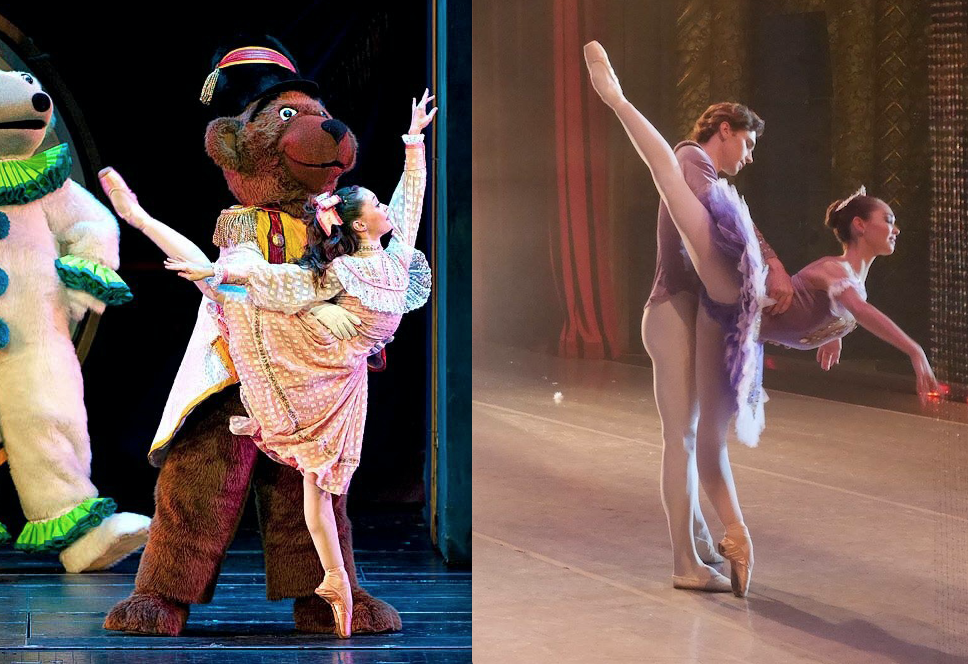 Left: Doherty performing as Clara, photo by Gene Schiavone. Right: Doherty performing today
Years as Clara: 2009, 2010, 2011
Ages: 12, 13, 14
Location: Seattle-Pittsburgh and Florida-Texas tours, Radio City Music Hall
Biggest challenge: "Finger pirouettes with the bear. He's in one of those big heads that has very little vision out of the mouth. There's a lot more distance you have to create so you don't end up whacking the bear on the nose. And at the end we had to do a shoulder sit, so that was always a challenge."
On tour vs. performing at Radio City Music Hall: "The first year on tour my mom came with me. I got really close with the cast because we all stayed in the same hotel and most of the time were in one place for a month. But New York City was my favorite theater-wise, because we got to be on a stage practically the size of a football field!"
Favorite number: "They don't do it anymore, but it was called 'Let Christmas Shine.' It was at the end of the show, and the Rockettes were dressed in these Swarovski-encrusted costumes. The lyrics we sang went "Shine out the light of love. Shine out the light of joy." It's a mantra I've carried with me ever since."
Katelyn Gaffney, Rockette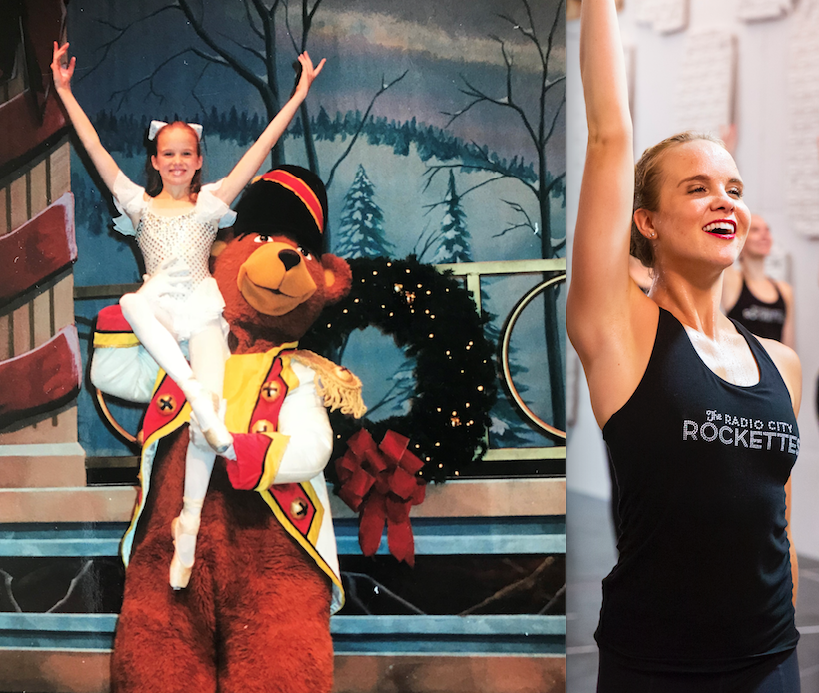 Left: Gaffney as Clara, photo by Carl SCheffel/MSG Photos. Right: Gaffney in Rockette rehearsal today. Photos courtesy MSG
Year as Clara: 2003
Age: 11–12
Location: Branson, Missouri, and Milwaukee, Wisconsin, tour
Biggest challenge: "Learning the stage was very difficult for me, because the stages were so massive. There are lines and numbers and a particular spot for you to be in at every single point in time. I feel like growing up as dancers a lot of the time we're trained to be soloists, but as Clara, you really are part of the production. There's a time and a place for every single movement."
Favorite number as Clara: "The Nutcracker scene. And that's actually a scene that's still in the Christmas Spectacular now. It's so fun. The teddy bears come to life. It's our own version of the traditional Nutcracker."
Best then-and-now moment: "I get a little teary-eyed every single year when the Claras enter for the first time. You can see their faces light up when they see us. I remember that my whole heart just exploded with joy when I saw the Rockettes for that first time in rehearsal."
Angelica Generosa, Pacific Northwest Ballet soloist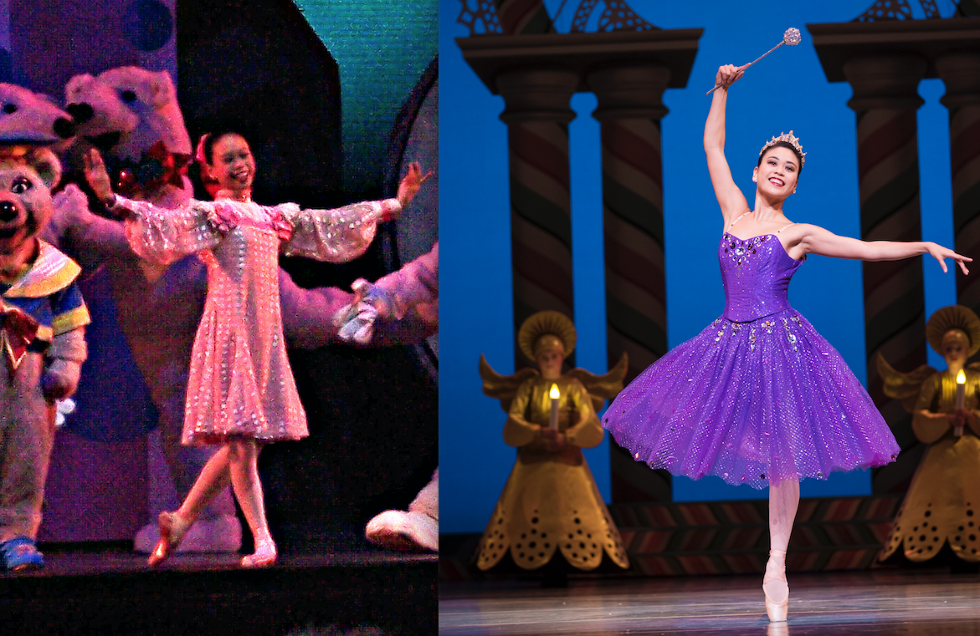 Left: Generosa as Clara. Right: Generosa as Sugar Plum at PNB, photo by Angela Sterling, courtesy PNB.
Year as Clara: 2005
Age: 13
Location: Radio City Music Hall
Major Radio City vs. ballet Nutcracker difference: "The production is a lot different now from when I did it back in the day. The Clara had to pretend sing in a little elf scene. They had a voiceover for us, but we did have a mic just in case the voice didn't work out. So I did have to rehearse to sing, but I never had to sing live."
Souvenir: "I still have a Nutcracker that I bought from the souvenir shop and I made all the Rockettes sign it!"
Takeaways for professional life: "When I danced it we had to do fouetté turns. And I remember practicing every single day and making sure I got it. It disciplined me for anything that was hard and taught me to overcome that fear. Now, doing Sugar Plum Fairy is way harder, because you have to carry the whole performance. As Clara it was just eight minutes. I had no idea what pacing meant."
Whitney Jensen, Norwegian National Ballet principal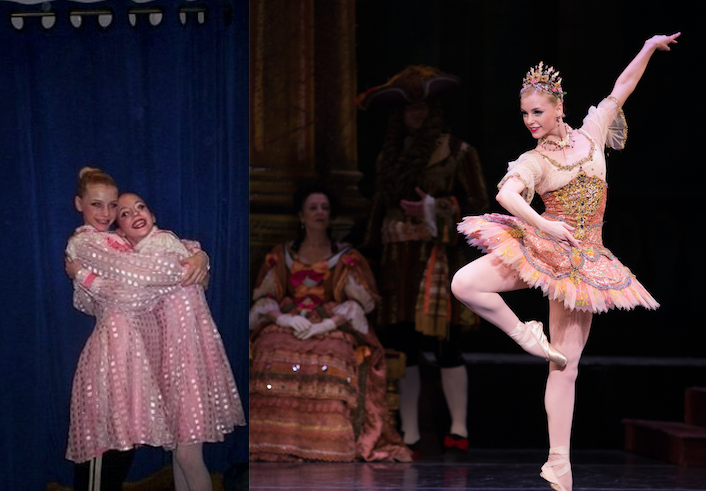 Left: With fellow Clara Meghan Grace Hinkis. Right: Jensen performing today, photo by Rosalie O'Connor
Years as Clara: 2003, 2004
Ages: 11, 12
Location: Radio City Music Hall
Major Radio City vs. ballet Nutcracker difference: "At Radio City the Nutcracker is just a suite, a short, condensed version of the story with oversized characters. There are large teddy bears dressed as ballerinas in pointe shoes!"
Takeaways for professional life: "It set me up for an incredibly independent career. At age 11, I learned the discipline of homeschooling. I also learned what it's like to work as a professional, understanding dancer responsibilities and rights, taking direction on a massive stage, learning how to do tech rehearsals, conquering stage fright if I had to sing. I also learned how to perform when you don't feel like it!"
Favorite onstage memory: "Before my first performance, preparing for my entrance as Clara, I had a flashback to a few years earlier, sitting in the audience at Radio City watching the Christmas Spectacular and telling myself 'I want to be that girl!' And all of the sudden that dream was real. For me, at 11, it was the biggest thing in the world."
Related Articles Around the Web
From Your Site Articles
News
May. 22, 2019 05:57PM EST
Fox produced a live broadcast of Rent in January—but could an original musical be next? Photo by Kevin Estrada, Courtesy Fox
When a musical prepares to make the transfer from a smaller, lesser-known venue to Broadway (where theaters hold 500-plus seats), often there's a collective intake of breath from all involved. After all, a bigger house means more tickets to sell in order to stay in the black, and sometimes shows with even the most tenacious fan bases can't quite navigate such a jump. But what about the transfer from stage…to screen? Is Broadway ready to be consumed from the comfort of your couch?
Keep reading...
Show less
Hive by Boston Conservatory student Alyssa Markowitz. Photo by Jim Coleman
The way we create and consume dance is changing every day. Now more than ever, the field demands that dancers not only be able to perform at the highest level, but also collaborate with choreographers to bring their artistic visions to life. Dancers who miss out on choreographic training may very well find themselves at a disadvantage as they try to launch their careers.

Keep reading...
Show less
Courtesy Lee
Daphne Lee was dancing with Collage Dance Collective in Memphis, Tennessee, when she received two difficult pieces of news: Her mother had been diagnosed with multiple myeloma cancer, and her father had Parkinson's disease, affecting his mobility and mental faculties.
The New Jersey native's reaction: "I really need to move home."
Keep reading...
Show less
Bruce Mars via Unsplash
Summer is almost upon us, and whether you're a student about to go on break or a pro counting the days till layoff, don't forget that with warm weather comes a very serious responsibility: To maintain your cross-training routine on your own.
Those of us who've tried to craft our own cross-training routine know it's easier said than done. So we consulted the stars, and rounded up the best options for every zodiac sign. (TBH, you should probably consult an expert, too—we'd recommend a physical therapist, a personal trainer or your teacher.)
Keep reading...
Show less
Last year's winner: Manuel Vignoulle's EARTH. Jack Hartin Photography, Courtesy McCallum Theatre
It's not often that a promising choreographer gets to stage work in a world-class theater, on a skillfully-curated program with professional dancers, and with the possibility of winning a substantial cash prize. But at the McCallum Theatre's Palm Desert Choreography Festival, that's been the status quo for over twenty years.
Since Shea New, the festival's artistic director, founded the festival in 1998, she's worked tirelessly with McCallum's director of education and festival producer, Kajsa Thuresson-Frary, and stage manager and festival production manager Joanna Fookes to build a festival that nurtures choreographers, highlights high quality work, powerfully engages the local community and cultivates an audience base for dance in the Coachella Valley. The trio is backed by a strong team of professionals at McCallum and the brilliant volunteers from the local and national level who serve as adjudicators.
Keep reading...
Show less
Get Dance Magazine in your inbox
It's become second nature in dance studios: The instant anyone gets hurt, our immediate reaction is to run to the freezer to grab some ice (or, more realistically, a package of frozen peas).
But as routine as icing our injuries might be, the benefits are not actually backed up by scientific studies. And some experts now believe icing could even disrupt the healing process.
Keep reading...
Show less
Getty Images
I'm a contemporary dancer, and I'm nervous about trying to get pregnant since I can't predict if it might happen during the middle of the season. We have a union contract that is supposed to protect us. But I'm scared because several of my colleagues' contracts weren't renewed for no particular reason. Having a big belly could be a big reason to get rid of me!
—Andrea, New York, NY
Keep reading...
Show less
From Dance of Urgency. © Ekvidi
When the going gets tough, the tough start dancing: That's the premise behind "Dance of Urgency," a recently opened exhibit at MuseumsQuartier Vienna that features photos, video and other documentary material relating to the use of dance as political protest or social uprising.
The groups featured in the show, largely based around clubs and electronic dance music scenes, span the globe and respond to a variety of issues—from inequality and social stratification to racial divides to crackdowns on club culture itself.
Keep reading...
Show less
News
May. 20, 2019 04:24PM EST
Last night, longtime theater legends (including Chita Rivera herself!) as well as rising stars gathered to celebrate one of Broadway's danciest events: the third annual Chita Rivera Awards.
The evening paid tribute to this season's dancer standouts, fabulous ensembles, and jaw-dropping choreography—on- and off-Broadway and on film.
As usual, several of our faves made it into the mix. (With such a fabulous talent pool of nominees to choose from, we're glad that ties were allowed.) Here are the highlights from the winner's list:
Keep reading...
Show less
Lorenzo Di Cristina/Unsplash
When you're a foreign dancer, gaining legal rights to work in the U.S. is a challenging process. It's especially difficult if you're petitioning to work as a freelance dancer without an agent or company sponsorship.
The process requires professional muscle along with plenty of resources and heart. "There's a real misnomer that it's super easy," says Neena Dutta, immigration attorney and president of Dutta Law Firm. "People need to educate themselves and talk to a professional."
Here are four things every foreign dancer who wants to work in the U.S. needs to know to build a freelance dance career here.
Keep reading...
Show less
Quinn Wharton
What does it take to "make it" in dance? It's no secret that turning this passion into a profession can be a struggle. In such a competitive field, talent alone isn't enough to get you where you want to be.
So what kinds of steps can you take to become successful? Dance Magazine spoke to 33 people from all corners of the industry to get their advice on the lessons that could help us all, no matter where we are in our careers.
Keep reading...
Show less
Still of Fonteyn from the 1972 film I Am a Dancer. Photo courtesy DM Archives
On May 18, 1919, Margot "Peggy" Hookham was born. She would grow up to become Dame Margot Fonteyn, England's first homegrown prima ballerina. She joined the Sadler's Wells School in 1934 and was performing principal roles with the precursor to The Royal Ballet the next year. Fonteyn was a company-defining figure, dancing Aurora for the re-opening of the Royal Opera House after World War II, creating numerous roles with Sir Frederick Ashton and forging a legendary partnership with Rudolf Nureyev.
Keep reading...
Show less
Courtesy #Dance4OurLives
Memorial Day is notoriously one of Chicago's bloodiest weekends. Last year, 36 people were shot and seven died that weekend. In 2017 and 2016, the number of shootings was even higher.
When Garley "GiGi Tonyé" Briggs, a dance teacher and Chicago native, started noticing this pattern, she was preparing her second annual Memorial Day workshop for local youth.
The event's original aim was simple: "I wanted the youth of Chicago to have somewhere they could come and learn from different dancers and be off the streets on the South Side on this hot holiday," she says.
Keep reading...
Show less