You'll Never Guess Which Dancers Made Their Stage Debut as a Radio City Clara
Juliet Doherty looking out from the Radio City Music Hall stage
A list of Clara alumnae from Radio City's Christmas Spectacular reads like a star-studded, international gala program: Tiler Peck and Brittany Pollack of New York City Ballet (and Broadway), Meaghan Grace Hinkis of The Royal Ballet, Whitney Jensen of Norwegian National Ballet and more. Madison Square Garden's casting requirements for the role are simple: The dancer should be 4' 10" and under, appear to be 14 years old or younger and have strong ballet technique and pointework.
The unspoken requisite? They need abundant tenacity at a very young age.
---
The girls selected have to perform anywhere from one to three shows per day (an average of six shows per week and 66 for the entire season). Not to mention braving Radio City Music Hall's 6,000-seat theater or, in previous years, multicity tours alongside the world-famous Radio City Rockettes. It comes as no surprise that many of these prodigies go on to successful dance careers.
Dance Magazine spoke with five former Claras about their time in the Christmas Spectacular and the lessons they learned along the way.
Catherine Hurlin, American Ballet Theatre soloist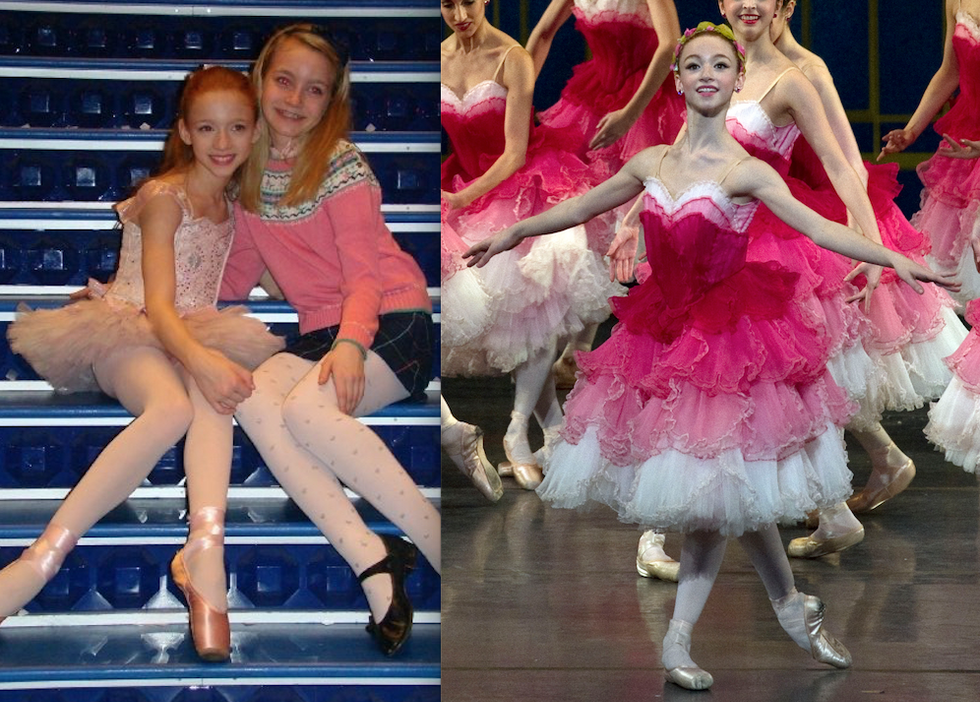 Left: Hurlin with fellow Radio City Clara Allie Parsons. Right: Hurlin in ABT's Nutcracker, photo by Gene Schiavone.
Years as Clara at Radio City: 2007, 2008, 2009
Ages: 11, 12, 13
Location: Radio City Music Hall
Onstage preparation: "My warm-up was 'The 12 Days of Christmas,' the number right before my part. I would do the entire dance with the Rockettes in the wings. There was this one moment where they would look in the wings and I would jump up and down and wave my hands, saying 'You're doing a good job! Keep going.' "
Souvenir: "I still have a pair of pointe shoes from the show, and they're crazy-looking. They're painted bubble-gum pink because that was the look of the costume. And the stage does not have marley on it, so they had to put on rubber tips. So it's this little, itty-bitty shoe, but the block is bright pink, with this big, fat rubber piece on the top."
Takeaways for professional life: "I performed so much that I got used to the stage, and because it's such a big stage you have to project a big smile. Like air-biting: a real cheeseball of a smile in order for the people in the back to see it."
Juliet Doherty, freelance ballet dancer and actress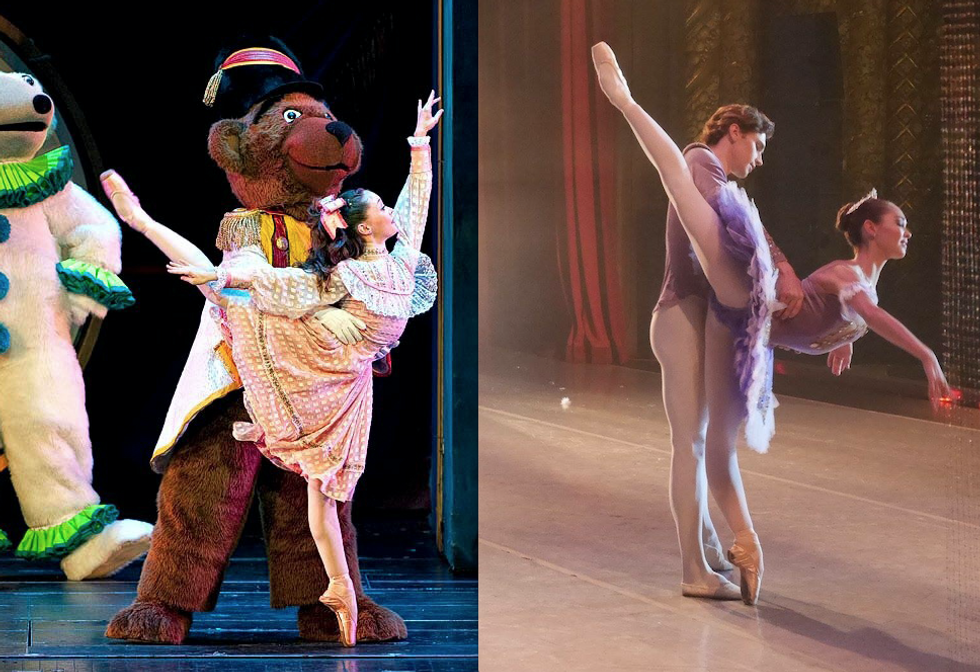 Left: Doherty performing as Clara, photo by Gene Schiavone. Right: Doherty performing today
Years as Clara: 2009, 2010, 2011
Ages: 12, 13, 14
Location: Seattle-Pittsburgh and Florida-Texas tours, Radio City Music Hall
Biggest challenge: "Finger pirouettes with the bear. He's in one of those big heads that has very little vision out of the mouth. There's a lot more distance you have to create so you don't end up whacking the bear on the nose. And at the end we had to do a shoulder sit, so that was always a challenge."
On tour vs. performing at Radio City Music Hall: "The first year on tour my mom came with me. I got really close with the cast because we all stayed in the same hotel and most of the time were in one place for a month. But New York City was my favorite theater-wise, because we got to be on a stage practically the size of a football field!"
Favorite number: "They don't do it anymore, but it was called 'Let Christmas Shine.' It was at the end of the show, and the Rockettes were dressed in these Swarovski-encrusted costumes. The lyrics we sang went "Shine out the light of love. Shine out the light of joy." It's a mantra I've carried with me ever since."
Katelyn Gaffney, Rockette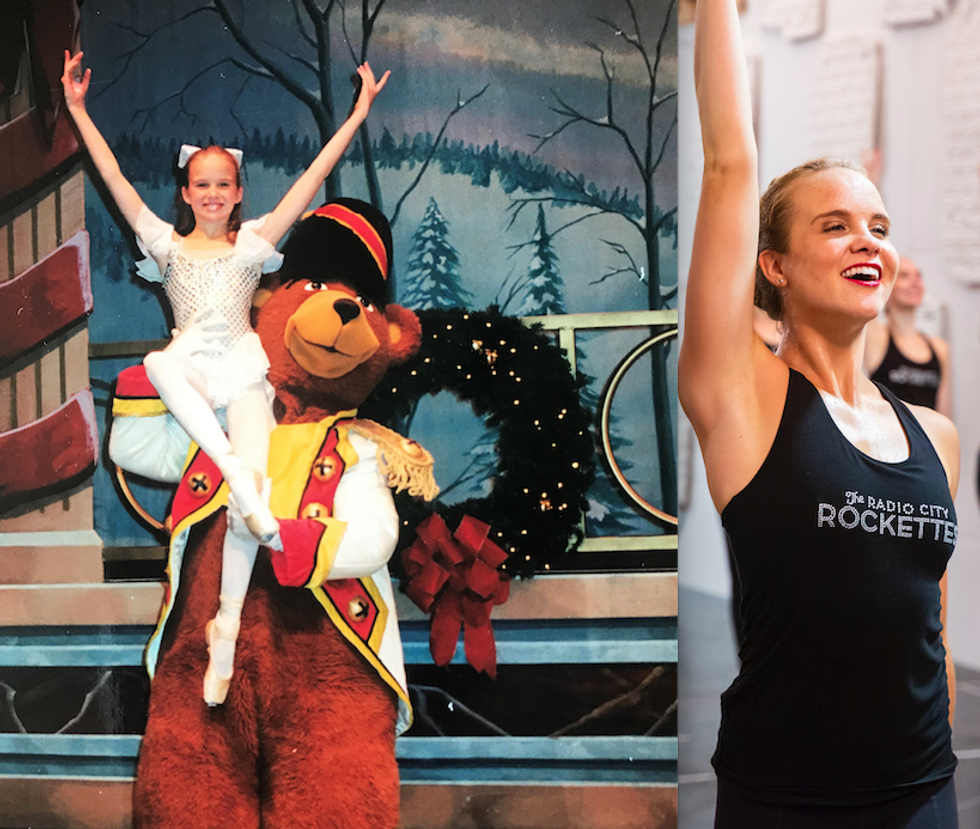 Left: Gaffney as Clara, photo by Carl SCheffel/MSG Photos. Right: Gaffney in Rockette rehearsal today. Photos courtesy MSG
Year as Clara: 2003
Age: 11–12
Location: Branson, Missouri, and Milwaukee, Wisconsin, tour
Biggest challenge: "Learning the stage was very difficult for me, because the stages were so massive. There are lines and numbers and a particular spot for you to be in at every single point in time. I feel like growing up as dancers a lot of the time we're trained to be soloists, but as Clara, you really are part of the production. There's a time and a place for every single movement."
Favorite number as Clara: "The Nutcracker scene. And that's actually a scene that's still in the Christmas Spectacular now. It's so fun. The teddy bears come to life. It's our own version of the traditional Nutcracker."
Best then-and-now moment: "I get a little teary-eyed every single year when the Claras enter for the first time. You can see their faces light up when they see us. I remember that my whole heart just exploded with joy when I saw the Rockettes for that first time in rehearsal."
Angelica Generosa, Pacific Northwest Ballet soloist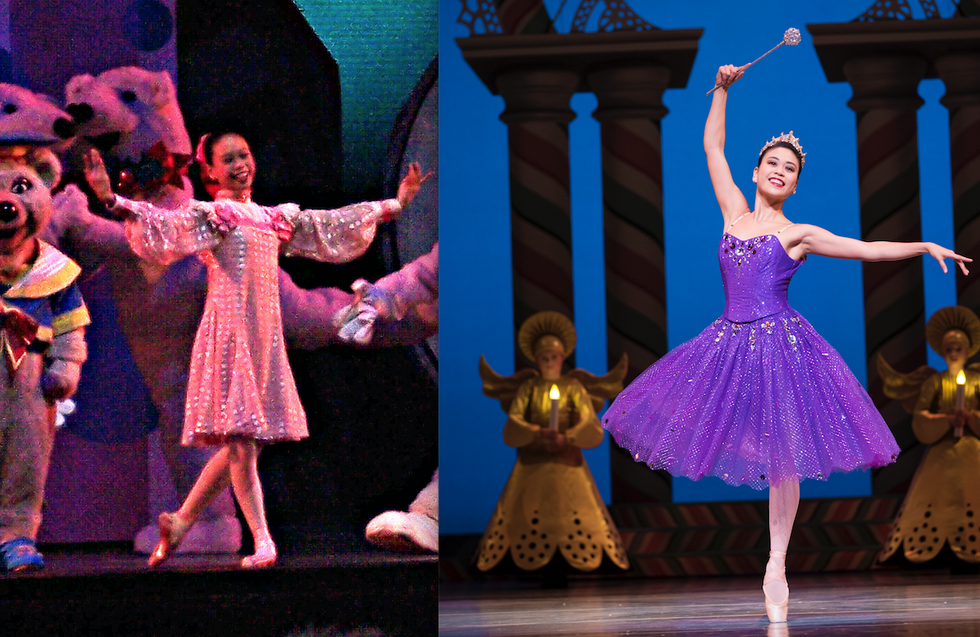 Left: Generosa as Clara. Right: Generosa as Sugar Plum at PNB, photo by Angela Sterling, courtesy PNB.
Year as Clara: 2005
Age: 13
Location: Radio City Music Hall
Major Radio City vs. ballet Nutcracker difference: "The production is a lot different now from when I did it back in the day. The Clara had to pretend sing in a little elf scene. They had a voiceover for us, but we did have a mic just in case the voice didn't work out. So I did have to rehearse to sing, but I never had to sing live."
Souvenir: "I still have a Nutcracker that I bought from the souvenir shop and I made all the Rockettes sign it!"
Takeaways for professional life: "When I danced it we had to do fouetté turns. And I remember practicing every single day and making sure I got it. It disciplined me for anything that was hard and taught me to overcome that fear. Now, doing Sugar Plum Fairy is way harder, because you have to carry the whole performance. As Clara it was just eight minutes. I had no idea what pacing meant."
Whitney Jensen, Norwegian National Ballet principal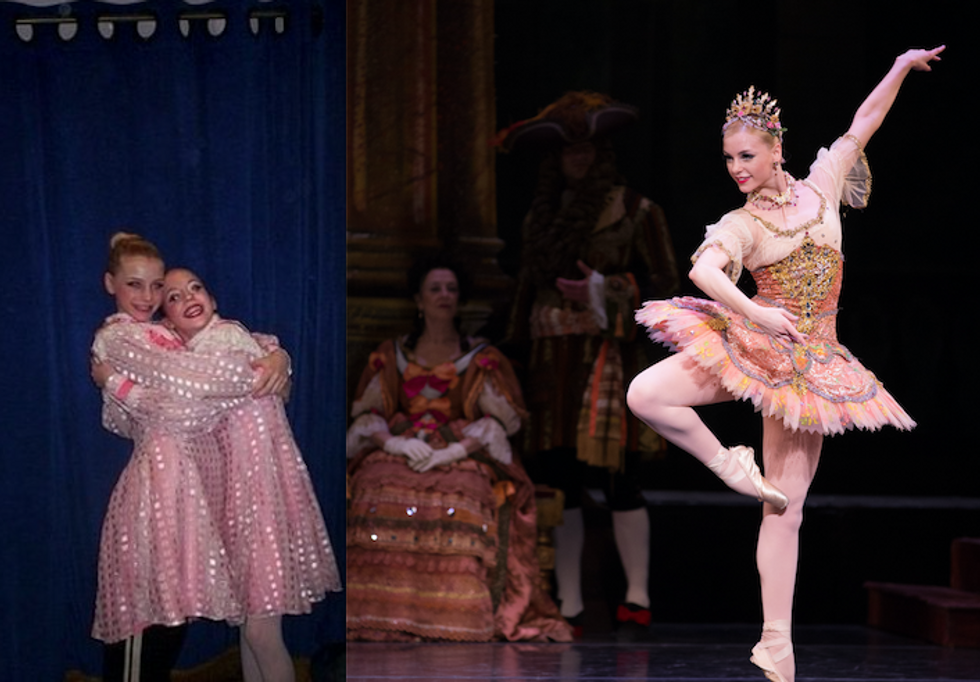 Left: With fellow Clara Meghan Grace Hinkis. Right: Jensen performing today, photo by Rosalie O'Connor
Years as Clara: 2003, 2004
Ages: 11, 12
Location: Radio City Music Hall
Major Radio City vs. ballet Nutcracker difference: "At Radio City the Nutcracker is just a suite, a short, condensed version of the story with oversized characters. There are large teddy bears dressed as ballerinas in pointe shoes!"
Takeaways for professional life: "It set me up for an incredibly independent career. At age 11, I learned the discipline of homeschooling. I also learned what it's like to work as a professional, understanding dancer responsibilities and rights, taking direction on a massive stage, learning how to do tech rehearsals, conquering stage fright if I had to sing. I also learned how to perform when you don't feel like it!"
Favorite onstage memory: "Before my first performance, preparing for my entrance as Clara, I had a flashback to a few years earlier, sitting in the audience at Radio City watching the Christmas Spectacular and telling myself 'I want to be that girl!' And all of the sudden that dream was real. For me, at 11, it was the biggest thing in the world."
From Your Site Articles
Related Articles Around the Web
Courtesy Macy's, Inc.
As you're prepping your Thanksgiving meal, why not throw in a dash of dance?
This year's Macy's Thanksgiving Day Parade is stuffed (pun intended) with performances from four stellar Broadway shows, the Radio City Rockettes and students from three New York City dance institutions.
Tune in to NBC November 28 from 9 am to noon (in all time zones), or catch the rebroadcast at 2 pm (also in all time zones). Here's what's in store:
Keep reading...
Show less
Ailey II artistic director Troy Powell teaching an Ailey Workshop at NYCDA. Courtesy NYCDA
Back in 2011 when Joe Lanteri first approached Katie Langan, chair of Marymount Manhattan College's dance department, about getting involved with New York City Dance Alliance, she was skeptical about the convention/competition world.
"But I was pleasantly surprised by the enormity of talent that was there," she says. "His goal was to start scholarship opportunities, and I said okay, I'm in."
Today, it's fair to say that Lanteri has far surpassed his goal of creating scholarship opportunities. But NYCDA has done so much more, bridging the gap between the convention world and the professional world by forging a wealth of partnerships with dance institutions from Marymount to The Ailey School to Complexions Contemporary Ballet and many more. There's a reason these companies and schools—some of whom otherwise may not see themselves as aligned with the convention/competition world—keep deepening their relationships with NYCDA.
Now, college scholarships are just one of many ways NYCDA has gone beyond the typical weekend-long convention experience and created life-changing opportunities for students. We rounded up some of the most notable ones:
Keep reading...
Show less
Sergei Polunin. Photo by British Broadcasting Corporation and Polunin Ltd., Courtesy Sundance Selects.
Last week, Variety reported that Sergei Polunin would reunite with the team behind Dancer for another documentary. "Where 'Dancer' looked at his whole life, family and influences," director Steven Cantor said, " 'Satori' will focus more squarely on his creative process as performer and, for the first time ever, choreographer." The title references a poorly received evening of work by the same name first presented by Polunin in 2017. (It recently toured to Moscow and St. Petersburg.)
I cannot be the only person wondering why we should care.
Keep reading...
Show less
Left: Hurricane Harvey damage in Houston Ballet's Dance Lab; Courtesy Harlequin. Right: The Dance Lab pre-Harvey; Nic Lehoux, Courtesy Houston Ballet.
"The show must go on" may be a platitude we use to get through everything from costume malfunctions to stormy moods. But when it came to overcoming a literal hurricane, Houston Ballet was buoyed by this mantra to go from devastated to dancing in a matter of weeks—with the help of Harlequin Floors, Houston Ballet's longstanding partner who sprang into action to build new floors in record time.
Keep reading...
Show less