Dance Magazine
Covering the world of dance for over 90 years.
Apr. 18, 2017 02:04PM EST
Apr. 12, 2017 07:03PM EST
Cullberg Ballet in Jefta van Dinther's Protagonist. Photo by Urban Jörén, Courtesy Cullberg Ballet
Spring performance season is in full swing! Here are three programs taking ballet off the beaten path.
Cullberg Ballet Celebrates 50 Years of Drama
As it embarks on its 50th-anniversary season, Cullberg Ballet remains a beacon of European contemporary dance. Influenced by Kurt Jooss, founder Birgit Cullberg revolutionized ballet in Sweden and beyond, bringing literary and dramatic themes to her Stockholm-based company. Her son, the legendary Mats Ek, took the helm from 1985 to 1993. For the anniversary celebration, the company has planned a double bill, with Ek and Ana Laguna (his wife and muse) staging Cullberg's 1968 Eurydice is Dead, set to music by Ennio Morricone, and young Dutch/Swedish choreographer Jefta van Dinther's Protagonist (2016), to a score including songs by Elias. Dansens Hus, April 27–29. cullbergballetten.se/en.
Canada's Epic Birthday Bash
Ballet BC's Alexis Fletcher. Photo by Michael Slobodian, Courtesy Ballet BC.
To celebrate Canada's 150th, the National Ballet of Canada, Alberta Ballet and Ballet BC are joining forces. ENCOUNT3RS, commissioned by the National Arts Centre, will feature brand-new works by Guillaume Côté, Jean Grand-Maître and Emily Molnar, with composers Kevin Lau, Andrew Staniland and Nicole Lizée, respectively. April 20–22. nac-cna.ca.
Bots at the Ballet
Flobots and the dancers of Wonderbound. Photo by Amanda Tipton, Courtesy Wonderbound.
Denver contemporary ballet company Wonderbound (formerly Ballet Nouveau Colorado) has become something of a hub for collaborations in the Mile High City. They first performed to live, local music in 2011, and have since dedicated nearly every new work to hands-on experimentation with musicians in genres ranging from Baroque to rock. This April, with artistic director Garrett Ammon's ballet DIVISIONS, they foray into the hip-hop world. The piece will celebrate the release of the Flobots' new album, NOENEMIES, serving as the starting point for the band's national tour. April 14–16, 22–23, 29–30. wonderbound.com.
Keep reading...
Show less
Mar. 31, 2017 05:52PM EST
Lili Cockerille Livingston danced with the Harkness Ballet from 1964 to 69 and then with the Joffrey Ballet until 1972, when she left to perform in the Broadway show Via Gallactica. As a child, Livingston had been one of the first Claras in the U.S. Nutcracker, as staged by Freddie Franklin and Alexandra Fedorova.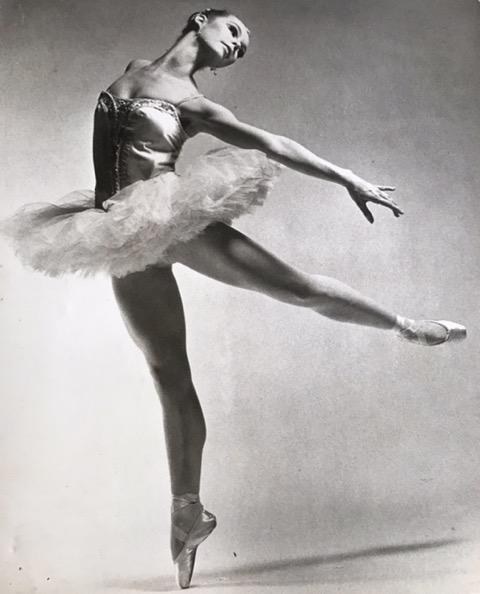 Anna Kisselgoff's New York Times review of the Joffrey Ballet in 1970 wrote:
"Miss Cockerille, stepping into the role of the heroine in Todd Bolender's 'The Still Point' triumphed totally in the dramatic intensity she brought to what could have been a merely sketched‐out characterization…. Fine in her dancing, Miss Cockerille was even more impressive in that special air of fragility and shattered sensibility that she sustained throughout her performance."
After moving to Tulsa, Oklahoma, Lili became Dance Critic for the Tulsa Tribune and freelance contributor to Dance Magazine.
In 1997, University of Oklahoma published her book "American Indian Ballerinas," a biography of Maria Tallchief, Marjorie Tallchief, Rosella Hightower and Yvonne Chouteau.
Marcelo Angelini, artistic director of Tulsa Ballet called her a "true dance reviewer, who gave constructive criticism, who wrote for the love of dance and not to boost their ego."Tulsa Ballet's managing director Scott Black announced before the curtain last Friday that the performance was dedicated to Livingston.
Mar. 30, 2017 08:19PM EST
DANCE MAGAZINE CLASSIFIED ADVERTISING: APRIL 2017
TO ADVERTISE, PLEASE EMAIL: dcastro@dancemedia.com
CDS DVDS FILM & VIDEO & DOWNLOADS
DANCE CLASS MUSIC: Sound Equipment, Videos, 100's of Titles, Variable Speed Players Free Catalog. Jay Distributors 800.793.6843 www.danceclassmusic.com/dancemagazine.html
WWW.ASGARDPROD.COM Music for Dance 757.467.4420
COSTUMES
WWW.DANCEITAGAIN.COM Buy/sell gently used costumes
DANCE PROGRAMS/CAMPS
LONG LAKE CAMP: Summer dance & more for Dancers 8+. Excellent teachers. Stunning upstate New York on lake. Info: 914.693.7111 http://www.longlakecamp.com/dance-camp/
DANCE STUDIOS FOR SALE
W. BOSTON DANCE SCHOOl Beautiful studio, 130 students. Secure inexpensive lease. leap2teach@gmail.com
THRIVING UPSTATE NY DANCE SCHOOL looking for new owner; will help with transition. Contact danceinthemountains@aol.com
EMPLOYMENT
CINCINNATI BALLET- Seeking Male dancer 6-ft. or taller – senior soloist or higher rank for the 2017-2018 season. 35-wks. minimum, competitive salary+benefits. Please email resume, You-Tube links, DVDs to Melissa Wood mwood@cballet.org or 1555 Central Pkwy, Cincinnati, OH 45214. www.cballet.org
ANCHORAGE BALLET seeks instructors for the 2017-18 Season. Teaching and choreography experience is a must. Performance opportunities are available for teachers. If you are motivated, have excellent communication skills and open to teaching all levels of dance, send letter and resume to: Search Committee, Anchorage Ballet, 501 W. International Airport Rd. #22, Anchorage, AK 99518. No phone calls please.
SUMMER INTENSIVES
NEW HAVEN BALLET: New Haven & Branford, CT. Artistic Dir. Lisa Sanborn. www.newhavenballet.org administrator@newhavenballet.org Telephone: 203.782.9038. Intensive 7/10-8/12. Ballet technique, pointe, contemporary, variations, Pilates/conditioning/stretch. Ages 3-Adult. Levels: Pre-Ballet through Adv. Scholarships.
RADFORD UNIVERSITY (RUBY) International Summer Intensive Program, June19-29, 2017. Ballet, Pointe, Conditioning, Modern, Jazz. Contact Director Inessa Plekhanova: iplekhano@radford.edu
SLK BALLET SCHOOL: Sara Knight, Artistic Director. Year Round, Summer Intensive, Private Coaching. NYC. 646.863.2032. Audition Info: www.SLKBalletSchool.com
THE SCHOOL OF RUSSIAN AMERICAN BALLET at Kingsborough holds Summer Intensive Auditions by appointment Sundays in Brooklyn, NY, from April to July. For info: www.SummerIntensiveRussianBallet.us
BALLET CHICAGO SUMMER INTENSIVE 2017 Chicago, IL. June 26 - July 28, July 31 -Aug 11. Scholarships available. www.balletchicago.org 312.251.8838
AERIAL DANCE FESTIVAL 2017: Boulder CO, 7/30-8/11. Aerial Dance. 12+ www.frequentflyers.org • 303.245.8272
DAVID DORFMAN DANCE Workshop at Ohio University, June 18-30. Ages 16+. Scholarships Available! Info: www.ohio.edu/dance - 740.593.1824
CLASSIFIED ADVERTISING FOR EVERY BUDGET:
BASIC RATE: For economy, Dance Magazine offers a Basic Rate for ads that are prescheduled. The Basic Rate is $61 Web-surcharge + $45 per line with approximately 6 words per line. For example, the rate is $196 per month for the popular 3-line classified ad with a Print+Web run (July Print/July Online). July Issue / Ad Copy Deadline: April 27th.
WEB-EXPEDITE: For immediacy, Dance Magazine offers a Web-Expedite to post your ad online Asap. For special-handling rates, please email dcastro@dancemedia.com
TO SCHEDULE AN AD, PLEASE EMAIL YOUR AD COPY/INQUIRY:
Dee Dee Castro, Ad Sales Manager, dcastro@dancemedia.com
Telephone 510 523 7750


Get Dance Magazine in your inbox
Featured College Dance Program