Everything You Assumed About Stretching Might Be Wrong
LINES dancer Courtney Henry. Photo by Quinn Wharton
We always figured that stretching made us more flexible by loosening up our muscles and joints. Some of us, ahem, might have even tried to fall asleep in our middle splits to get our stubbornly stiff inner thighs to let go.
But it turns out that might not actually be how stretching works.
A new review published in the Scandinavian Journal of Science & Medicine in Sports suggests that increased flexibility actually comes from your brain growing more used to the tension.
---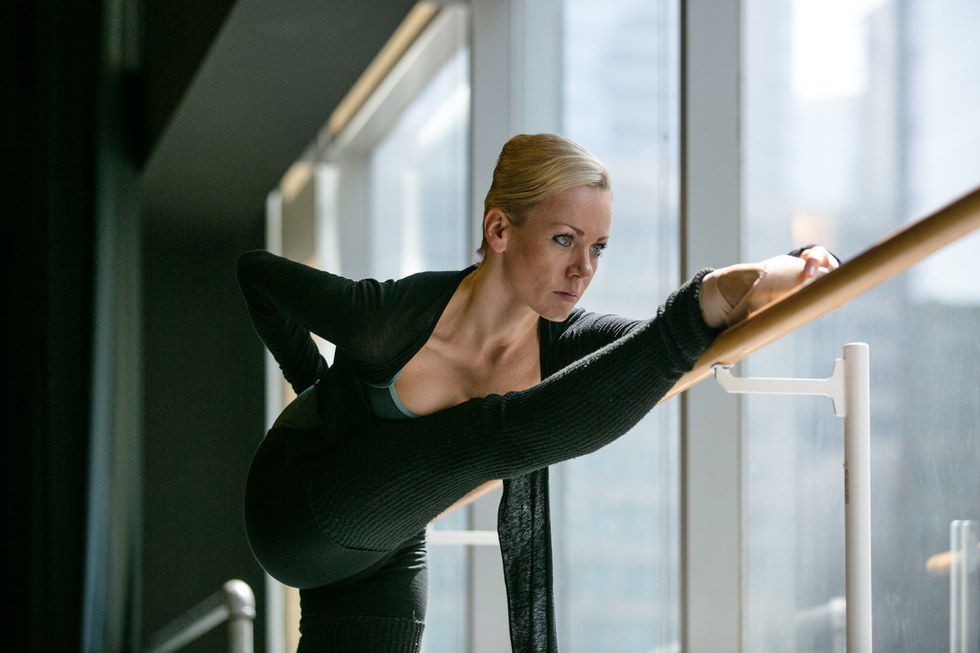 Former Scottish Ballet dancer Eve Mutso. Photo by Quinn Wharton
Researchers investigated two competing ideas about how stretching increases your range of motion:
The Mechanical Theory: Regular stretching physically alters the muscles, joints and tendons by lengthening them or making them less stiff.
The Sensory Theory: Regular stretching teaches your body to tolerate more of the tension that's caused by stretching.
After looking at the results of 26 studies lasting between three and eight weeks in which participants stretched a couple times a week, researchers found that participants were able to handle moving in a greater range of motion, but there were only small physical changes noticed in their muscles, joints and tendons. Which seems to support the sensory theory rather than the mechanical one.
Of course, it's possible that physical changes may simply take longer than the neuromuscular ones—we'd love to see a study that looks at what happens in the body after a year's worth of stretching. But it's fascinating to find out that at least part of what's going on every time you inch your nose closer to your knee is a change in your brain.
PC Elena Fetisova
Where can you watch Giselle, Romeo and Juliet, The Nutcracker, Coppélia and Le Corsaire all in one place? Hint: It also has extra-buttery popcorn.
Yep, it's your local movie theater. Starting this weekend, theaters across the country will be showing Bolshoi Ballet productions of classical and contemporary story ballets.
Keep reading...
Show less
Popular
Sep. 25, 2017 10:40AM EST
The dancers file into an audition room. They are given a number and asked to wait for registration to finish before the audition starts. At the end of the room, behind a table and a computer (and probably a number of mobile devices), there I sit, doing audio tests and updating the audition schedule as the room fills up with candidates. The dancers, more nervous than they need to be, see me, typing, perhaps teasing my colleagues, almost certainly with a coffee cup at my side.

Keep reading...
Show less
Danielle Peazer, photo by David Salafia
When commercial dancer Danielle Peazer took on an ambassadorial role with Reebok in early 2016, she didn't realize the gig would also lead to a career shift. But while traveling with and teaching workshops for the brand, the idea for DDM (Danielle's Dance Method) Collective started to take shape.
Keep reading...
Show less
ABT's James Whiteside and Isabella Boylston. Photo via Instagram
Last night, American Ballet Theatre held its annual Fall Gala at the David H. Koch Theater in New York City. To celebrate ABT's artistic director Kevin McKenzie's 25 years of leadership, dancers from ABT's company, apprentices, studio company members and students from the Jaqueline Kennedy Onassis School took to the stage in Jessica Lang's The Gift, Alexei Ratmansky's Songs of Bukovina and Christopher Wheeldon's Thirteen Diversions.
But we also love a good behind-the-scenes glimpse—especially when designer gowns are involved. And the dancers gave us plenty of glam looks to obsess over once the curtains closed. Ahead, see our favorite moments from gala straight from the dancers.
Keep reading...
Show less


Get Dance Magazine in your inbox