Everything You Assumed About Stretching Might Be Wrong
LINES dancer Courtney Henry. Photo by Quinn Wharton
We always figured that stretching made us more flexible by loosening up our muscles and joints. Some of us, ahem, might have even tried to fall asleep in our middle splits to get our stubbornly stiff inner thighs to let go.
But it turns out that might not actually be how stretching works.
A new review published in the Scandinavian Journal of Science & Medicine in Sports suggests that increased flexibility actually comes from your brain growing more used to the tension.
---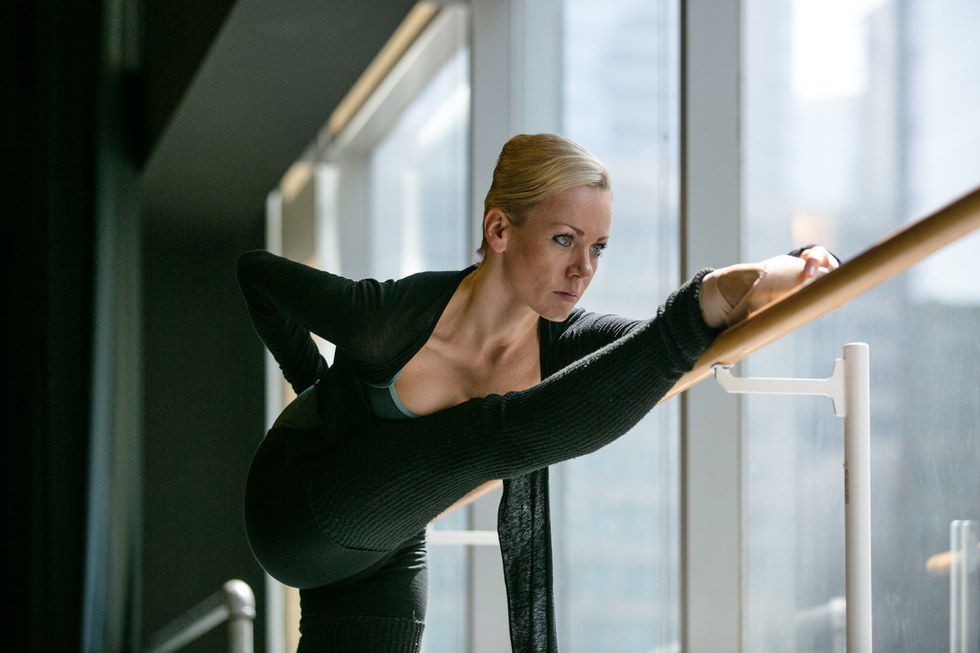 Former Scottish Ballet dancer Eve Mutso. Photo by Quinn Wharton
Researchers investigated two competing ideas about how stretching increases your range of motion:
The Mechanical Theory: Regular stretching physically alters the muscles, joints and tendons by lengthening them or making them less stiff.
The Sensory Theory: Regular stretching teaches your body to tolerate more of the tension that's caused by stretching.
After looking at the results of 26 studies lasting between three and eight weeks in which participants stretched a couple times a week, researchers found that participants were able to handle moving in a greater range of motion, but there were only small physical changes noticed in their muscles, joints and tendons. Which seems to support the sensory theory rather than the mechanical one.
Of course, it's possible that physical changes may simply take longer than the neuromuscular ones—we'd love to see a study that looks at what happens in the body after a year's worth of stretching. But it's fascinating to find out that at least part of what's going on every time you inch your nose closer to your knee is a change in your brain.
A grant from the NEA helped Miami City Ballet present its centennial celebration of Jerome Robbins. Photo by Kyle Froman, Courtesy MCB
The fate of the National Endowment for the Arts has had us on tenterhooks (and off...and on again) since the election of Donald Trump. (Actually, we've been on and off tenterhooks about it more or less since it was founded.)
Keep reading...
Show less
via YouTube
You don't need to convince us that dance can be a powerful vehicle for change. But in case you had any doubts, Dance Theatre of Harlem's new promotional video is all the proof you need. As part of their 2018 New York season, DTH will be hosting a gala on April 4 to commemorate the 50th anniversary of the assassination of Dr. Martin Luther King Jr. (this inspired the founding of the company by Arthur Mitchell and Karel Shook less than a year after his death).
Keep reading...
Show less
What Dancers Eat
Mar. 09, 2018 09:15AM EST
Pizza can be an excellent recovery meal after a hard day of class and rehearsal. Photo by Thinkstock
Raise your hand if you've ever walked out of the studio with just one thought on your mind: a big, juicy cheeseburger. But raise your other hand if instead of getting that burger, you opted for a hearty salad or stir-fry.
While dancers need to fuel their bodies with nutrient-dense meals and snacks, plenty of foods get an unfair bad rap. "The diet culture in this country vilifies various food groups as being bad while championing others as good," says Kelly Hogan, MS, RD, CDN, clinical nutrition and wellness manager at the Dubin Breast Center at Mount Sinai Hospital in New York City. "But black-and-white thinking like that has no place when it comes to food."
Some foods have less nutrition than others, admits Hogan, but if you're eating what you crave and honoring your hunger and fullness cues, she says you'll probably get the variety of nutrients your body needs. Here are seven foods that can have a place on your plate—guilt-free.
Keep reading...
Show less
When you spend as much time on the road as The Royal Ballet's Steven McRae, getting access to a proper gym can be a hassle. To stay fit, the Australian-born principal turns to calisthenics—the old-school art of developing aerobic ability and strength with little to no equipment.
"It's basically just using your own body weight," McRae explains. "In terms of partnering, I'm not going to dance with a ballerina who is bigger than me, so if I can sustain my own body weight, then in my head I should be fine."
Keep reading...
Show less
Alvin Ailey's life and groundbreaking work are coming to the big screen. Photo courtesy Ailey Archives.
There must be something in the water: Last week, we announced that Madonna is directing Michaela DePrince's upcoming biopic. And yesterday, we got wind of another major dance film: According to The Hollywood Reporter, Fox Searchlight has sealed the deal to make Ailey Ailey's life and work into a movie. Yes, please.
While some movies falter along their way to the big screen, we think this one's got legs (and hopefully a whole lot of lateral T's and hinges and coccyx balances, too). Why?
Keep reading...
Show less
John Heginbotham never walks into rehearsal unprepared. Photo by Janelle Jones, courtesy the Watermill Center
Back in 2012, after 14 years dancing with Mark Morris Dance Group, choreographer John Heginbotham ventured out on his own. Don't think of it as going solo, though.
Almost from the outset, Heginbotham has embarked on a series of fruitful collaborations with other artists, via his namesake company, Dance Heginbotham, and through a stream of independent projects. His creative partners have covered a range of talents and genres: illustrator Maira Kalman (in 2017's The Principles of Uncertainty), opera director Peter Sellars (for Girls of the Golden West, which debuted at San Francisco Opera in November), and contemporary-music luminaries such as Tyondai Braxton and Alarm Will Sound.
Here's What He Has To Say: About starting his company, his rehearsal process and why he's drawn to creative mash-ups.

Keep reading...
Show less


Get Dance Magazine in your inbox