How Do You Find The Strength To Be Vulnerable Onstage?
Tsai-Wei Tien in Bausch's Rite of Spring. Photo by Alexandra Campeau, courtesy Tanztheater Wuppertal
In a sheer red slip—dirt-covered and exposed—the Chosen One frantically pleads with the community encircling her, wildly dancing until she at last succumbs to an inevitable death. Part of Pina Bausch's haunting Rite of Spring, this solo is one of the most vulnerable in dance.
"When I perform this role, there is no acting, my struggle is very real—it becomes very spiritual," says Tanztheater Wuppertal dancer Tsai-Wei Tien. "I squeeze everything I have into those final moments."
A truly unguarded performance electrifies the stage and connects deeply with the audience, in a way that surpasses even the most flawless technical prowess.
---
"Often what separates a great dancer from a good dancer is the ability to get to that vulnerable place" says Dr. Nadine Kaslow, a psychologist who works with Atlanta Ballet. "The truth is that's hard for anyone to do, dancer or not." Perfectionism, self-doubt, anxiety and hardened defenses are all-too-familiar mental roadblocks. But taking the steps to confront them can help dancers let go onstage, unlocking more powerful performances.
What is Vulnerability, Exactly?
"Vulnerable" is defined as being susceptible to physical or emotional harm, and is derived from the Latin root vulnus, meaning wound. People generally are most vulnerable when they have complete trust with another, so finding that place onstage in front of thousands of strangers requires real consideration—and courage!
For Samantha Speis, Urban Bush Women associate artistic director and dancer, being vulnerable is "taking a deep dive," allowing yourself to be in a state of wholeness, so all parts of yourself are available and receptive to the moment. "When I'm in that place," she says, "there are endless possibilities of what I contribute—my lineage, my history, my experiences, my narrative is inside the work."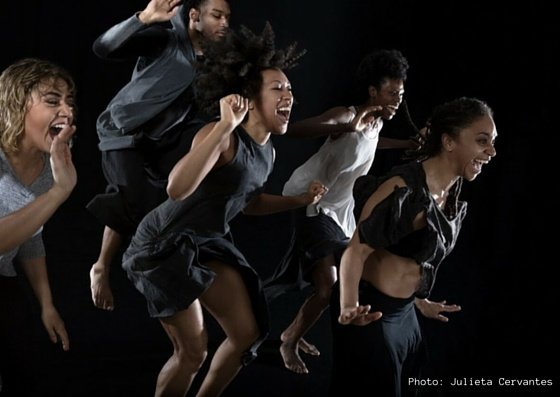 Urban Bush Women in Walking With Trane. Photo by Julieta Cervantes, courtesy UBW.
The Challenges
In Kaslow's experience, both as a dancer and dance psychologist, she's found that rigorous training can be a barrier to vulnerability. "So much of training is about perfection, about not showing vulnerability, with singular focus on steps or technique," she says. "There needs to be more attention to the dancer as a person."
Speis also notes that in our culture, vulnerability is often equated with weakness. "I've had to dismantle those assumptions," she says.
She's found that UBW's collaborative process helps nurture the individual voices of the dancers. Rather than keeping ideas and feelings inside, she recommends feeding them into the work—try on an idea, she suggests, see what it feels like and what it sparks for you, and share it. "At UBW, we are able to cook and simmer, and jump into that vulnerable space together," she says.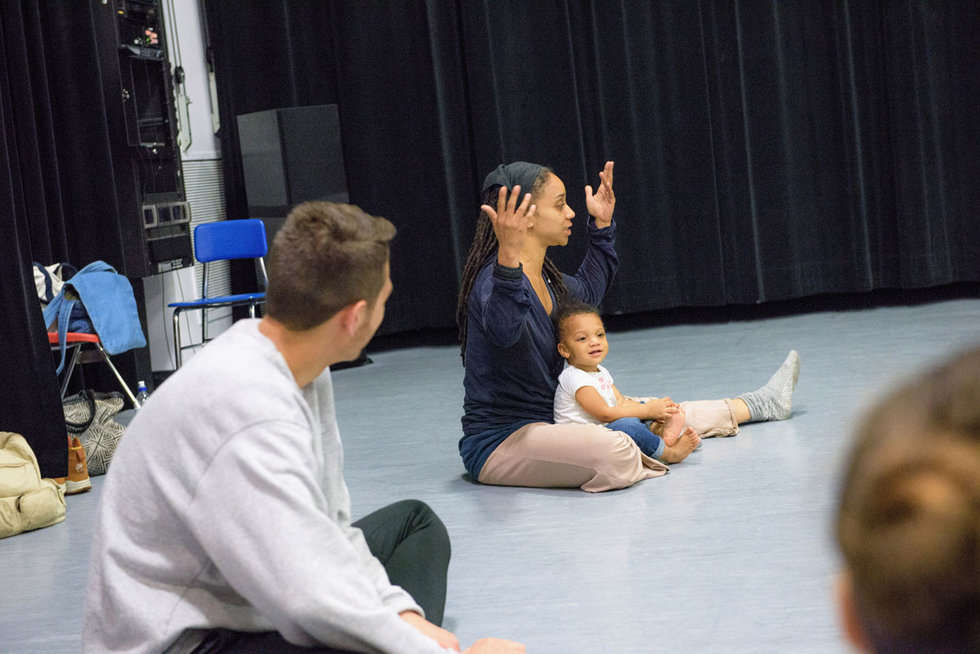 Samantha Spies leads a masterclass at UBW. Photo by Dale Dong, courtesy UBW
Finding Vulnerability Through Authenticity
Before she passed away, Bausch told Dance Magazine, "I don't want my dancers to act. I want them to be natural, to let whatever they have inside, out. When they do this, they have real presence."
Tanztheater Wuppertal in Rite of Spring
Her company continues to work with this philosophy today. Tien remembers that when learning the Chosen One choreography, her coaches only taught movements, not how to act the part. "We rarely talked about the emotions of the role, because everything is there within the movements," she says. Allowing herself to experience the piece's physical journey leads to authentic vulnerability, akin to living real life: see, react, engage and, ultimately, be.
However, many dancers prefer traditional acting approaches to guide them to vulnerable possibilities onstage. Susan Batson, an acting coach and mentor to choreographer Francesca Harper, as well as a laundry list of well-known actors—like Nicole Kidman and Juliette Binoche—says great performers call on their personal experiences consistently during performance.
"Some artists are good, but we're not taken by them, we don't feel them, we just observe them," Batson says. "Once you learn to make a connection to yourself, you are guaranteed to speak from an authentic place."
English National Ballet lead principal Erina Takahashi recently discovered the power of this process during the creation of Akram Khan's striking Giselle. During rehearsals, Khan gave her space to clarify for herself who Giselle truly is—what she feels and desires.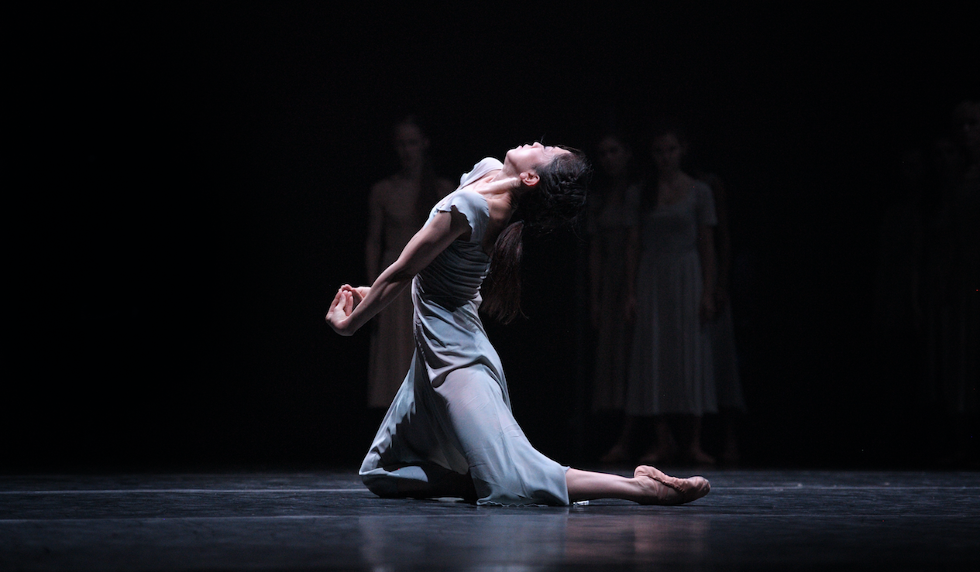 Erina Takahashi in Akram Khan's Giselle. Photo by Laurent Liotardo, courtesy ENB
"I needed to find meaning within each step," says Takahashi. After hours of investigative rehearsal and inward contemplation, onstage she could be a fully vulnerable Giselle without feeling staged or awkward. "I was able to connect my own pain, joy, happiness, upset, disappointment, and put it into this ballet."
Even in abstract work, Batson says dancers can contribute something true by clarifying what they desire to bring to the piece, and funneling those desires through their imagination.
"Start developing a file cabinet of parallel situations, personalizations, so you can put yourself through an emotional memory of joy or great tragedy and then lift that up into the circumstances of the movement," describes Batson. "Put it through your own truth."
A Psychologist's Suggestions
For dancers struggling with a fear of feeling exposed onstage, psychologist Dr. Nadine Kaslow recommends the following:
Remember that there is no way to be perfect, and no way to be perfect and vulnerable.
Ask choreographers, teachers and peers to give feedback; request focus on the vulnerability of your performance.
Take time to dance by yourself. That freedom may reveal breakthroughs.
Read books about mindfulness and find time for self-reflection. This awareness can prevent anxiety and keep you from worrying four steps ahead.
If self-expression is a continuous challenge, repressed personal issues may require attention: Growing up in a family where feelings weren't expressed, or were expressed in an aggressive manner, or dealing with trauma can make a dancer bury their true self in the studio and onstage.
Therapy is recommended if this issue is interfering with career goals.
Ian Douglas; courtesy Sarah Haarmann. Performing with Pam Tanowitz Dance at The Joyce Theater
Sarah Haarmann stands out without trying to. There is a precision and lack of affectation in her dancing that is very Merce Cunningham. Her movement quality is sharp and clear; her stage presence utterly focused. It's no wonder she caught Mark Morris' eye. Even though she still considers herself "very much the new girl" at Mark Morris Dance Group (she became a full-time member in August 2017), in a recent performance of Layla and Majnun, Haarmann seemed completely in her element.
Company: Mark Morris Dance Group
Age: 27
Hometown: Macungie, Pennsylvania
Training: Lehigh Valley Charter High School for the Performing Arts and Marymount Manhattan College
Keep reading...
Show less
Reframing high-stakes auditions as learning opportunities can make you a better auditioner. Photo by Jim Lafferty.
In 2012, freelance contemporary dancer Adrianne Chu made a major career change: She decided to try out for A Chorus Line. "Even though I didn't get the job, I felt like I was meant to do this," says Chu. So she started going to at least one musical theater audition every weekday, treating each as a learning experience. After several years of building up her resumé, Chu's practice paid off: She booked a starring role as Wendy in the first national tour of Finding Neverland.
Approaching auditions as learning opportunities, especially when you're trying to break into a different style or are new to the profession, can sharpen your skills while helping you avoid burnout. It also builds confidence for the auditions that matter most.
Keep reading...
Show less
How do you warmup? Photo by Jim Lafferty
For many dancers, a "warmup" consists of sitting on the floor stretching their legs in various positions. But this strategy only reduces your muscles' ability to work properly—it negatively affects your strength, endurance, balance and speed for up to an hour.
Save your flexibility training for the end of the day. Instead, follow a warmup that will actually help prevent injury and improve your body's performance.
According to the International Association of Dance Medicine and Science, a smart warmup has four parts: "a gentle pulse-raising section, a joint mobilization section, a muscle lengthening section and a strength/balance building section."
Keep reading...
Show less
Screenshot via YouTube
Keep reading...
Show less
This year, IABD launched a new ballet audition for men of color
Last month, the International Association of Blacks in Dance's third annual ballet audition for women of color was expanded to include a separate audition for men.
The brainchild of Joan Myers Brown (founder of both Philadanco and IABD), the women's audition was created to specifically address the lack of black females in ballet. However, the success and attention that audition drew made the men feel left out, so IABD decided to give the men equal time this year.
Keep reading...
Show less
Students participated in all aspects of Veränderung, from choreography to costumes. Photo by Uwe Stratmann, Courtesy Tanztheater Wuppertal.
Pina Bausch's unique form of German Tanztheater is known for raising questions. Amid water and soil, barstools and balloons, the late choreographer's work contains a distinct tinge of mystery and confrontation. Today, Tanztheater Wuppertal Pina Bausch's dancers use questions as fuel for creativity. The company's most recent project introduced a new group of performers to the stage: local high school ninth-graders from the Gesamtschule Barmen in Wuppertal, Germany, in an original work-in-progress performance called Veränderung (Change).
Keep reading...
Show less


Get Dance Magazine in your inbox