Rant & Rave
Mar. 08, 2018 04:18PM EST
Is the Dance World Ready to Truly Change Its Company Culture?
Is this the turning point when we'll finally see an end to dancer mistreatment? Photo by Gez Xavier Mansfield/Unsplash
Last week in a piece I wrote about the drama at English National Ballet, I pointed out that many of the accusations against artistic director Tamara Rojo—screaming at dancers, giving them the silent treatment, taking away roles without explanation—were, unfortunately, pretty standard practice in the ballet world:
If it's a conversation we're going to have, we can't only point the finger at ENB.
The line provoked a pretty strong response. Professional dancers, students and administrators reached out to me, making it clear that it's a conversation they want to have. Several shared their personal stories of experiencing abusive behavior.
Christopher Hampson, artistic director of the Scottish Ballet, wrote his thoughts about the issue on his company's website on Monday:
---
I have...witnessed dancers humiliated, harassed and threatened, sometimes overtly, but often covertly. This conduct is despicable and belongs in the past....
Those that consistently shout at people or deprive them of guidance to gain respect should know this is the fools' way. It may deliver a short, burst of focus to some dancers, but it evaporates shortly thereafter. This type of behaviour guarantees resentment, perpetuates mistrust, generates fear and compliance; it is uncreative and it is damaging.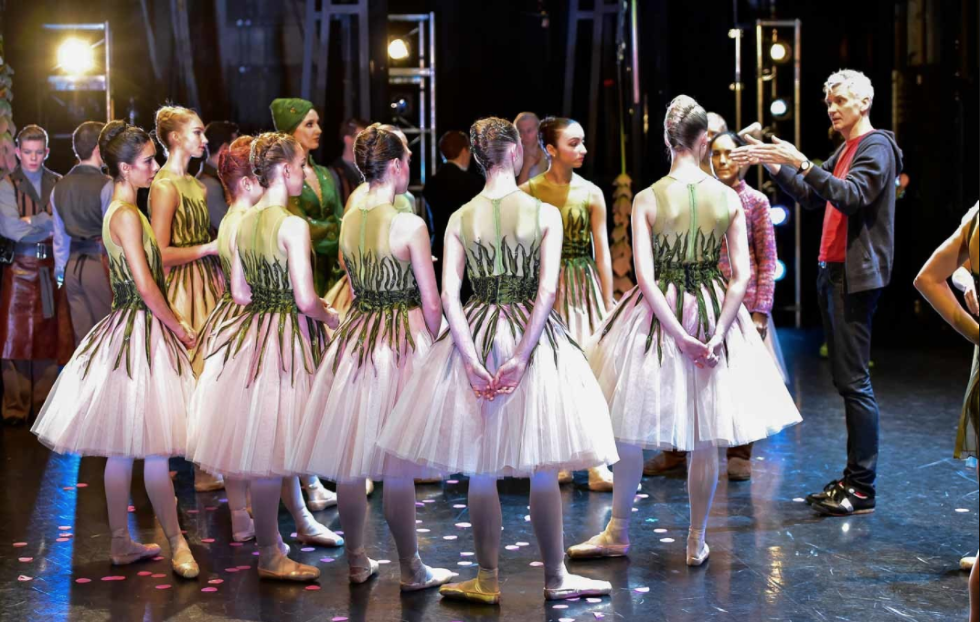 Christopher Hampson gives direction backstage at Cinderella. Photo by Rimbaud Patron, via scottishballet.co.uk
His admirable statement is especially powerful coming from an artistic director.
But what will it take for more dance leaders to take action? Ideals are fantastic, but we have to be realistic. When there are hordes of young dancers waiting to take the place of anyone who complains or cracks under the pressure, will public shaming be enough to inspire real change?
If the bad PR scares away ticket buyers or donors, it just might.
Aside from sheer decency—and living up to 21st-century HR standards—there are many reasons why treating dancers fairly is actually in companies' best interest, both artistically and financially.
Don't We Want to Develop Mature Artists?
According to research conducted by Dance Magazine's own advice columnist, psychologist Linda Hamilton, screaming at dancers comes with a whole host of negative consequences: It encourages them to dance injured, it can cause stage fright and it can thwart their career aspirations. That doesn't exactly sound like a setup for a thriving dance company.
Just because dance is physically challenging doesn't mean that making the environment mentally challenging creates better dancers. True discipline doesn't come from fear; it comes from drive.
Some older dancers might complain that today's generation is "weak" for not wanting to deal with shouting and demanding directors. But there are some traditions that don't need to be passed down from generation to generation. Sure, some personalities may thrive under demoralizing threats. But most dancers will never feel safe enough to take creative risks or confident enough to develop into mature artists under those conditions.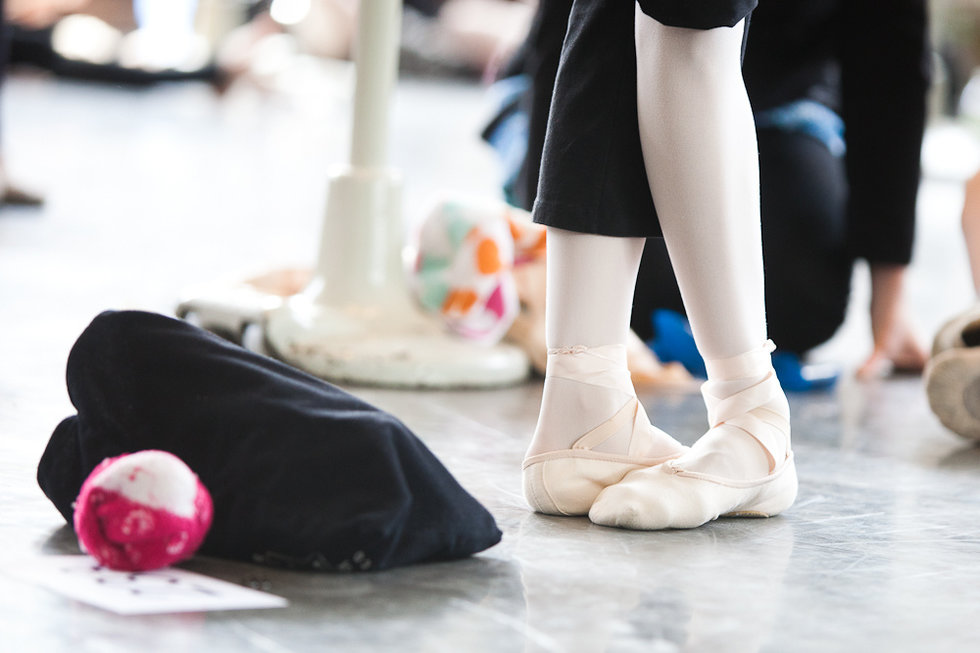 True discipline doesn't come from fear; it comes from drive. Photo by Matthew Murphy for Pointe.
A Healthy Dancer Performs Better Than An Injured One
In my opinion, the most serious allegations raised against Tamara Rojo were that she ignored the staff's medical advice and pressured her dancers to perform while injured. Rojo clearly invested a lot in her dancer's health. But if these accusations were in fact true, this kind of behavior is not only foolishly dangerous and abusive, but also a terrible business plan.
Any medical professional will tell you that treating injury and resting early are key to healing quickly. Sure, it's annoying to re-cast dancers or have someone miss rehearsal, but letting dancers take the time they need to heal will get them back to full health sooner. Wouldn't it be more strategic in the long-term to encourage injured dancers not to perform when they can't do it to the best of their ability? Risking dancers' health risks their career.
The Fat Phobia Needs To Stop
Speaking of health, it's time to ditch the idea that dancers—particularly female ballet dancers—need to be stick thin.
There is no reason that a dancer has to look prepubescent in order to do her job. Having a healthy level of body fat does not make it dangerous to dance on pointe. Nor does it mean that a woman can't be partnered—her strength and skill are more important for that.
We all know the dangers involved when you pressure dancers to strive for extreme thinness. Just this week in The Huffington Post, Miami City Ballet's Lauren Fadeley details how frequent "fat talks" led her to obsessive dieting and, eventually, to quit New York City Ballet. In the same article, another dancer, formerly with Pennsylvania Ballet (under a previous director), shared that she was ordered to go off birth control in order to lose weight—which ended just as badly as you could imagine.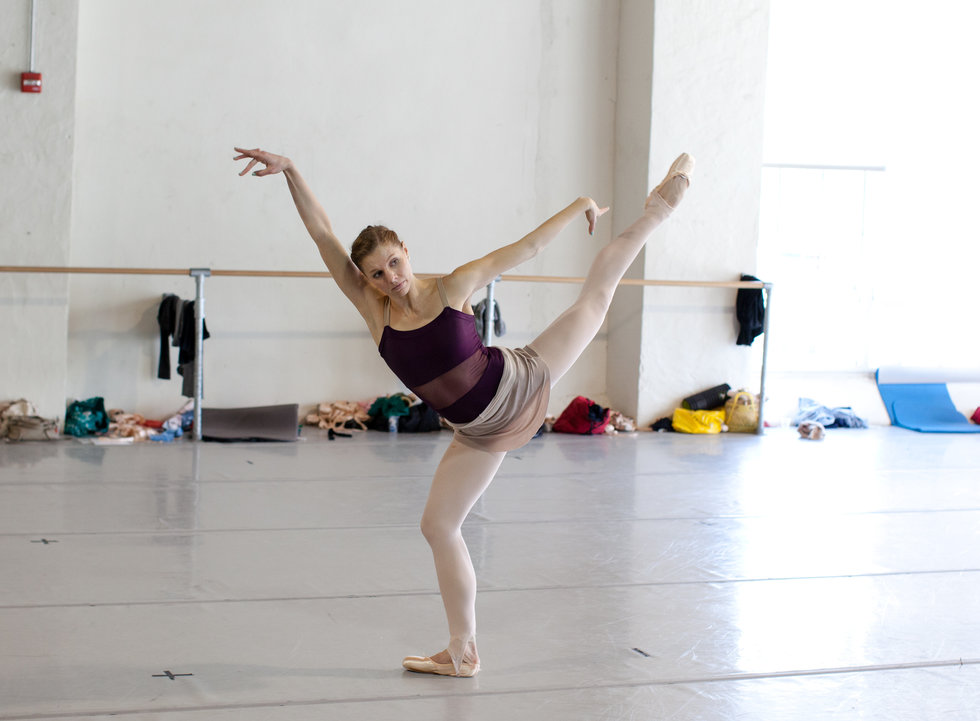 Lauren Fadeley in rehearsal at Pennsylvania Ballet. Photo by Alexander Izilaev, courtesy Pennsylvania Ballet
How much stronger could dancers be if we made room for more than one body type? And could having more diverse shapes onstage actually make dance more relatable to a mainstream audience?
Obviously, this conversation about how we treat dancers is a wide-ranging one that needs to encompass everything from dancer pay to sexual harassment. Tell me: What issues do you feel need to be addressed first? Share your thoughts in the comments or shoot me a note at jstahl@dancemedia.com. It's time to have an honest conversation.
Irina Dvorovenko's latest role: Playing Elizaveta Grushinskaya in Grand Hotel at New York City Center. Photo by Joan Marcus, Courtesy New York City Center.
Whether playing a saucy soubrette or an imperious swan, Irina Dvorovenko was always a formidable presence on the American Ballet Theatre stage. Since her 2013 retirement at 39, after 16 seasons, she's been bringing that intensity to an acting career in roles ranging from, well, Russian ballerinas to the Soviet-era newcomer she plays in the FX spy series "The Americans."
We caught up with her after tech rehearsal for the Encores! presentation of the musical Grand Hotel, directed and choreographed by Josh Rhodes and running March 21–25 at New York City Center. It's another tempestuous ballerina role for Dvorovenko—Elizaveta Grushinskaya, on her seventh farewell tour, resentfully checks into the Berlin hostelry of the title with her entourage, only to fall for a handsome young baron and sing "Bonjour, Amour."
Keep reading...
Show less
Photos via Instagram
When Andrew Montgomery first saw the Las Vegas hit Le Rêve - The Dream 10 years ago, he knew he had to be a part of the show one day. Eight years later, he auditioned, and made it to the last round of cuts. On his way home, still waiting to hear whether he'd been cast, he was in a motorcycle accident that ended up costing him half his leg.
But Montgomery's story doesn't end the way you might think. Today, he's a cast member of Le Rêve, where he does acrobatics and aerial work, swims (yes, the show takes places in and around a large pool) and dances, all with his prosthetic leg.
Keep reading...
Show less
When you spend as much time on the road as The Royal Ballet's Steven McRae, getting access to a proper gym can be a hassle. To stay fit, the Australian-born principal turns to calisthenics—the old-school art of developing aerobic ability and strength with little to no equipment.
"It's basically just using your own body weight," McRae explains. "In terms of partnering, I'm not going to dance with a ballerina who is bigger than me, so if I can sustain my own body weight, then in my head I should be fine."
Keep reading...
Show less
What Dancers Eat
Mar. 09, 2018 09:15AM EST
Pizza can be an excellent recovery meal after a hard day of class and rehearsal. Photo by Thinkstock
Raise your hand if you've ever walked out of the studio with just one thought on your mind: a big, juicy cheeseburger. But raise your other hand if instead of getting that burger, you opted for a hearty salad or stir-fry.
While dancers need to fuel their bodies with nutrient-dense meals and snacks, plenty of foods get an unfair bad rap. "The diet culture in this country vilifies various food groups as being bad while championing others as good," says Kelly Hogan, MS, RD, CDN, clinical nutrition and wellness manager at the Dubin Breast Center at Mount Sinai Hospital in New York City. "But black-and-white thinking like that has no place when it comes to food."
Some foods have less nutrition than others, admits Hogan, but if you're eating what you crave and honoring your hunger and fullness cues, she says you'll probably get the variety of nutrients your body needs. Here are seven foods that can have a place on your plate—guilt-free.
Keep reading...
Show less
Cover Story
Mar. 19, 2018 09:15AM EST
Jayme Thornton
Camille A. Brown is on an impressive streak: In October, the Ford Foundation named her an Art of Change fellow. In November, she won an AUDELCO ("Viv") Award for her choreography in the musical Bella: An American Tall Tale. On December 1, her Camille A. Brown & Dancers made its debut at the Kennedy Center, and two days later she was back in New York City to see her choreography in the opening of Broadway's Once on This Island. Weeks later, it was announced that she was choreographing NBC's live television musical Jesus Christ Superstar Live in Concert, to air on April 1.
An extraordinarily private person, few knew that during this time Brown was in the midst of a health crisis. It started with an upset stomach while performing with her company on tour last summer.
"I was drinking ginger ale, thinking that I would feel better," she says. Finally, the pain became so acute that she went to the emergency room in Mississippi. Her appendix had burst. "Until then, I didn't know it was serious," she says. "I'm a dancer—aches and pains don't keep you from work."
Keep reading...
Show less
Ballez class staples include no mirrors and barres arranged in a circle. Photo by Elyssa Goodman, Courtesy Pyle
A flock of polyamorous princes, a chorus of queer dying swans, a dominatrix witch: These are a few of the characters that populate the works of Katy Pyle, who, with her Brooklyn-based company Ballez, has been uprooting ballet's gender conventions since 2011.
Historically, ballet has not allowed for the expression of lesbian, transgender or gender-nonconforming identities. With Ballez, Pyle is reinventing the classical canon on more inclusive terms. Her work stems from a deep love of ballet and, at the same time, a frustration with its limits on acceptable body types and on the stories it traditionally tells.
Keep reading...
Show less


Get Dance Magazine in your inbox