What do Christopher Wheeldon, Olga Smirnova, Steven McRae, PeiJu Chien-Pott and Xander Parish have in common? They were all honored with the Premio Positano Danza Léonide Massine on Saturday in Positano, Italy. As one of the judges, I was there to soak in the artistry of these and other dance artists, as well as the beauty of this town on the Amalfi Coast. For the first time, the Positano Prize formed a partnership with the Benois de la danse Prize, which went to the Royal Swedish Ballet's Marika Kido.
Carla Fracci, Italy's beloved prima ballerina, was on hand, and so was Alberta Testa, founder of the Positano Prize. Here's a quick rundown of the gala performance, which took place on an outdoors platform on the beach—after the rain:
• Opening the dance portion (after endless speeches) was the kinetically exciting Alvaro Dule of Wayne McGregor|Random Dance. In a solo made for the occasion by Matteo Levaggi, Dule leapt wth leonine strength, distended his ribs, and spiraled his fingers. The effect was sheer contemporary energy.
Alvaro Dule, all photos by Arkimedia Lab Communication - Vito Fusco
• The lifetime award went to Mats Ek and Ana Laguna (click here and scroll down to see our coverage of Mats Ek when he received the Dance Magazine Award last year) To the delight of everyone, Laguna, with her forthright lustiness, played the Nurse to Mariko Kida's spritely Juliet in an excerpt from Ek's Juliia & Romeo.
• Steven McRae of The Royal Ballet danced two fast and dense solos (Les Lutins by Johan Kobborg, and Czardas by himself). In Czardas, he whipped the ballet folk form into a tap-dancing frenzy, during which the mic tethered to his body flung outward as he spun around. He caught it in time to finish up with a roll and cool lounge pose.
• I can see why Laura Cappelle wrote that audiences are "awestruck" by Olga Smirnova in the June cover story. In both Balanchine's Diamonds, with Bolshoi partner Semyon Chudin, and her Dying Swan, her dancing was supremely majestic.
Smirnova and Chudin in "Diamonds." 
• PeiJu Chien-Pott, the latest powerhouse of the Martha Graham Dance Company, performed two solos from Cave of the Heart, animating the oppositional Graham shapes with an inner emotional force.
• A moving moment came when the blind dancer Giuseppe Comuniello performed Vergilio Sieni's Picasso con Sedia. Stretching across the seat of a chair and pressing his face between the slats, he was clearly feeling his way.
* In tribute to Wheeldon, Dutch National Ballet dancers Anna Tsigankova and Jozef Varga performed the intriguingly complex partnering of his recent Duet expertly (with only one flub due to the still-wet floor).
Tsigankova and Varga in Duet by Christopher Wheeldon
• Two Mariinsky dancers, Xander Parish (read his "Why I Dance" here) and Oksana Skorik, performed the White Swan pas de deux. He was every inch the prince, and she was a real creature with a lovely sense of abandon.
• Rudolf Nureyev, who received a Positano Prize in 1982, was represented by Carlo ie Lanno's sensitive interpretation of a fourth-act solo for Siegfried in the icon's version of Swan Lake. Nureyev loved this region so much that he bought the island Li Galli, just 20 minutes off the coast, and made it his home for the last two decades of his life. Some of us were fortunate to actually visit this fantastic island on Saturday morning, courtesy of  the Positano Prize's artistic director, Daniele Cipriani. Nureyev knew how to live in high style; every object inside the several buildings, now owned by a local hotelier, is exquisite. Massine, who had owned the island before Nureyev, had renovated an ancient lighthouse to create a dance studio. The island itself as well as everything in it and on it was so overwhelmingly beautiful that the word "paradise" was on everyone's lips.
Here's the list of prizes awarded:
•    Lifetime Achievement: Mats Ek and Ana Laguna
•    Choreographer of the Year: Christopher Wheeldon
•    Benois/Positano Award: Mariko Kida (Royal Swedish Ballet)
•    Female Dancer of the Year, international scene: Olga Smirnova (Bolshoi, Moscow)
•    Male Dancer of the Year, international: Steven McRae (The Royal Ballet, London)
•    Female Emerging Dancer, international: Oksana Skorik (Mariinsky, St. Petersburg)
•    Male Emerging Dancer, international: Xander Parish (Mariinsky, St. Petersburg)
•    Female Dancer of the Year, contemporary, international: PeiJu Chien-Pott (Martha Graham Dance Company, New York)
•    Male Dancer of the Year, contemporary, international: Alvaro Dule (Wayne McGregor|Random Dance, London)
•    Classical Dancer of the Year, Italian scene: Carl di Lanno (formerly La Scala in Milan, today San Francisco Ballet)
•    Contemporary Dancer of the Year, Italian: Giuseppe Comuniello (Virgilio Sieni Dance)
•    Massine Prize Legacy: Elizabeth Souritz (noted dance historian and biographer of Léonide Massine, Moscow)
•    For excellent dance training "Luca Vespoli": Larissa Anisimova (President Foundation National Academy of Dance, Rome)
The Metropolitan Museum of Art has been seriously getting into dance lately. But now it's taking its love affair one step further: Gallim Dance director/choreographer Andrea Miller was just named the museum's artist in residence for the 2017-18 season—the first dance artist ever chosen for that distinction!
We caught up with Miller to find out exactly what this means.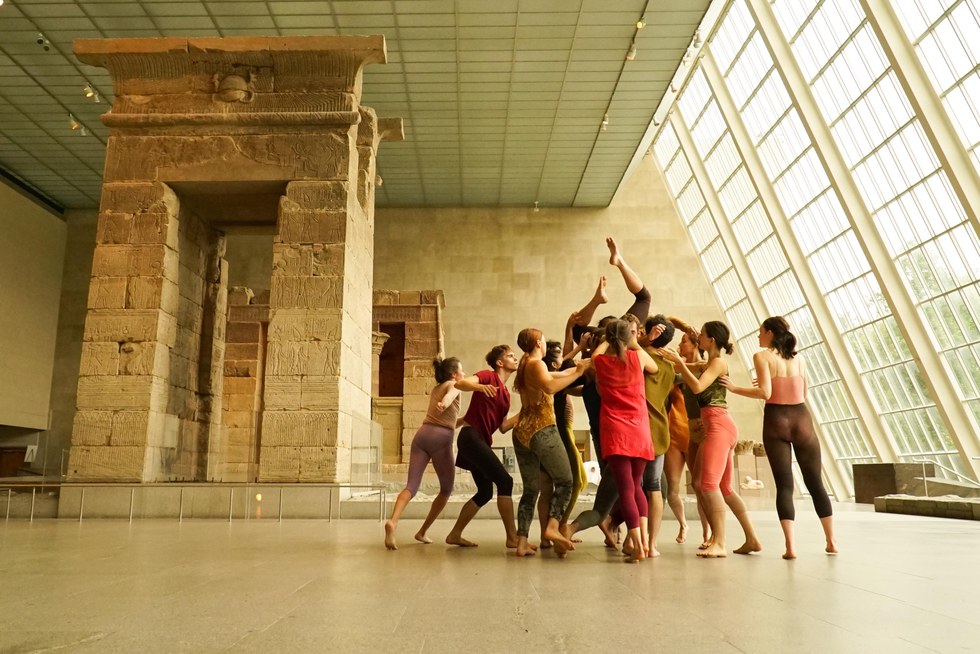 Gallim Dance at the Temple of Dendur. Photo by Ani Coller, courtesy Metropolitan Museum of Art
Congratulations on being named artist in residence! How did this come about?
I was offered an opportunity to create a work in progress for a private event at the Temple of Dendur last September. It was a really great experience. I was learning about ancient Egyptian dance and art and music. I got to meet archaeologists and work with the curators and the Met Live Arts team. I think they thought it might be a relationship to develop with a residency.
What did you like about working at the Met?
For a while now I've been enjoying working outside of the proscenium theater. The conversations and the restrictions are different. What you can do, what you can't do. Having new set of variables intrigues me—it pushes my craft further.
What does it mean to you to be the first dance person named artist in residence at the Met?
Dance hasn't always been welcomed into these homes for art, but it makes a lot of sense for a museum to be thinking about dance as art. I'm so happy to be running with my ideas in these halls. They are really open about working with me and thinking really closely with me about what could be possible and letting me direct quite a bit what I'd like to do there.
And what do you plan to do?
First, I'm going to build the Temple of Dendur piece into an evening-length work, to premiere in October. That's called Stone Skipping. It has some scenes about the environment and climate change, thinking about the journey of the temple from the Nile to the museum.
The next piece is going to happen during museum hours, a durational work throughout the day. It's very exciting to me because it's going to completely break with the start-and-stop, beginning-and-end setup of most traditional dance.
One of the things I'm trying to do is think about what is "Met-only" about these works. How am I engaging with the Met and its permanent collections and its architecture, making work that is housed in that space?
But the third work will be treating the dance as its own art. Taking art off the walls, into the gallery space, observing dance in a similar way you do with visual art.
We'll also have open rehearsals and workshops.
What do you think this residency will mean for your company?
I definitely hope that there will be a definitive time before the Met, and after the Met. The imprint of this experience is going to be inextricable from my future creative language and process.
How do you see your aesthetic meshing with the museum's very formal, reverential atmosphere?
I think some of it is gonna fly and some of it is gonna be difficult, and maybe a little controversial. I imagine a lot of it will have to do with the curators of the areas I'm working in, and how they see other elements defining the existing art, and how they interact with each other. My aesthetic is very raw and can sometimes feel wild; there's a sense of abandonment. That's very different from how a lot of art is experienced at the Met. Even if the content has that same level of fierce rawness or extreme expression, that only stays within the canvas—everything else is super controlled. We're taking that out into the space.
I love my BFA program, except for one class where the teacher only has eyes for the men—and even seems to flirt with them in class. The women, myself included, get zero attention, while the guys get loads of personal feedback. I know teachers have favorites, but this seems unfair. How can I stay motivated?
—Sara, New York, NY
Dance class is not a place for flirtation, especially from teachers. I suggest you speak to the director about your concerns. Appropriate behavior between faculty and students is usually spelled out in the school's guidelines. Meanwhile, each of you young women can set your own goals for class, such as focusing on phrasing or musicality, and being your own cheerleaders. You'll have a better class and may even catch your teacher's attention. Remember: Improving in dance is a personal journey. Even if the instructor isn't doing his job, you don't have to give up your power to stay motivated and progress.
Send your questions to Dr. Linda Hamilton at advicefordancers@dancemedia.com.
Donnell Oakley, Cori Marquis, Kyle Marshall in "O, round desire"
After a program of Doug Elkins' works last Saturday, I moderated a post-performance talk with him. This was part of the high-powered Peak Performances series at Montclair State University in New Jersey, in which Doug premiered a film and a new dance and reprised his popular Mo(or)town/Redux. Students from MSU as well as Rutgers, where Doug teaches, were in the new piece, O, round desire.

Doug is a wild one to interview because his mind races all over the place. But he's also terrifically entertaining, so I had the feeling the audience was hanging on his every word—and every impromptu sound effect. Here are a few of his scintillating remarks, lacking exactness due to the fallibility of my memory:
• "Abstract and narrative are not opposites for me. They are on a continuum. It's like a Venn diagram, where you can see the overlap."
• "I swim in many oceans, and I sample from each one."
• "I don't have one train of thought; I have a whole squadron of planes of thought."
Kyle Marshall, Donnell Oakley, Elias Rosa and Cori Marquis in "Mo(or)town/Redux," all dance photos by Marina Levitskaya
• "I am in conversation with every dancer in the room. I work with their corporeal history."
• "When a child steps out of the bathtub and hears a party going on downstairs and he goes there naked to grab a potato chip, he's not being provocative. He's just doing what his senses tell him to do."
Elkins, photo by Christopher Duggan
After the talk, Doug emailed me with two more bits of explanation:
• "I often find myself oscillating or vibrating between causal logic and emotional association. For me, the place where they meet is in movement, in dance. It's why I've always loved Trisha Brown's description of herself as 'a bricklayer with a sense of humor.' "
• "Stories are irrevocably affected by the fallibility of the human mind, its limited perspective, distorted perceptions and the decaying of remembering. I can only offer glimpses of moments of things and let you, the viewer, connect it, causally or otherwise, as you see fit."
Doug also made a sort of confession about his new piece, O, round desire: "That's me as a B-boy having a crush on Trisha Brown."
For more Dougisms, watch his "Choreography in Focus":
Apr. 24, 2017 08:58PM EST
Alexei Ratmansky and the women of ABT. Photo by Gene Schiavone, Courtesy ABT.
On Friday, The New York Times posted an article to its website titled "A Conversation With 3 Choreographers Who Reinvigorated Ballet," a joint interview with Justin Peck, Christopher Wheeldon and Alexei Ratmansky. It's a delightful conversation at first, veering from process to style to musical choices—delightful, that is, until a question about the dearth of female choreographers in classical ballet arose.
Screenshot via nytimes.com
These responses range from sort-of-passable (Peck at least acknowledges the need for systemic changes) to worrisome (Wheeldon's apparent bafflement) to troubling (Nijinska? Seriously?). In a word, problematic.

The issue Roslyn Sulcas raises here is not news. We know that there are far, far fewer women choreographers than men in the ballet world. We know that a small group of white men (who are, to be fair, fantastic choreographers) largely dominates the field in terms of consistent international impact.
Justin Peck. Photo by Erik Tomasson, Courtesy San Francisco Ballet.
In fact, it's slightly absurd that in 2017, we feel it's cause for celebration when Cincinnati Ballet programs a season equally split between works by men and women, or when New York City Ballet commissions two works by women choreographers for their fall gala for a second year in a row. Even allowing for the reality that the comments from Peck, Wheeldon and Ratmansky are from an excerpted, edited interview in which printing space is at a premium, even allowing that it was a relatively informal conversation, even allowing that it is an extremely complex issue—even then, these three men could, and should, have done better.
Earlier today, Luke Jennings, who writes on dance for The Guardian and The New Yorker, tweeted this response:
Screenshot via Twitter.
And with that, Twitter went mad. NYT chief dance critic Alastair Macaulay laid out a seven point rebuttal critiquing Jenning's response, then parlayed with Jennings on several of the points. Other NYT dance writers also chimed in, as did notable critics from other publications and a number of Dance Magazine contributors. The threads quickly became sprawling.
Christopher Wheeldon in rehearsal. Photo by Todd Rosenberg, Courtesy Joffrey Ballet
Meanwhile on Instagram, a flurry of heated comments resulted from NYT and DM contributor Siobhan Burke posting an image of the three responses in question. Choreographer Annie-B Parson simply chimed in with, "Haha. I can speak to this #erasure #beenthere."
Obviously, this is a far, far more complex problem than can be fully discussed in a 140 character tweet or a sharply worded comment on Instagram, or even in an interview like the one that launched this entire conversation. And that's just the thing: We need more conversation, we need more collaborative effort, and we need to stop shrugging and pointing to dance history as though one Bronislava Nijinska makes up for all of the other voices we might still be missing in the ballet world today without systemic change. It's happening—however slowly—and we'd much prefer it if the men who are currently dominating the field can take a step back, acknowledge the power they have and use it to move the conversation forward.
So a message for Peck, Wheeldon and Ratmansky: We love your work. Now do better.
UDPATE (Apr. 25): Alexei Ratmansky shared this post on Facebook, giving more context to the question. He also calls for deeper conversation on the topic.
Screenshot via Facebook.


Get Dance Magazine in your inbox
Featured College Dance Program