Dancer Voices
Feb. 26, 2018 09:15AM EST
What Paul Taylor Has Taught Me
Paul Taylor choreographing To Make Crops Grow on Parisa Khobdeh. Photo by Whitney Browne, courtesy PTDC
I was 22, fresh out of school. Wet behind the ears, I was using a light boom backstage as a warm-up barre before my debut performance with the Paul Taylor Dance Company. I noticed Paul Taylor walking toward me, wagging his index finger like a disciplining father, and I shrank with fear.
"Don't touch the booms. Someone has worked very hard to focus those lights," he admonished. And just before he turned to go, he paused and added, "And listen to your seniors." But he wasn't done. As he strode away, he turned back and said, "Oh, and always say thank you to the crew."
What struck me about Paul's notes—and what has stayed with me ever since—is what was at the heart of those three directives: respect, gratitude and the importance of family. They are values that are embedded in his dances and in his company.
---
Today, even in the most labyrinthine theaters, I will never touch a stage boom. Paul's simply stated lesson taught me about respect, about being a guest in someone's "house." He made me aware of the hours spent by the team who hang and focus the lights to illuminate our dancing. And that, in turn, gave me respect for the wardrobe team who clean and steam our costumes before every show, and for the crew who prepare the stage before we arrive and work late into the night long after we are gone.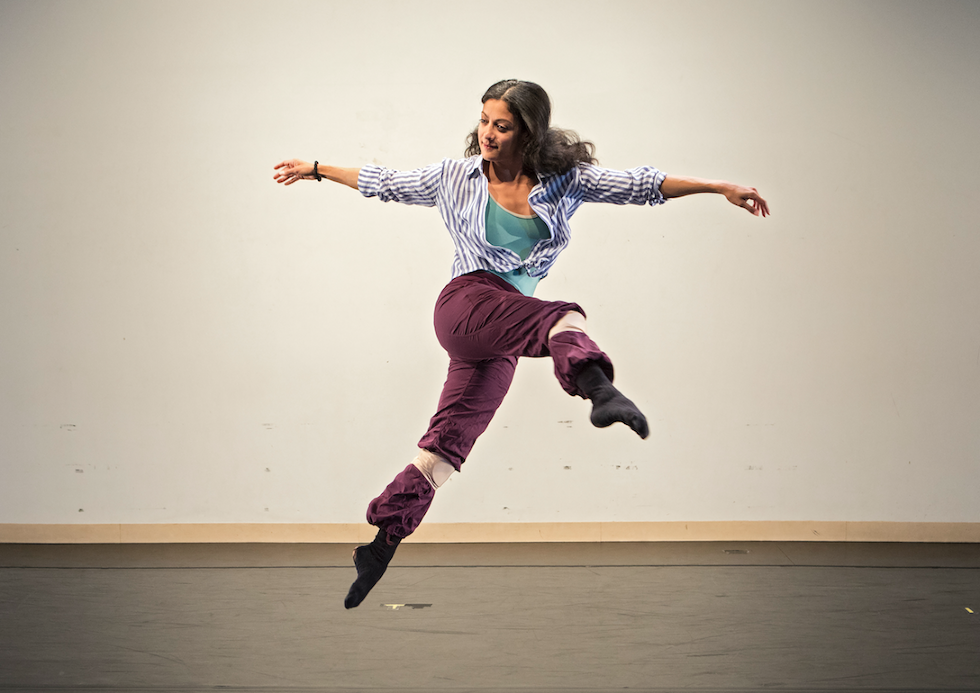 "Today, even in the most labyrinthine theaters, I will never touch a stage boom." Photo by Rachel Papo
Once, after a show at the majestic Fox Theatre in St. Louis, I approached a crew member whose eyelids were heavy with exhaustion. I extended my hand, shook his and said, "Thank you." His eyes widened with a look of shock and he said, "Only two artists have ever thanked me before—Robin Williams and Reba McEntire." Mouth agape, I said, "Clearly, I don't mind being in their company!"
Since then, I make sure to thank the crew of every theater we visit. It's a heartfelt, genuine thank-you for all the work that goes into making Paul's dances look and feel their best.
But, of course, I also owe gratitude to the person who taught me to be grateful. A year ago, at a rehearsal of Esplanade, I sensed an abandon and risk in my dancing I had never experienced before. I walked over to Paul and said, "Boss, thank you for making such an amazing dance. I love dancing your dances," and kissed him on the cheek. He replied, "Thank you for dancing them so well."
My eyes welled up, and I felt the power of gratitude, both the giving and the receiving.
In the nearly 15 years since I joined the company, I have learned that being a part of the Taylor family is about listening not only to Paul's words but also listening to his dances. Each one is built on an idea that informs the movement.
This year, I inherited Kate Johnson's role in Musical Offering, which was inspired by wooden sculptures from New Guinea. She begins alone onstage, as stoic as stone, but breaks free from her lifeless form. As the rest of the cast carve their way onstage, she infuses life into the group. The dance has a heartbreaking purity where I feel resistance, pain, anguish and eventually acceptance. The power of human connection is real with my partner, Michael Trusnovec, and my friends, where I feel the transformation into peace. As with many of Paul's dances, he is speaking of the inevitability of death.
Paul doesn't always say what he wants, but sometimes he shows you. In my very first studio rehearsal, he stopped the music less than two minutes into Offenbach Overtures, a dance that jests at formal etiquette. I was mortified: I knew that I had done something wrong, but what? Paul rose from his chair and walked toward me. With his cigarette-ash dusted fingers, he sculpted my arm into an exacting and explicit curve. In that moment, I learned that Paul is very particular about arms, hands and gestures—and the pause before and after a shape.
As I inherit roles that are new to me, I follow Paul's wisdom about listening to my seniors. I seek out the powerful men and women who have danced those parts before me. Through our conversations and rehearsals, I listen for what Paul's intentions were when he made the dance and how the dance has evolved over the decades since.
As we reconstruct Musical Offering, Kate Johnson has been generous in coaching me in this dance that depicts life and death as an eternal loop. Paul could also have been thinking here of the eternal loop of a dance company, where senior dancers are replaced by new dancers, and the dances become the sum of all who have danced them.
I make these roles my own, but I stand upon the shoulders of those dancers who have given life to Paul's artistry before me. The more experience I gain, the more depth I find in the smallest of details in dancing for Paul. I hope that future generations of Taylor dancers can take something from my contributions—and, in turn, make each role their own.
Today as I create with Paul, I am still discovering the things I don't yet know. The creative conversation feels both familiar and totally foreign because I don't know what I don't know. Sometimes it's as simple as understanding what he wants and offering him a movement that expresses that idea, or offering him a movement that he rejects—it's through this trial and error that we carve away until we find an idea to build upon. The creative process is a dance unto itself; it's a dance in discovery.
On and off the stage, I have learned to listen to Paul with my whole being, as if I have eyes and ears all over my body. I listen with the attentiveness of that beginner, compounded now with my experience dancing his deeply moving works. And I have come to understand that those lessons about respect, gratitude and family that Paul was teaching me at our first backstage encounter are embedded in all his choreography.
Irina Dvorovenko's latest role: Playing Elizaveta Grushinskaya in Grand Hotel at New York City Center. Photo by Joan Marcus, Courtesy New York City Center.
Whether playing a saucy soubrette or an imperious swan, Irina Dvorovenko was always a formidable presence on the American Ballet Theatre stage. Since her 2013 retirement at 39, after 16 seasons, she's been bringing that intensity to an acting career in roles ranging from, well, Russian ballerinas to the Soviet-era newcomer she plays in the FX spy series "The Americans."
We caught up with her after tech rehearsal for the Encores! presentation of the musical Grand Hotel, directed and choreographed by Josh Rhodes and running March 21–25 at New York City Center. It's another tempestuous ballerina role for Dvorovenko—Elizaveta Grushinskaya, on her seventh farewell tour, resentfully checks into the Berlin hostelry of the title with her entourage, only to fall for a handsome young baron and sing "Bonjour, Amour."
Keep reading...
Show less
Photos via Instagram
When Andrew Montgomery first saw the Las Vegas hit Le Rêve - The Dream 10 years ago, he knew he had to be a part of the show one day. Eight years later, he auditioned, and made it to the last round of cuts. On his way home, still waiting to hear whether he'd been cast, he was in a motorcycle accident that ended up costing him half his leg.
But Montgomery's story doesn't end the way you might think. Today, he's a cast member of Le Rêve, where he does acrobatics and aerial work, swims (yes, the show takes places in and around a large pool) and dances, all with his prosthetic leg.
Keep reading...
Show less
When you spend as much time on the road as The Royal Ballet's Steven McRae, getting access to a proper gym can be a hassle. To stay fit, the Australian-born principal turns to calisthenics—the old-school art of developing aerobic ability and strength with little to no equipment.
"It's basically just using your own body weight," McRae explains. "In terms of partnering, I'm not going to dance with a ballerina who is bigger than me, so if I can sustain my own body weight, then in my head I should be fine."
Keep reading...
Show less
Rant & Rave
Mar. 08, 2018 04:18PM EST
Is this the turning point when we'll finally see an end to dancer mistreatment? Photo by Gez Xavier Mansfield/Unsplash
Last week in a piece I wrote about the drama at English National Ballet, I pointed out that many of the accusations against artistic director Tamara Rojo—screaming at dancers, giving them the silent treatment, taking away roles without explanation—were, unfortunately, pretty standard practice in the ballet world:
If it's a conversation we're going to have, we can't only point the finger at ENB.
The line provoked a pretty strong response. Professional dancers, students and administrators reached out to me, making it clear that it's a conversation they want to have. Several shared their personal stories of experiencing abusive behavior.
Christopher Hampson, artistic director of the Scottish Ballet, wrote his thoughts about the issue on his company's website on Monday:
Keep reading...
Show less
Cover Story
Mar. 19, 2018 09:15AM EST
Jayme Thornton
Camille A. Brown is on an impressive streak: In October, the Ford Foundation named her an Art of Change fellow. In November, she won an AUDELCO ("Viv") Award for her choreography in the musical Bella: An American Tall Tale. On December 1, her Camille A. Brown & Dancers made its debut at the Kennedy Center, and two days later she was back in New York City to see her choreography in the opening of Broadway's Once on This Island. Weeks later, it was announced that she was choreographing NBC's live television musical Jesus Christ Superstar Live in Concert, to air on April 1.
An extraordinarily private person, few knew that during this time Brown was in the midst of a health crisis. It started with an upset stomach while performing with her company on tour last summer.
"I was drinking ginger ale, thinking that I would feel better," she says. Finally, the pain became so acute that she went to the emergency room in Mississippi. Her appendix had burst. "Until then, I didn't know it was serious," she says. "I'm a dancer—aches and pains don't keep you from work."
Keep reading...
Show less
Ballez class staples include no mirrors and barres arranged in a circle. Photo by Elyssa Goodman, Courtesy Pyle
A flock of polyamorous princes, a chorus of queer dying swans, a dominatrix witch: These are a few of the characters that populate the works of Katy Pyle, who, with her Brooklyn-based company Ballez, has been uprooting ballet's gender conventions since 2011.
Historically, ballet has not allowed for the expression of lesbian, transgender or gender-nonconforming identities. With Ballez, Pyle is reinventing the classical canon on more inclusive terms. Her work stems from a deep love of ballet and, at the same time, a frustration with its limits on acceptable body types and on the stories it traditionally tells.
Keep reading...
Show less


Get Dance Magazine in your inbox