Sofiane Sylve: "I Don't Do Average"
Nathan Sayers
Sofiane Sylve doesn't mince words. "If you are just going through the motions," she says to her trainee class at the San Francisco Ballet School, "we might as well stay home."
The veteran SFB principal is famed as much for her directness as for her exquisite technique, astonishing interpretive range and captivating stage presence. "I don't do average," she says in an interview at SFB headquarters, across a tree-lined street from the War Memorial Opera House. "If somebody has made the effort to come and sit in the audience, I'm going to give everything I have. There is no holding back."
These are among the first words Sylve has said to the press since she joined SFB as a principal in 2008. Defiant of the trend for self-promotion, she avoids interviews and social media. "I'm highly, highly private," says the French-born ballerina, who turns 41 this month. "I'd rather spend time in the studio."
---
Sylve's artistry speaks for itself. A former principal at New York City Ballet and Dutch National Ballet, she has garnered the admiration of the world's leading dancers and dancemakers for her technical and emotional range.
"She's freaky," says choreographer William Forsythe, with a hearty laugh. He met Sylve in 1992, when she was a 15-year-old coryphée at DNB, where he was setting his evening-length Artifact. "She was a prodigy, we all knew that," he recalls. Twenty-five years later, Sylve remains a leading performer of his devilishly difficult choreography. In The Vertiginous Thrill of Exactitude, she dispatches the electrifying footwork and intricate turns of the central role with apparent ease. "She just zings right through it, like it's a party," Forsythe says.
"She has completely mastered the classical technique, and she can let herself go on the stage," says SFB artistic director Helgi Tomasson. "And even though she does contemporary very well, I have the feeling that her heart is still in the classics." Surprisingly, though, he casts her mainly in contemporary work and in supporting roles like Myrtha and Lady Capulet in Romeo & Juliet.
"I feel like I've been underused many times," Sylve says. But this year she once again proved her mettle: She debuted as the sultry, imperious Siren in Balanchine's Prodigal Son, then broke hearts with an excruciatingly tender Odette in Tomasson's Swan Lake.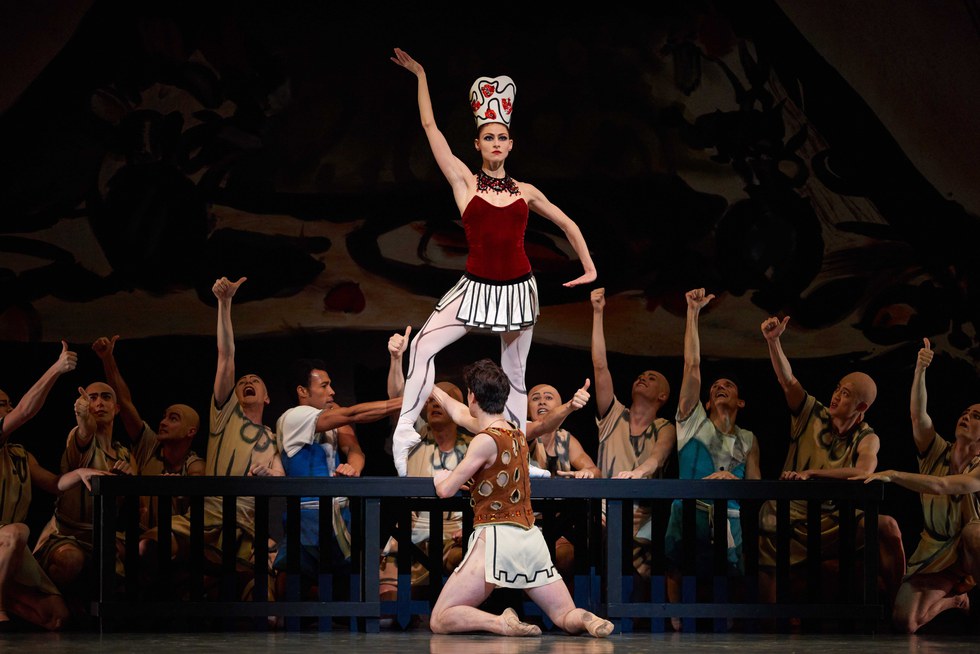 Sylve in Prodigal Son. Photo by Erik Tomasson, Courtesy SFB
Those late-career successes are made possible by Sylve's single-minded focus. "There's not many dancers like her," says SFB principal Carlo Di Lanno, 24. One of several company members who take Sylve's class at the school, he is also her frequent onstage partner. "She is capable of making every step, in every role, relevant to the audience," he says. "I've seen videos of her dancing when she was 10 years old. That's how she was—just had that incredible way of going onstage and getting all the attention."
Sylve could not have predicted how far ballet would take her when she started dancing at age 4, in her hometown of Nice, France. "I was the flexible, funny kid," she recalls, insisting that her older sister was the one with the perfect ballet body. "But I was very eager. The more my teacher gave me, the more I wanted."
Sylve's natural talent stood out, but in the South of France she was shielded from the pressures of a company-based school. "I didn't know I wanted to be a principal dancer or anything like that," she recalls. "I just wanted to be on pointe."
She achieved that goal at age 9 and within a few years was sweeping regional competitions—even though she needed a waiver to enter because she was underage. At 14 she joined the resident ballet company of the Badisches Staatstheater in Karlsruhe, Germany.
Looking back, she says, "I don't think any child should do that. It's way too young." Yet Karlsruhe introduced her to Balanchine's choreography, and showed her what she was capable of. "I was in three ballets a night, because there was nobody else able to do it," Sylve recalls of dancing the technically challenging triple-bill of Four Temperaments, Allegro Brillante and Who Cares? Visiting répétiteur Patricia Neary spotted her and brokered an audition at DNB.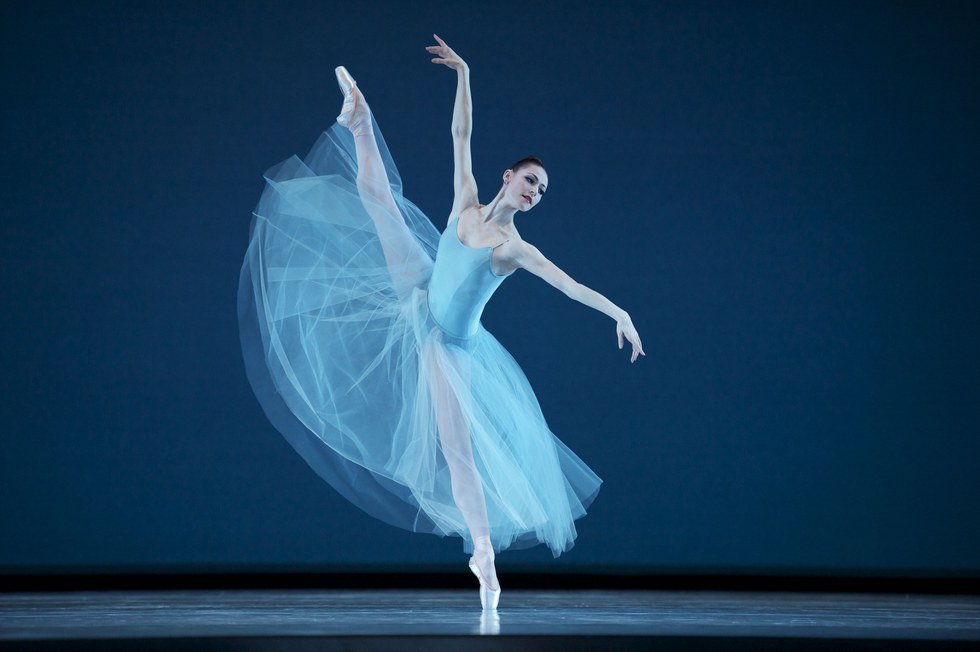 Sylve in Serenade. Photo by Erik Tomasson, courtesy SFB.
Soon after she joined that company, a principal's injury offered career-making opportunities. " 'Can you do 'Sanguinic' tonight?' Yes. 'Can you do 'Choleric' tomorrow?' Sure. At that age, you don't think about it."
When then-director Wayne Eagling promoted her to principal by 20, Sylve received a lifetime contract and every role she could dream of: Aurora and Cinderella, dozens of Balanchine ballets, works by Sir Frederick Ashton and others. "I had it all in Amsterdam," she says. "I never thought I would leave." So when NYCB invited her to step in for an injured dancer in 2003, she took several months before saying yes.
"Sofiane's technique is just phenomenal," says Merrill Ashley, who coached her at NYCB in everything from Dewdrop in The Nutcracker to the fourth movement in Brahms-Schoenberg Quartet. "You can throw any challenge at her, and she wants to do it." Ashley adds the ultimate compliment: "It's sad that Mr. B wasn't around to work with her, because that's quite an instrument, what she's got."
Five years later, Sylve transferred to SFB, drawn by its contemporary repertoire and the opportunity to teach in the company school. Choreographers like Liam Scarlett, Jirí Bubenícek and Christopher Wheeldon seek her out there. Others, she says, avoid her. "I think sometimes I scare people," she says of her no-nonsense approach. "I have done it all, so there's not much that you can threaten me with."
Even Forsythe pays extra attention when working with Sylve. "I want to figure out how I can keep her really challenged," he says. "Because she'll process, she'll come back, she'll want more."
Sylve, who hopes to become an artistic director herself, has found a satisfying outlet in teaching. "Putting yourself on the other side of the room reminds you of why you are still doing this," she says. "It's almost like I use it to also keep nurturing myself."
Outside the studio, she dotes on "the girls," her miniature dachshunds Gaia and Olympia, and four reptiles named Lulu, Carlos, Sisi and Brutus. Her eclectic interests range from race cars (she owns Porsches and has driven Indy cars) to farm-animal rescue to interior design and haute couture. "I'm a fashion victim," she confesses. "You should see my wardrobe. It's crazy. A lot of shoes."
Those outside passions help balance out the intensity she brings to ballet. Back in the classroom, she is laser-focused on the third round of an allegro failli-assemblé-arabesque-cabriole combination, asking for clearer articulation of the feet and arms. "I am not meaning to torture you," she says to the exhausted dancers, imbuing the correction with the principle that defines her dancing and, by extension, her life. "But if you do it, do it very well."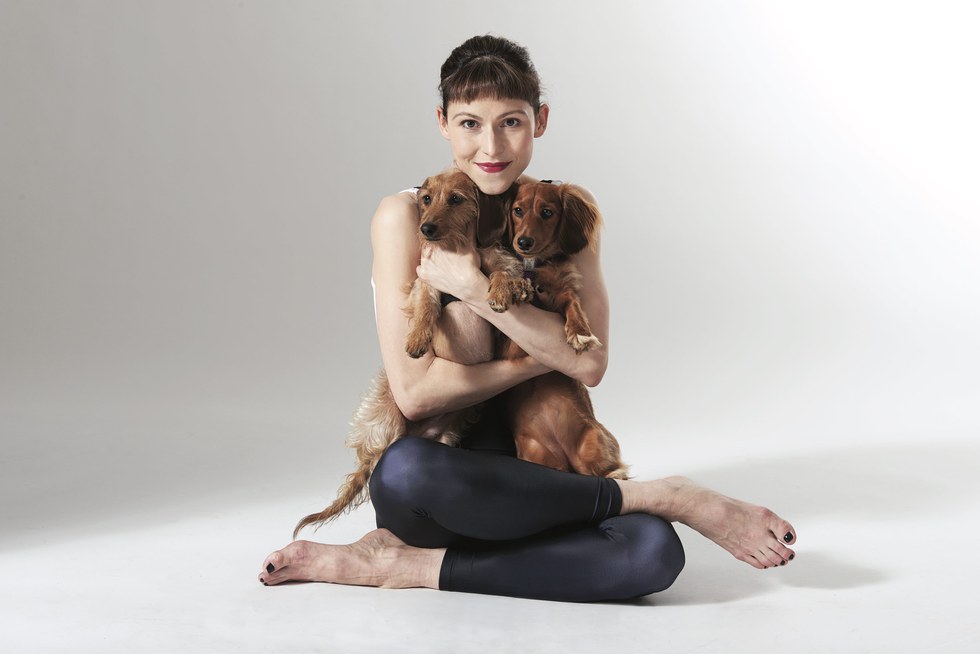 Nathan Sayers
Only you can truly decide if you're ready to start your career. Photo by Thinkstock.
My dance coach wants my word that I'll keep competing under his school's name for the next year and not audition. I'm 18 years old and already doing lead roles and winning medals. I love his teaching, but shouldn't I be ready to go out and get a job?
—Gil, Las Vegas, NV
Keep reading...
Show less
Ballet of Difference is now home to a number of Cedar Lake alumni, such as Matthew Min Rich and Ebony Williams, here in Richard Siegal's Pop HD. Photo by Ray Demski, Courtesy Siegal
How do we make ballet, a traditionally homogeneous art form, relevant to and reflective of an increasingly diverse and globalized era? While established companies are shifting slowly, Richard Siegal/Ballet of Difference, though less than 2 years old, has something of a head start. The guiding force of the company, which is based in Germany, is bringing differences together in the same room and, ultimately, on the same stage.
Keep reading...
Show less
BalletMet in company class onstage before a show. Photo by Jennifer Zmuda, courtesy BalletMet
Before she became the 20th century's most revered ballet pedagogue, Agrippina Vaganova was a frustrated ballerina. "I was not progressing and that was a terrible thing to realize," she wrote in a rough draft of her memoirs.
She retired from the Imperial Ballet stage in 1916, and for the next 30-plus years, devoted herself to creating a "science of ballet." Her new, dynamic teaching method produced stars like Rudolf Nureyev, Alla Osipenko, and Galina Ulanova and later Natalia Makarova and Mikhail Baryshnikov. And her approach continues to influence how we think about ballet training to this day.
But is the ballet class due for an update? Demands and aesthetics have changed. So should the way dancers train change too?
Keep reading...
Show less
How do you warmup? Photo by Jim Lafferty
For many dancers, a "warmup" consists of sitting on the floor stretching their legs in various positions. But this strategy only reduces your muscles' ability to work properly—it negatively affects your strength, endurance, balance and speed for up to an hour.
Save your flexibility training for the end of the day. Instead, follow a warmup that will actually help prevent injury and improve your body's performance.
According to the International Association of Dance Medicine and Science, a smart warmup has four parts: "a gentle pulse-raising section, a joint mobilization section, a muscle lengthening section and a strength/balance building section."
Keep reading...
Show less
Sidi Larbi Cherkaoui's Harbor Me. Photo by Laurence Phillipe, Courtesy Joyce Theater
Claude Debussy's only completed opera, Pelléas et Mélisande, emphasizes clarity and subtlety over high-flung drama as a deadly love triangle unfolds. Opera Vlaanderen and Royal Ballet of Flanders are commemorating the 100th anniversary of the composer's death with a new production of the landmark opera that is sure to be anything but traditional: Sidi Larbi Cherkaoui and Damien Jalet are choreographing and directing, while boundary-pushing performance artist Marina Abramović collaborates on the design. Antwerp, Feb. 2–13. Ghent, Feb. 23–March 4. operaballet.be/en.
Jumatatu Poe's Let 'im Move You. PC Theo Cote, via 18th Street Arts Center
Black History Month offers a time to reflect on the artists who have shaped the dance field as we know it today. But equally important is celebrating the black artists who represent the next generation. These seven up-and-comers are making waves across all kinds of styles and across the country:
Keep reading...
Show less


Get Dance Magazine in your inbox