This year we gave our readers the power to weigh in on the most memorable dance moments of the year. You nominated performances you loved, voted on the top five and selected a diverse group of artists and productions that span the country. Here's what you chose as your favorites.
Körbes takes her final bow at Pacific Northwest Ballet. Photo by Angela Sterling, courtesy PNB.
Best Female Performance
In the sea of ballerina retirements this year, Carla Körbes' farewell stood out to our readers as particularly bittersweet. She was effortlessly regal in Diamonds, and her port de bras exquisite and commanding in Jessica Lang's The Calling. The end of Serenade, when Körbes was carried offstage by four men, seemed a fitting tribute to her stardom.
Best Male Performance
Fairchild and Leanne Cope in An American in Paris. Photo by Angela Sterling, courtesy AAIP.
"Triple threat" doesn't do Robert Fairchild's turn in An American in Paris justice. As the lovesick and exuberant Jerry Mulligan, Fairchild charmed our readers with wit reminiscent of Gene Kelly (the originator of the role in the 1951 film) and the crisp technique that makes him a New York City Ballet star.
Alonzo King's Concerto for Two Violins. Photo by Quinn B. Wharton, courtesy LINES.
Best Revival
Alonzo King LINES Ballet revived King's Concerto for Two Violins on tour this year, so readers all over the world could experience his reimagining of Bach's classic score (used by Balanchine for Concerto Barocco), and the explosive physicality we've come to expect and love from LINES.
Best New Production
Fairchild and the cast of An American in Paris. Photo by Matthew Murphy, courtesy AAIP.
Christopher Wheeldon's An American in Paris opened on Broadway in April, marking the choreographer's directorial debut and becoming the most talked about dance musical of the season. Based on the classic film and set to the dreamy songs of the Gershwins, the show stars New York City Ballet's Robert Fairchild and The Royal Ballet's Leanne Cope. Our readers love the sheer volume of dance in this show—even the set changes are intricately choreographed. And you can't go wrong with a 16-minute dream ballet and a cast of dancers pulled from top companies around the country.
Cedar Lake dancers in Nelko's Awakening. Photo by Matthew Murphy, courtesy Nelko.
Best Emerging Choreographer
It was the year of the viral dance music video, and Lindsay Nelko's, set to Ellie Goulding's cover of Active Child's "Hanging On," landed her on our readers' map of choreographers to watch. Easily transitioning between concert and commercial, she has choreographed for several television shows, international ballet companies and her own full-length show last summer—her prize for achieving 2nd runner-up at the 2013 Capezio A.C.E. Awards.
DM Editor Favorites
Photo by Paul Kolnik
Jennifer Stahl
Editor in Chief
Justin Peck's Rodeo: Four Dance Episodes
"He gave himself an almost impossible task to reimagine such an iconic piece of music—but he did it brilliantly. It felt completely fresh, without ignoring the historical associations we all have with the score."
Karen Hildebrand
Vice President, Editorial
Cedar Lake Contemporary Ballet's final performance
"Artistic director Alexandra Damiani came onstage to announce there would be a final surprise. The curtain rose on the full company in Ohad Naharin's Minus 16—the segment where the dancers create a ripple effect of synchronized movements to traditional Israeli music, discarding their suits, shirts and fedoras. It was a memorable way to go out."
Madeline Schrock
Rosalie O'Connor, courtesy ABT
Managing Editor
Julie Kent's last performance of Manon
"She was breathtakingly spectacular in the bedroom scene. It was one of those rare moments when you're overwhelmed with emotions, holding back tears but beaming a smile at the same time."
Suzannah Friscia
Assistant Editor
Hamilton
"I love how it demonstrates an admiration for musical theater's history and a vision for its future. It's a smart, beautiful show, and it will make history."
Kristin Schwab
Associate Editor
Ohad Naharin's Sadeh21
"The best part was when the credits scrolled and the Batsheva dancers were happily diving off into the unknown."
Lauren Wingenroth
Photo by Christopher Duggan, courtesy In the Lights
Assistant Editor
Camille A. Brown's BLACK GIRL: Linguistic Play
"It was so personal, yet she tapped into something deeply universal in her exploration of black girlhood. I love that the talkback was mandatory—she insisted on having the last word." 
Michaela DePrince is having one spectacular year. On New Year's Day, the Dutch National Ballet dancer was promoted to soloist. And yesterday, she scored a major endorsement as a face of Jockey's "Show 'Em What's Underneath" campaign. We've said it before: There's a right way and a wrong way to feature dancers in mainstream media. This campaign hits the mark by celebrating DePrince's grace, athleticism and story of hope.
If you need a refresher on her remarkable journey—from war orphan in Sierra Leone to being adopted and launching her ballet career—check out Jockey's video below.
DePrince's path has an uncanny connection to Dance Magazine. As a young child, she found the May 1979 cover of DM outside her orphanage. Mesmerized by the image of Pennsylvania Ballet's Magali Messac, she kept the treasured cover hidden in her panties, dreaming of becoming a dancer herself. After she was adopted, DePrince began training at The Rock School for Dance Education in Philadelphia. The rest is history.
Congratulations to DePrince on this milestone in her career!
Keep reading...
Show less
What's better than getting into the summer intensive of your dreams? Getting in with a scholarship, of course!
Hundreds of dancers entered our Video of the Month contests over the past three months, vying for a chance to win a scholarship to one of the Joffrey Ballet School's summer programs. We scoured so many videos, saw tons of amazing talent and are super excited to announce the final winners.
Michelle Quiner took home the grand prize: a one-year housing and tuition scholarship to the school's year-round trainee program in New York City. Check out her winning video:
All of the other winners each received a one-week scholarship to the Joffrey Ballet School intensive of their choice.
Keep reading...
Show less
Apr. 26, 2017 01:40PM EST
Photo by Kyle Froman for Dance Teacher
Class can be a whirlwind of information. Your teacher throws out multiple corrections at once—often in the middle of a combination—and as much as you want to apply them, they don't always stick. Though some are notes you've heard time and time again, you get too overwhelmed trying to fix all of them to correctly incorporate any of them.
Ashley Tuttle, photo by Duncan Cooper
Feedback is a necessary part of a dancer's craft, providing the guidance to develop technically and artistically. But applying new information is not always easy. You might feel bombarded with too many notes at one time, or insecure about being singled out for criticism. Learning to implement corrections is an art in itself.
Be Receptive to Feedback—And Show It
Smart dancers know that feedback is a gift, so show that you're eager to receive it. Make sure your body language and attitude reflect a willingness to learn. "Have a pleasant expression and look really involved," says Deborah Wingert, who teaches at Manhattan Youth Ballet and the Ailey Extension. Once you've been given a note, try to make the change immediately, or go to the back of the studio and practice on your own. Show that you at least understand the concept, even if you can't apply it right away. (If you have an injury that prevents you from doing something, communicate that to the teacher before class.) Dancers who resist new information might discourage teachers from wanting to help them.
Laurie De Vito, photo by Justin Chao
Remember that teachers usually give atten­tion when they see potential. "It's not that they're picking on you," says former American Ballet Theatre principal Ashley Tuttle, who teaches ballet at Barnard College, Mark Morris Dance Center and other schools. "Stay positive, and quiet the doubtful voice that can prevent you from receiving information and incorporating it."
If you're not getting any feedback, remember that you can benefit from other dancers' corrections as well. "You don't have to wait for a special invitation," says Wingert. "Just have a hunger to learn."
If You Don't Understand, Ask for Clarification
It's okay to ask questions if you don't understand a correction. "Wait for the break, or go up to the teacher after class," suggests Laurie De Vito, contemporary Simonson teacher at New York City's Peridance, Mark Morris Dance Center and Gibney Dance. "Ask for an alternate image and have a conversation about it." You can also talk to a dancer you respect or someone in your class who gets similar corrections. If you don't express your confusion, teachers might think that you're not listening—or that you don't care.
Wingert teaching at the Baltimore School for the Arts
Make Your Corrections Stick
You may need to use additional senses to cement a correction. Visualize it in your mind and, if possible, implement it while looking in the mirror. "Then get your brain out of it and let your body find the position," De Vito says. "If a physical adjustment will help you understand, ask your teacher to move your body into the correct shape." Attaching a movement to music might also help you solidify the right feeling.
Some corrections take time to physically manifest. "It's a commitment," says Tuttle. "Your brain understands, but your body follows to the best of its ability. It takes longer for some people." If you're being told to turn out more, for example, don't get frustrated because you can't do it immediately. Work on engaging the proper muscles, keeping your heels forward and sustaining your maximum rotation. "Remember that dance is not about being able to make the perfect picture, but being able to move in and out of the best positions you can make," says Tuttle. "Don't get down on yourself or force your body into places that will lead to injury."
"True artists have patience," says Wingert. "You do your best until it clicks.
Keep reading...
Show less
Apr. 25, 2017 08:19PM EST
Matthew Karas
The Metropolitan Museum of Art has been seriously getting into dance lately. But now it's taking its love affair one step further: Gallim Dance director/choreographer Andrea Miller was just named the museum's artist in residence for the 2017-18 season—the first dance artist ever chosen for that distinction!
We caught up with Miller to find out exactly what this means.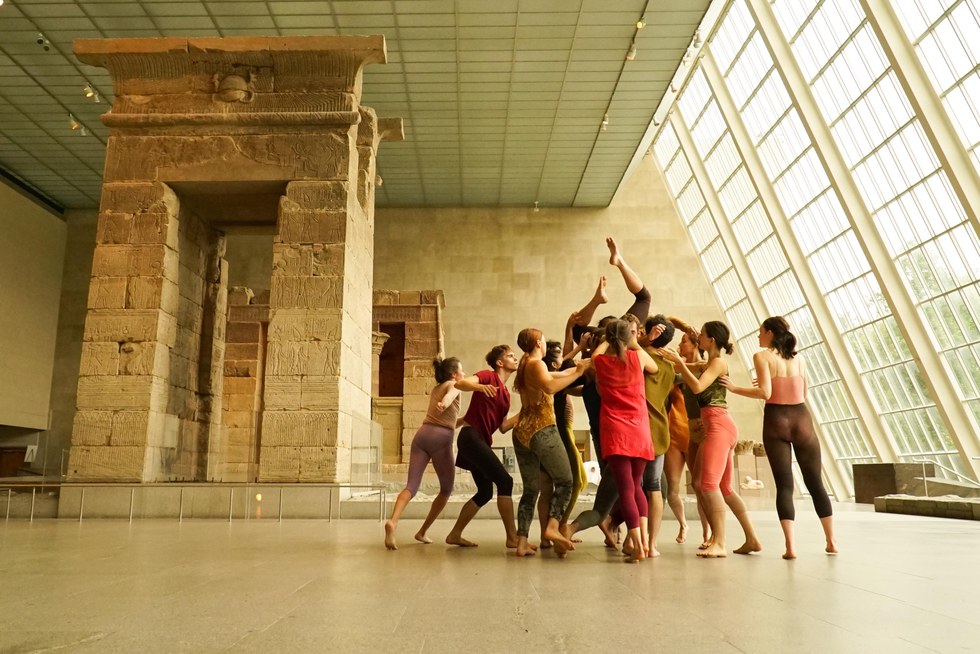 Gallim Dance at the Temple of Dendur. Photo by Ani Coller, courtesy Metropolitan Museum of Art
Congratulations on being named artist in residence! How did this come about?
I was offered an opportunity to create a work in progress for a private event at the Temple of Dendur last September. It was a really great experience. I was learning about ancient Egyptian dance and art and music. I got to meet archaeologists and work with the curators and the Met Live Arts team. I think they thought it might be a relationship to develop with a residency.
What did you like about working at the Met?
For a while now I've been enjoying working outside of the proscenium theater. The conversations and the restrictions are different. What you can do, what you can't do. Having new set of variables intrigues me—it pushes my craft further.
What does it mean to you to be the first dance person named artist in residence at the Met?
Dance hasn't always been welcomed into these homes for art, but it makes a lot of sense for a museum to be thinking about dance as art. I'm so happy to be running with my ideas in these halls. They are really open about working with me and thinking really closely with me about what could be possible and letting me direct quite a bit what I'd like to do there.
And what do you plan to do?
First, I'm going to build the Temple of Dendur piece into an evening-length work, to premiere in October. That's called Stone Skipping. It has some scenes about the environment and climate change, thinking about the journey of the temple from the Nile to the museum.
The next piece is going to happen during museum hours, a durational work throughout the day. It's very exciting to me because it's going to completely break with the start-and-stop, beginning-and-end setup of most traditional dance.
One of the things I'm trying to do is think about what is "Met-only" about these works. How am I engaging with the Met and its permanent collections and its architecture, making work that is housed in that space?
But the third work will be treating the dance as its own art. Taking art off the walls, into the gallery space, observing dance in a similar way you do with visual art.
We'll also have open rehearsals and workshops.
What do you think this residency will mean for your company?
I definitely hope that there will be a definitive time before the Met, and after the Met. The imprint of this experience is going to be inextricable from my future creative language and process.
How do you see your aesthetic meshing with the museum's very formal, reverential atmosphere?
I think some of it is gonna fly and some of it is gonna be difficult, and maybe a little controversial. I imagine a lot of it will have to do with the curators of the areas I'm working in, and how they see other elements defining the existing art, and how they interact with each other. My aesthetic is very raw and can sometimes feel wild; there's a sense of abandonment. That's very different from how a lot of art is experienced at the Met. Even if the content has that same level of fierce rawness or extreme expression, that only stays within the canvas—everything else is super controlled. We're taking that out into the space.
Keep reading...
Show less


Get Dance Magazine in your inbox
Featured College Dance Program