How I Grew To Love Teaching Adults To Dance
Kerollis and students in his 8-week Absolute Beginner Workshop at Broadway Dance Center
When most people think of dance students, they imagine lithe children and teenagers waltzing around classrooms with their legs lifted to their ears. It doesn't often cross our minds that dance training can involve an older woman trying to build strength in her body to ward off balance issues, or a middle-aged man who didn't have the confidence to take a dance class as a boy for fear of bullying.
Anybody can begin to learn dance at any age. But it takes a particular type of teacher to share our art form with dancers who have few prospects beyond fun and fitness a few nights a week.
---
When I first started teaching, I assumed that an educator with my performing credentials—Pacific Northwest Ballet, Houston Ballet, BalletX—would be swept up by a prestigious ballet program and that I would begin developing the stars of tomorrow. Like many expectations in my life, this one didn't immediately happen the way I had envisioned.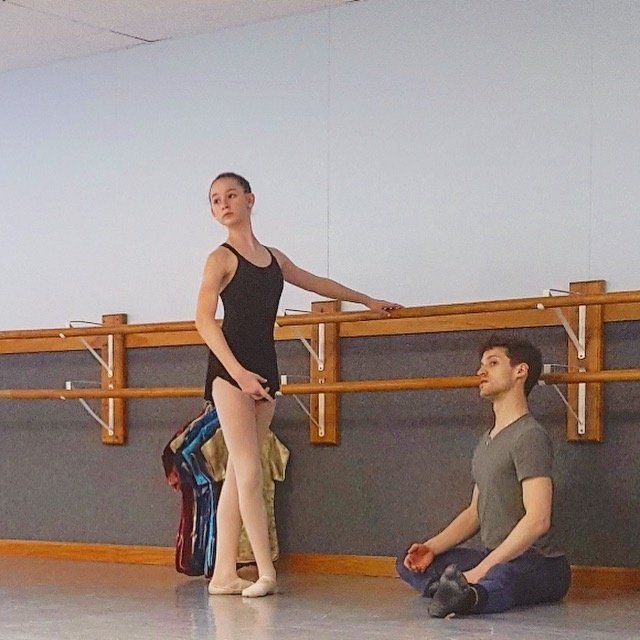 Kerollis giving his niece a private lesson
Throughout my performance career, I had gained some experience teaching kids in a master class format. But I had never taught any regularly scheduled classes. When I was presented with the opportunity to teach weekly open ballet classes for adults at Koresh Dance Company's school nearly six years ago, you can imagine my lack of excitement when I agreed to work with dancers who were very unlikely to become professionals.

Before I stepped to the front of the classroom, I did some research as a student in other adult beginner classes. I found that the focus was often on fun and charm. This meant that information was generalized, corrections were rarely specialized or hands-on, and classroom etiquette was infrequently enforced.
But I remembered how necessary it was to have instructors physically adjust me when I was training. I thought to myself, "How can these dancers ever understand technique if they aren't shown how it feels to dance?" I also found myself incredibly frustrated by the students' lack of awareness of certain etiquettes, like how to share a barre, when to ask questions and proper spacing in center.
Being a young teacher at the age of 28, I questioned whether adults (most of them my senior) would be open to me enforcing strict rules, or if they would adapt to me putting my hands on their bodies to convey placement or movement.
In the end, I decided to use the same approach with all of my students, from young pre-professionals to middle-aged recreational dancers and beyond. It is my opinion that whether a dancer plans to have a performance career or not, they all need to be taught to be ready to step onstage.
Once I finally started teaching, I was surprised to find how eager adult students are. While it took time for some to get used to my style of teaching, many would come to me after class to share how excited they were to be taught how to dance without being patronized because of their age.

I quickly learned that most adult dancers weren't just in class for fun. Many were there because they were impassioned dance fans who wanted to know what they were watching onstage. This group of dancers inspired me to start my classes with trivia questions to teach them about the inner workings of our world. Topics I have discussed include the differences in methodologies of ballet training, how rankings work within professional companies, facts about historic and modern day repertoire, and much more.
I've also found that many of these dancers are high-level professionals in non-dance careers seeking an escape from their stressful jobs. Other students attend classes on a doctor's recommendation to ward off the hazards of an aging body. Some didn't receive the support they sought to pursue a dance career as a child. And, yes, there are actors, singers, traditional and non-traditional dancers who have taken my classes to enhance their other artistic practices or to prepare for dance auditions.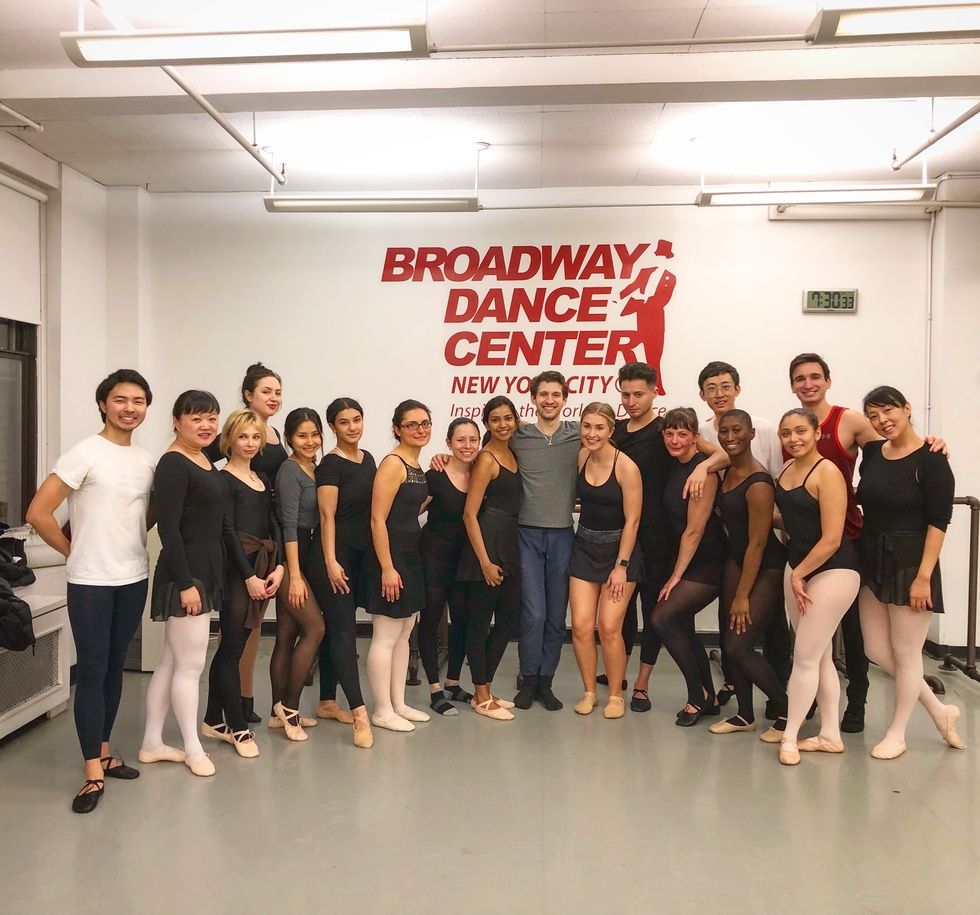 Kerollis and students in another 8-week Absolute Beginner Workshop at Broadway Dance Center
I have grown to love my adult students. While some kids I've taught take dance classes because their parents forced them to, each and every one in this group is lined up at the barre because they want to be there. Not only are they eager to learn, but they have a realistic outlook on their goals and know how to laugh at themselves. They are aware that they are unlikely to become professionals, but they still work just as hard as my kids with career prospects. And I have found that they are also the greatest supporters of my work as a choreographer and the biggest fans of my podcast and blog.
While my initial reaction to teaching adult dance students may not have been humble, I feel so lucky that they have shown me the value in teaching dance to all ages.
Related Articles Around the Web
Courtesy Boneau/Bryan-Brown
If "Fosse/Verdon" whet your appetite for the impeccable Gwen Verdon, then Merely Marvelous: The Dancing Genius of Gwen Verdon is the three-course meal you've been craving. The new documentary—available now on Amazon for rental or purchase—dives into the life of the Tony-winning performer and silver-screen star lauded for her charismatic dancing.

Though she's perhaps most well-known today as Bob Fosse's wife and muse, that's not even half of her story. For starters, she'd already won four Tonys before they wed, making her far more famous in the public eye than he was at that point in his career. That's just one of many surprising details we learned during last night's U.S. premiere of Merely Marvelous. Believe us: You're gonna love her even more once you get to know her. Here are eight lesser-known tidbits to get you started.
Keep reading...
Show less
Lindsay Thomas
Every dancer knows that how you fuel your body affects how you feel in the studio. Of course, while breakfast is no more magical than any other meal (despite the enduring myth that it's the most important one of the day), showing up to class hangry is a recipe for unproductive studio time.
So what do your favorite dancers eat in the morning to set themselves up for a busy rehearsal or performance day?
Keep reading...
Show less
News
Sep. 20, 2019 09:17AM EST
Simon Soong, Courtesy DDT
When it comes to dance in the U.S., companies in the South often find themselves overlooked—sometimes even by the presenters in their own backyard. That's where South Arts comes in. This year, the regional nonprofit launched Momentum, an initiative that will provide professional development, mentorship, touring grants and residencies to five Southern dance companies.
Keep reading...
Show less
News
Sep. 19, 2019 12:46PM EST
Alice Pennefather, Courtesy ROH
You ever just wish that Kenneth MacMillan's iconic production of Romeo and Juliet could have a beautiful love child with the 1968 film starring Olivia Hussey? (No, not Baz Luhrmann's version. We are purists here.)
Wish granted: Today, the trailer for a new film called Romeo and Juliet: Beyond Words was released, featuring MacMillan's choreography and with what looks like all the cinematic glamour we could ever dream of:
Keep reading...
Show less