How I Grew To Love Teaching Adults To Dance
Kerollis and students in his 8-week Absolute Beginner Workshop at Broadway Dance Center
When most people think of dance students, they imagine lithe children and teenagers waltzing around classrooms with their legs lifted to their ears. It doesn't often cross our minds that dance training can involve an older woman trying to build strength in her body to ward off balance issues, or a middle-aged man who didn't have the confidence to take a dance class as a boy for fear of bullying.
Anybody can begin to learn dance at any age. But it takes a particular type of teacher to share our art form with dancers who have few prospects beyond fun and fitness a few nights a week.
---
When I first started teaching, I assumed that an educator with my performing credentials—Pacific Northwest Ballet, Houston Ballet, BalletX—would be swept up by a prestigious ballet program and that I would begin developing the stars of tomorrow. Like many expectations in my life, this one didn't immediately happen the way I had envisioned.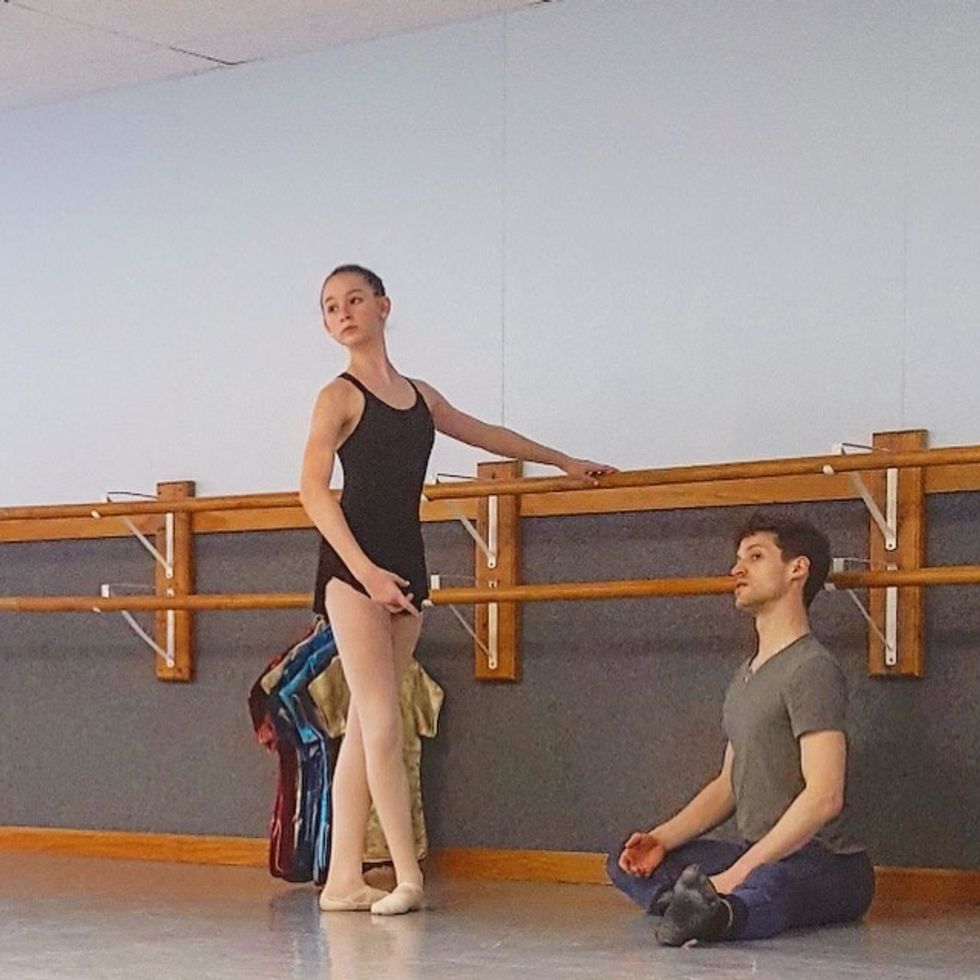 Kerollis giving his niece a private lesson
Throughout my performance career, I had gained some experience teaching kids in a master class format. But I had never taught any regularly scheduled classes. When I was presented with the opportunity to teach weekly open ballet classes for adults at Koresh Dance Company's school nearly six years ago, you can imagine my lack of excitement when I agreed to work with dancers who were very unlikely to become professionals.

Before I stepped to the front of the classroom, I did some research as a student in other adult beginner classes. I found that the focus was often on fun and charm. This meant that information was generalized, corrections were rarely specialized or hands-on, and classroom etiquette was infrequently enforced.
But I remembered how necessary it was to have instructors physically adjust me when I was training. I thought to myself, "How can these dancers ever understand technique if they aren't shown how it feels to dance?" I also found myself incredibly frustrated by the students' lack of awareness of certain etiquettes, like how to share a barre, when to ask questions and proper spacing in center.
Being a young teacher at the age of 28, I questioned whether adults (most of them my senior) would be open to me enforcing strict rules, or if they would adapt to me putting my hands on their bodies to convey placement or movement.
In the end, I decided to use the same approach with all of my students, from young pre-professionals to middle-aged recreational dancers and beyond. It is my opinion that whether a dancer plans to have a performance career or not, they all need to be taught to be ready to step onstage.
Once I finally started teaching, I was surprised to find how eager adult students are. While it took time for some to get used to my style of teaching, many would come to me after class to share how excited they were to be taught how to dance without being patronized because of their age.

I quickly learned that most adult dancers weren't just in class for fun. Many were there because they were impassioned dance fans who wanted to know what they were watching onstage. This group of dancers inspired me to start my classes with trivia questions to teach them about the inner workings of our world. Topics I have discussed include the differences in methodologies of ballet training, how rankings work within professional companies, facts about historic and modern day repertoire, and much more.
I've also found that many of these dancers are high-level professionals in non-dance careers seeking an escape from their stressful jobs. Other students attend classes on a doctor's recommendation to ward off the hazards of an aging body. Some didn't receive the support they sought to pursue a dance career as a child. And, yes, there are actors, singers, traditional and non-traditional dancers who have taken my classes to enhance their other artistic practices or to prepare for dance auditions.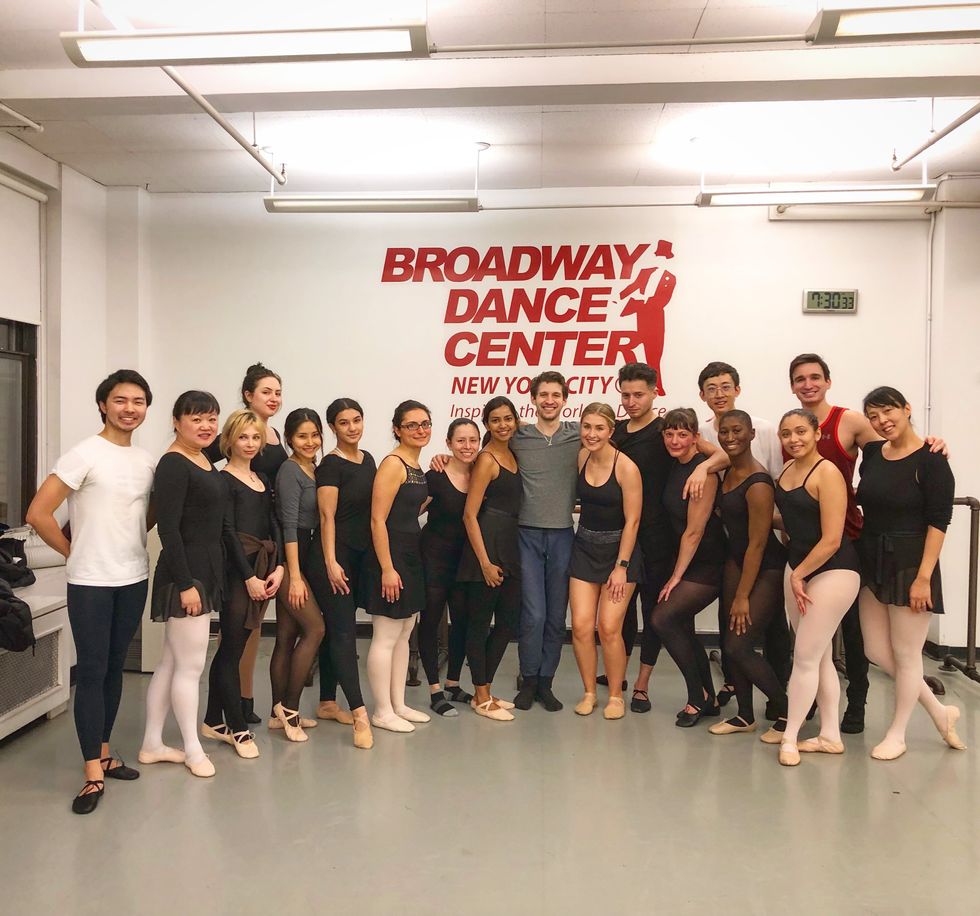 Kerollis and students in another 8-week Absolute Beginner Workshop at Broadway Dance Center
I have grown to love my adult students. While some kids I've taught take dance classes because their parents forced them to, each and every one in this group is lined up at the barre because they want to be there. Not only are they eager to learn, but they have a realistic outlook on their goals and know how to laugh at themselves. They are aware that they are unlikely to become professionals, but they still work just as hard as my kids with career prospects. And I have found that they are also the greatest supporters of my work as a choreographer and the biggest fans of my podcast and blog.
While my initial reaction to teaching adult dance students may not have been humble, I feel so lucky that they have shown me the value in teaching dance to all ages.
Related Articles Around the Web
Rachel Papo
In the middle of one of New York City Center's cavernous studios, Misty Copeland takes a measured step backwards. The suggestion of a swan arm ripples before she turns downstage, chest and shoulders unfurling as her legs stretch into an open lunge. She piqués onto pointe, arms echoing the sinuous curve of her back attitude, then walks out of it, pausing to warily look over her shoulder. As the droning of Ryuichi Sakamoto and Alva Noto's mysterious "Attack/Transition" grows more insistent, her feet start to fly with a rapidity that seems to almost startle her.
And then she stops mid-phrase. Copeland's hands fall to her hips as she apologizes. Choreographer Kyle Abraham slides to the sound system to pause the music, giving Copeland a moment to remind herself of a recent change to the sequence.
"It's different when the sound's on!" he reassures her. "And it's a lot of changes."
The day before was the first time Abraham had seen Copeland dance the solo in its entirety, and the first moment they were in the studio together in a month. This is their last rehearsal, save for tech, before the premiere of Ash exactly one week later, as part of the opening night of City Center's Fall for Dance festival.
Keep reading...
Show less
Ailey II artistic director Troy Powell teaching an Ailey Workshop at NYCDA. Courtesy NYCDA
Back in 2011 when Joe Lanteri first approached Katie Langan, chair of Marymount Manhattan College's dance department, about getting involved with New York City Dance Alliance, she was skeptical about the convention/competition world.
"But I was pleasantly surprised by the enormity of talent that was there," she says. "His goal was to start scholarship opportunities, and I said okay, I'm in."
Today, it's fair to say that Lanteri has far surpassed his goal of creating scholarship opportunities. But NYCDA has done so much more, bridging the gap between the convention world and the professional world by forging a wealth of partnerships with dance institutions from Marymount to The Ailey School to Complexions Contemporary Ballet and many more. There's a reason these companies and schools—some of whom otherwise may not see themselves as aligned with the convention/competition world—keep deepening their relationships with NYCDA.
Now, college scholarships are just one of many ways NYCDA has gone beyond the typical weekend-long convention experience and created life-changing opportunities for students. We rounded up some of the most notable ones:
Keep reading...
Show less
Getty Images
Dancers are understandably obsessed with food. In both an aesthetic and athletic profession, you know you're judged on your body shape, but you need proper fuel to perform your best. Meanwhile, you're inundated with questionable diet advice.
"My 'favorite' was the ABC diet," says registered dietitian nutritionist Kristin Koskinen, who trained in dance seriously but was convinced her body type wouldn't allow her to pursue it professionally. "On the first day you eat only foods starting with the letter A, on the second day only B, and so on."
Keep reading...
Show less
Left: Hurricane Harvey damage in Houston Ballet's Dance Lab; Courtesy Harlequin. Right: The Dance Lab pre-Harvey; Nic Lehoux, Courtesy Houston Ballet.
"The show must go on" may be a platitude we use to get through everything from costume malfunctions to stormy moods. But when it came to overcoming a literal hurricane, Houston Ballet was buoyed by this mantra to go from devastated to dancing in a matter of weeks—with the help of Harlequin Floors, Houston Ballet's longstanding partner who sprang into action to build new floors in record time.
Keep reading...
Show less