Are You Foam Rolling Wrong?
Dancers lover their foam rollers. But that doesn't mean they always know how to use it correctly. To get the most out of your time on the roller, avoid these nine all-too-common mistakes.
---
Mistake: Waiting Until It Hurts
Too often, dancers don't get out the roller until they're in pain. But rolling a few minutes every day will make you less prone to injury in the first place. "The roller is best as a preventative tool," says Alicia Ferriere of Finish Line Physical Therapy. "Use it before or after rehearsal if you are feeling tight."
Mistake: Rolling Injured Tissues
Rolling while injured is often not a good idea until fairly late in the recovery process. "Don't roll when there is swelling or a traumatic injury such as a tear," says physical therapist Julie Green, who works with Pennsylvania Ballet dancers. Rolling could make an injury worse, since it's a tool for mobilization and tissues sometimes need to be immobilized to heal. Green recommends seeing your doctor or physical therapist first. "Allow some healing to occur before returning to your roller."
Mistake: Moving Too Quickly
Part of a roller's magic is how it increases blood flow by creating compression when gravity draws your body weight into the foam. "Rolling quickly stays too superficial on your tissues," says Ferriere. "Allow your muscles to relax on the roller, which will create greater compression for the deeper tissue. Think of it as a massage."
Mistake: Staying Too Still
Rollers are certainly great for relaxation, so it's fine to luxuriate over it sometimes and be completely still. But movement is what helps increase blood flow and activates hard-to-get-to areas. So think about moving from side to side, forward and back as you roll. "You need to wiggle more, because the movement is what makes the difference," adds Ferriere.
Mistake: Ignoring the Lats

Dancers spend a good deal of time pulling up, which can lead to chronic tightness in the latissimi dorsi, or "the lats," the large, winglike muscles of the back which wrap around our sides. Ferriere recommends lying on your side with your bottom arm outstretched and the roller perpendicular to your torso. In this position, roll forward and back and side to side along the rib cage to help release the lats.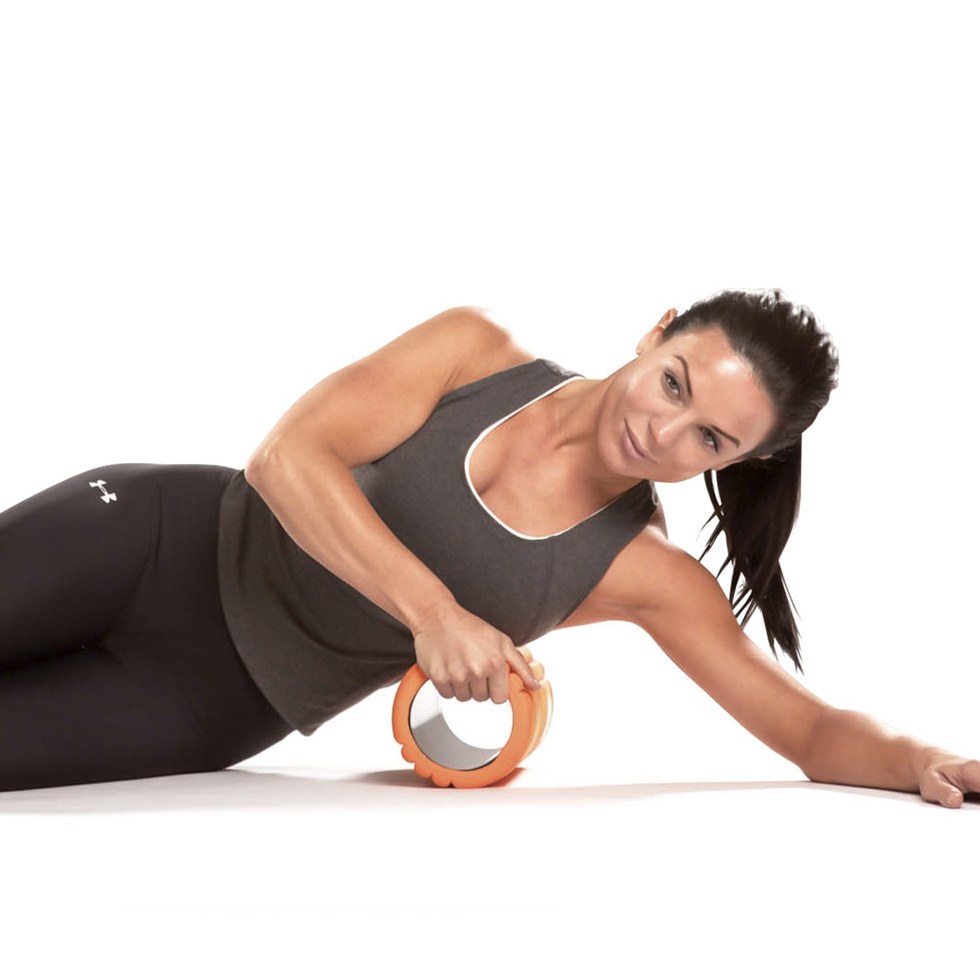 Mistake: Hitting Bones, Nerves or Kidneys
According to Ferriere, rolling over a bone does nothing for you other than cause pain. It's especially problematic to roll over ankles, knees and the greater trochanter. "And stay away from superficial nerves, like in front of the hip joints and behind the knees," says Green. "You could damage or irritate your nerves. If you feel numbness or tingling, stop immediately." Also avoid rolling along the sides of your lower back—you can bruise your kidneys.
Mistake: Overdoing the IT Bands
The IT bands are the most over-rolled parts of dancers' bodies. Ferriere reminds us that they are not muscles; they're made of fascia and connective tissue. "It's better to roll the soft tissue around the IT band, like the outer quads and the tensor fasciae latae, a thigh muscle on the front and outer side of the hip." If your IT band is chronically tight, consider why. "Often, that means there's a weakness in the hip stabilizers and rotators," says Green.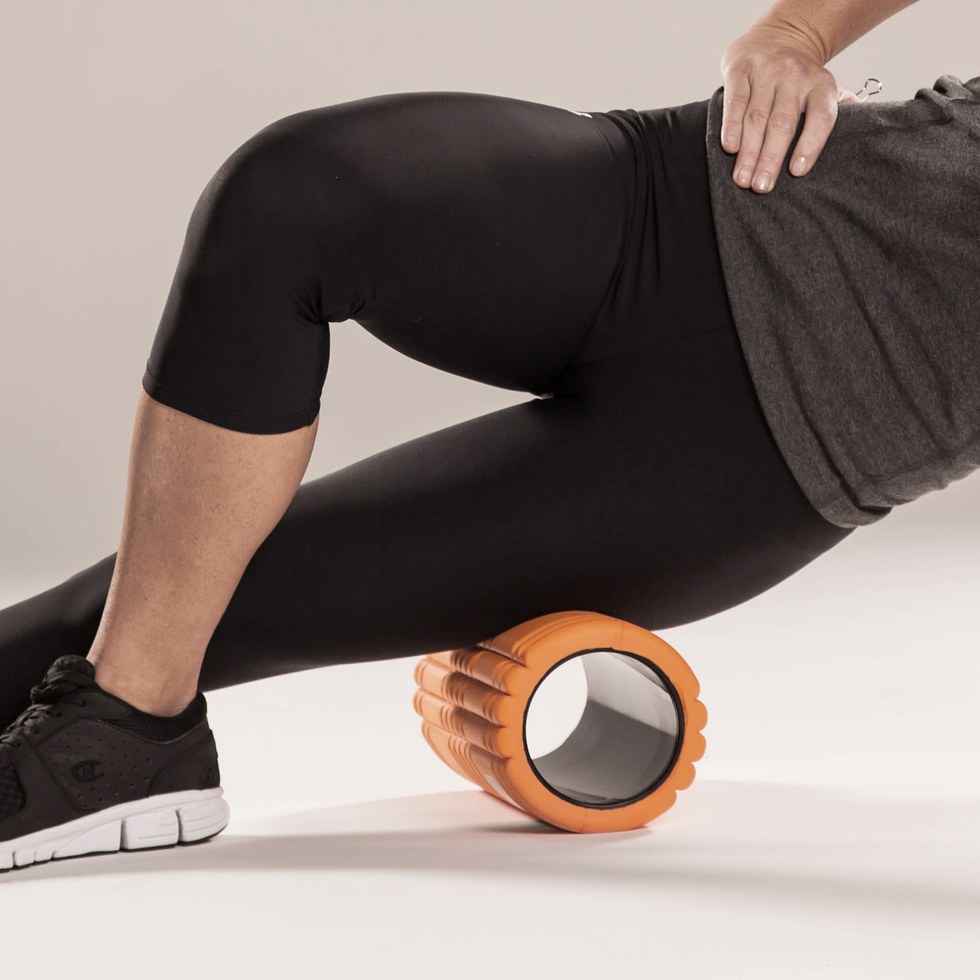 Mistake: Grabbing the Wrong Roller
Rollers come in varying degrees of hardness these days. Generally speaking, the harder the roller, the more good it can do, unless you are injured or it hurts too much. "If you are avoiding using the roller because of the pain, then try a softer roller," says Ferriere. Or cover a hard roller with a blanket to make it less painful. Green likes ridged rollers that look a bit like tire treads: "It's a way to address adhesions, as those nubs can get in between muscle fibers."
Mistake: Getting Aggressive
Dancers have killer work ethics, but applying them to the roller can backfire. "Rolling out too vigorously or for too long can end up damaging tissue," says Green. "Generally, five minutes per body part should do it."
The revival of everything '90s has been in full-swing for a while now—we saw Destiny's Child reunite at Coachella, Britney Spears is headed back on tour, and the Spice Girls miiight be performing at the Royal wedding next month. But Hollywood saved the best '90s moment for last, bringing *NSYNC back together to receive their official star on the Hollywood Walk of Fame on April 30.
Because we love a good dance #TBT, we're reliving five of the boys' best dance moments.
"I Want You Back"
The band's first single from their self-titled debut album in 1998, "I Want You Back," was the start of their takeover (and their choreographed dance moves).
Keep reading...
Show less
Popular
Apr. 24, 2018 03:00PM EST
Looking for your next audition shoe? Shot at and in collaboration with Broadway Dance Center, Só Dança has launched a new collection of shoes working with some pretty famous faces of the musical theater world! Offered in two different styles and either 2.5" or 3" heels, top industry professionals are loving how versatile and supportive these shoes are! Pro tip: The heel is centered under the body so you can feel confident and stable!
StockSnap
When I wrote about my struggle with depression, and eventual departure from dance because of it, I expected criticism. I was prepared to be challenged. But much to my relief, and horror, dancers from all over the world responded with support and stories of solidarity. The most critical response I saw was this one:
"Dance isn't for everyone."
This may as well be a mantra in the dance world. We have become entrenched in the Darwinian notion that the emotionally weak will be weeded out. There is no room for them anyway.
Keep reading...
Show less
Name calling, physical intimidation and cyberbullying are all-too-common experiences among male dancers. Photo by Goh Rhy Yan/Unsplash
Growing up in a family-owned dance studio in Missouri had its perks for tap dancer Anthony Russo. But it also earned him constant taunting, especially in high school.
"There was a junior in my sophomore year health class who was absolutely relentless," he says. "I'd get tripped on my way to the front of the classroom and he'd say, 'Watch out, twinkle toes.' If I raised my hand and answered a question incorrectly, I'd hear a patronizing 'Nice one, Bojangles.' "
Keep reading...
Show less
Photo by Scott Shaw
Gina Gibney runs two enormous dance spaces in New York City: Together they contain 23 studios, five performance spaces, a gallery, a conference room, a media lab and more. Gibney is now probably the largest dance center in the country. It's not surprising that Dance Magazine named Gina Gibney one of the most influential people in dance today.
Keep reading...
Show less
What Dancers Eat
Apr. 25, 2018 03:40PM EST
Maria Kochetkova blatantly breaks the not-eating-in-your-
Serenade
-costume rules with a personal pint backstage. Photo via
Instagram
One of the biggest myths about ballet dancers is that they don't eat. While we all know that, yes, there are those who do struggle with body image issues and eating disorders, most healthy dancers love food—and eat plenty of it to fuel their busy schedules.
Luckily for us, they're not afraid to show it:
Keep reading...
Show less


Get Dance Magazine in your inbox