The Story of How Ballet Legs Got Higher, and Higher, and Higher
Forsythe's in the middle, somewhat elevated uses the battement like an attack. Photo by Alexander Iziliaev, courtesy Pennsylvania Ballet
Just before retiring in 2015, Sylvie Guillem appeared on "HARDtalk with Zeinab Badawi," the BBC's hard-hitting interview program. Badawi told Guillem,
"Clement Crisp of the Financial Times, 14 years ago, described your dancing as vulgar."
Guillem responded,
"Yeah, well, he said that. But at the same time, when they asked Margot Fonteyn what she thought about lifting the leg like this she said, 'Well, if I could have done it, I would have done it.' "
They were discussing Guillem's signature stroke—her 180-degree leg extension à la seconde. Ballet legs had often flashed about in the higher zones between 135 and 160 degrees before. But it wasn't until the virtuoso French ballerina regularly
extended her leg beside her ear with immaculate poise in the 1980s that leg extensions for ballet dancers in classical roles reached their zenith. Traditionalists like Clement Crisp were not taken with it.
---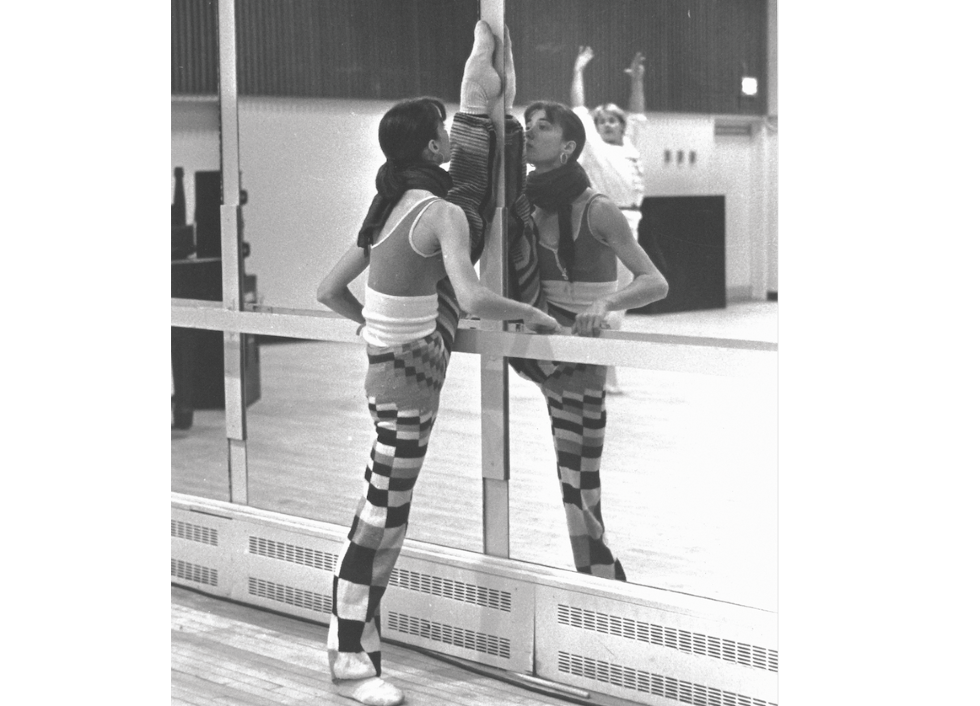 Sylvie Guillem changed the expectations of ballet dancers' extensions. Photo by Nina Alovert, courtesy DM Archives.
"There's always a sense that the virtuoso is bleeding over into a realm of inappropriateness," says Ariel Osterweis, a dance and performance studies scholar at the California Institute of the Arts. "Classical forms change due to virtuosos. Because they're not wholly rejecting a certain style or form, they're just pushing the boundaries."
The leg extension to the front, side and back is one of ballet's most recognizable, debated and gawked-at stances. The beauty and magic is in the unwavering, impassive squareness of the dancers' hips. Almost anyone can "get a leg up" through some contortion of the pelvis and physical strain. But a ballet dancer's leg extends as though entirely independent, their torso floating above it all.
Battement développé "is an example of the body truly blossoming," wrote Russian critic Akim Volynsky. For the body to blossom this way, dancers need good turnout, flexibility and strength that work in a highly coordinated way.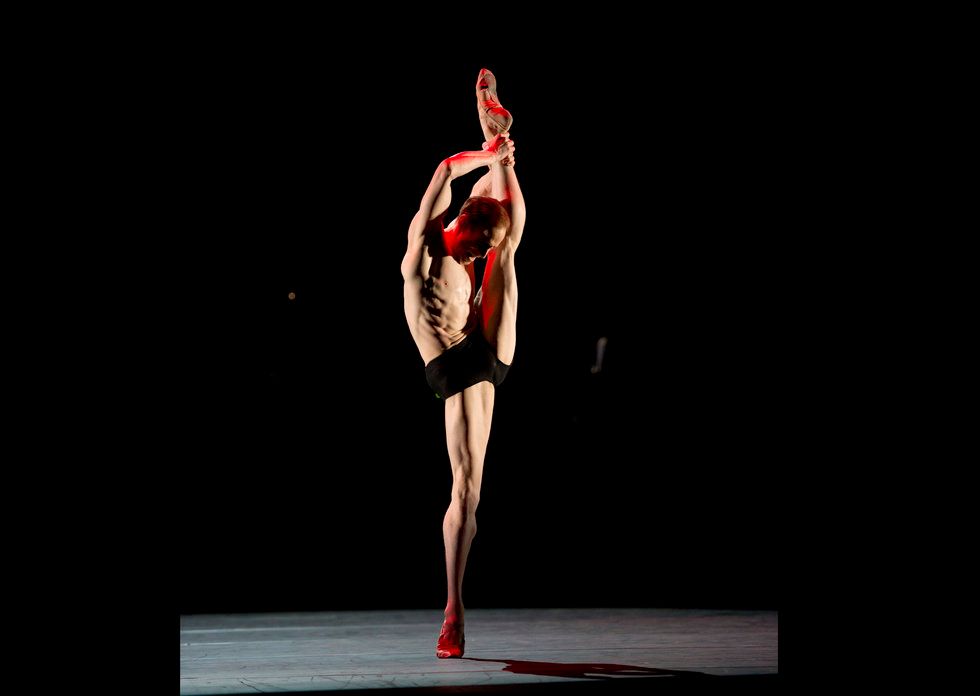 To this day, extension is seen differently on male and female dancers. Yet the standards among men are rising. Here, Edward Watson in Wayne McGregor's Carbon Life. Photo by Bill Cooper, Courtesy Royal Opera House.
This was not an issue for dancers during the first couple hundred years of ballet's history. Decorum demanded that the leg extend no higher than the hip. Lifting it further revealed too much leg, and displaying the area "down there"—the crotch—was taboo for women. For men, the issue was the suggested effeminacy (and hence homosexuality) of stretch over strength—an early-19th-century notion with residues to this day.
Dancers have often had to push the limits of social propriety to further movement expression. With her skirts lifted to calf height, Marie-Anne de Cupis de Camargo could perfect the entrechat quatre in the 18th century. Marie Taglioni lifted hers some more in the mid-19th century and bourréed across the stage on pointe. By the end of the 19th century, female ballet dancers were performing in shorter tutus and dancing a variety of virtuosic steps. Yet, the legs were still generally lifted only to hip height.
"In my experience, the highest leg height notated in Stepanov is 90 degrees," says Doug Fullington, the education programs manager and assistant to the artistic director at Pacific Northwest Ballet, who has reconstructed work of Marius Petipa from Stepanov Notation. "This doesn't mean the leg never went higher in practice. However, body mechanics change as the leg goes above waist height; one gains the ability to do certain things but loses the ability to do others."
He points out that the 19th-century ballet dancers were more compact, less flexible and less turned out than those we see today. Ballet was about nimble footwork and showing elegant angles of the body and torso, better achieved with the legs below 90 degrees.
High legs were for the circus or the nightclub where brazen cancan performers kicked to their noses and flashed their undergarments—pantalettes—with or without a crotch. These high kicks might suggest that you were loose, but equally that you were independent and powerful and not to be messed with—a sort of proto-punk attitude that made its way into ballet 100 years later.
Gradually during the first half of the 20th century, seeing women's legs, albeit trousered, became socially acceptable thanks to the "all-inclusive" labor requirements of political revolutions and world war. Women were included in the gymnastics events at the 1928 Olympic Games in Amsterdam, showing off the strength and agility of female legs. Fashion reformers responded to a growing emphasis on athleticism throughout the culture with accommodating and practical styles for women, such as shorter tennis skirts and all-in-one, tight-fitting bathing suits.
A new realm of physical and expressive potential was on offer to the revolutionary choreographers of the period just as audiences grew hungry for the new and exotic (and erotic) from companies like Diaghilev's Ballets Russes. Dancers' flexibility could be developed and exploited with fewer social restrictions.
Lauren Lovette and Herman Cornejo in Balanchine's "Rubies." Photo by Erin Baiano, courtesy Vail Dance Festival
A major change came from George Balanchine. "His modernist focus on form and the body (as opposed to narrative) created a shift in the way ballet-trained bodies conveyed meaning onstage," says Osterweis. His fast, fragmented movement generated an exaggerated focus on specific body parts, such as legs—their lines, height and speed.
Ever since, high leg extensions have abounded in contemporary ballet choreography. Everyone from Maurice Béjart and Roland Petit to William Forsythe, Wayne McGregor and Dwight Rhoden has pushed, contorted and extended dancers' legs for different effects and to mixed reviews. "I don't apologize for using the body in extreme ways," says Rhoden, "because I think that the work I like to do reflects the world around us, and we are in an extreme time."
With ballet companies' mixed classical and contemporary repertoires, and increasing audience expectations, it was almost unavoidable for leg heights in classical ballets not to follow the upward trend. Sure enough, a 2009 study showed that there was a steady increase in leg elevation angles of codified ballet postures between 1946 and 2004. The researchers also found that a group of ballet-naïve volunteers preferred the more vertical shapes to the earlier forms.
Today, hyperextended extensions are an expected part of most classical dancers' vocabulary. "Dancers stand at the barre their whole lives to improve their extension, to clarify their line, to amplify their form," says Rhoden. "We train our bodies to do many different types of movement; high extensions are just one way to show a heightened emotion or change in energy."
And it feels good. "From the dancer's perspective, when you can control where your working leg goes, and how you want to use it, there is that feeling like sexual power, but there's also a pure athletic and kinesthetic joy," says Osterweis. "What's interesting about the high leg as used by William Forsythe and Sylvie Guillem is that it's more of an attack and exclamation than a coy invitation." As such, it is hearkening back to those rebellious and independent cancan dancers of yore.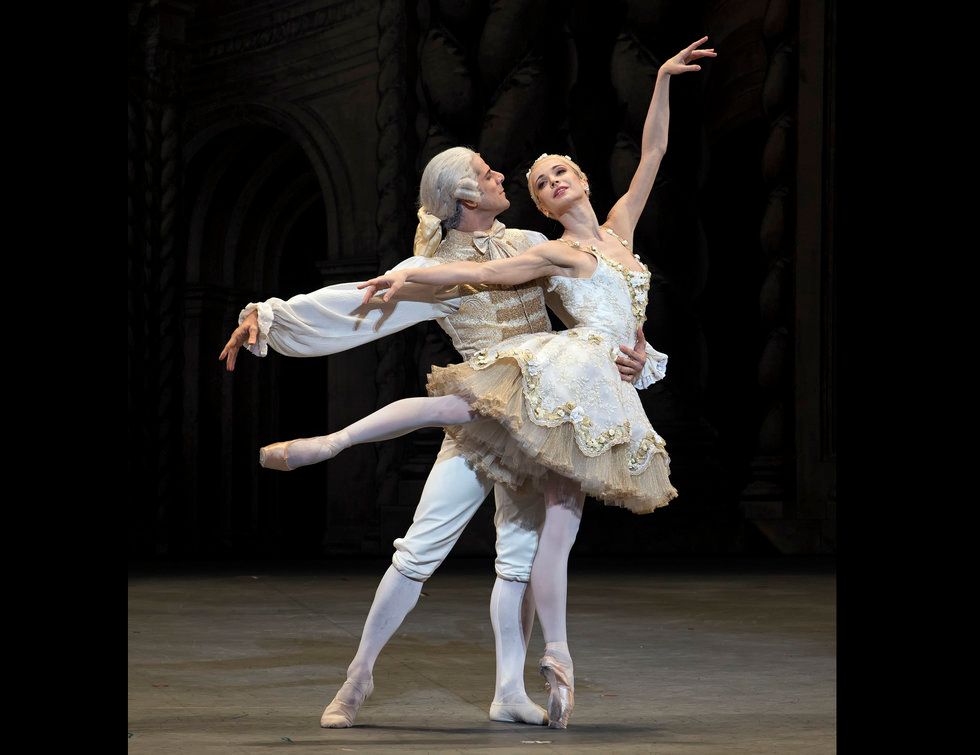 Diane Vishneva shows off lower legs in Alexei Ratmansky's Sleeping Beauty. Photo by Gene Schiavone, courtesy ABT.
However, some critics and audiences admit to feeling a bit weary of hyperflexibility on the ballet stage. One high-profile respite has been Alexei Ratmansky's reconstructions of Petipa's ballets. The lines are returned to soft, rounded shapes, knees are bent, retirés low. There's lots of épaulement, demi-pointe and fast footwork. The dances acquire more texture and the musicality Petipa originally intended.

Judith Mackrell, writing about Ratmansky's Sleeping Beauty in The Guardian, described how the leggy Bolshoi ballerina Svetlana Zakharova was transformed in this "new/old world" choreography: "Her body seemed to become physically rounder and…the more she restricted the height of her leg extensions, the more energy and lushness began to flow through her back and arms."
Mastering the 19th-century style—and its hip-height legs—still holds value. The more dancers absorb each phase of ballet's history, the richer the ballet-scape will be.
Related Articles Around the Web
From Your Site Articles
News
May. 22, 2019 05:57PM EST
Fox produced a live broadcast of Rent in January—but could an original musical be next? Photo by Kevin Estrada, Courtesy Fox
When a musical prepares to make the transfer from a smaller, lesser-known venue to Broadway (where theaters hold 500-plus seats), often there's a collective intake of breath from all involved. After all, a bigger house means more tickets to sell in order to stay in the black, and sometimes shows with even the most tenacious fan bases can't quite navigate such a jump. But what about the transfer from stage…to screen? Is Broadway ready to be consumed from the comfort of your couch?
Keep reading...
Show less
Hive by Boston Conservatory student Alyssa Markowitz. Photo by Jim Coleman
The way we create and consume dance is changing every day. Now more than ever, the field demands that dancers not only be able to perform at the highest level, but also collaborate with choreographers to bring their artistic visions to life. Dancers who miss out on choreographic training may very well find themselves at a disadvantage as they try to launch their careers.

Keep reading...
Show less
Courtesy Lee
Daphne Lee was dancing with Collage Dance Collective in Memphis, Tennessee, when she received two difficult pieces of news: Her mother had been diagnosed with multiple myeloma cancer, and her father had Parkinson's disease, affecting his mobility and mental faculties.
The New Jersey native's reaction: "I really need to move home."
Keep reading...
Show less
Bruce Mars via Unsplash
Summer is almost upon us, and whether you're a student about to go on break or a pro counting the days till layoff, don't forget that with warm weather comes a very serious responsibility: To maintain your cross-training routine on your own.
Those of us who've tried to craft our own cross-training routine know it's easier said than done. So we consulted the stars, and rounded up the best options for every zodiac sign. (TBH, you should probably consult an expert, too—we'd recommend a physical therapist, a personal trainer or your teacher.)
Keep reading...
Show less
Last year's winner: Manuel Vignoulle's EARTH. Jack Hartin Photography, Courtesy McCallum Theatre
It's not often that a promising choreographer gets to stage work in a world-class theater, on a skillfully-curated program with professional dancers, and with the possibility of winning a substantial cash prize. But at the McCallum Theatre's Palm Desert Choreography Festival, that's been the status quo for over twenty years.
Since Shea New, the festival's artistic director, founded the festival in 1998, she's worked tirelessly with McCallum's director of education and festival producer, Kajsa Thuresson-Frary, and stage manager and festival production manager Joanna Fookes to build a festival that nurtures choreographers, highlights high quality work, powerfully engages the local community and cultivates an audience base for dance in the Coachella Valley. The trio is backed by a strong team of professionals at McCallum and the brilliant volunteers from the local and national level who serve as adjudicators.
Keep reading...
Show less
Get Dance Magazine in your inbox
It's become second nature in dance studios: The instant anyone gets hurt, our immediate reaction is to run to the freezer to grab some ice (or, more realistically, a package of frozen peas).
But as routine as icing our injuries might be, the benefits are not actually backed up by scientific studies. And some experts now believe icing could even disrupt the healing process.
Keep reading...
Show less
Getty Images
I'm a contemporary dancer, and I'm nervous about trying to get pregnant since I can't predict if it might happen during the middle of the season. We have a union contract that is supposed to protect us. But I'm scared because several of my colleagues' contracts weren't renewed for no particular reason. Having a big belly could be a big reason to get rid of me!
—Andrea, New York, NY
Keep reading...
Show less
From Dance of Urgency. © Ekvidi
When the going gets tough, the tough start dancing: That's the premise behind "Dance of Urgency," a recently opened exhibit at MuseumsQuartier Vienna that features photos, video and other documentary material relating to the use of dance as political protest or social uprising.
The groups featured in the show, largely based around clubs and electronic dance music scenes, span the globe and respond to a variety of issues—from inequality and social stratification to racial divides to crackdowns on club culture itself.
Keep reading...
Show less
News
May. 20, 2019 04:24PM EST
Last night, longtime theater legends (including Chita Rivera herself!) as well as rising stars gathered to celebrate one of Broadway's danciest events: the third annual Chita Rivera Awards.
The evening paid tribute to this season's dancer standouts, fabulous ensembles, and jaw-dropping choreography—on- and off-Broadway and on film.
As usual, several of our faves made it into the mix. (With such a fabulous talent pool of nominees to choose from, we're glad that ties were allowed.) Here are the highlights from the winner's list:
Keep reading...
Show less
Lorenzo Di Cristina/Unsplash
When you're a foreign dancer, gaining legal rights to work in the U.S. is a challenging process. It's especially difficult if you're petitioning to work as a freelance dancer without an agent or company sponsorship.
The process requires professional muscle along with plenty of resources and heart. "There's a real misnomer that it's super easy," says Neena Dutta, immigration attorney and president of Dutta Law Firm. "People need to educate themselves and talk to a professional."
Here are four things every foreign dancer who wants to work in the U.S. needs to know to build a freelance dance career here.
Keep reading...
Show less
Quinn Wharton
What does it take to "make it" in dance? It's no secret that turning this passion into a profession can be a struggle. In such a competitive field, talent alone isn't enough to get you where you want to be.
So what kinds of steps can you take to become successful? Dance Magazine spoke to 33 people from all corners of the industry to get their advice on the lessons that could help us all, no matter where we are in our careers.
Keep reading...
Show less
Still of Fonteyn from the 1972 film I Am a Dancer. Photo courtesy DM Archives
On May 18, 1919, Margot "Peggy" Hookham was born. She would grow up to become Dame Margot Fonteyn, England's first homegrown prima ballerina. She joined the Sadler's Wells School in 1934 and was performing principal roles with the precursor to The Royal Ballet the next year. Fonteyn was a company-defining figure, dancing Aurora for the re-opening of the Royal Opera House after World War II, creating numerous roles with Sir Frederick Ashton and forging a legendary partnership with Rudolf Nureyev.
Keep reading...
Show less
Courtesy #Dance4OurLives
Memorial Day is notoriously one of Chicago's bloodiest weekends. Last year, 36 people were shot and seven died that weekend. In 2017 and 2016, the number of shootings was even higher.
When Garley "GiGi Tonyé" Briggs, a dance teacher and Chicago native, started noticing this pattern, she was preparing her second annual Memorial Day workshop for local youth.
The event's original aim was simple: "I wanted the youth of Chicago to have somewhere they could come and learn from different dancers and be off the streets on the South Side on this hot holiday," she says.
Keep reading...
Show less