What Dancers Eat: Beatriz Stix-Brunell's Daily Diet
Stix-Brunell in Alice's Adventures in Wonderland. Photo by Johan Persson, Courtesy Royal Opera House
"I'm better at dancing than cooking," Beatriz Stix-Brunell admits. A first soloist at The Royal Ballet, the New York City native largely relies on London's burgeoning food scene for major meals.
One exception: her lucky performance dish, a straightforward pasta recipe with prosciutto. "I make it the night before and bring it to the opera house," she says. "It's the perfect mixture of carbs and protein before a big show that requires long-lasting energy. And it also makes me feel like a chef!"
---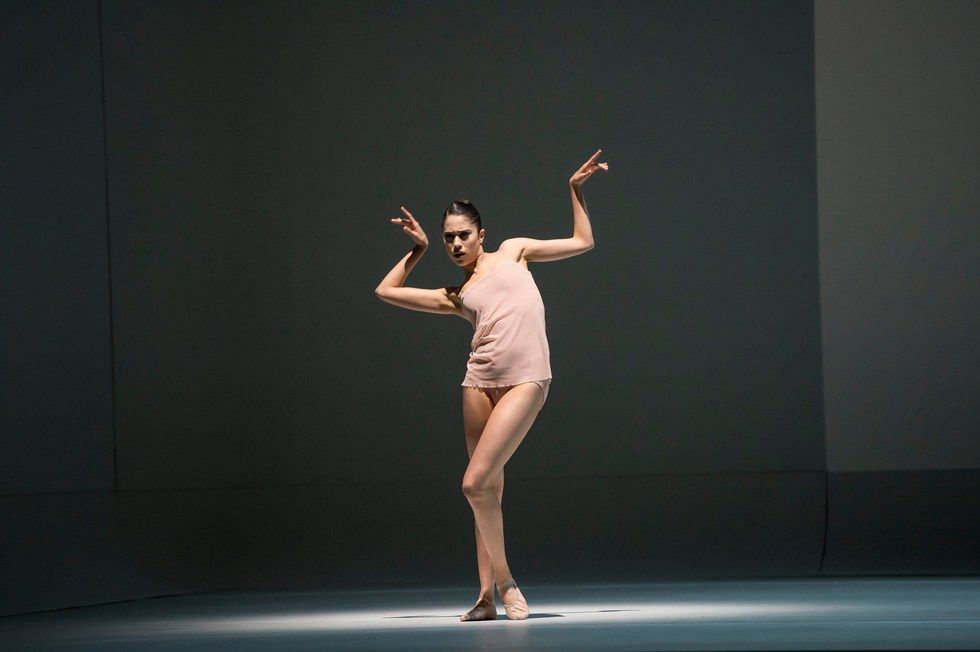 Stix-Brunell in Wayne McGregor's Chroma. Photo by Bill Cooper, courtesy ROH
Breakfast: Two chai tea bags in steaming soy milk and a large bowl of porridge at a coffeehouse on her way to the opera house
Lunch: "I go straight from company class to rehearsal, so lunch is on the fly. I usually run downstairs to the Royal Opera House canteen. I like their baked harissa chicken thighs and cauliflower curry."
Midday snack: A banana and a spoonful of extra-crunchy peanut butter
Supplement: Stix-Brunell stocks her dance bag with SiS Go Electrolyte gels and powder sachets, provided by The Royal Ballet's famed health-care suite. The supplements are meant to provide a quick carbohydrate boost and aid in fluid absorption, helping to stave off dehydration. "They're amazing fuel for long days and difficult roles that require fast-acting energy," she says.

Pre-performance: "If I have a tough evening performance, I'll eat a substantial meal at 2 pm." Typically, it's her penne pasta.
Bea's "Green Beanie" Pre-Performance Penne Pasta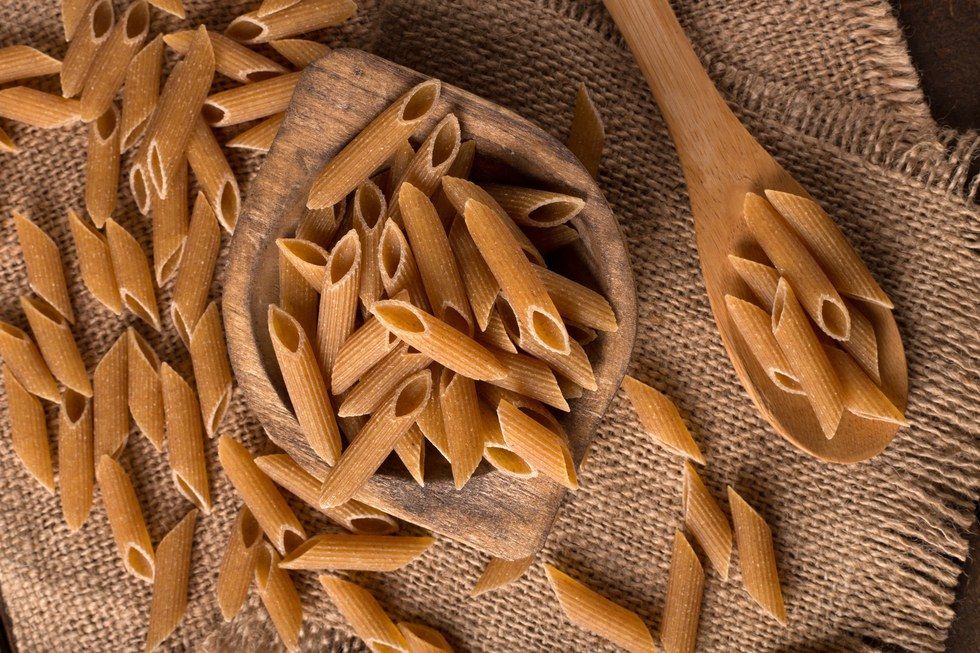 Thinkstock
Ingredients:
1 lb. whole-wheat penne
1/4 cup olive oil
6 slices prosciutto, chopped into small ribbons
1/2 cup Pecorino cheese
3 bunches arugula, chopped into large pieces
1 tbsp. black pepper, freshly ground
Directions:
Bring a large pot of salted water to boil.
Add pasta and cook until al dente (about 8 minutes).
While the pasta is cooking, heat a small, heavy-bottomed skillet over medium-high heat; add oil and prosciutto and cook until crispy, then remove pan from heat.
Drain pasta, but keep a little pasta water on the side.
Transfer penne to a large serving bowl, then add Pecorino and toss, gradually adding leftover water to loosen up the pasta as needed.
Add prosciutto, fresh arugula and black pepper. Toss well to combine.
Gettty Images
It's a cycle familiar to many: First, a striking image of a lithe, impossibly fit dancer executing a gravity-defying développé catches your eye on Instagram. You pause your scrolling to marvel, over and over again, at her textbook physique.
Inevitably, you take a moment to consider your own body, in comparison. Doubt and negative self-talk first creep, and then flood, in. "I'll never look like that," the voice inside your head whispers. You continue scrolling, but the image has done its dirty work—a gnawing sensation has taken hold, continually reminding you that your own body is inferior, less-than, unworthy.
It's no stretch to say that social media has a huge effect on body image. For dancers—most of whom already have a laser-focus on their appearance—the images they see on Instagram can seem to exacerbate ever-present issues. "Social media is just another trigger," says Nadine Kaslow, a psychologist who works with the dancers of Atlanta Ballet. "And dancers don't need another trigger." In the age of Photoshop and filters, how can dancers keep body dysmorphia at bay?
Keep reading...
Show less
Courtesy Boneau/Bryan-Brown
If "Fosse/Verdon" whet your appetite for the impeccable Gwen Verdon, then Merely Marvelous: The Dancing Genius of Gwen Verdon is the three-course meal you've been craving. The new documentary—available now on Amazon for rental or purchase—dives into the life of the Tony-winning performer and silver-screen star lauded for her charismatic dancing.

Though she's perhaps most well-known today as Bob Fosse's wife and muse, that's not even half of her story. For starters, she'd already won four Tonys before they wed, making her far more famous in the public eye than he was at that point in his career. That's just one of many surprising details we learned during last night's U.S. premiere of Merely Marvelous. Believe us: You're gonna love her even more once you get to know her. Here are eight lesser-known tidbits to get you started.
Keep reading...
Show less
Lindsay Thomas
Every dancer knows that how you fuel your body affects how you feel in the studio. Of course, while breakfast is no more magical than any other meal (despite the enduring myth that it's the most important one of the day), showing up to class hangry is a recipe for unproductive studio time.
So what do your favorite dancers eat in the morning to set themselves up for a busy rehearsal or performance day?
Keep reading...
Show less
News
Sep. 20, 2019 09:17AM EST
Simon Soong, Courtesy DDT
When it comes to dance in the U.S., companies in the South often find themselves overlooked—sometimes even by the presenters in their own backyard. That's where South Arts comes in. This year, the regional nonprofit launched Momentum, an initiative that will provide professional development, mentorship, touring grants and residencies to five Southern dance companies.
Keep reading...
Show less