What Dancers Eat
Nov. 10, 2017 09:03AM EST
What Dancers Eat: Beatriz Stix-Brunell's Daily Diet
Stix-Brunell in Alice's Adventures in Wonderland. Photo by Johan Persson, Courtesy Royal Opera House
"I'm better at dancing than cooking," Beatriz Stix-Brunell admits. A first soloist at The Royal Ballet, the New York City native largely relies on London's burgeoning food scene for major meals.
One exception: her lucky performance dish, a straightforward pasta recipe with prosciutto. "I make it the night before and bring it to the opera house," she says. "It's the perfect mixture of carbs and protein before a big show that requires long-lasting energy. And it also makes me feel like a chef!"
---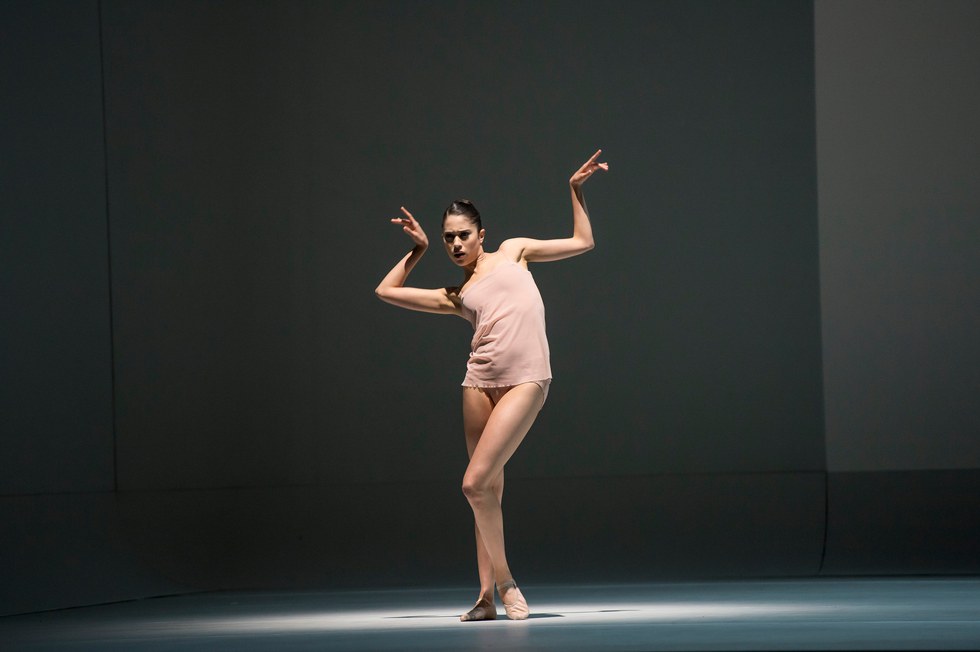 Stix-Brunell in Wayne McGregor's Chroma. Photo by Bill Cooper, courtesy ROH
Breakfast: Two chai tea bags in steaming soy milk and a large bowl of porridge at a coffeehouse on her way to the opera house
Lunch: "I go straight from company class to rehearsal, so lunch is on the fly. I usually run downstairs to the Royal Opera House canteen. I like their baked harissa chicken thighs and cauliflower curry."
Midday snack: A banana and a spoonful of extra-crunchy peanut butter
Supplement: Stix-Brunell stocks her dance bag with SiS Go Electrolyte gels and powder sachets, provided by The Royal Ballet's famed health-care suite. The supplements are meant to provide a quick carbohydrate boost and aid in fluid absorption, helping to stave off dehydration. "They're amazing fuel for long days and difficult roles that require fast-acting energy," she says.

Pre-performance: "If I have a tough evening performance, I'll eat a substantial meal at 2 pm." Typically, it's her penne pasta.
Bea's "Green Beanie" Pre-Performance Penne Pasta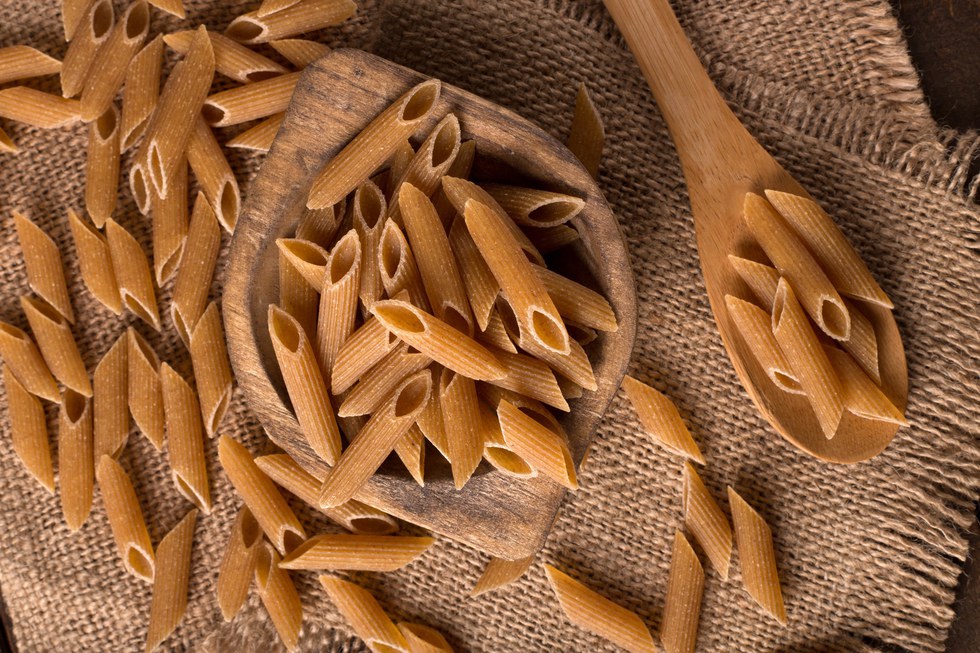 Thinkstock
Ingredients:
1 lb. whole-wheat penne
1/4 cup olive oil
6 slices prosciutto, chopped into small ribbons
1/2 cup Pecorino cheese
3 bunches arugula, chopped into large pieces
1 tbsp. black pepper, freshly ground
Directions:
Bring a large pot of salted water to boil.
Add pasta and cook until al dente (about 8 minutes).
While the pasta is cooking, heat a small, heavy-bottomed skillet over medium-high heat; add oil and prosciutto and cook until crispy, then remove pan from heat.
Drain pasta, but keep a little pasta water on the side.
Transfer penne to a large serving bowl, then add Pecorino and toss, gradually adding leftover water to loosen up the pasta as needed.
Add prosciutto, fresh arugula and black pepper. Toss well to combine.
Alexander Ekman's Midsummer Night's Dream was created for Royal Swedish Ballet. Photo by Hans Nilsson, Courtesy The Joffrey Ballet
Bales of hay, black umbrellas, bicycles—this Midsummer Night's Dream would be unrecognizable to the Bard. Alexander Ekman's full-length, inspired by Scandinavian solstice traditions and set to music by Mikael Karlsson, is a madcap celebration of the longest day of the year, when the veil between our world and that of the supernatural is said to be at its thinnest. The Joffrey Ballet's performances mark the seductively surreal work's North American premiere. April 25–May 6. joffrey.org.
Indumba investigates an African cleansing ritual. Photo by Ken Carl, via
bam.org
When Kevin "Iega" Jeff saw Fana Tshabalala's Indumba at the annual JOMBA! Contemporary Dance Experience in South Africa, he immediately knew he would ask Tshabalala to set the work on his company.

"There's an ancient energy in Fana's movement, a deep and trusted knowing," says Jeff, director of the Chicago-based Deeply Rooted Dance Theater. "Because I witnessed the raw humanity of his dancer's souls, I wanted my dancers to have that experience."
Keep reading...
Show less
StockSnap
When I wrote about my struggle with depression, and eventual departure from dance because of it, I expected criticism. I was prepared to be challenged. But much to my relief, and horror, dancers from all over the world responded with support and stories of solidarity. The most critical response I saw was this one:
"Dance isn't for everyone."
This may as well be a mantra in the dance world. We have become entrenched in the Darwinian notion that the emotionally weak will be weeded out. There is no room for them anyway.
Keep reading...
Show less
Cover Story
Apr. 16, 2018 04:00PM EST
Robert Fairchild is jumping into the next phase of his career feet-first. Photo by Jayme Thornton
In his final bow at New York City Ballet, during what should have been a heroic conclusion to a celebrated ballet career, Robert Fairchild slipped and fell. His reaction? To lie down flat on his back like he meant to do it. Then start cracking up at himself.
"He's such a ham," says his sister Megan Fairchild, with a laugh. "He's really good at selling whatever his body is doing that day. He'll turn a moment that I would totally go home and cry about into something where the audience is like, 'That's the most amazing thing ever!' "

Keep reading...
Show less
Name calling, physical intimidation and cyberbullying are all-too-common experiences among male dancers. Photo by Goh Rhy Yan/Unsplash
Growing up in a family-owned dance studio in Missouri had its perks for tap dancer Anthony Russo. But it also earned him constant taunting, especially in high school.
"There was a junior in my sophomore year health class who was absolutely relentless," he says. "I'd get tripped on my way to the front of the classroom and he'd say, 'Watch out, twinkle toes.' If I raised my hand and answered a question incorrectly, I'd hear a patronizing 'Nice one, Bojangles.' "
Keep reading...
Show less
Dance on Broadway
Apr. 21, 2018 09:30AM EST
PC Kevin Berne, courtesy Boneau/Bryan-Brown
Choreographer Sergio Trujillo asked the women auditioning for ensemble roles in his newest musical to arrive in guys' clothing—"men's suits, or blazers and ties," he says. He wasn't being kinky or whimsical. The entire ensemble of Summer: The Donna Summer Musical is female, playing men and women interchangeably as they unfold the history of the chart-busting, Grammy-winning, indisputable Queen of Disco.
courtesy www.today.com
Keep reading...
Show less


Get Dance Magazine in your inbox