Boston Ballet Joins Twenty One Pilots and Tame Impala at Boston Calling Music Fest
Courtesy Boston Calling
Twenty One Pilots, Janelle Monáe, Tame Impala, Boston Ballet.
One of these things is not like the others.
---
This Memorial Day weekend, Boston's hometown ballet company is joining a lineup of major music stars for Boston Calling, a festival dubbed by some as an "East Coast Coachella." It's the first time in Boston Calling's 10-year run that dance will be featured—and possibly the first time ballet has ever been given major stage time at such a high profile music festival.
The company with take both the main stage and the more intimate, covered Arena Stage in three works: an excerpt from William Forsythe's Playlist EP, set to R&B artist Khalid's "Location"; a new duet by former principal Yury Yanowsky; and, perhaps most unexpectedly, a new work by corps member Sage Humphries, who's choreographing to music by her brother Michael Humphries, the artist behind indie band Future Self.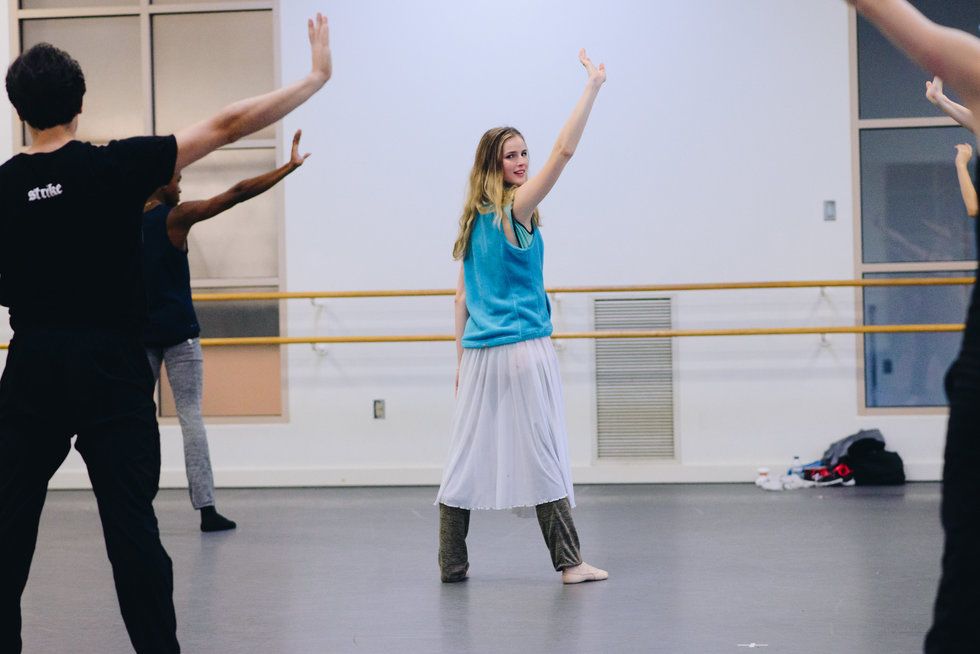 Sage Humphries (center) is choreographing on principals Kathleen Breen Combes and John Lam, and soloists Maria Baranova and Roddy Doble.
Brooke Trisolini, Courtesy Boston Ballet
As a 21-year-old music festival lover, Humphries calls the opportunity "overwhelming, in the best way." She choreographed her first piece just last fall for Boston Ballet's ChoreograpHER Initiative. When she was out injured earlier this year, artistic director Mikko Nissinen asked if she'd be interested in putting her unexpected free time to use by creating something for the festival. She jumped at the chance.
Her new work, White, casts each dancer as an iconic character from rock-and-roll history. "If you picture a 16-year-old who can't stop listening to their favorite record, that's the vibe I'm going for," she says. "Someone is listening to music and it comes to life—the stories they hear in the song are personified."
With such a massive venue, the pressure is on. But Humphries is ready for it.
"The festival's lineup is honestly my musical heaven. The fact that we're going to be backstage with these bands and performers we love, performing for thousands of people—it's an amazing opening for the future of ballet."
Getty Images
The Australian Ballet's artistic health team has become a reference worldwide, and not just because they got David Hallberg back onstage after his two-year struggle with injuries. Their results speak for themselves: While foot stress fractures and hip arthroscopies are common elsewhere in the ballet world, The Australian Ballet hasn't had any in over a decade.
Dr. Sue Mayes, the company's principal physiotherapist since 1997 and director of the team, has developed a research-based approach that is now being emulated by other companies. In The Australian Ballet's state-of-the-art Melbourne health and fitness facility, she shared some of her best tips.
Keep reading...
Show less
UA Dance Ensemble members Candice Barth and Gregory Taylor in Jessica Lang's "Among the Stars." Photo by Ed Flores, courtesy University of Arizona
If you think becoming a trainee or apprentice is the only path to gaining experience in a dance company environment, think again.
The University of Arizona, located in the heart of Tucson, acclimates dancers to the pace and rigor of company life while offering all the academic opportunities of a globally-ranked university. If you're looking to get a head-start on your professional dance career—or to just have a college experience that balances company-level training and repertory with rigorous academics—the University of Arizona's undergraduate and graduate programs have myriad opportunites to offer:
Keep reading...
Show less
Alice Sheppard/Kinetic Light in DESCENT, which our readers chose as last year's "Most Moving Performance." Photo by Jay Newman, courtesy Kinetic Light
Yes, we realize it's only August. But we can't help but to already be musing about all the incredible dance happenings of 2019.
We're getting ready for our annual Readers' Choice feature, and we want to hear from you about the shows you can't stop thinking about, the dance videos that blew your mind and the artists you discovered this year who everyone should know about.
Keep reading...
Show less
Via @lizzo on Twitter
On August 20, pop goddess Lizzo tweeted, "Someone do a ballet routine to truth hurts pls," referring to the anthem that's been top on everyone's playlists this summer. Lizzo might not know it yet, but ballet dancers are not known for shying away from a challenge. In the past two days, the internet has exploded which responses, with dancers like Houston Ballet's Harper Watters and American Ballet Theatre's Erica Lall tagging the singer in submissions.
Below are a few of our favorites so far, but we're guessing that this is just the beginning. Ballet world, consider yourselves officially challenged! (Use #LizzoBalletChallenge so we know what you're up to.)
Keep reading...
Show less