News
May. 17, 2018 03:47PM EST
Capezio Brings Dance Royalty To Vegas For a Grand Celebration
Dorrance Dance took down the house. Photo by Richard Termine
Las Vegas, home to an immense number and assorted genres of dancers, is a transient city that struggles to find community. Our first professional sports team—NHL Vegas Golden Knights—which debuted just days after the October 1 shooting, is giving Vegas hometown heroes to rally around and a palpable excitement throughout the valley.
That same camaraderie was evident Monday night as the dance community gathered—directors, choreographers, performers and educators—from New York City, Los Angeles and Las Vegas to celebrate some of their own at the Capezio Dance Awards. Ballerinas, tap and hip hop dancers, contemporary and ballroom mixed and mingled at the Smith Center for the Performing Arts—known as the "heart of the arts" here—just at the edge of the glitz and glamour of the Vegas strip.
---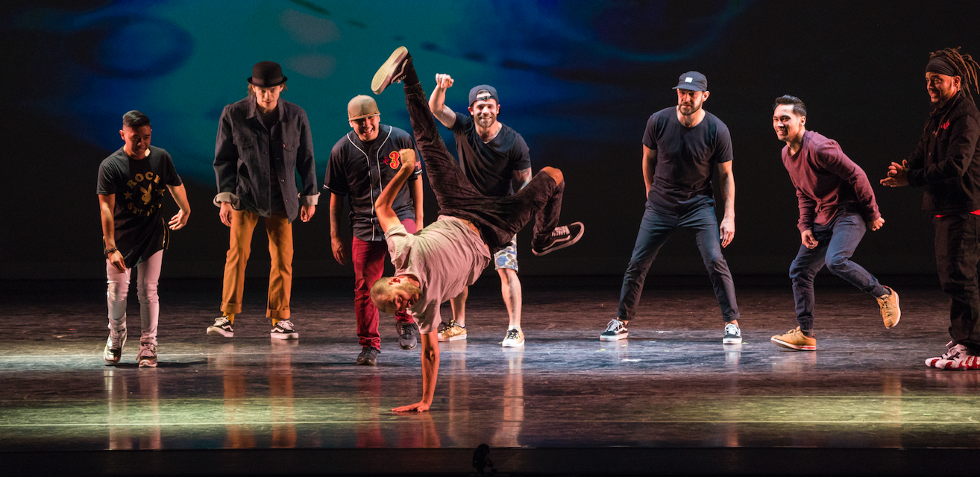 Honoree Steve "Mr. Wiggles" Clemente brought a Who's Who of hip hop to perform in Ghettomade. Photo by Richard Termine
The large scale, star-studded production, hosted by So You think You Can Dance's executive producer Nigel Lythgoe, was conceived and directed by Ann Marie DeAngelo, a former Joffrey Ballet dancer who's spent time in Vegas off and on over the past year.
The event—the second production in the history of the awards—commemorated Capezio's 130 years of shoemaking and honored a diverse array of dancers, choreographers and contributors to the field. The gathering set out to do "what art is supposed to do: create community," DeAngelo said. The show benefitted The Actors Fund (which encompasses Career Transitions for Dancers and The Dancers Resource) and Future Dance (the education and outreach program of Nevada Ballet Theatre).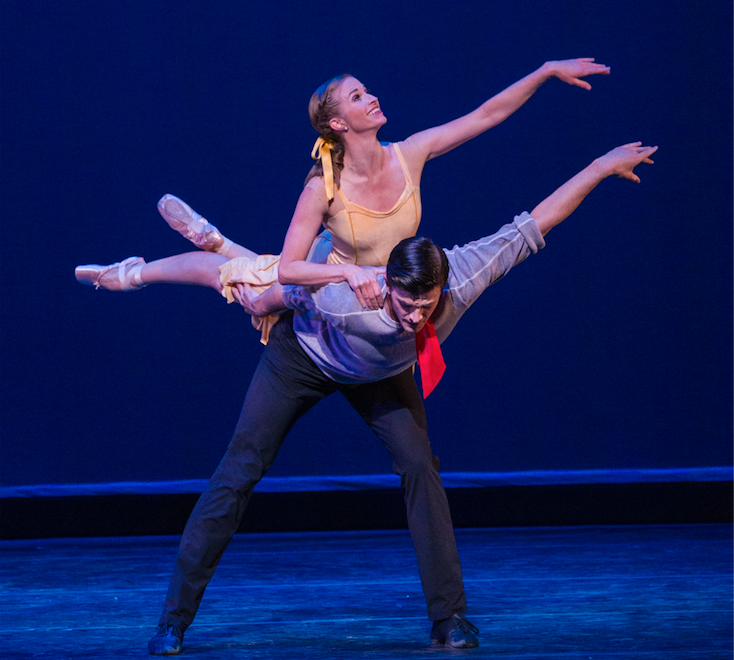 Alissa Dale and Steven Goforth of Nevada Ballet Theatre performed Christopher Wheeldon's Carousel (A dance) Pas De Deux. Photo by Richard Termine
The Capezio Foundation's Dance Award, established in 1952, this year honored Michelle Dorrance, David Parsons, Wendy Whelan and Steve "Mr. Wiggles" Clemente. Debbie Allen was honored with a Lifetime Achievement Award, presented by tap wunderkind Savion Glover, for her 30-plus years as a dancer, director, choreographer, educator and producer.

The show opened with an uplifting contemporary piece by Mandy Moore, using students from three top Vegas dance studios: The Rock Center for Dance, Bunker Dance Center and the Dance Zone. Moore set the tone for the night filling the stage with youthful energy and, as Allen noted later in her remarks, "power" and "options."
A short film outlining the history of the family-owned Capezio brand segued into a live narrative that took us through the evening. The Cobblers Rap and subsequent Interludes, choreographed by DeAngelo, recreated the love story of Salvatore Capezio and his ballerina wife, Angelina Passone.
Three of the awardees performed, perfectly showcasing their various talents for an adoring audience: Michelle Dorrance and her tap company of eight made delicious music with their feet in The Twelve/Eight, Mr. Wiggles and crew (a lineup of Who's Who in hip hop) popped and locked in Ghettomade and Wendy Whelan and Brian Brooks performed Brooks' First Fall. The audience audibly gasped with Whelan's first trusting fall backwards onto a prone Brooks.
Wendy Whelan and Brian Brooks perform. Photo by Richard Termine
Las Vegas artists included Alissa Dale and Steven Goforth of Nevada Ballet Theatre who performed Christopher Wheeldon's Carousel (A dance) Pas De Deux with a balance of abandon, romance and youthful vitality. Former Alvin Ailey American Dance Theatre dancer Bernard H. Gaddis' Contemporary West Dance Theatre performed his athletic male duet Drastic Measures. Closing the evening, aerialist Sara Romanowsky performed on silks as cobbler and ballerina walked off into the sunset.
Las Vegas is undeniably a city of entertainment. As Capezio has a presence in all 50 states, it stands to reason that this celebration—and more like it—may shift West to lift up our larger, inclusive, dance family. And, hey—it's Vegas baby!
Courtesy Boneau/Bryan-Brown
If "Fosse/Verdon" whet your appetite for the impeccable Gwen Verdon, then Merely Marvelous: The Dancing Genius of Gwen Verdon is the three-course meal you've been craving. The new documentary—available now on Amazon for rental or purchase—dives into the life of the Tony-winning performer and silver-screen star lauded for her charismatic dancing.

Though she's perhaps most well-known today as Bob Fosse's wife and muse, that's not even half of her story. For starters, she'd already won four Tonys before they wed, making her far more famous in the public eye than he was at that point in his career. That's just one of many surprising details we learned during last night's U.S. premiere of Merely Marvelous. Believe us: You're gonna love her even more once you get to know her. Here are eight lesser-known tidbits to get you started.
Keep reading...
Show less
Lindsay Thomas
Every dancer knows that how you fuel your body affects how you feel in the studio. Of course, while breakfast is no more magical than any other meal (despite the enduring myth that it's the most important one of the day), showing up to class hangry is a recipe for unproductive studio time.
So what do your favorite dancers eat in the morning to set themselves up for a busy rehearsal or performance day?
Keep reading...
Show less
News
Sep. 20, 2019 09:17AM EST
Simon Soong, Courtesy DDT
When it comes to dance in the U.S., companies in the South often find themselves overlooked—sometimes even by the presenters in their own backyard. That's where South Arts comes in. This year, the regional nonprofit launched Momentum, an initiative that will provide professional development, mentorship, touring grants and residencies to five Southern dance companies.
Keep reading...
Show less
News
Sep. 19, 2019 12:46PM EST
Alice Pennefather, Courtesy ROH
You ever just wish that Kenneth MacMillan's iconic production of Romeo and Juliet could have a beautiful love child with the 1968 film starring Olivia Hussey? (No, not Baz Luhrmann's version. We are purists here.)
Wish granted: Today, the trailer for a new film called Romeo and Juliet: Beyond Words was released, featuring MacMillan's choreography and with what looks like all the cinematic glamour we could ever dream of:
Keep reading...
Show less