News
May. 17, 2018 03:47PM EST
Capezio Brings Dance Royalty To Vegas For a Grand Celebration
Dorrance Dance took down the house. Photo by Richard Termine
Las Vegas, home to an immense number and assorted genres of dancers, is a transient city that struggles to find community. Our first professional sports team—NHL Vegas Golden Knights—which debuted just days after the October 1 shooting, is giving Vegas hometown heroes to rally around and a palpable excitement throughout the valley.
That same camaraderie was evident Monday night as the dance community gathered—directors, choreographers, performers and educators—from New York City, Los Angeles and Las Vegas to celebrate some of their own at the Capezio Dance Awards. Ballerinas, tap and hip hop dancers, contemporary and ballroom mixed and mingled at the Smith Center for the Performing Arts—known as the "heart of the arts" here—just at the edge of the glitz and glamour of the Vegas strip.
---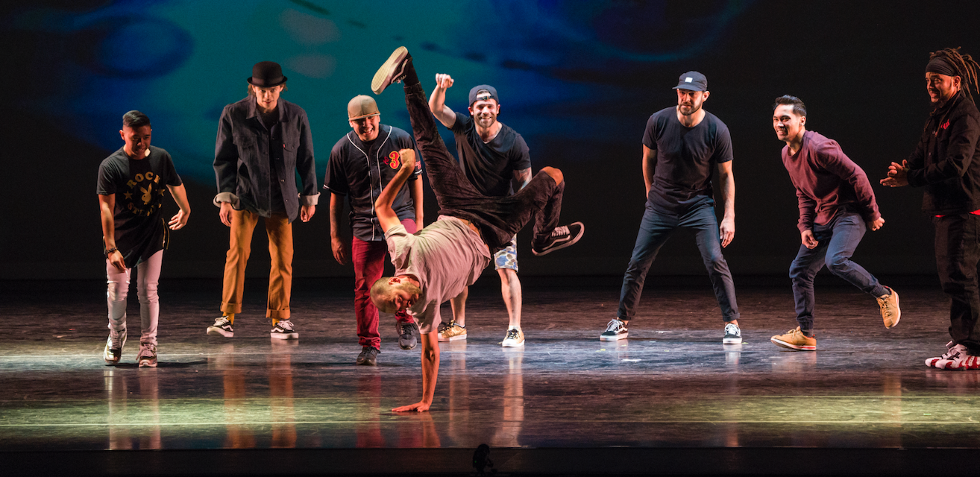 Honoree Steve "Mr. Wiggles" Clemente brought a Who's Who of hip hop to perform in Ghettomade. Photo by Richard Termine
The large scale, star-studded production, hosted by So You think You Can Dance's executive producer Nigel Lythgoe, was conceived and directed by Ann Marie DeAngelo, a former Joffrey Ballet dancer who's spent time in Vegas off and on over the past year.
The event—the second production in the history of the awards—commemorated Capezio's 130 years of shoemaking and honored a diverse array of dancers, choreographers and contributors to the field. The gathering set out to do "what art is supposed to do: create community," DeAngelo said. The show benefitted The Actors Fund (which encompasses Career Transitions for Dancers and The Dancers Resource) and Future Dance (the education and outreach program of Nevada Ballet Theatre).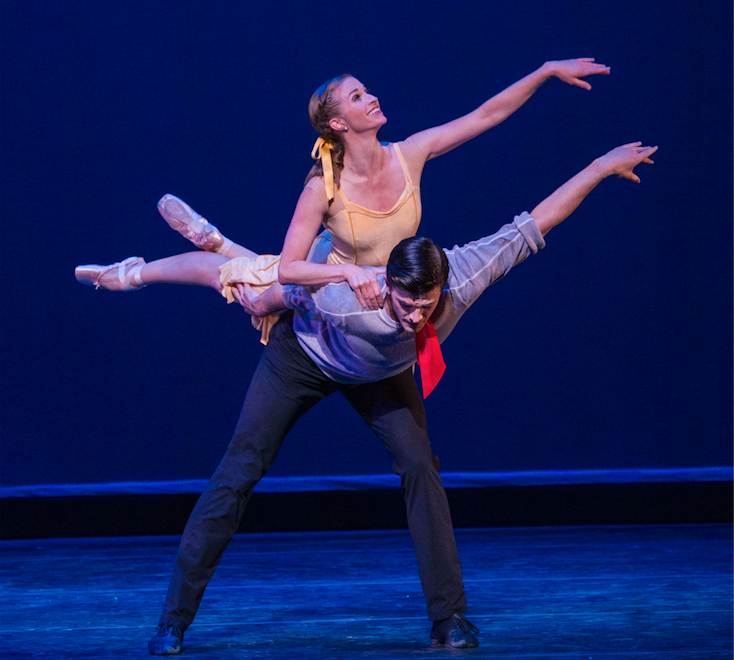 Alissa Dale and Steven Goforth of Nevada Ballet Theatre performed Christopher Wheeldon's Carousel (A dance) Pas De Deux. Photo by Richard Termine
The Capezio Foundation's Dance Award, established in 1952, this year honored Michelle Dorrance, David Parsons, Wendy Whelan and Steve "Mr. Wiggles" Clemente. Debbie Allen was honored with a Lifetime Achievement Award, presented by tap wunderkind Savion Glover, for her 30-plus years as a dancer, director, choreographer, educator and producer.

The show opened with an uplifting contemporary piece by Mandy Moore, using students from three top Vegas dance studios: The Rock Center for Dance, Bunker Dance Center and the Dance Zone. Moore set the tone for the night filling the stage with youthful energy and, as Allen noted later in her remarks, "power" and "options."
A short film outlining the history of the family-owned Capezio brand segued into a live narrative that took us through the evening. The Cobblers Rap and subsequent Interludes, choreographed by DeAngelo, recreated the love story of Salvatore Capezio and his ballerina wife, Angelina Passone.
Three of the awardees performed, perfectly showcasing their various talents for an adoring audience: Michelle Dorrance and her tap company of eight made delicious music with their feet in The Twelve/Eight, Mr. Wiggles and crew (a lineup of Who's Who in hip hop) popped and locked in Ghettomade and Wendy Whelan and Brian Brooks performed Brooks' First Fall. The audience audibly gasped with Whelan's first trusting fall backwards onto a prone Brooks.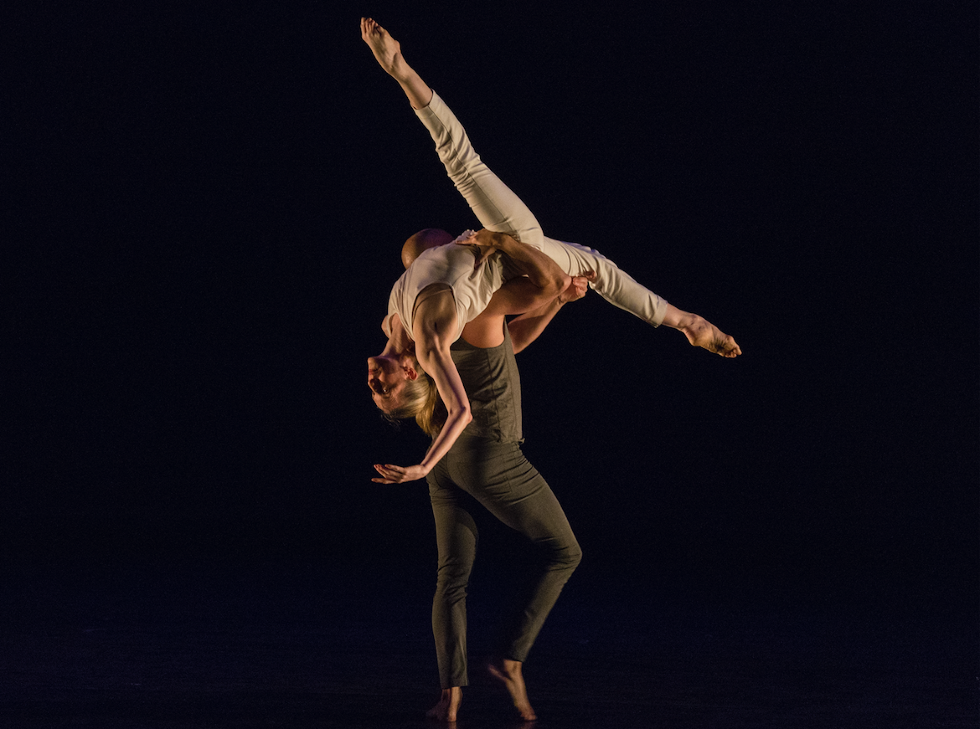 Wendy Whelan and Brian Brooks perform. Photo by Richard Termine
Las Vegas artists included Alissa Dale and Steven Goforth of Nevada Ballet Theatre who performed Christopher Wheeldon's Carousel (A dance) Pas De Deux with a balance of abandon, romance and youthful vitality. Former Alvin Ailey American Dance Theatre dancer Bernard H. Gaddis' Contemporary West Dance Theatre performed his athletic male duet Drastic Measures. Closing the evening, aerialist Sara Romanowsky performed on silks as cobbler and ballerina walked off into the sunset.
Las Vegas is undeniably a city of entertainment. As Capezio has a presence in all 50 states, it stands to reason that this celebration—and more like it—may shift West to lift up our larger, inclusive, dance family. And, hey—it's Vegas baby!
Many of the dancers of 10000 Gestures weren't wearing much clothing when they started climbing on audience members. Photo by Ursula Kaufmann via nyuskirball.org
Some of my favorite experiences as both an audience member and a dancer have involved audience participation. Artists who cleverly use participatory moments can make bold statements about the boundaries between performer and spectator, onstage and off. And the challenge to be more than a passive viewer can redefine an audience's relationship to what they're watching. But all the experiences I've loved have had something in common: They've given audiences a choice.
A few weeks back, I had a starkly different experience—one that has caused me to think deeply about how consent should play into audience-performer relationships.
Keep reading...
Show less
This high school dance team's Harry Potter routine has gone viral. Screenshot via ThePac Walden Grove's YouTube channel.
What happens when you mix two really good things together? Sometimes, it can be magical. It's practically guaranteed when one of those elements is the wizarding world of Harry Potter, and the other is—wait for it—dance-team–style hip hop.
Keep reading...
Show less
News
Oct. 12, 2018 11:04AM EST
Adam McKinney's HaMapah/The Map. Photo by Lafotographeuse, Courtesy McKinney
When the Bible spoke of the "ingathering of the exiles," it didn't have dance in mind. Yet, this month, more than 100 dancers, choreographers and scholars from around the world will gather at Arizona State University to celebrate the impact of Jews and the Jewish experience on dance. From hora to hip hop, social justice to somatics, ballet to Gaga, the three-day event (Oct. 13–15) is "deliberately inclusive," says conference organizer and ASU professor Naomi Jackson.
Keep reading...
Show less


Get Dance Magazine in your inbox