Yup, Dance Is The Best Workout. Science Says So.
Danza Contemporanéa de Cuba. Photo by Quinn Wharton
We already know that dancing is basically the greatest thing you could do for yourself. (Even if, ahem, your feet end up without toenails during sandal season.)
But it's always great when science proves us right.
---
A small study out of the University of Brighton in the UK shows that dancing burns about 600 calories per hour, which is about the same or more than going for a swim or a run for the same amount of time. Of course, an hour of grand allegro is going to push your body much harder than an hour of your grandfather's two-step. But researchers say that even tamer styles of dance can burn about the same number of calories as cycling.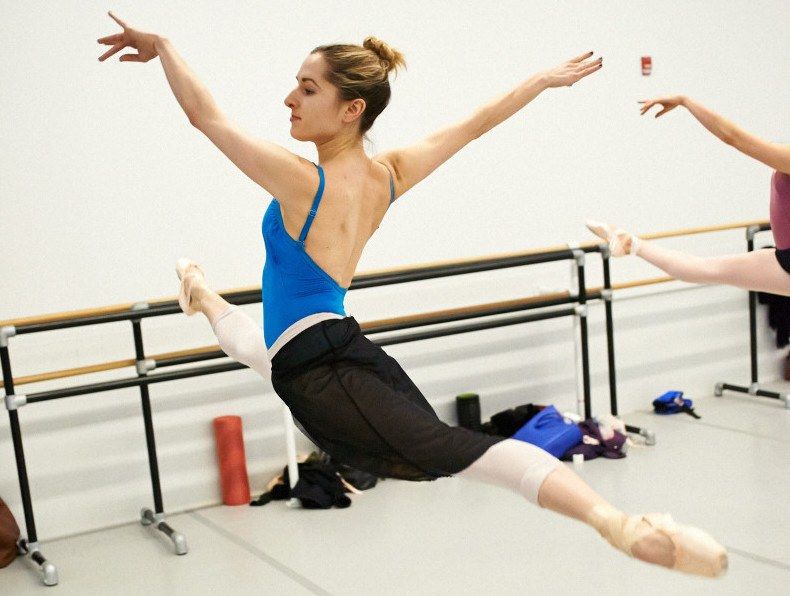 Pennsylvania Ballet's Adrianna de Svastich. Photo by Jim Lafferty.
Nick Smeeton, a coauthor of the report, told Time magazine that all the changes of directions, accelerating and decelerating, and stopping and starting challenges your body in a way that a straightforward run around the park never will. You can't just coast by on momentum when you're dancing. And more of the little support muscles get activated—and strengthened—because your body moves in so many different ways.
But let's not forget that dance is worth much more than calorie burn and muscle building. Research has also shown that it improves mood, lowers stress, boosts energy, curbs anxiety, slows cognitive decline, increases confidence—we could go on and on.
Let's just say, dance for the win!
Just for Fun
Jul. 16, 2019 02:13PM EST
As Dance Magazine editors, we admittedly spend more time than we'd like sifting through stock photography. Some of it is good, more of it is bad and most of it is just plain awkward.
But when paired with the right caption, those shots magically transform from head-scratchers to meme-worthy images that illustrate our singular experience as dancers. You can thank the internet for this special salute to dancer moods.
Keep reading...
Show less
Wayne McGregor. Photo by Johan Persson, Courtesy ROH
It's no surprise that dancers make some of the best TED Talk presenters. Not only are they great performers, but they've got unique knowledge to share. And they can dance!
If you're in need of a midweek boost, look no further than these eight presentations from some incredibly inspiring dance artists.
Keep reading...
Show less
News
Jul. 16, 2019 03:58PM EST
Including this extraordinary Travis Wall number for "So You Think You Can Dance" (Adam Rose/FOX)
The Primetime Emmy Award nominations are out! Congrats to the seven choreographers who earned nods for their exceptional TV work this year. Notably, that work was made for just two shows, "So You Think You Can Dance" and "World of Dance."
And there was a particularly remarkable snub: While the dance-filled hit "Fosse/Verdon" earned 17 nominations across many of the major categories, Andy Blankenbuehler's fabulous Fosse remixes weren't recognized in the Outstanding Choreography field.
Here are all the dance routines up for Emmys:
Keep reading...
Show less

abezikus/Getty Images
"Dancers can do everything these days," I announced to whoever was in earshot at the Jacob's Pillow Archives during a recent summer. I had just been dazzled by footage of a ballet dancer performing hip hop, remarkably well. But my very next thought was, What if that isn't always a good thing? What if what one can't do is the very thing that lends character?
Keep reading...
Show less