Yup, Dance Is The Best Workout. Science Says So.
Danza Contemporanéa de Cuba. Photo by Quinn Wharton
We already know that dancing is basically the greatest thing you could do for yourself. (Even if, ahem, your feet end up without toenails during sandal season.)
But it's always great when science proves us right.
---
A small study out of the University of Brighton in the UK shows that dancing burns about 600 calories per hour, which is about the same or more than going for a swim or a run for the same amount of time. Of course, an hour of grand allegro is going to push your body much harder than an hour of your grandfather's two-step. But researchers say that even tamer styles of dance can burn about the same number of calories as cycling.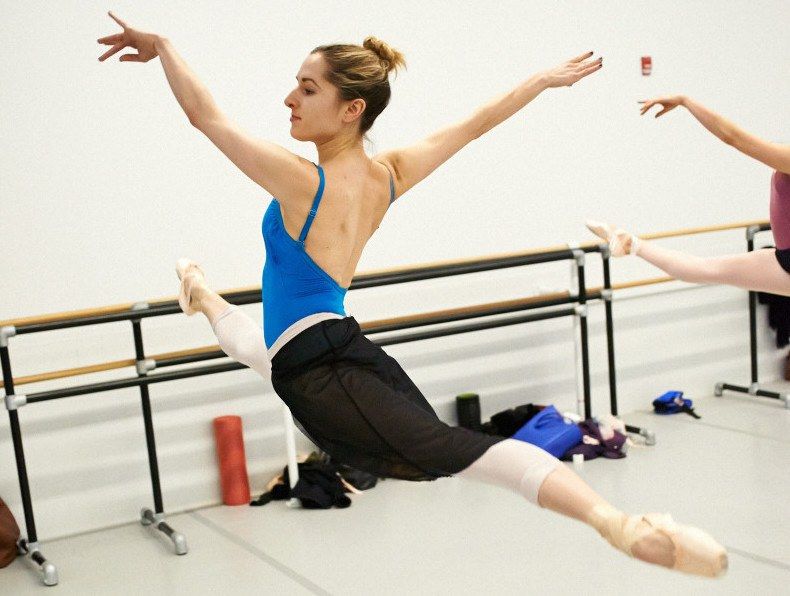 Pennsylvania Ballet's Adrianna de Svastich. Photo by Jim Lafferty.
Nick Smeeton, a coauthor of the report, told Time magazine that all the changes of directions, accelerating and decelerating, and stopping and starting challenges your body in a way that a straightforward run around the park never will. You can't just coast by on momentum when you're dancing. And more of the little support muscles get activated—and strengthened—because your body moves in so many different ways.
But let's not forget that dance is worth much more than calorie burn and muscle building. Research has also shown that it improves mood, lowers stress, boosts energy, curbs anxiety, slows cognitive decline, increases confidence—we could go on and on.
Let's just say, dance for the win!
Lindsay Thomas
Every dancer knows that how you fuel your body affects how you feel in the studio. Of course, while breakfast is no more magical than any other meal (despite the enduring myth that it's the most important one of the day), showing up to class hangry is a recipe for unproductive studio time.
So what do your favorite dancers eat in the morning to set themselves up for a busy rehearsal or performance day?
Keep reading...
Show less
News
Sep. 20, 2019 09:17AM EST
Simon Soong, Courtesy DDT
When it comes to dance in the U.S., companies in the South often find themselves overlooked—sometimes even by the presenters in their own backyard. That's where South Arts comes in. This year, the regional nonprofit launched Momentum, an initiative that will provide professional development, mentorship, touring grants and residencies to five Southern dance companies.
Keep reading...
Show less
News
Sep. 19, 2019 12:46PM EST
Alice Pennefather, Courtesy ROH
You ever just wish that Kenneth MacMillan's iconic production of Romeo and Juliet could have a beautiful love child with the 1968 film starring Olivia Hussey? (No, not Baz Luhrmann's version. We are purists here.)
Wish granted: Today, the trailer for a new film called Romeo and Juliet: Beyond Words was released, featuring MacMillan's choreography and with what looks like all the cinematic glamour we could ever dream of:
Keep reading...
Show less
News
Sep. 19, 2019 11:54AM EST
Touch tour for English National Ballet's Giselle by Akram Khan at the Aotea Centre in Auckland, New Zealand. Photo by Studio Pono, Courtesy ENB
While you might think of dance as a primarily visual art form, performances engage us on multiple levels. Our ears take in the score, the artists' breathing patterns, fellow audience members' reactions, and the physical percussion made by the dancers' footfalls and partnering. All of this information is available to audience members with limited to no vision, and when it comes to providing them with the rest, there are multiple approaches being refined by experts in the field generally referred to as "audience accessibility."
Keep reading...
Show less