*This* Is How You Should Actually Warm Up Before Dancing
How do you warmup? Photo by Jim Lafferty
For many dancers, a "warmup" consists of sitting on the floor stretching their legs in various positions. But this strategy only reduces your muscles' ability to work properly—it negatively affects your strength, endurance, balance and speed for up to an hour.
Save your flexibility training for the end of the day. Instead, follow a warmup that will actually help prevent injury and improve your body's performance.
According to the International Association of Dance Medicine and Science, a smart warmup has four parts: "a gentle pulse-raising section, a joint mobilization section, a muscle lengthening section and a strength/balance building section."
---
Here's how to put those four recommendations into practice:


Gently Raise Your Pulse
When your body's temperature increases, your tissues become more pliable and elastic. (You may need to spend more time on this during colder months, like February.)
Start with small, continual movements, such as prancing in place. Gradually increase the range of motion and pace to something like light jogging. Continue for 1-5 minutes until your breathing gets faster and your heart rate increases.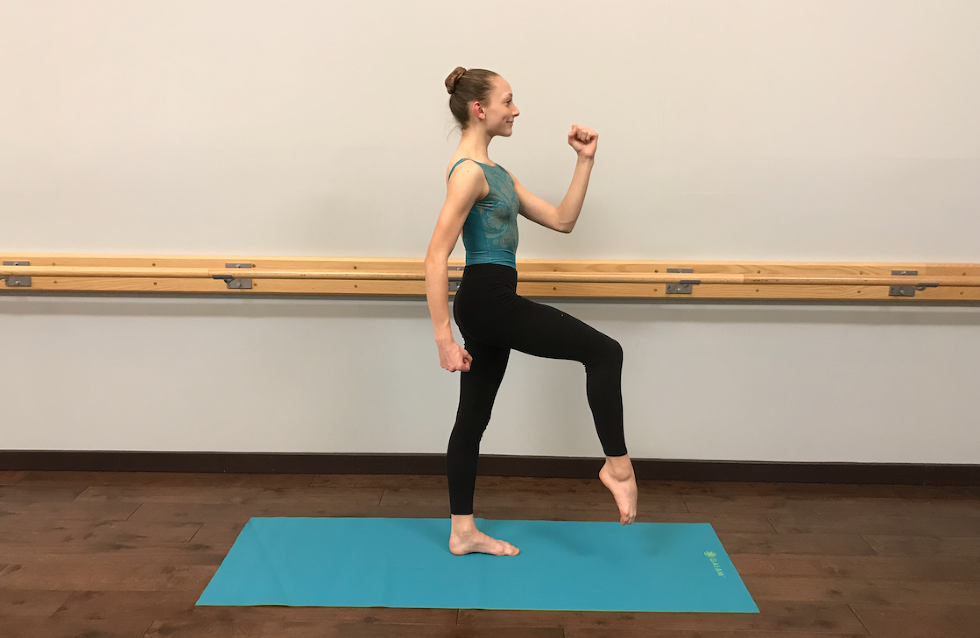 Start every warm up by gently getting the blood moving


Mobilize Your Joints
Gently open up the ankle joints, hip joints, shoulder joints and spine during your warmup so that once you're dancing, they're prepared to move through more extreme ranges of motion.
1. Ankle Circles
Sitting with your legs extended in front of you, circle your ankles through their full range of motion, making your circles bigger each time. Repeat 10 times in both directions.

2. Hip Circles
Lying on your back with knees bent and feet flat on the floor, open one knee to the side as far as you can while keeping a neutral pelvis. Slide your foot along the floor until your knee is extended and your leg returns to parallel. Repeat 5-8 times on each leg.

3. Arm circles
Lying on your back with your ribcage gently touching the mat, reach your arms toward the ceiling. Circle your arms back and out to the side. Repeat 5-8 times in both directions.
4. Spinal Flexion and Extension
Sitting on a chair, bend your head toward your knees to flex your spine. Then reverse the movement to articulate your spine into extension. Repeat 5 times.



Lengthen Your Muscles
Once you're warm, do some dynamic stretching. Brief stretches that are held for less than 15 seconds and lengthen the muscles by activating the opposing muscles won't negatively affect your performance and can help relive any tension.
Hamstring Stretch
Lying on your back, bend your knee towards your chest. Extend your leg by engaging your quad. Repeat 5-10 times.
Thigh Stretch
From a lunge position, slowly engage the glutes to move down into deeper lunge to stretch the thigh. Repeat 5-10 times.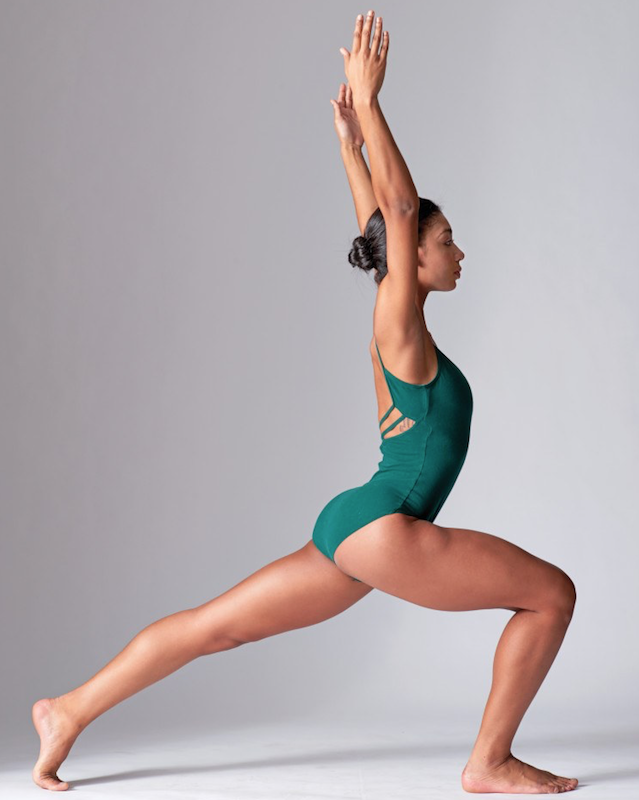 Photo by Nathan Sayers


Build Strength and Balance
Finish your warm up with strengthening exercises and some balance training.
Oblique Criss-Cross
Start by lying on your back with your legs in a tabletop position. Extend one leg while rotating the opposite shoulder towards the bent knee. Alternate legs for a total of 8-10 repetitions.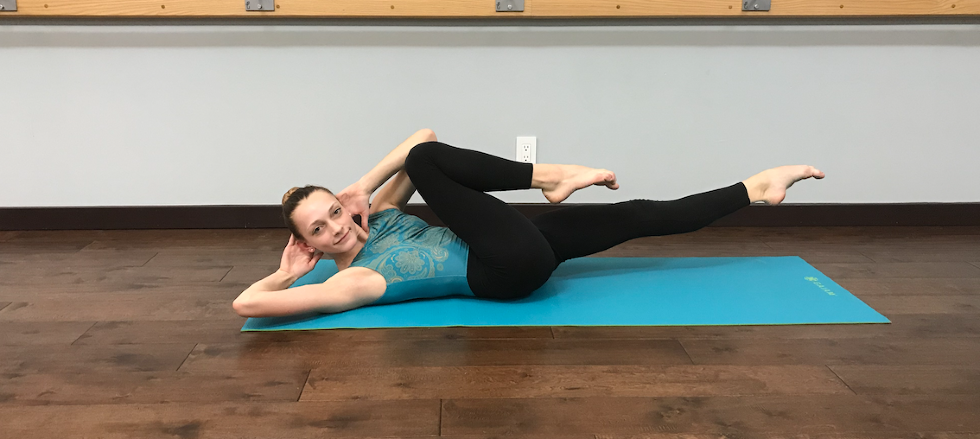 Bosu Balancing
Stand on the bottom of a Bosu Ball, and bring one leg to retiré. Challenge your balance by adding controlled movement of the working leg. Work up to balancing for 30-60 seconds.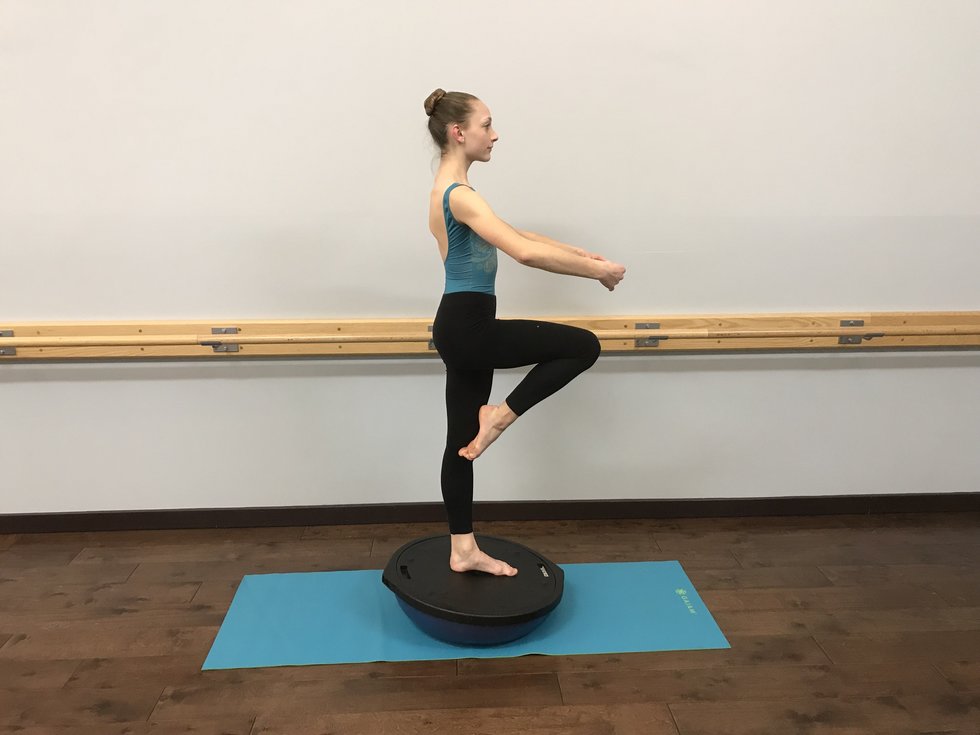 News
May. 24, 2018 01:26PM EST
New York City Ballet dancers will be led by the interim leadership team for at least several more months. Here, the company in Justin Peck's The Times Are Racing. Photo by Paul Kolnik, Courtesy NYCB.
Since December an interim artistic leadership team has been guiding New York City Ballet, and in January, Peter Martins officially resigned. But only now has the search for Martins' permanent replacement begun. Here's what we know about how the process will unfold.
Keep reading...
Show less
Dance As Activism
May. 24, 2018 11:54AM EST
Rebecca Warthen teaching at a public school in Dominica. Photo courtesy Peace Corps
Rebecca Warthen was on a year-long assignment with the Peace Corps in Dominica last fall when a storm started brewing. A former dancer with North Carolina Dance Theatre (now Charlotte Ballet) and Columbia City Ballet, she'd been sent to the Caribbean island nation to teach ballet at the Dominica Institute of the Arts and in outreach classes at public schools.
But nine and a half months into her assignment, a tropical storm grew into what would become Hurricane Maria—the worst national disaster in Dominica's history.
Keep reading...
Show less
News
May. 18, 2018 12:05PM EST
The inimitable Alicia Alonso, now 97, remains at the helm of Ballet Nacional de Cuba. Photo by Leysis Quesada, Courtesy BNC
On the occasion of its 70th anniversary, the Ballet Nacional de Cuba tours the U.S. this spring with the resolute Cuban prima ballerina assoluta Alicia Alonso a the helm. Named a National Hero of Labor in Cuba, Alonso, 97, has weathered strained international relations and devastating fiscal challenges to have BNC emerge as a world-class dance company. Her dancers are some of ballet's best. On offer this time are Alonso's Giselle and Don Quixote. The profoundly Cuban company performs in Chicago May 18–20, Tampa May 23, Washington, D.C., May 29–June 3 and Saratoga, New York June 6–8.
The baby swan can help strengthen your serratus anterior. Modeled by Marimba Gold-Watts, photographed by Jayme Thornton
Ever wonder why some dancers' port de bras appears to be disconnected from their body? It typically comes down to how they stabilize their shoulder blades, says Marimba Gold-Watts, Pilates instructor to dancers like Robert Fairchild.
"Dancers often hear the cue to pull down on their latissimus,"—the biggest muscle in the back—"which doesn't allow the shoulder blades to lie flat," she says. "It makes the bottom tips of the shoulder blades wing, or flare out, off the rib cage."
Keep reading...
Show less
In The Studio
May. 24, 2018 11:26AM EST
Choreographer Sidra Bell, Photo courtesy David Flores Productions
Sidra Bell is one of those choreographers whose movement dancers are drawn to. Exploring the juxtaposition of fierce athleticism and pure honesty in something as simple as stillness, her work brings her dancers to the depths of their abilities and the audience to the edge of their seats.
We stepped into the studio with Sidra Bell Dance New York as they prepare for their upcoming season at New York Live Arts.

Keep reading...
Show less
Rant & Rave
May. 23, 2018 04:25PM EST
Jessica Lang's Her Notes, one of ABT's few recent commissions from women. Photo by Rosalie O'Connor
A few weeks ago, American Ballet Theatre announced the A.B.T. Women's Movement, a new program that will support three women choreographers per season, one of whom will make work on the main company.
"The ABT Women's Movement takes inspiration from the groundbreaking female choreographers who have left a lasting impact on ABT's legacy, including Agnes de Mille and Twyla Tharp," said artistic director Kevin McKenzie in a press release.
Hypothetically, this is a great idea. We're all for more ballet commissions for women. But the way ABT has promoted the initiative is problematic.
Keep reading...
Show less


Get Dance Magazine in your inbox