To Charlie Hodges, the idea of quitting dance is nothing more than a state of mind. "You can choose to quit, or you can choose to translate," he says. "Dance can be your tool set for the next step."
Today, he's translating the lessons he learned from working with Twyla Tharp on Broadway and in companies like L.A. Dance Project into starting a business that sells an environmentally sustainable, gender-neutral toy house.
And he's tapped three former New York City Ballet dancers to help him: Jenifer Ringer co-wrote the companion chapter book. Janie Taylor helped brainstorm ideas for the house and drew the illustrations in the book. And Kaitlyn Gilliland lent her business expertise from her recently acquired MBA from Yale.
---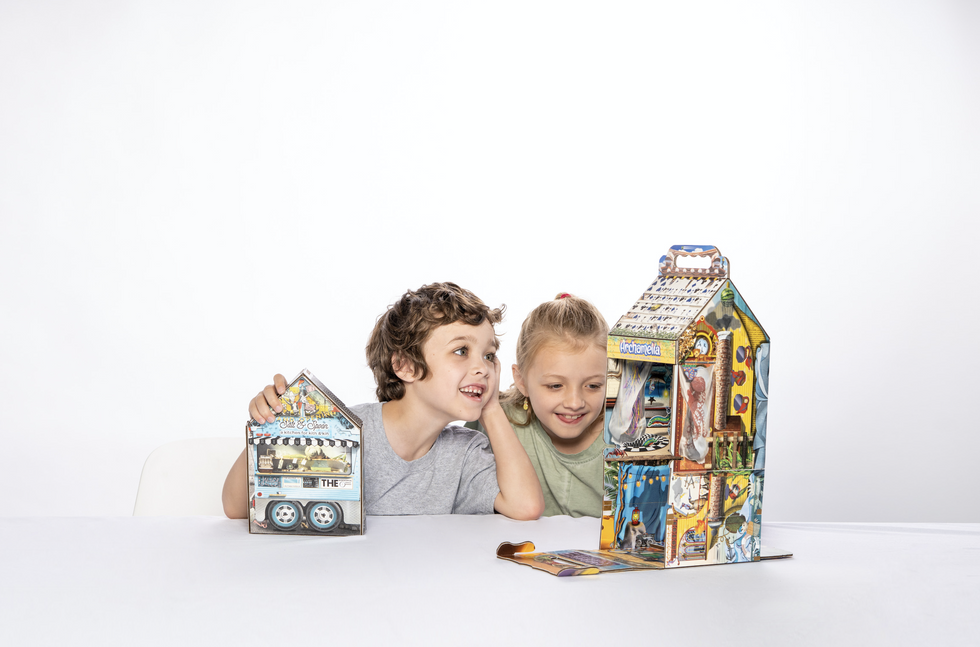 Courtesy Charlie Hodges
Today, even the youngest, most successful dancers are confronting the ephemerality of their careers right now, as they watch month after month slip by with few (if any) traditional performance opportunities. The pressures of the pandemic have led many to ask, What's next?
For Hodges, he'd long had a fraught relationship with dance, having been told over and over that he was too short, too fat, too bald, and thought often about what else he could do with his life. After The Times They Are A-Changin' closed on Broadway in 2006, he went to Barnes & Noble one day, pulled out 30 magazines that sparked his interest and flipped through them until he decided on five he wanted to buy. Then he subscribed to three until he found the one he regularly read and renewed. "The magazine that stuck was Dwell, about architecture and design," he says.
So he went to the University of Washington to study architecture and then started working at a firm during the day while performing at night in Come Fly Away on Broadway. But he soon realized the demands of realizing an architecture project were far more logistical than creative. So after a few years with L.A. Dance Project, he enrolled in the prestigious ArtCenter College of Design in Pasadena for product design.
"My life in dance has always been about being a public servant—I think our job as performers is to provide an outlet for people to express or experience emotions that they might not have access to otherwise," he says. "The downside of being a dancer is that some of us are privileged enough to fall in love with something that pays our bills at a young age. That spoils our point of view; we expect it to be the norm. But we can have that again, if we allow it to look different."
Hodges' toy house grew out of a project for school where he was tasked to reimagine the best-selling Barbie DreamHouse. He designed it using paper (sourced from responsibly managed forests), rather than plastic, and asked the question "What makes a house to a kid without a home?" building on the insight of foster children, local Syrian refugees and a classmate who grew up in a military family.
The house currently features four "rooms"—a kitchen, an airplane, a drawing room and, of course, a theater—but Hodges hopes to eventually be able to sell a kit room-by-room at a more accessible price point. (The full toy and chapter book are currently available for pre-order for $139.95.) It's filled with hidden eye-spy illustrations and games. For instance, there's a raccoon "stealing the show" by ripping out the word "show" from a poster in a phone booth and a dumpster in the back alley filled with "broken legs."
Offering several ways to play all at once, it's clearly the product of incredibly creative minds. When asked what the team of dancers brings to the project, Hodges replies, "A high pain threshold." Although he knew starting a business would be hard—particularly launching one during a pandemic—he was prepared to put in the work. "It requires 80 hours a week, but doesn't pay anything for a very long time, so you're doing that at the same time while you're also trying to keep all your other jobs."
The company is still in its very early stages, but it's already shifted Hodges' perspective. "As a dancer, I was very happy to be a tool. I never wanted to choreograph, I never wanted to direct," he says. "But as a designer, I realize that I do have something to say. My toy house is my performance."
And what he has to share is a message for all the kids who are told they're too short, too fat, too this or that. "Something happens around 8 years old when reality takes over and imagination is the price. How can we protect creativity and imagination long enough so they can weather the threats of bullying, and pressure, and other external forces? How do we make weird popular again? How do we make awkward beautiful?"