The Case Against Sharing Everything on Social Media
Danielle Agami. Photo by Cheryl Mann
When Joffrey Ballet dancer Rory Hohenstein first created an Instagram account, the choice to make it private was merely incidental. This was before the platform became such a powerful tool for self-promotion in the dance world, and he was concerned about strangers having an inside look at his life and younger dancers seeing him use the occasional curse word.
Years later, he still hasn't gone public, and has come to value Instagram as a place where he can stay in touch with friends and family or relive favorite memories, not as a tool to advance his career.
Though social media has become a powerful way for dancers and choreographers to connect with audiences, land gigs and promote their work, not everyone is taking part.
---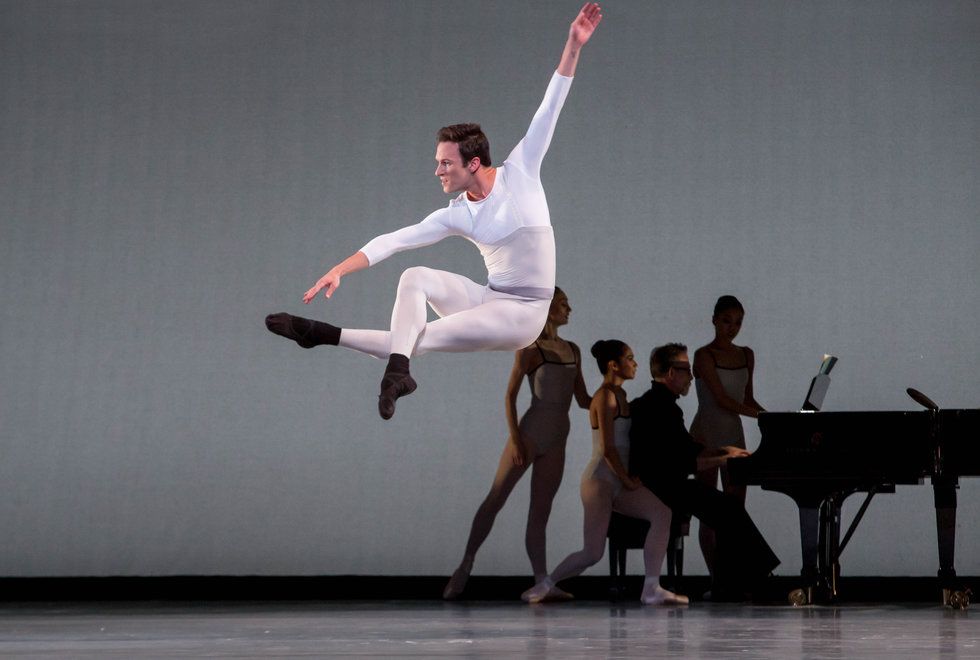 Rory Hohenstein in Justin Peck's In Creases
Cheryl Mann, Courtesy Joffrey Ballet
Choreographer Danielle Agami abstains from social media completely, citing her general ideological opposition to the platforms.
"I feel a lot of sorrow for people who are buried under this idea that social media is going to decide their future or the amount of love they might experience," she says. "I know I don't miss anything by not participating in that."
Agami feels that social media distracts from the artistic process of choreographers, and says that she gets the gigs she does because she's always "working hard in the studio instead of being on Facebook." But she has the advantage of having someone to run the accounts for her company, Ate9, which she says she never looks at.
Many dancers use Instagram to forge a deeper relationship with audiences, posting about their touring schedule, cross-training routine and injury recovery. But that sense of intimacy makes some dancers uncomfortable.
"I never identified with the feeling of wanting to be seen by the public," says Pacific Northwest Ballet principal Leta Biasucci, who has a private Instagram account where she's only posted five times. "I haven't found a way to do that that has felt authentic and meaningful."

And while some artists post snippets of their work in hopes of seducing followers into experiencing it live, Agami worries that this often has the opposite effect: Making potential audience members feel like they've already seen the work. "I think the last thing dancers should be talking about is how they can be visible on social media," she says.
But choosing not to post has its costs. Artists risk losing out on potentially lucrative brand partnerships and press opportunities—and perhaps even jobs. "I recognize that I'm not doing myself any favors," says Biasucci.
Do young dancers who haven't yet established themselves have the luxury of opting out of social media? "I don't want to believe that it is necessary to achieve success," says Biasucci. "I have put confidence in the idea of allowing one's work to speak for itself."
From Your Site Articles
Related Articles Around the Web
A flyer showing Alberto Alonso, Fernando Alonso, Benjamin Steinberg and Alicia Alonso. Photo courtesy the author
Alicia has died. I walked around my apartment feeling her spirit, but knowing something had changed utterly.
My father, the late conductor Benjamin Steinberg, was the first music director of the Ballet de Cuba, as it was called then. I grew up in Vedado on la Calle 1ra y doce in a building called Vista al Mar. My family lived there from 1959 to 1963. My days were filled with watching Alicia teach class, rehearse and dance. She was everything: hilarious, serious, dramatic, passionate and elegiac. You lost yourself and found yourself when you loved her.
Keep reading...
Show less
Left: Hurricane Harvey damage in Houston Ballet's Dance Lab; Courtesy Harlequin. Right: The Dance Lab pre-Harvey; Nic Lehoux, Courtesy Houston Ballet.
"The show must go on" may be a platitude we use to get through everything from costume malfunctions to stormy moods. But when it came to overcoming a literal hurricane, Houston Ballet was buoyed by this mantra to go from devastated to dancing in a matter of weeks—with the help of Harlequin Floors, Houston Ballet's longstanding partner who sprang into action to build new floors in record time.
Keep reading...
Show less
Hansuke Yamamoto in Helgi Tomasson's Nutcracker at San Francisco Ballet, which features an exciting and respectful Chinese divertissement. Photo by Erik Tomasson, Courtesy SFB
It's Nutcracker time again: the season of sweet delights and a sparkling good time—if we're able to ignore the sour taste left behind by the outdated racial stereotypes so often portrayed in the second act.
In 2017, as a result of a growing list of letters from audience members, to New York City Ballet's ballet master in chief Peter Martins reached out to us asking for assistance on how to modify the elements of Chinese caricature in George Balanchine's The Nutcracker. Following that conversation, we founded the Final Bow for Yellowface pledge that states, "I love ballet as an art form, and acknowledge that to achieve a diversity amongst our artists, audiences, donors, students, volunteers, and staff, I am committed to eliminating outdated and offensive stereotypes of Asians (Yellowface) on our stages."
Keep reading...
Show less
Allegra Bautista in Nevertheless, by ka·nei·see | collective. Photo by Robbie Sweeny
An audience member once emailed Dallas choreographer Joshua L. Peugh, claiming his work was vulgar. It complained that he shouldn't be pushing his agenda. As the artistic director of Dark Circles Contemporary Dance, Peugh's recent choreography largely deals with LGBTQ issues.
"I got angry when I saw that email, wrote my angry response, deleted it, and then went back and explained to him that that's exactly why I should be making those works," says Peugh.
With the current political climate as polarized as it is, many artists today feel compelled to use their work to speak out on issues they care deeply about. But touring with a message is not for the faint of heart. From considerations about how to market the work to concerns about safety, touring to cities where, in general, that message may not be so welcome, requires companies to figure out how they'll respond to opposition.
Keep reading...
Show less