Breaking Stereotypes
Nov. 01, 2017 01:30PM EST
Why Dancing Made Me A Marathon Runner
Photo courtesy Strava/Brooklyn Mile
This Sunday, about 50,000 people will be lining up in Staten Island to run 26.2 miles for the New York City Marathon. I'll be one of them.
When I tell people from the dance world that I'm training for what will now be my eighth marathon, most can't comprehend why I would want to do something so boring. Many dancers can't see the point of repeating the same movement over and over for four or five–odd hours when you could spend that time dancing, moving your body in so many different, more fun and interesting ways.
---
I get it. As a teenager, I used my rehearsal schedule as an excuse to get out of gym class specifically so I wouldn't have to run laps around my school's baseball fields. But over the last few years, I've come to love this weird endurance running hobby. And I've realized that most of the reasons I do relate directly back to dancing.
For starters, there's the dedication and perseverance (some might call it obsession) that is an integral part of being a dancer. In the studio, I learned to love the daily commitment to pushing my limits, and trying the same things over and over until my body began to be able to do what my mind commanded. Running has become my outlet for that need to to challenge myself day after day.
As Joffrey Ballet star Fabrice Calmels once said in an interview with Runner's World about his own running habit, "the physicality of the race is similar to some parts of the ballet…. It becomes a decision, 'I'm just going to keep going through this struggle.' "
Former Miami City Ballet principal Patricia Delgado once told me that a recently retired colleague had gotten into running because races replicated the high of a performance. She found that the process of training her body to get faster and go longer was similar to how rehearsals build toward opening night. Running to that finish line offered her the same feeling of accomplishment—and even applause from the crowd!
But I find there's a bigger connection than just sheer grit or applause. I think dancers and runners both are attracted to their passions because they want to achieve the seemingly impossible. They want to prove to themselves that with enough hard work, you can do something superhuman, whether that's balancing your entire body on your toes or running longer than 26 miles in one go.
For me, one of the greatest things about dancing is that feeling you get during a perfectly placed pirouette. You're turning and turning, and you hold on to eek out one extra rotation, using your turnout to slowly finish exactly where you want to with complete control. That feeling of total grace, of an ease that you can only master after hours, days, years of practice, is one of the most satisfying things I've ever found in life.
That feeling is what I search for every time I go out running. Just like in dance, I don't find it every time. Sometimes you're sore, or tired, or "off" your leg. Usually when I'm running I'm a panting mess, bobbing awkwardly up and down. But every once in awhile, I can find that ease and grace where my body feels like it's soaring forward, and my legs are churning below me effortlessly.
I don't know if I'll get that feeling during the marathon on Sunday. But I do know that the years I spent working to lift my développé higher and jump more sprightly will be what helps me push past the wall at mile 20 when my legs hate me and all I want is a pizza and a couch.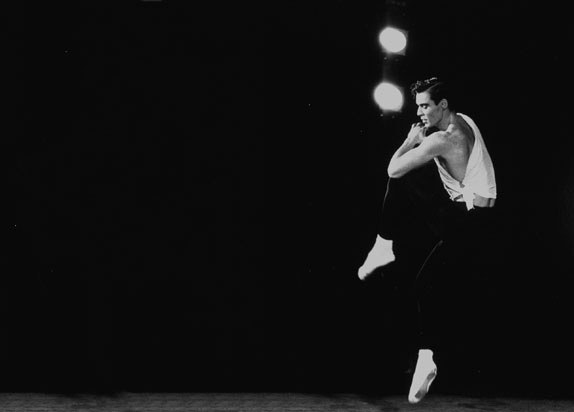 Jacques d'Amboise in Apollo, 1963. Photo by John Dominis via danceheritage.org
One person I often think of to get through the rough parts of a race is Jacques d'Amboise. In 1976, the New York City Ballet principal dancer ran the marathon the very first year that the course covered all five boroughs of New York City, according to The New Yorker. He trained for it without telling George Balanchine, mostly by running around the Central Park reservoir. After his very first long run of 20 miles (just two days before the marathon!), he told his friend who'd gotten him into running, "That run you suggested was just fantastic."
I know exactly how he must have felt.
Related Articles Around the Web
News
May. 24, 2018 01:26PM EST
New York City Ballet dancers will be led by the interim leadership team for at least several more months. Here, the company in Justin Peck's The Times Are Racing. Photo by Paul Kolnik, Courtesy NYCB.
Since December an interim artistic leadership team has been guiding New York City Ballet, and in January, Peter Martins officially resigned. But only now has the search for Martins' permanent replacement begun. Here's what we know about how the process will unfold.
Keep reading...
Show less
Dance As Activism
May. 24, 2018 11:54AM EST
Rebecca Warthen teaching at a public school in Dominica. Photo courtesy Peace Corps
Rebecca Warthen was on a year-long assignment with the Peace Corps in Dominica last fall when a storm started brewing. A former dancer with North Carolina Dance Theatre (now Charlotte Ballet) and Columbia City Ballet, she'd been sent to the Caribbean island nation to teach ballet at the Dominica Institute of the Arts and in outreach classes at public schools.
But nine and a half months into her assignment, a tropical storm grew into what would become Hurricane Maria—the worst national disaster in Dominica's history.
Keep reading...
Show less
News
May. 18, 2018 12:05PM EST
The inimitable Alicia Alonso, now 97, remains at the helm of Ballet Nacional de Cuba. Photo by Leysis Quesada, Courtesy BNC
On the occasion of its 70th anniversary, the Ballet Nacional de Cuba tours the U.S. this spring with the resolute Cuban prima ballerina assoluta Alicia Alonso a the helm. Named a National Hero of Labor in Cuba, Alonso, 97, has weathered strained international relations and devastating fiscal challenges to have BNC emerge as a world-class dance company. Her dancers are some of ballet's best. On offer this time are Alonso's Giselle and Don Quixote. The profoundly Cuban company performs in Chicago May 18–20, Tampa May 23, Washington, D.C., May 29–June 3 and Saratoga, New York June 6–8.
The baby swan can help strengthen your serratus anterior. Modeled by Marimba Gold-Watts, photographed by Jayme Thornton
Ever wonder why some dancers' port de bras appears to be disconnected from their body? It typically comes down to how they stabilize their shoulder blades, says Marimba Gold-Watts, Pilates instructor to dancers like Robert Fairchild.
"Dancers often hear the cue to pull down on their latissimus,"—the biggest muscle in the back—"which doesn't allow the shoulder blades to lie flat," she says. "It makes the bottom tips of the shoulder blades wing, or flare out, off the rib cage."
Keep reading...
Show less
In The Studio
May. 24, 2018 11:26AM EST
Choreographer Sidra Bell, Photo courtesy David Flores Productions
Sidra Bell is one of those choreographers whose movement dancers are drawn to. Exploring the juxtaposition of fierce athleticism and pure honesty in something as simple as stillness, her work brings her dancers to the depths of their abilities and the audience to the edge of their seats.
We stepped into the studio with Sidra Bell Dance New York as they prepare for their upcoming season at New York Live Arts.

Keep reading...
Show less
Rant & Rave
May. 23, 2018 04:25PM EST
Jessica Lang's Her Notes, one of ABT's few recent commissions from women. Photo by Rosalie O'Connor
A few weeks ago, American Ballet Theatre announced the A.B.T. Women's Movement, a new program that will support three women choreographers per season, one of whom will make work on the main company.
"The ABT Women's Movement takes inspiration from the groundbreaking female choreographers who have left a lasting impact on ABT's legacy, including Agnes de Mille and Twyla Tharp," said artistic director Kevin McKenzie in a press release.
Hypothetically, this is a great idea. We're all for more ballet commissions for women. But the way ABT has promoted the initiative is problematic.
Keep reading...
Show less


Get Dance Magazine in your inbox