Could Icing Your Injuries Actually Slow Down Your Recovery?
Colin Fowler
It's become second nature in dance studios: The instant anyone gets hurt, our immediate reaction is to run to the freezer to grab some ice (or, more realistically, a package of frozen peas).
But as routine as icing our injuries might be, the benefits are not actually backed up by scientific studies. And some experts now believe icing could even disrupt the healing process.
---
Repeat after us: Inflammation isn't evil.
Why the 180-degree turnaround? For years, we were told that we wanted to decrease inflammation as much as possible after an injury, and icing was one of the best ways to do that.
But scientists now realize that inflammation is actually a critical part of the recovery process—it's how our immune system sends healing blood cells to damaged tissues. Slowing the blood flow with cold therapy only delays things.
Even physician Gabe Mirkin, who helped popularize the RICE (Rest, Ice, Compression, Elevation) method in 1978's The Sports Medicine Book, now advises against it.
RICE has become PEACE & LOVE.
So if we aren't supposed to ice, what should we be doing instead?
Last month, two British physical therapists and injury experts recommended a new two-part acronym in the British Journal of Sports Medicine: PEACE & LOVE.
In a very poetic fashion, PEACE is meant to immediately follow an injury, while LOVE comes after the first few days.
P = Protect. (Restrict movement to avoid aggravating the injury)
E = Elevate. (Keep the injured limb higher than your heart to promote fluid flow out of the tissue.)
A = Avoid anti-inflammatory modalities. (Say "no" to both ice and anti-inflammatory medicines.)
C = Compress. (Wrap the area to reduce swelling and hemorrhages.)
E = Educate. (Learn about the proper approach to recovery.)
&
L = Load. (Once symptoms allow, slowly start dancing again to promote tissue repair.)
O = Optimism. (Stay positive—the brain has a powerful effect on the body.)
V = Vascularization. (Find a pain-free form of cardio to boost blood flow to the injured tissue.)
E = Exercise. (Follow a physical therapy prescription to increase mobility and strength.)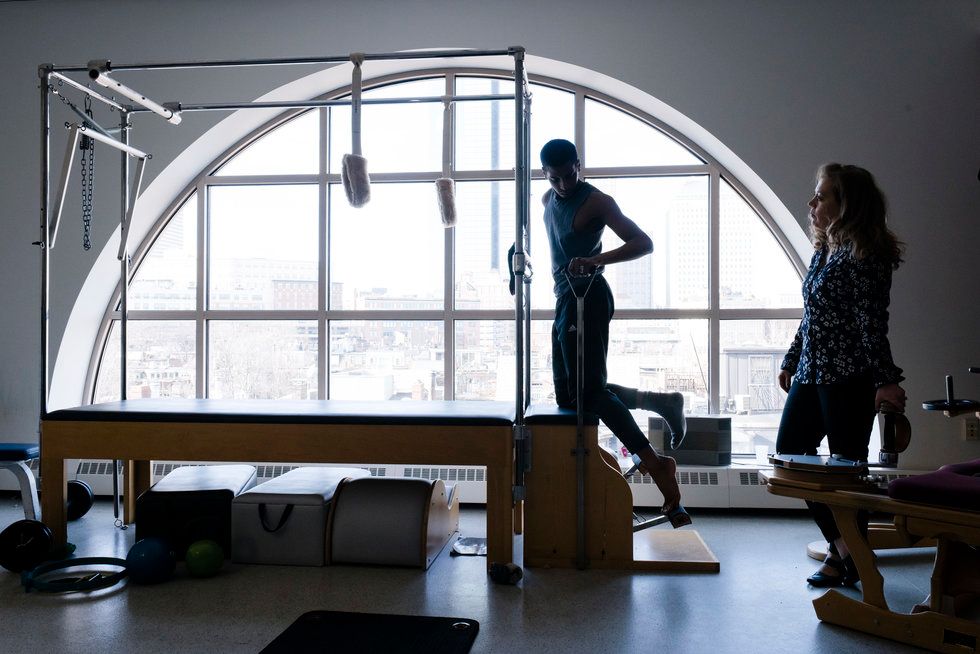 Start moving again as soon as you can without pain.
Liza Voll
But if icing makes you feel better, go for it. 
Still, some sports medicine experts aren't ready to swear off icing entirely. Because it does have one major, undisputed benefit: pain relief. And that isn't something to snub your nose at.
As Mirkin, the man who coined and then denounced the term RICE, told Outside magazine, "The penalty isn't permanent." It's not that you'll never recover if you ice an injury—it's just going to take a bit longer.
From Your Site Articles
Related Articles Around the Web
News
Oct. 17, 2019 02:02PM EST
Mohamed Sadek, courtesy The Shed
William Forsythe is bringing his multi-faceted genius to New York City in stripped down form. His "Quiet Evening of Dance," a mix of new and recycled work now at The Shed until October 25, is co-commissioned with Sadler's Wells in London (and a slew of European presenters).
As always, Forsythe's choreography is a layered experience, both kinetic and intellectual. This North American premiere prompted many thoughts, which I whittled down to seven.
Keep reading...
Show less
News
Oct. 17, 2019 01:39PM EST
Courtesy NBC
"Law & Order: SVU" has dominated the crime show genre for 21 seasons with its famous "ripped from the headlines" strategy of taking plot inspiration from real-life crimes.
So viewers would be forgiven for assuming that the new storyline following the son of Mariska Hargitay's character into dance class originated in the news cycle. After all, the mainstream media widely covered the reaction to Lara Spencer's faux pas on "Good Morning America" in August, when she made fun of Prince George for taking ballet class.
But it turns out, the storyline was actually the idea of the 9-year-old actor, Ryan Buggle, who plays Hargitay's son. And he came up with it before Spencer ever giggled at the word ballet.
Keep reading...
Show less
Chantelle Pianetta competing at a West Coast swing event. Courtesy Pianetta.
Just hearing the word "improvisation" is enough to make some ballet dancers shake in their pointe shoes. But for Chantelle Pianetta, it's a practice she relishes. Depending on the weekend, you might find her gracing Bay Area stages as a principal with Menlowe Ballet or sweeping in awards at West Coast swing competitions.

She specializes in Jack and Jill events, which involve improvised swing dancing with an unexpected partner in front of a panel of judges. (Check her out in action below.) While sustaining her ballet career, over the past four years Pianetta has quickly risen from novice to champion level on the WCS international competition circuit.
Keep reading...
Show less