Former ABT Standout Erica Cornejo Joins Brother Herman Onstage for a Special Performance
Rosalie O'Connor, Courtesy ABT
In September 2004, a pair of siblings graced the Dance Magazine cover. Inside, the accompanying story wrote, "When the Cornejos dance, it's never merely a variation—it's a complete performance."
---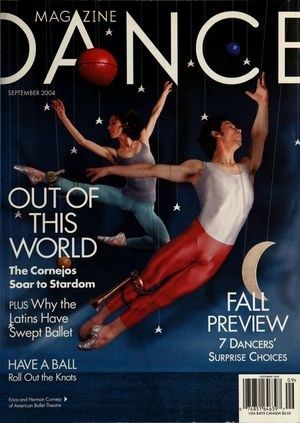 The brother and sister from Buenos Aires were winning over American Ballet Theatre fans, garnering "fervent applause and almost as fervent reviews," wrote Hanna Rubin.
Erica was beloved for her musical phrasing and easy jumps, while Herman won over audiences with his technical brilliance and elegant lines. Both oozed charisma onstage.
But two years after the story came out, Erica left New York City to join Boston Ballet as a principal, and fans lost the ability to see the pair onstage together. Until now.
Although she retired from performing in 2017 and now directs Integrarte ballet school in Boston, Erica is making a special return to the ABT stage on October 26 to dance a pas de deux with Herman in celebration of his 20th anniversary with the company.
The piece holds extra significance for the two dancers: The Cornejos first performed El Chamuyo at a gala for Argentina held at the Metropolitan Opera House's grand tier in 1998. At the time, they were members of ABT star Julio Bocca's touring company, Ballet Argentino. So while in New York for the performance, they took company class at ABT—and were quickly asked to join the Studio Company. Now, their story is coming full circle, celebrating a milestone with the same work that brought them to the company in the first place.

The special evening will also see Herman dancing the title role in Apollo (his New York debut) and a leading role in Twyla Tharp's new A Gathering of Ghosts. We expect nothing less than "fervent applause."
Getty Images
It's hour three of an intense rehearsal, you're feeling mentally foggy and exhausted, and your stomach hurts. Did you know the culprit could be something as simple as dehydration?
Proper hydration helps maintain physical and mental function while you're dancing, and keeps your energy levels high. But with so many products on the market promising to help you rehydrate more effectively, how do you know when it's time to reach for more than water?
Keep reading...
Show less
James Beaudreau, Courtesy Lara
Inside a bustling television studio in Los Angeles, Lindsay Arnold Cusick hears the words "Five minutes to showtime." While dancers and celebrities covered head to toe in sequins whirl around preparing for their live performances on "Dancing with the Stars," Cusick pauses to say a prayer to God and express her gratitude.
"I know that it's not a given, and I'm grateful for the opportunity to do what I love for a living," says Cusick, a member of The Church of Jesus Christ of Latter-day Saints. For her, prayer is a ritualized expression of her faith that she has maintained since she was a girl in Provo, Utah. Even with her seven-plus years of industry experience, she always takes a moment to steady herself and close her prayer in Christ's name before rushing onto the stage.
Keep reading...
Show less
The hotly-debated Michael Jackson biomusical is back on. Not that it was ever officially off, but after its pre-Broadway Chicago run was canceled in February, its future seemed shaky.
Now, the show has secured a Broadway theater, with previews starting July 6 at the Neil Simon Theater.
Keep reading...
Show less
Jacques d'Amboise leading a National Dance Institute class. Photo by Lois Greenfield, Courtesy DM Archives
In the October 1969 issue of Dance Magazine, we spoke with Jacques d'Amboise, then 20 years into his career with New York City Ballet. Though he became a principal dancer in 1953, the star admitted that it hadn't all been smooth sailing.
Keep reading...
Show less