Beyond Rumors & Legends: What Jerome Robbins Was Really Like In Rehearsal
Peter Boal coaching PNB dancers in Opus 19/The Dreamer. Photo by Lindsay Thomas, courtesy PNB
In a windowless subterranean studio under the New York State Theater, I pulled back an imaginary arrow and let it fly.
"Good!" said ballet master Tommy Abbott. "I think you're ready. Tomorrow you rehearse with Mr. Robbins."
I was slated to play Cupid in Jerome Robbins' compilation of fairy tales called Mother Goose. It was a role given to the tiniest boy who could follow directions at the School of American Ballet. In 1976, that was me.
The following day, I reported to a much larger windowless studio on the fifth floor known as the main hall. The room was bristling with excitement and nervousness. About half of the dancers from New York City Ballet were on hand, plus a coterie of bustling ballet masters and Mr. Robbins. Tommy tucked me and two other boys in a corner. My first rehearsal with the legendary choreographer was underway.
---
Even a 10-year-old can sense true benevolence and feigned benevolence. Jerry had the latter. It wasn't that he wasn't helpful or encouraging, just begrudgingly so. One sensed his tolerance was as thin as spring ice. Soon, pops of ire and annoyance filled the room and attention shifted to intensified focus. I started to wonder if Mr. Robbins needed one of my arrows.
When I finally made my entrance, Jerry stopped the pianist and headed towards me. Tommy hovered nervously, nodding constantly.
"Not bad. What's your name?"
"Peter Boal."
"Okay, Paul, good. Remember, you're an Indian scout moving through the forest trying not to make a sound." As he said this, he demonstrated his words perfectly. I wanted to ask if the scout was an American Indian or an Indian from India, but decided to figure it out later. I also briefly considered correcting him on my name, but thought better of that, too. I was "Paul" to Jerry for the next two decades.
"When you step, you want to be very careful not to break any twigs that might be underfoot. Does that make sense?"
It did. The image was so clear, so perfect, so completely defining of exactly how I would step in my imaginary forest. In that moment, at age 10, I found one of the greatest coaches I would ever work with.

Jerome Robbins rehearsing Other Dances with Mikhail Baryshnikov. Photo by Martha Swope/The New York Public Library for the Performing Arts
My stories with Jerry took place during the last 22 years of his life. 2018 would have marked his 100th birthday, and much of the world is celebrating his tremendous influence. Robbins programs, tributes and festivals are taking place in Pittsburgh, San Francisco, Chicago, Seattle, Miami, Paris and New York City.
Jerome Wilson Rabinowitz was born in Manhattan on October 11, 1918. The Rabinowitz family later moved to Weehawken, New Jersey, when Jerry's father and uncle opened the Comfort Corset Company. Jerry determined at a young age that the "confines" of his family's business were too much for him. After a year of college, he found dance and theater through his sister and a summer arts camp, and he began to perform and to choreograph.
It wasn't long before he was bounding from one hit to another, creating artistic successes and box-office gold up and down Broadway. Starting with the mold-shattering Fancy Free in 1944, his creations filled seats and repertoires of the most respected ballet companies. He worked with the greatest artists and collaborators and alongside his idol, George Balanchine. He won Tony Awards, Oscars, accolades and honors, and yet demons and self-doubt characterized much of his existence.
His life was a tapestry of both triumphs and torture. Accepting his sexuality was a near lifelong challenge. He agonized over the demise of others, like his muse, Tanaquil Le Clercq, and the many dear friends who died during the AIDS epidemic. He constantly questioned his work, doubting its merit and revising frequently. His excessive demands during the rehearsal process frustrated and angered collaborators, creating tempestuous relationships.
In 1953, he testified before the House Un-American Activities Committee about a brief Communist-party membership. He willingly admitted to his youthful stint as a Communist, and, threatened with potential blacklisting and exposure of his homosexuality, he agreed to name other Communist sympathizers. Robbins carried remorse over the incident for the rest of his life.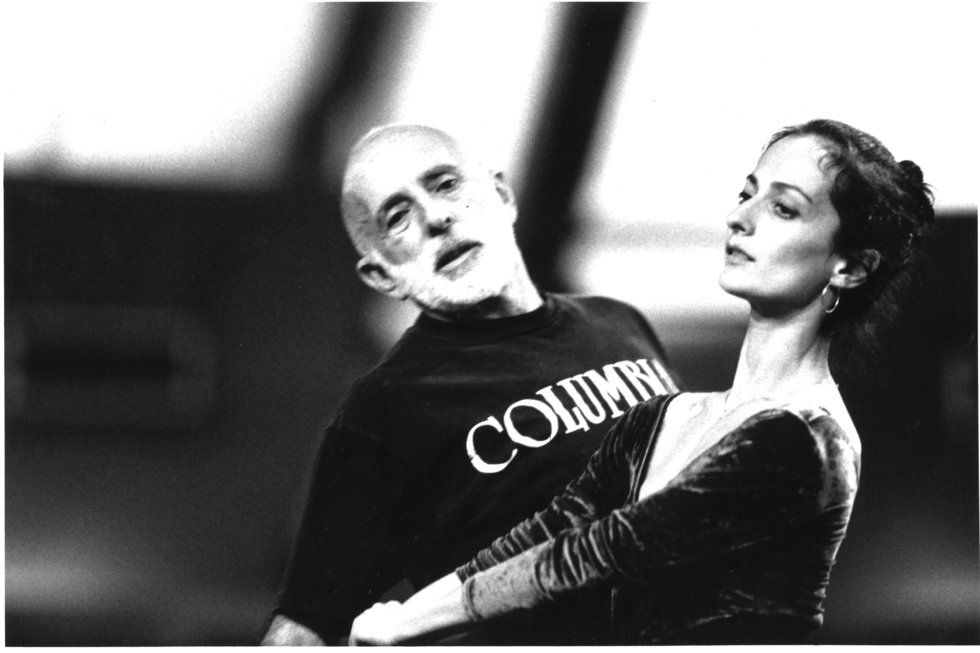 Rehearsing In The Night with Monique Loudières at Paris Opéra Ballet in 1989
Life in the rehearsal studio, however, was a different world. This is where I knew Jerry. A decade after my debut as Cupid, I was an NYCB corps member cast in the title role of Balanchine's Prodigal Son. Though I was working with Jerry frequently at this point, Prodigal was the first major role he coached me in. (Jerry was NYCB's first Prodigal in 1950, having learned the role from Balanchine himself.)
Every day for a week, we worked together. On our first day, Jerry asked me to make my entrance. I heard a familiar whistle. Instead of clapping his hands to halt the music, Jerry always let out a high-pitched whistle, which left us feeling a bit like errant puppies.
"So what did you have for breakfast this morning?" he asked.
"An Egg McMuffin." Hearing the words come out of my mouth deepened my regret, but I spoke the truth.
With rising anger Jerry shouted, "Not you. The character. What did the Prodigal eat? What time did he wake up? What time does your father wake up on most days and what time did he wake up today? Why is he up earlier than usual?"
He continued to pepper me with questions about the rumors my friends and I had heard about the Siren who lived in the land beyond, and, in the end, he reminded me never to walk into the studio again without having done my research for a role.
Jerry was a coach like no other. He demonstrated with articulation that defied age. In his later years, the legs did less but the eyes did more. His timing was impeccable and indisputable.

In 1984, with the help of original cast member Wilma Curley, Jerry revived Moves, an experimental work originally created for Jerome Robbins' Ballets: U.S.A. in 1959. Moves was performed without music, relying solely on the stomps, slaps and footsteps of the cast to create meter.
Jerry would reiterate the length of each silence, encouraging us to find a duration that would make the audience and even fellow cast members uncomfortable. With the right pause, the next movement startled. He granted us license to read the environment, suggesting each performance might allow for longer or shorter pauses. After every show, he weighed in. "Did you hear the coughing? Too slow, baby."
The stories of Jerry's anger are legendary. I stood by while he berated many dancers, ballet masters and pianists. The ire seemed to envelop and fuel him without any realization that a line was about to be crossed.
But with Jerry, it was always about the work and making the work as good as it could possibly be. It wasn't personal. His standard was so very high and we were part of achieving that standard. Though patience was tested, I found his process hugely rewarding. Meeting his standard or a shared standard was an apex of artistry, athleticism and even intellect.
Once, after a particularly grueling rehearsal with a young soloist in the company, Jerry left the room. The dancer burst into tears. Moments later I was in the hall with Jerry as she turned the corner, still sobbing. Jerry looked at her and asked with genuine concern, "Oh, honey, what happened?" He approached her with a hug, wanting to help her cope with whatever circumstance may have caused such hurt. He couldn't connect the dots to his own behavior minutes ago.
Later, during a difficult rehearsal of the Spring section of The Four Seasons, I accidentally kicked my partner in the foot and caused a sprain. Once sidelined, I apologized and she responded, "Oh no, thank you. This is so much better than having to continue that rehearsal."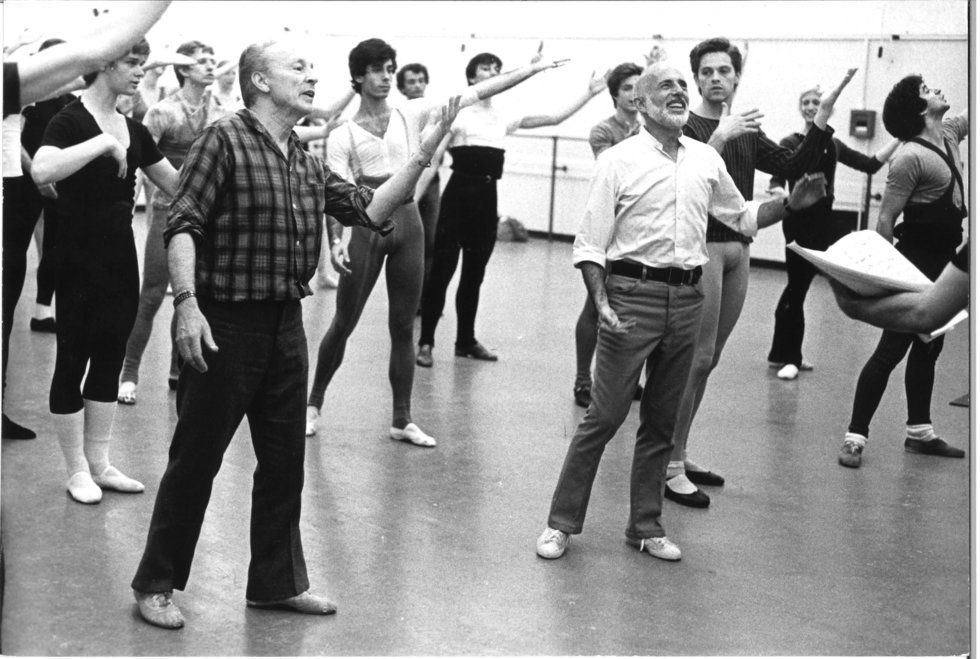 Balanchine and Robbins working on 1972's Pulcinella at NYCB. Photo by Martha Swope/The New York Library for the Performing Arts
Wendy Whelan and I worked for almost two years on his final ballet, Brandenburg. We were asked to remember versions A, B, C and D, with each letter having a numbered version as well: A1, A2, A3, B1, et cetera. As he doubted and changed course time and time again, we sensed his lack of confidence in his own craft, unsure of his final act. Moments after the curtain descended, he was onstage making more changes.
It would be unfair and incorrect to characterize Jerry purely as a taskmaster or a whip-cracker. Yes, he was demanding, but his compliments were real and carried great weight. He nurtured many and helped those he worked with find their best selves.
He had the unique ability to become kid-like in the studio, giggling with others and often laughing robustly at his own jokes. He was certainly his own best audience for The Concert. How many times had he seen those gags and yet fresh, spontaneous laughter erupted from him as if it was a first telling.
He also loved dogs. We always kept a supply on hand during rehearsals and when things got rough, the studio door was opened just enough to let a tail-wagging foil bound into the rehearsal room. Jerry was momentarily transformed. Paws, kisses and a whole new mood.
I remember many words, many moments, his belief in my ability and even his understanding of my misses. We didn't have a friendship— few dancers did—but the respect was mutual and earned.
Opus 19/The Dreamer was the work that brought us into the studio together more than any other. I had seen the premiere with Mikhail Baryshnikov and Patricia McBride not long after my debut as Cupid in Mother Goose. I've heard Misha say he thought the work held elements of Jerry's own existence, with a protagonist haunted by demons or ghosts from his past.
Jerry pushed me harder in Opus than in any other ballet. He seemed to demand inhuman effort.
I initially learned the work from ballet master Bart Cook. My first rehearsal with Jerry was like an audition. He sat in the front of the room and watched without interruption or emotion before rising to say I wasn't ready.
As he started to leave, I called him back and asked for another chance. No one really called Jerry back and told him to sit down, but I saw an essential if not career-defining opportunity about to disappear forever.
Though my second shot was met with approval, each subsequent performance was held to his high standard, with some hitting the mark and some less successful. I didn't always get it right, but on one occasion Jerry came backstage with tears on his cheeks. He didn't say a word. He simply pulled my head forward to place a kiss on my forehead. A greater compliment I've never known.
Related Articles Around the Web
The "Merde" bag. Courtesy Scenery
Jennifer Kahn knew the theater industry could do better. As a professional stage manager for 17 years she worked on regional, off-Broadway and Broadway shows. Nearly each time a show closed, something unsettling happened: "I would watch them throw away our shows. All of the beautiful artwork by my friends in the paint shop would go in the trash." The elaborate backdrops? Gone.

But she had an idea: What if the material used in the backdrops and legs could be upcycled into something new? And what if theater lovers could literally keep a piece of a beloved show?
Keep reading...
Show less
Left: Hurricane Harvey damage in Houston Ballet's Dance Lab; Courtesy Harlequin. Right: The Dance Lab pre-Harvey; Nic Lehoux, Courtesy Houston Ballet.
"The show must go on" may be a platitude we use to get through everything from costume malfunctions to stormy moods. But when it came to overcoming a literal hurricane, Houston Ballet was buoyed by this mantra to go from devastated to dancing in a matter of weeks—with the help of Harlequin Floors, Houston Ballet's longstanding partner who sprang into action to build new floors in record time.
Keep reading...
Show less
News
Oct. 18, 2019 11:54AM EST
Photo by Gabriel Davalos, Courtesy Valdés
For decades the name Alicia Alonso has been virtually synonymous with Ballet Nacional de Cuba, the company she co-founded in Havana in 1948. Alonso died on October 17, just shy of what would have been her 99th birthday. In recent years, she had stepped back from day-to-day decision-making in the company. As if preparing for the future, in January, the company's leading ballerina, 42-year-old Viengsay Valdés, was named deputy director, a job that seems to encompass most of the responsibilities of a traditional director. Now, presumably, she will step into her new role as director of the company. Her debut as curator of the repertory comes in November, when the troupe will perform three mixed bills selected by her at the Gran Teatro de la Habana Alicia Alonso. The following has been translated from a conversation conducted in Spanish, Valdés' native tongue.
Keep reading...
Show less
Sara Mearns in the gym. Photo by Kyle Froman.
New York City Ballet principal Sara Mearns wasn't sure she was strong enough. A ballerina who has danced many demanding full-length and contemporary roles, she was about to push herself physically more than she thought was possible.
"I said, 'I can't. My body won't,' " she says. "He told me, 'Yes, it will.' "
She wasn't working with a ballet coach, but with personal trainer Joel Prouty, who was asking her to do squats with a heavier barbell than she'd ever used.
Keep reading...
Show less