News
Sep. 18, 2018 04:02PM EST
Joe Lanteri Tapped To Help Lead Steps on Broadway
Joe Lanteri teaching at Steps in the early 2000s. Photo courtesy Steps
The iconic New York City dance studio Steps on Broadway has a new leader coming on board: Joe Lanteri. The New York City Dance Alliance founder will be Steps' new co-owner and executive director.
"For me, it's a big full circle," says Lanteri, who used to take class at Steps when he first moved to New York City, and started teaching there in the mid-1980s. The 4:30 p.m. Tuesday/Thursday Advanced Intermediate Jazz slot he held down for many years taught a slew of young talent—including choreographers-to-be like Jessica Lang and Sergio Trujillo. "As a young teacher, Steps was a platform for me to travel the world giving master classes; it became the underlying foundation for what I'm doing now in my life."
---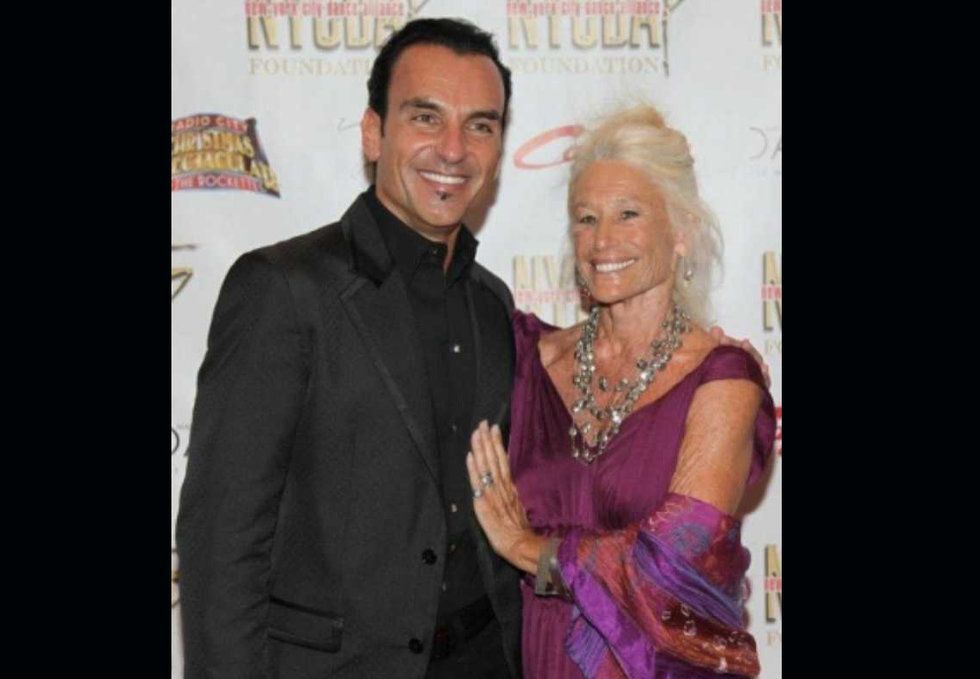 Joe Lanteri and Carol Paumgarten at the first annual NYCDAF Bright Lights Shining Start Gala, August 1, 2011, NYU Skirball Center
Steps founder Carol Paumgarten first reached out to Lanteri in February to ask if he'd help her continue the school's legacy. "Carol has made Steps not just an important part of the New York community, but the international dance world," says Lanteri. "This new role is about me bringing new ideas, contacts and energy into the building." Paumgarten will remain a co-owner and director of the school.

Lanteri will be involved in every aspect of the wide-ranging institution, from the open classes to the conservatory program, the visa program, the children's program and the master series. He's already brainstorming what more Steps might be able to do for dancers, such as in-studio performance opportunities in front of industry leaders. "My goal is to augment what Steps already has, and expand the concept of a community that's welcoming to all," he says.
Lanteri will remain executive director of NYCDA, continuing to travel most weekends to regional conventions. "I always love a challenge," he admits. He's hoping that being amongst the next generation of dancers and forming new relationships will only help him create more opportunities for Steps' dancers.
The relationship between Steps and NYCDA isn't new: The school has offered many scholarships to NYCDA dancers over the years, and Steps was one of the original sponsors of the New York City Dance Alliance Foundation College Scholarship Program.
Although Lanteri hasn't yet committed to teaching a regular class again, he won't rule it out. "I always have my dance clothes on me."
Amber Gray and Patrick Page. Photo by Matthew Murphy, Courtesy Hadestown
There's a rare moment in Broadway's Hadestown where the audience is able to breathe a sigh of relief. The smash-hit success is not well-known for being light-hearted or easy-going; Hadestown is a show full of workers and walls and, well, the second act largely takes place in a slightly modernized version of hell.
But deep into the second act, the show reaches a brief homeostasis of peace, one of those bright, shining moments that allows the audience to think "maybe it will turn out this time," as the character Hermes keeps suggesting.
After songs and songs of conflict and resentment, Hades, the king of the underground, and his wife, the goddess Persephone, rekindle their love. And, unexpectedly, they dance. It's one of the most compelling moments in the show.
Keep reading...
Show less
Ailey II artistic director Troy Powell teaching an Ailey Workshop at NYCDA. Courtesy NYCDA
Back in 2011 when Joe Lanteri first approached Katie Langan, chair of Marymount Manhattan College's dance department, about getting involved with New York City Dance Alliance, she was skeptical about the convention/competition world.
"But I was pleasantly surprised by the enormity of talent that was there," she says. "His goal was to start scholarship opportunities, and I said okay, I'm in."
Today, it's fair to say that Lanteri has far surpassed his goal of creating scholarship opportunities. But NYCDA has done so much more, bridging the gap between the convention world and the professional world by forging a wealth of partnerships with dance institutions from Marymount to The Ailey School to Complexions Contemporary Ballet and many more. There's a reason these companies and schools—some of whom otherwise may not see themselves as aligned with the convention/competition world—keep deepening their relationships with NYCDA.
Now, college scholarships are just one of many ways NYCDA has gone beyond the typical weekend-long convention experience and created life-changing opportunities for students. We rounded up some of the most notable ones:
Keep reading...
Show less
News
Oct. 22, 2019 05:27PM EST
Amber Star Merkens, Courtesy Mark Morris Dance Group
There's always been something larger than life about choreographer Mark Morris. Of course, there are the more than 150 works he's made and that incisive musicality that makes dance critics drool. But there's also his idiosyncratic, no-apologies-offered personality, and his biting, no-holds-barred wit. And, well, his plan to keep debuting new dances even after he's dead.
So it should come as little surprise that his latest distinction is also a bit larger than life: The New York Landmarks Conservancy is adding Morris to its list of "Living Landmarks."
Keep reading...
Show less
Left: Hurricane Harvey damage in Houston Ballet's Dance Lab; Courtesy Harlequin. Right: The Dance Lab pre-Harvey; Nic Lehoux, Courtesy Houston Ballet.
"The show must go on" may be a platitude we use to get through everything from costume malfunctions to stormy moods. But when it came to overcoming a literal hurricane, Houston Ballet was buoyed by this mantra to go from devastated to dancing in a matter of weeks—with the help of Harlequin Floors, Houston Ballet's longstanding partner who sprang into action to build new floors in record time.
Keep reading...
Show less