What Happens When You Ask Tap "Genius" Michelle Dorrance to Choreograph on ABT
Michelle Dorrance creating on ABT, with rehearsal assistants Christine Flores and Olivia Maggi. Photo by Jim Lafferty
"Don't look at the mirror, look at your feet," Michelle Dorrance corrects. Smiling at the counterintuitive suggestion, Gillian Murphy, Devon Teuscher and Christine Shevchenko—American Ballet Theatre principals accustomed to projecting up and out to opera house balconies—look down at their pointe shoes as they shuffle into a line of tight fifth positions.
As polyrhythmic strains of music fill ABT's studios, the trio flashes through small, quicksilver position changes while Teuscher quietly counts a steady 4/4 beat that isn't yet audible in the music. Rapid-fire tendus take on an attack usually reserved for frappés, accom-panied by the sound of boxes purposefully striking the floor. ("The shape can exist a split-second before the note—it's like in tap, the motion has to happen early for the sound to be on time," Dorrance advised before the run.)
When they finish the section without stopping or kicking one another, Murphy smiles ruefully and says, "I need to get louder shoes."
---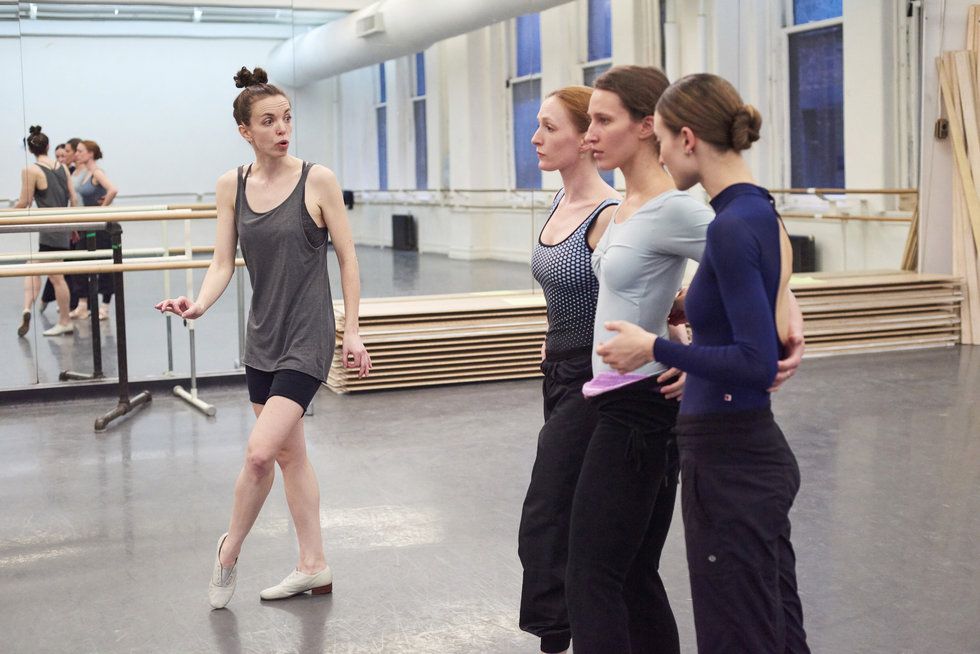 The dancers had to get used to the idea of trying to make more sound with their shoes. Photo by Jim Lafferty
The brisk, brief trio opened Dorrance's Praedicere a few weeks later at ABT's spring gala, the dancers' legs spotlit, their faces (tipped down toward their feet) in shadow. The pièce d'occasion was the MacArthur-certified-"genius" tap dancer's first creation for a ballet company. It was only the first of three works ABT commissioned from her this year as part of the newly minted ABT Women's Movement initiative. The second debuted this summer at Vail Dance Festival (where ABT artistic director Kevin McKenzie first saw Dorrance working with ballet dancers last year, sparking the idea for the commissions). The third opens the company's fall season on October 17, alongside existing works by Lauren Lovette and Twyla Tharp.
Conversation around Dorrance's commissions has largely swirled around the question "What is that going to look like?"
The works explore two main ideas: the acoustic possibilities of a pointe shoe that doesn't try to be silent, and the ways classical technique morphs when the emphasis is placed on rhythm over line.
"I'm absolutely interested in them owning being a musician onstage," Dorrance says. "As tap dancers, we are equally responsible for our music and our movement; the aesthetic form of tap dance is because I need to make this sound. So, with dancers who execute line so exquisitely, how can we find both integrity in sound and integrity in their technique?"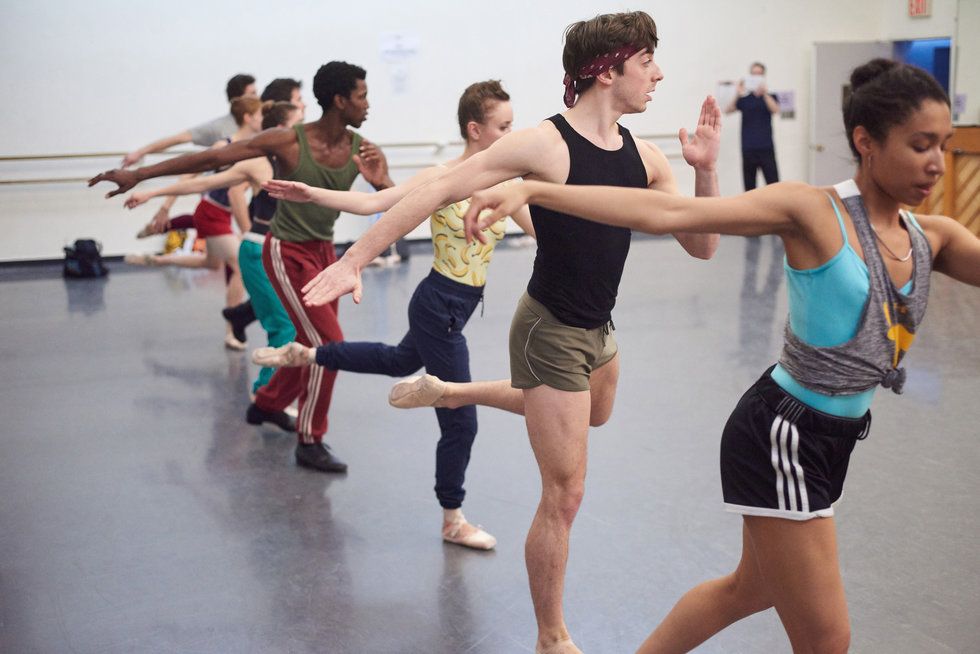 Corps member Tyler Maloney was the only male dancer to don pointe shoes for the May premiere. Photo by Jim Lafferty
By accenting the landing of petit allégro steps or clapping mid-pirouette, the dancers create rhythms that layer into a complex melody, merging for unison sections before fracturing back into polyrhythm. In the work's most effective moments, the music the dancers make with their feet seems to shiver up through their bodies, lending the classical steps a new vibrancy.
One avenue that intrigued Dorrance was asking both the men and the women to don pointe shoes in order to amplify the sounds of their feet. Although Tyler Maloney was the only male dancer to wear them for the gala, whether pointe shoes will make a wider appearance in the newest work is up in the air.
"I was a little soft on the rest of the men, except for talking the occasional trash," Dorrance says with a laugh. "I'd like for them to put on the instrument and then see what happens from there, you know?"
That lenience may have had something to do with the relative brevity of Praedicere's creation period, during which it was jostling for rehearsal time with major new works by Wayne McGregor and Alexei Ratmansky, plus seven other full-lengths.
"She spent the first two days just going over rhythms," says Teuscher. "We were also getting used to making sound with our pointe shoes; it took a shift in your brain to think about how you could make more sound with your shoes. And the music was some of the hardest to count I've ever experienced. Up until the day of the show we were listening to the music in the dressing room and getting it in our heads!"
Luckily for Dorrance (and the cast), they're being given a lot more time for the October premiere. "I need to revisit how complex I can go musically—and how much I want to torture these poor, poor, wonderful dancers," she says.
Dorrance is hesitant to state what moments from Praedicere, if any, will reappear. But she intends to use the same music, or at least the same composer—Brooklyn-based ensemble Dawn of Midi. "What I can say is that the dancers will absolutely be making music again, and further developing a relationship to music-making in their technique."
And what about tap shoes? "I keep getting asked that question," she says, laughing. Despite initially denying that she would ask ballet dancers to tap, Dorrance did end up having Craig Salstein, a longtime soloist, mark his farewell performance with a surprise tap solo this spring.
"I could tell you right now that no one's going to put a tap shoe on," she says, "but, you know, I shouldn't shoot myself in the foot, so to speak."
From Your Site Articles
Related Articles Around the Web
Martha Graham in Spectre-1914 from Martha Graham's Chronicle. Courtesy of Martha Graham Resources.
Paul Taylor's Post Meridian was last performed 30 years ago, which is well before any of the company's current dancers joined Paul Taylor Dance Company. In fact, it's before some of the dancers were even born. Every step and extreme angle of the body in the dream-like world of the 1965 work will be fine-tuned in the studio for PTDC's upcoming Lincoln Center season. However, the Taylor archive is where Post Meridian began for Eran Bugge.
Keep reading...
Show less
Left: Hurricane Harvey damage in Houston Ballet's Dance Lab; Courtesy Harlequin. Right: The Dance Lab pre-Harvey; Nic Lehoux, Courtesy Houston Ballet.
"The show must go on" may be a platitude we use to get through everything from costume malfunctions to stormy moods. But when it came to overcoming a literal hurricane, Houston Ballet was buoyed by this mantra to go from devastated to dancing in a matter of weeks—with the help of Harlequin Floors, Houston Ballet's longstanding partner who sprang into action to build new floors in record time.
Keep reading...
Show less
News
Oct. 22, 2019 10:55AM EST
Dinita Clark. Photo courtesy Cultural Counsel
Philadelphia's Pew Center for Arts & Heritage announced its 2019 grantees Monday evening, and the list included a couple of familiar names: Dinita Clark and David Gordon.

Keep reading...
Show less
A flyer showing Alberto Alonso, Fernando Alonso, Benjamin Steinberg and Alicia Alonso. Photo courtesy the author
Alicia has died. I walked around my apartment feeling her spirit, but knowing something had changed utterly.
My father, the late conductor Benjamin Steinberg, was the first music director of the Ballet de Cuba, as it was called then. I grew up in Vedado on la Calle 1ra y doce in a building called Vista al Mar. My family lived there from 1959 to 1963. My days were filled with watching Alicia teach class, rehearse and dance. She was everything: hilarious, serious, dramatic, passionate and elegiac. You lost yourself and found yourself when you loved her.
Keep reading...
Show less