Breaking Stereotypes
Dec. 11, 2017 11:54AM EST
This Mother/Daughter Duo Is Dancing In The Same Company—But Only For One Season
Melina and Regina Willoughby, photo by Ashley Concannon
There's a surprising twist to Regina Willoughby's last season with Columbia City Ballet: It's also her 18-year-old daughter Melina's first season with the company. Regina, 40, will retire from the stage in March, just as her daughter starts her own career as a trainee. But for this one season, they're sharing the stage together.
---
Performing Side-By-Side In The Nutcracker

Regina and Melina are not only dancing in the same Nutcracker this month, they're onstage at the same time: Regina is doing Snow Queen, while Melina is in the snow corps, and they're both in the Arabian divertissement. "It's very surreal to be dancing it together," says Regina. "I don't know that I ever thought Melina would take ballet this far."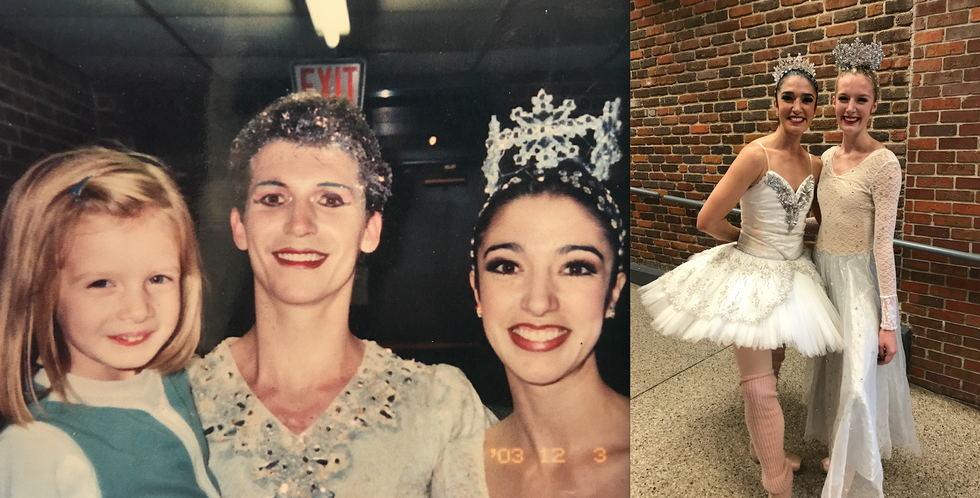 Left: Regina and Melina with another company member post-snow scene in 2003. Right: The pair post-snow scene in 2017 (in the same theater)
Deciding To Have Children Early On
Regina started her career at Ballet Austin when she was still a teenager. But she always knew she wanted to be a mom. "We had our first daughter, Sierra, when I was 19—we were kids with a kid," she says with a laugh. "When Sierra was about 10 months old, I realized, 'I can still dance!' " After auditioning for companies along the East Coast, she joined Columbia City Ballet in South Carolina.
After a couple years there, she and her husband decided to try for a second child so the kids would be close in age. "I thought, Okay, now I'm just going to be a mom," says Regina. But when Melina was 2 years old, CCB director William Starrett asked Regina to fill in for someone in the corps for just one performance. "Before I knew it, I was back full swing," Regina says. "Honestly I never would have seen my path going this way. The fact I've been able to have such a wonderful career and be a mom is really unsurpassed. It's something I wouldn't take back for anything."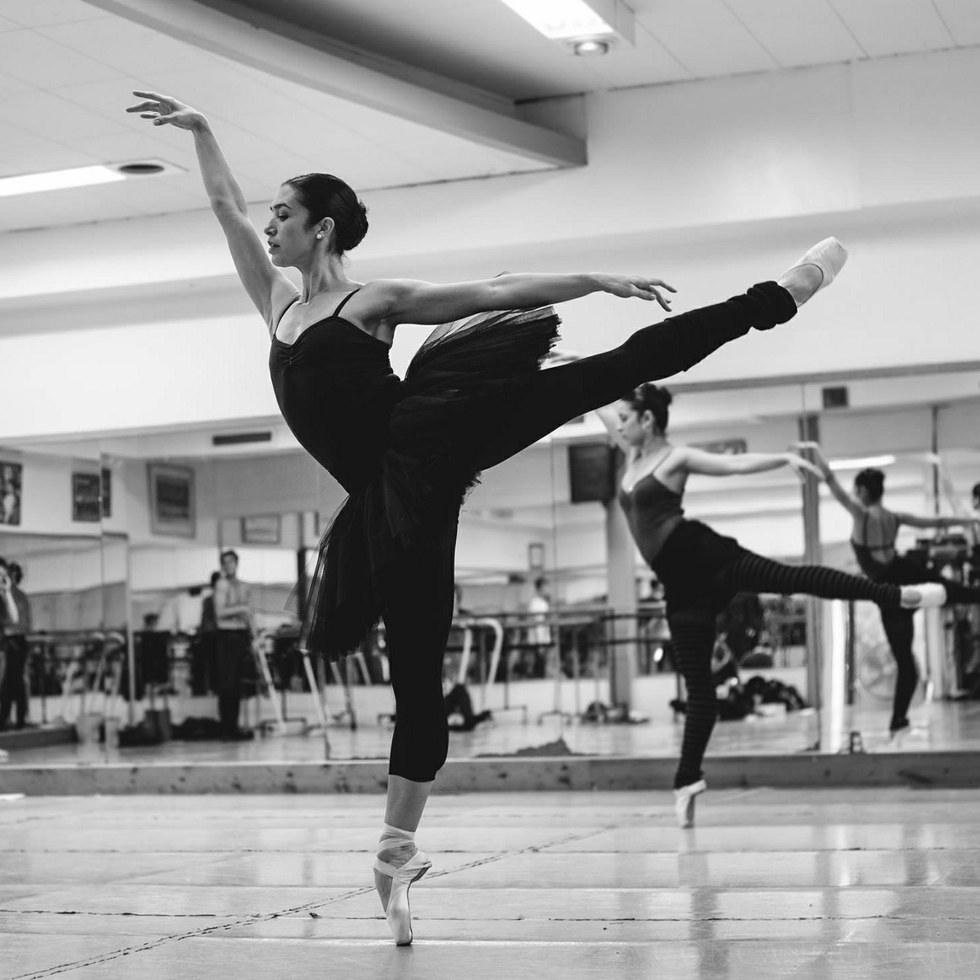 Regina Willoughby. Photo by Ashley Concannon
Passing Down Dance
Melina admits that growing up with her mom as her teacher presented its fair share of challenges. "I didn't want to listen to her!" she confesses. But by the time she got to high school, she'd fallen in love with the discipline of ballet and had decided to try to make her own career out of it
Her sister Sierra, on the other hand, tried a couple ballet classes, but it wasn't for her. Instead, she's currently going to school for mechanical engineering. ("Maybe she'll make more money," jokes Regina.)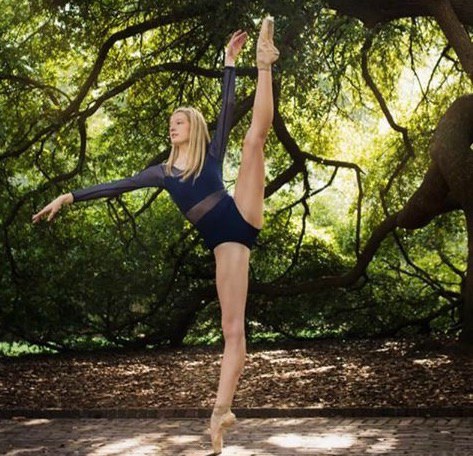 Melina Willoughby. Photo by Ashley Concannon
Dancing In The Same Company
Regina was a little apprehensive at first about having her daughter join CCB. "I thought, How am I going to not 'mom' her to death in the workplace?" she says. "I wanted to let her be a professional and do her own thing and be responsible for herself." But it turned out to be less difficult than she feared. The company has embraced Melina and she's found her own place within it. "We're very close," adds Regina, "so it's cool to have her there every day. I can go stand next to her in rehearsal and chat about ballet or regular life stuff."
Melina points out the unlikelihood of there being many other dancers in their situation. She says, "It's really cool to be living out something so rare."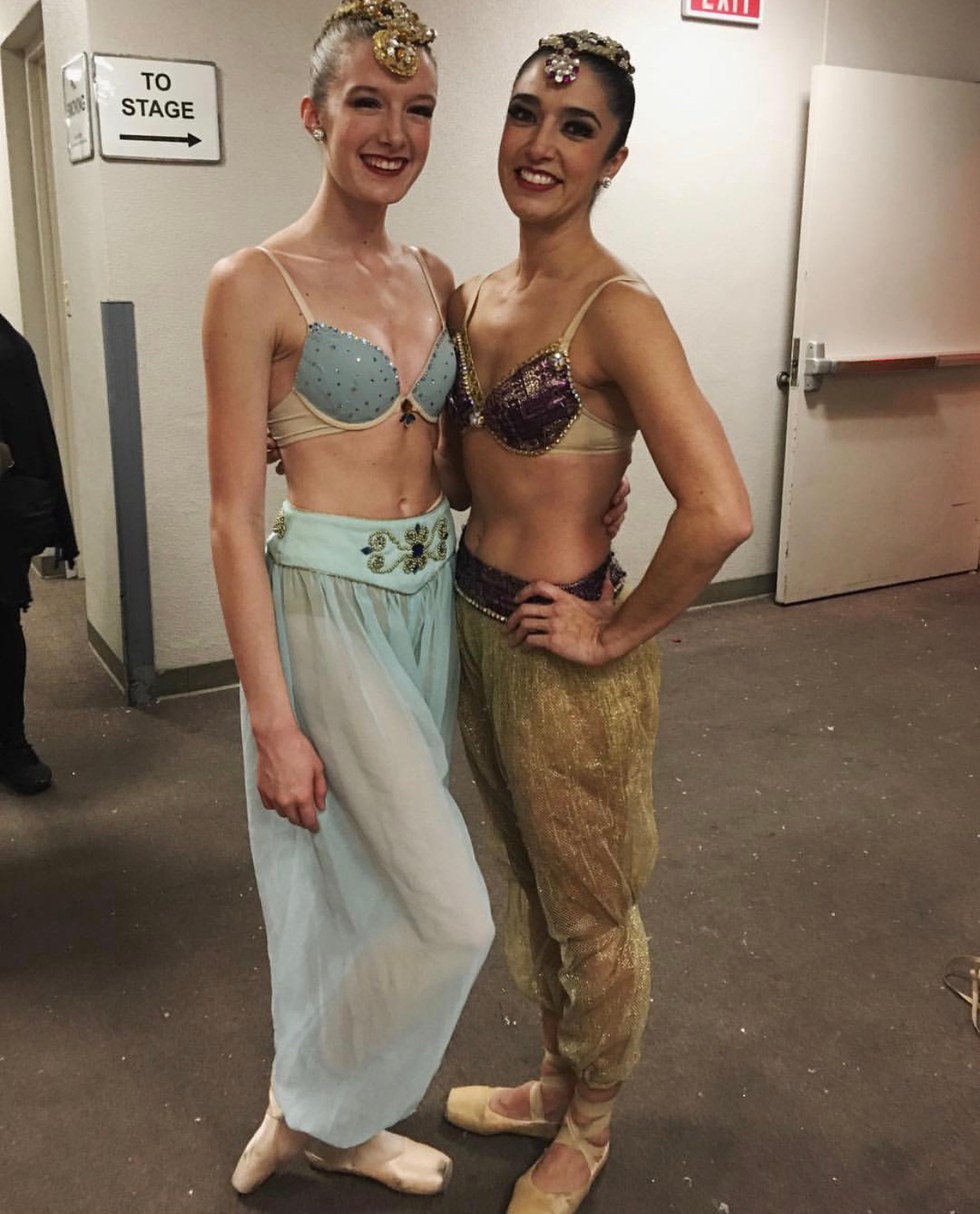 After Arabian
Maria Kochetkova blatantly breaks the not-eating-in-your-
Serenade
-costume rules with a personal pint backstage. Photo via
Instagram
One of the biggest myths about ballet dancers is that they don't eat. While we all know that, yes, there are those who do struggle with body image issues and eating disorders, most healthy dancers love food—and eat plenty of it to fuel their busy schedules.
Luckily for us, they're not afraid to show it:
Keep reading...
Show less
Popular
Apr. 24, 2018 03:00PM EST
Looking for your next audition shoe? Shot at and in collaboration with Broadway Dance Center, Só Dança has launched a new collection of shoes working with some pretty famous faces of the musical theater world! Offered in two different styles and either 2.5" or 3" heels, top industry professionals are loving how versatile and supportive these shoes are! Pro tip: The heel is centered under the body so you can feel confident and stable!
StockSnap
When I wrote about my struggle with depression, and eventual departure from dance because of it, I expected criticism. I was prepared to be challenged. But much to my relief, and horror, dancers from all over the world responded with support and stories of solidarity. The most critical response I saw was this one:
"Dance isn't for everyone."
This may as well be a mantra in the dance world. We have become entrenched in the Darwinian notion that the emotionally weak will be weeded out. There is no room for them anyway.
Keep reading...
Show less
Name calling, physical intimidation and cyberbullying are all-too-common experiences among male dancers. Photo by Goh Rhy Yan/Unsplash
Growing up in a family-owned dance studio in Missouri had its perks for tap dancer Anthony Russo. But it also earned him constant taunting, especially in high school.
"There was a junior in my sophomore year health class who was absolutely relentless," he says. "I'd get tripped on my way to the front of the classroom and he'd say, 'Watch out, twinkle toes.' If I raised my hand and answered a question incorrectly, I'd hear a patronizing 'Nice one, Bojangles.' "
Keep reading...
Show less
Acosta Danza in Jorge Crecis' Twelve. Photo by Johan Persson, Courtesy Sadler's Wells
What does a superstar like Carlos Acosta do after bidding farewell to his career in classical ballet? In Acosta's case, he returns to his native country, Cuba, to funnel his fame, connections and prodigious energies back into the dance scene that formed him. Because of its top-notch, state-supported training programs and popular embrace of the art of dance, Cuba is brimming with talented dancers. What it has been short on, until recently, are opportunities outside of the mainstream companies, as well as access to a more international repertoire. That is changing now, and, with the creation of Acosta Danza, launched in 2016, Acosta is determined to open the doors even wider to new ideas and audiences.
Keep reading...
Show less
University of Kentucky students travel to Arts Advocacy Day in DC each year. PC Dana Rogers Photography
There's so much more to the dance world than making and performing dances. Arts administrators do everything from raising money to managing companies to building new audiences. With the growing number of arts administration programs in colleges, dancers have an opportunity to position themselves for a multifaceted career on- or offstage—and to bring their unique perspective as artists to administrative work.
Keep reading...
Show less


Get Dance Magazine in your inbox