What The World Needs Now Is Dance
Yuka Oba, Ednis Ariel Gomez Mallol and Connie Flachs in Swing by Olivier Wevers. Photo by Ryan Jackson, courtesy Flachs
"I'm sorry, but I just can't possibly give you the amount of money you're asking for."
My heart sinks at my director's final response to my salary proposal. She insists it's not me or my work, there is just no money in the budget. My disappointment grows when handed the calendar for Grand Rapids Ballet's next season with five fewer weeks of work.
---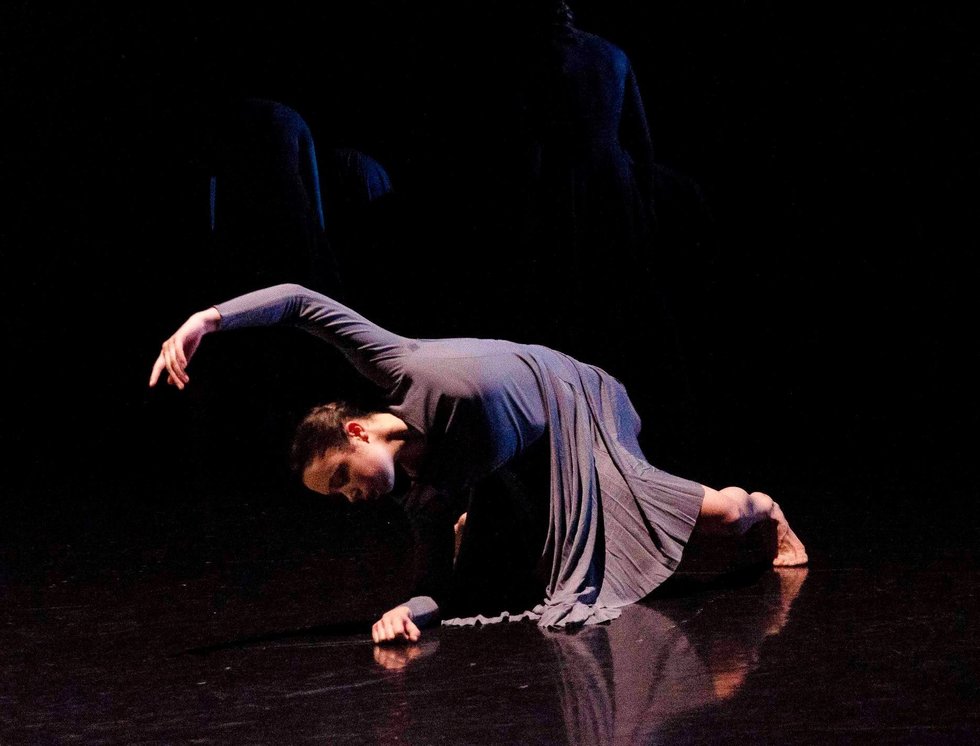 The author performing One by Uri Sands. Photo by Ryan Jackson, courtesy Flachs
Why is there not financial support to offer a contract longer than 60 percent of the year? Why do the curtains open on our Sunday matinee to reveal a checkerboard of empty seats? What are we doing here if there is no demand for the service we provide as dancers?
I've never been one to support selling people something they don't need. But I would argue that the world does need dance; people just don't realize it.
Our scattered, exhausted, overstimulated minds need the purity of live movement, the focus of a show. When someone walks into the theater they silence their phone. They hone in their senses on the box of light in front of them. The rest of the world falls away for a short time and they're transported into new ideas; beauty, entertainment, pain, sadness.
When I tuck myself into the safety of a wing and watch my fellow dancers, I can forgo the demands of life and lose myself in their steps. These quiet moments in the darkness of backstage are an exercise in mindfulness. They allow me to surrender to the beauty of the world unfolding under the lights. I have no responsibilities in that moment other than to sit and watch. As a variation finishes and applause permeates the silence, I'll return to reality, sometimes with new inspiration for my upcoming entrance or with added clarity about a problem I've been mulling over for some time.
Dance offers a new perspective to view the world. So much of our thinking is done with words. Social justice movements organize around reclaiming language, redefining words, creating vocabulary. We read, write, text, call and speak every day. But not everyone's brain works best with linguistics, and even those who excel at language have trouble communicating in different cultures or expressing something that linguistics can't do justice.

Dance can bridge this gap. Steps conveyed on stage can embody and transmit feelings to the audience, producing an incredible intimacy that takes ages to build in daily relationships. The guardedness and baggage around language (proper grammar, politically correct speech, different vocabularies) fall away when we communicate with movement. Ideas are shared that may be difficult to articulate, but are deeply understood.
I recently performed Swing, a piece by Olivier Wevers about suicide and depression. These topics, as charged as they are, are difficult to discuss, but the tension of the choreography aptly communicated the struggles of depression. This beautiful piece didn't tell the audience what to think, but viscerally showed them how it can feel to be so deeply hurt and hopeless. It was an uncomfortable piece, both to watch and perform, but left viewers with a deep empathy.
Sometimes, the movement itself is therapeutic. As any professional dancer knows, life doesn't calm down just because it is a show week, and one year I went through a breakup right before a performance of Swan Lake. I could channel all my sadness into the portrayal of the poor, cursed swans, infusing their torment with a little of my own grief.

The moments dancers create onstage are fleeting: That is precisely what makes them treasures. The combination of factors that come together to create a show can never be recreated again—there are too many variables. Therefore, every single viewer leaves with a party favor. They get to hold on to their specific perspective of that evening's unique experience.
The world needs dance. In this age of technology and online interactions, we need a reminder of the importance of physical interaction and the range of communication that our bodies, in the flesh, can accomplish. We need the opportunity to silence the buzz and pings of constant notifications, and instead plug into real-time theater. We need the sense of purpose that investigating a theme, attending to beauty or watching a story can provide.
Dance needs the world. An audience that pays attention, relates what's on stage to life at large, and remembers to value movement and physicality over constant entrapment in the intellect.
Luckily, it's a mutually beneficial relationship.
Related Articles Around the Web
News
Jun. 16, 2018 09:15AM EST
Gina Gibney's organization has grown invaluable to the NYC dance scene. Photo by Scott Shaw, Courtesy Gibney
New York City–based dancers know Gibney. It's a performance venue, a dance company, a rehearsal space, an internship possibility—a Rubik's Cube of resources bundled into two sites at 280 and 890 Broadway. And in March of this year, Gibney (having officially dropped "Dance" from its name) announced a major expansion of its space and programming; it now operates a total of 52,000 square feet, 23 studios and five performance spaces across the two locations.
Six of those studios and one performance space are brand-new at the 280 Broadway location, along with several programs. EMERGE will commission new works by emerging choreographic voices for the resident Gibney Dance Company each year; Making Space+ is an extension of Gibney's Making Space commissioning and presenting program, focused on early-career artists. For the next three years, the Joyce Theater Foundation's artist residency programs will be run out of one of the new Gibney studios, helping to fill the gap left by the closing of the Joyce's DANY Studios in 2016.
Keep reading...
Show less
Popular
Jun. 06, 2018 01:13PM EST
Stagestep's Encore hardwood flooring for full-service broadcast production facility, dance center and venue, Starwest, in Burbank, CA.
What is the right flooring system for us?

So many choices, companies, claims, endorsements, and recommendations to consider. The more you look, the more confusing it gets. Here is what you need to do. Here is what you need to know to get the flooring system suited to your needs.
Keep reading...
Show less
Get the print edition!
"Off Kilter" has real dancers playing dancers. Still courtesy CBC Arts
"It just...always looks better in my head."
While that might not be something any of us would want to hear from a choreographer, it's a brilliant introduction to "Off Kilter" and the odd, insecure character at its center, Milton Frank. The ballet mockumentary (think "The Office" or "Parks and Recreation," but with pointe shoes) follows Frank (dancer-turned-filmmaker Alejandro Alvarez Cadilla) as he comes back to the studio to try his hand at choreographing for the first time since a plagiarism scandal derailed his fledgling career back in the '90s.
We've been pretty excited about the series for a while, and now the wait is finally over. The first episode of the show, "The Denial," went live earlier today, and it's every bit as awkward, hilarious and relatable as we hoped.
Keep reading...
Show less
Photo by Jim Lafferty
Do you have a sprained ankle that won't heal? It's not that rare. Studies have shown that 10 to 30 percent of sprains will have symptoms later. So what is a sprained ankle anyway? It's the most common injury in all of sports and dancing.

Dancing pushes your body to its limit. If you roll over on your ankle when landing from a jump, you can sprain or injure the ligaments on the outer (lateral) side that hold the joint together. This is different from a "strain," which affects your tendons and muscles. An easy way to remember this distinction is this: You sprain your ankle, but you strain your Achilles tendon. The degree of injury varies, depending on the damage to the ligaments. We determine this by a physical exam and X-rays that help us classify the ankle sprain as Grade I (mild), II (moderate), or III (severe). The most serious sprain involves a complete tear of the ligaments with marked instability that often requires surgery. Fortunately, most sprains are Grade I or II and heal in three to six weeks. The exceptions are those that continue to cause trouble. This is the "sprained ankle that won't heal."

In medical circles, residual problems from sprained ankles cause considerable angst, because they can be hard to diagnose and difficult to treat-especially when telltale signs are ignored by stoic dancers. Problems with old sprains tend to fall into three categories: swelling, pain, and instability ("giving way").

Swelling
It's normal for a sprained ankle to swell, sometimes for four to six weeks, or longer. But swelling that persists for more than three months may be a sign of trouble. The lining of the capsule surrounding a joint is called the synovium, and anything inside the joint that irritates the synovium will cause it to secrete fluid. Swelling inside of a joint is often a sign that something is causing irritation. (The swelling that is seen from the outside is a combination of soft tissue swelling around the joint and fluid within the joint itself.) In the ankle there are several reasons for this condition. While these may seem alarming, treatment is possible. But first, let's take a look at the culprits.

Chronic synovitis Sometimes there is damage to the surface of the joint that does not show up on any tests, such as an X-ray or MRI, even though it continues to cause irritation and excess fluid.

A bone chip At the time of injury, a bone chip may have been knocked loose, leaving a "loose body" floating around inside to cause trouble.

An OCD lesion "OCD" in sports medicine stands for osteochondritis dissecans (not obsessive compulsive disorder). The easiest way to think of this is like a cavity in a tooth. It is something that leaves a small hole in the surface on the ankle bone (the talus) with a dead piece of bone in it. An MRI study will usually pick this up.

A bone bruise This is not black and blue. Instead, it feels like an achy pain that is difficult to explain and lasts for months. There is edema, or fluid, within the bones themselves that we can only see on an MRI study. Fortunately, it is rarely serious and gradually fades away.

What can you do? Treatment for chronic swelling, no matter what the cause, usually requires sleeping with the leg elevated on a pillow at night and putting on an elastic ankle support in the morning when you get out of bed. If the swelling is minimal and is slowly going away with no other symptoms, it is OK to dance, but go easy on the jumps and grand plies till all the swelling is gone. However, if it doesn't feel so good then don't do it! An ankle support (no need for metal hinges, etc.) usually feels good at this stage.

It also helps to avoid the saltshaker, which leads to water retention. With diligence, the swelling should go away. However, if the leg is swollen up the shin, something else may be happening, and it needs to be checked out by your doctor. Swelling that does not go away is a sign that something more is wrong. Normal joints do not swell.

Pain
There are several common causes of ankle pain that does not go away:

The sinus tarsi syndrome Lingering inflammation, scar tissue, or a partly torn ligament can occur in the hollow place in the side of the anklebone called the sinus tarsi (sinus in Latin means hollow or sunken and the tarsus is the ankle). This is the most common cause of the sprained ankle that won't heal. While it can be difficult to discern this problem on an X-ray or MRI, a physical exam by a dance medicine specialist can pinpoint the diagnosis by locating the exact area that hurts.

A tarsal coalition Residual pain in the sinus tarsi after the original sprain heals can also be due to an unrecognized tarsal coalition. The ankle has two components: the regular ankle joint that moves up and down, and the subtalar (ST) joint beneath it that moves in and out. Together, they make up the ankle joint complex. Some people are born with limited motion in their ST joint because the bones in this area are joined together where they ought to be separate—a coalition. It can usually be seen on an X-ray or MRI. This condition is present in about five percent of ankles. It usually occurs in one ankle only, rather than both. As with a sprain, it can be mild, moderate, or severe. In dancers, it is usually mild or it would have caused trouble before the sprain. Dancers with mild symptoms can often work around it.

The high ankle sprain This is marked by tenderness in the front of the ankle on the outside. Unlike routine ankle sprains where the main damaged ligaments lie right in the sinus tarsi, this one affects a ligament that is higher up, at the level of the ankle joint itself. This is the so-called "high" ankle sprain, which can be a real bugaboo because it takes two to three times longer to heal than a routine sprain. It may not show up on medical tests, so the diagnosis is usually made on the basis of the physical exam.

Secondary problems Lastly, there are several conditions, such as FHL tendonitis ("dancer's tendonitis") and the os trigonum syndrome that seem to pop up out of nowhere. Dancers often think that the residual pain is part of the healing process when it is actually a separate problem. Later the sprain may heal, but these conditions can continue to be painful and may even require surgery if left unaddressed.

Instability
"My ankle gives way" is probably the second most common leftover problem with ankle sprains after the sinus tarsi syndrome. We doctors see it all the time. Many things can cause this problem. Fortunately most respond to appropriate treatment.

Peroneal weakness There are two peroneal tendons that run parallel down the outside of the ankle; one is short and the other is long. Their major function is to keep the ankle from rolling over and prevent sprains. After an injury they can remain weak, so the ankle is poorly protected from further roll-overs. It's easy at this point to fall into the vicious cycle of "Because it's weak it rolls over and because it rolls over it's weak," which can go on for months. If this is the problem, it is easy to fix. Simply restore the normal peroneal strength with physical therapy. A few months of daily use of a theraband, under the guidance of a physical therapist, will usually strengthen the peroneals. (They gain strength faster if the exercises are done in the full "tendu" position.)
Laxity of the ankle ligaments Grade I sprains do not usually damage the ankle ligaments to any extent, but repeated Grade II or Grade Ill injuries can lead to permanent looseness of the ligaments that hold the anklebones together. This is a difficult situation, because they can be tightened only by surgery. The surgery is quite effective, but the recovery is usually three months or more. So it is nice to avoid it if you can.

Many loose ankles often give way because of a combination of looseness and weakness. These can often be brought up to full strength with physical therapy and then they don't give way anymore. The number one indication for ankle ligament surgery is the failure of rehab to correct the problem.

Pain, swelling and instability
The problems associated with a recurring sprained ankle can co-exist and produce all three symptoms. In this ease the diagnosis is particularly difficult. There is one last problem that might be going on:

Peroneal tendon damage With repeated sprains, the peroneal tendons can develop small longitudinal rents or tears. When this happens, the tendons swell up in the sheathes that surround them and cause achy pains, chronic swelling and weakness that cannot be corrected by exercise. This problem is easy to miss and hard to correct because it usually gets worse in spite of all treatment. Fortunately, this condition also responds well to surgery.

The best way to diagnose these various problems is to see a sports or dance medicine specialist for a history, physical exam, and appropriate studies. Your doctor may request X-rays followed by an MRI, CT and/or bone scan. Physical therapy is usually the first step in the recovery. Do not try to treat yourself! There is an old expression in medicine that says, "Someone who treats themselves has a fool for a physician." Merde!

William G. Hamilton, M.D. is the orthopedic consultant for New York City Ballet, American Ballet Theatre, The School of American Ballet and the Jacqueline Kennedy Onassis Ballet School.
Jay Sullivan Photography, courtesy Julie Granger
Dancers crossing over into the fitness realm may be increasingly popular, but it was never part of French-born Julie Granger's plan. Though Granger grew up a serious ballet student, taking yoga classes on the side eventually led to a whole new career. Creating her own rules along the way, Granger shares how combining the skills she learned in ballet with certifications in yoga, barre and personal training allowed her to become her own boss (and a rising fitness influencer).
Keep reading...
Show less
Popular
May. 25, 2018 12:14PM EST
Travis Wall draws inspiration from dancers Tate McCrae, Timmy Blankenship and more.
One often-overlooked relationship that exists in dance is the relationship between choreographer and muse. Recently two-time Emmy Award Winner Travis Wall opened up about his experience working with dancers he considers to be his muses.
"My muses in choreography have evolved over the years," says Wall. "When I'm creating on Shaping Sound, our company members, my friends, are my muses. But at this current stage of my career, I'm definitely inspired by new, fresh talent."
Wall adds, "I'm so inspired by this new generation of dancers. Their teachers have done such incredible jobs, and I've seen these kids grown up. For many of them, I've had a hand in their exposure to choreography."

Keep reading...
Show less
News
Jun. 15, 2018 11:29AM EST
Ensemble Español Spanish Dance Theater. Photo by Cheryl Mann, Courtesy Carol Fox and Associates
José Greco popularized Spanish dance in 1950s and '60s America through his work onstage and on screen. Ensemble Español Spanish Dance Theater's American Spanish Dance & Music Festival is honoring the icon in recognition of what would have been his 100th birthday. As part of the tribute, Greco's three dancing children are reuniting to perform together for the first time since their father's death in 2000. Also on the program is the premiere of contemporary flamenco choreographer Carlos Rodriguez's Mar de Fuego (Sea of Fire). June 15–17, North Shore Center for the Performing Arts. ensembleespanol.org.
Get the print edition!
Give your partner space to process their own emotions about the injury. Photo via Thinkstock
Dance Theatre of Harlem dancers Chris­topher McDaniel and Crystal Serrano were working on Nacho Duato's Coming Together in rehearsal when McDaniel's foot hit a slippery spot on the marley. As they attempted a swinging lift, both dancers went tumbling, injuring Serrano as they fell. She ended up being out for a week with a badly bruised knee.
"I immediately felt, This is my fault," says McDaniel. "I broke my friend."
Keep reading...
Show less
University of Texas at Austin students in When. Photo by Lawrence Peart, courtesy ACDA
What's on the minds of college students today?
I recently had the honor of adjudicating at the American College Dance Association's National College Dance Festival, along with choreographer Dana Tai Soon Burgess and former National Endowment for the Arts dance specialist Douglas C. Sonntag. We chose three winners—one for Outstanding Choreography and two for Outstanding Performance—from 30 pieces representing schools throughout the country. It was a great opportunity to see what college dance students are up to—from the issues they care about to the kinds movement they're interested in exploring.
Here were the biggest trends and takeaways:
Keep reading...
Show less
News
Jun. 14, 2018 03:03PM EST
Herman Cornejo and Tiler Peck at Vail Dance Festival. Photo by Erin Baiano, Courtesy Vail
It's summer festival season! If you're feeling overwhelmed by the dizzying array of offerings, never fear: We've combed through the usual suspects to highlight the shows we most want to catch.
Keep reading...
Show less
Courtesy of barre + bag
Subscription box services have quickly gained a dedicated following among the fashion and fitness set. And while we'd never say no to a box with new jewelry or workout wear to try, we've been waiting for the subscription model to make its way to the dance world.
Enter barre + bag, a new service that sends a curated set of items to your door each season. Created by Faye Morrow Bell and her daughter Tyler, a student in the pre-professional ballet program at University of North Carolina School of the Arts, this just-launched service offers dance, lifestyle and wellness finds in four themed bags each year: Spring Performance, Summer Study, Back-to-Studio and Nutcracker. Since all the products are specifically made for dancers, everything barre + bag sends you is something you'll actually use, (Plus, it all comes in a bag instead of a box—because what dancer can ever have enough bags?).
barre + bag's Summer Collection
Keep reading...
Show less
Get the print edition!
News
Jun. 14, 2018 11:59AM EST
Henry Leutwyler
Today, American Ballet Theatre announced a new initiative to foster the development of choreography by company members and freelance dancemakers. Aptly titled ABT Incubator, the program, directed by principal David Hallberg, will give selected choreographers the opportunity to spend two weeks workshopping new dances.
"It has always been my vision to establish a process-oriented hub to explore the directions ballet can forge now and in the future," said Hallberg in a press release from the company. Interested? Here's how you can apply to participate.
Keep reading...
Show less
Chase Johnsey quietly made modern ballet history when he performed as part of the women's ensemble in English National Ballet's The Sleeping Beauty. Photo by Elliot Franks, Courtesy In the Lights PR
Back in January, Chase Johnsey grabbed headlines when he resigned from Les Ballets Trockadero de Monte Carlo, where his performances had garnered critical acclaim for over a decade, alleging a culture of harassment and discrimination. (An independent investigation launched by the company did not substantiate any legal claims.) Johnsey, who identifies as genderqueer, later told us that he feared his dance career was at an end—where else, as a ballet dancer, would he be allowed to perform traditionally female roles?
But the story didn't end there. After a surprise offer from Tamara Rojo, artistic director of English National Ballet, Johnsey has found a temporary artistic home with the company, joining as a guest at the rank of first artist for its run of The Sleeping Beauty, which continues this week. After weeks of working and rehearsing with the company, last week Johnsey quietly marked a new milestone: He performed with ENB's corps de ballet as one of the ladies in the prince's court.
Keep reading...
Show less


Get Dance Magazine in your inbox