Robert Fairchild Is Ready to Break the Rules
Robert Fairchild is jumping into the next phase of his career feet-first. Photo by Jayme Thornton
In his final bow at New York City Ballet, during what should have been a heroic conclusion to a celebrated ballet career, Robert Fairchild slipped and fell. His reaction? To lie down flat on his back like he meant to do it. Then start cracking up at himself.
"He's such a ham," says his sister Megan Fairchild, with a laugh. "He's really good at selling whatever his body is doing that day. He'll turn a moment that I would totally go home and cry about into something where the audience is like, 'That's the most amazing thing ever!' "

---
Fairchild admits that he kind of loves it when things go wrong onstage: "It's such a high!" Mistakes and slipups give him an excuse to come up with his own script in the moment. And, more often than not, they usually mean he was taking a risk. "I would rather try and fail than not try," he says.

He's applied that same philosophy to his career: Last fall, he decided to leave life as a ballet star behind to find out what possibilities might lie in musical theater, TV and film. In the course of our conversation, he repeats the same sentence over and over, like a mantra: "You never know how far you're gonna go if you don't jump." This is his jump.
His New Gig-To-Gig Career Has Changed Who He Is As An Artist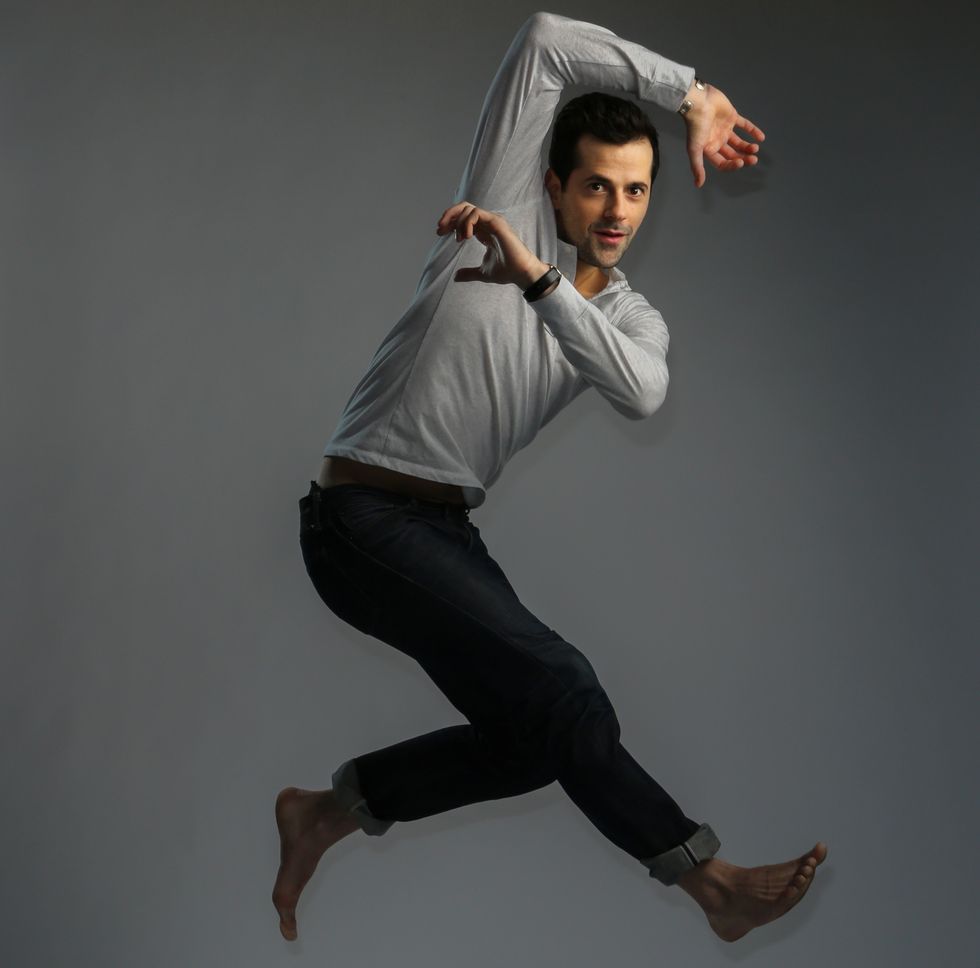 Fairchild is taking on any challenge that interests him. Photo by Jayme Thornton
Today, Fairchild is cobbling together a career built on whatever projects pique his interest: working on a one-man show; choreographing for Broadway Dance Lab; playing modern dance icon Ted Shawn in an upcoming film adaptation of The Chaperone, written by "Downton Abbey" creator Julian Fellowes. Over the holidays, Fairchild choreographed his own performance as the monster in Mary Shelley's Frankenstein off-Broadway. In February, he flew to Los Angeles to audition for TV pilots.
This new chapter in his career has puzzled some longtime fans. Only 30 years old, he still has several years of strong dancing left in him. But that's part of the point. "If you're dancing on film, that image lasts forever," he says. "You want to be at the top of your game."
Gigs outside of NYCB had been piling up ever since his Tony-nominated performance in Broadway's An American in Paris. After leaving the show in early 2016, he appeared in A Chorus Line at the Hollywood Bowl, Oklahoma! at London's Royal Albert Hall and Kiss Me, Kate for New York City's Roundabout Theatre Company. Fairchild felt simultaneously disconnected from NYCB and too restricted by it to say yes to all the projects he wanted to do.
What's more, he'd changed as a performer. Not only had he fallen in love with singing and acting, his Broadway experience had transformed his approach to dance. "I wanted to find a story in everything I was doing. I was thinking, Why am I doing these steps? What am I saying?" he recalls. "That's my favorite thing, to tell stories."
Yet in a company where Balanchine reportedly said, "Just go and do, and don't think so much about it," Fairchild's new strategy had mixed results. Eventually, he says, he felt like he didn't belong there anymore.
Getting Back To His Original Dreams: To Be Like Gene Kelly
What his fans at Lincoln Center might not realize is that this career change is simply getting Fairchild back on track to fulfill his original dreams. He explains by telling me about a fourth-grade assignment: "In it, I wrote, 'My special place is on Broadway because there's this guy named Gene Kelly and he's a dancer just like me. And I want to be just like him someday, and I also want to be in a movie.' "

Fairchild had fallen in love with Kelly through a VHS tape of Singin' in the Rain, and became the kind of kid who—despite school bullies—would find a way to turn book reports into tap presentations. "Robbie would spend four hours a day choreographing by himself in our living room every weekend," says Megan, who's three years older.
(Despite the siblings' dual success as NYCB principals, neither of their parents had a dance background—mom was a dietitian in a Salt Lake City hospital, dad was a habitat manager for Utah's wildlife resources.)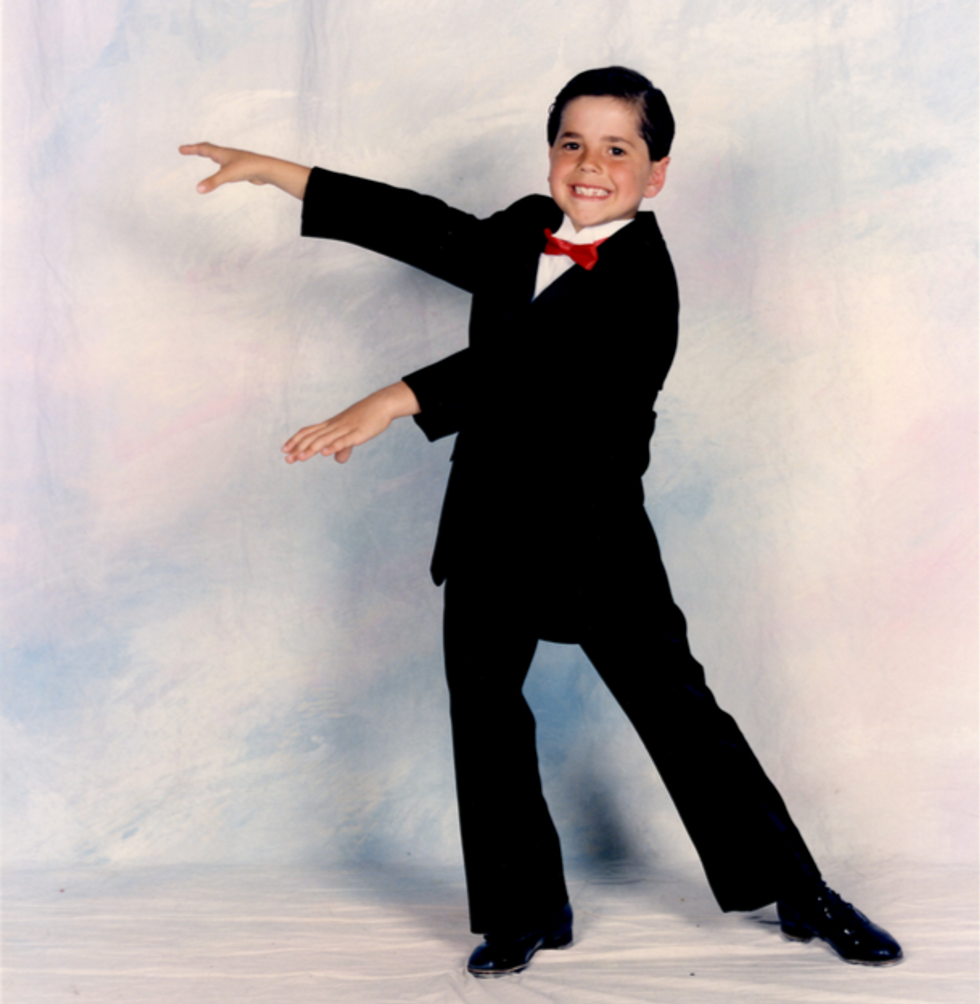 Fairchild was a jazz and tap kid growing up. Photo courtesy Fairchild
It was Megan who instigated Fairchild's detour to NYCB. When he was 15, she convinced him to attend a summer at the School of American Ballet to polish up his classical technique. To everyone's surprise, he fell in love with it, worked his "butt off" and joined the company.
What he lacked in ideal legs and feet he more than made up for in movement quality and presence. Christopher Wheeldon, who choreographed on him at NYCB and directed him in AAiP, says Fairchild's bold performance quality reminds him of dancers of a bygone generation, like Jacques d'Amboise and Edward Villella. "Not a refined, princely technique," he says, "but a raw, masculine theatricality, a real American male dancer style. Exciting, stage-devouring dancing."
What's propelled Fairchild through any new challenge, from ballet to Broadway, is his intense drive. "He just wants to keep on digging deeper and deeper and deeper," says acting coach Joan Rosenfels.
When he was in full rehearsals for AAiP while also performing with NYCB, instead of taking his Monday nights off, he'd book semiprivate lessons with Rosenfels. He continued to take her open class throughout the AAiP run. "There he was, starring on Broadway, and he'd cheer everybody else on," says Rosenfels. "He'd stand up and scream 'Bravo!' like we were at the ballet!"
Life Outside The Ballet Studio Has Its Benefits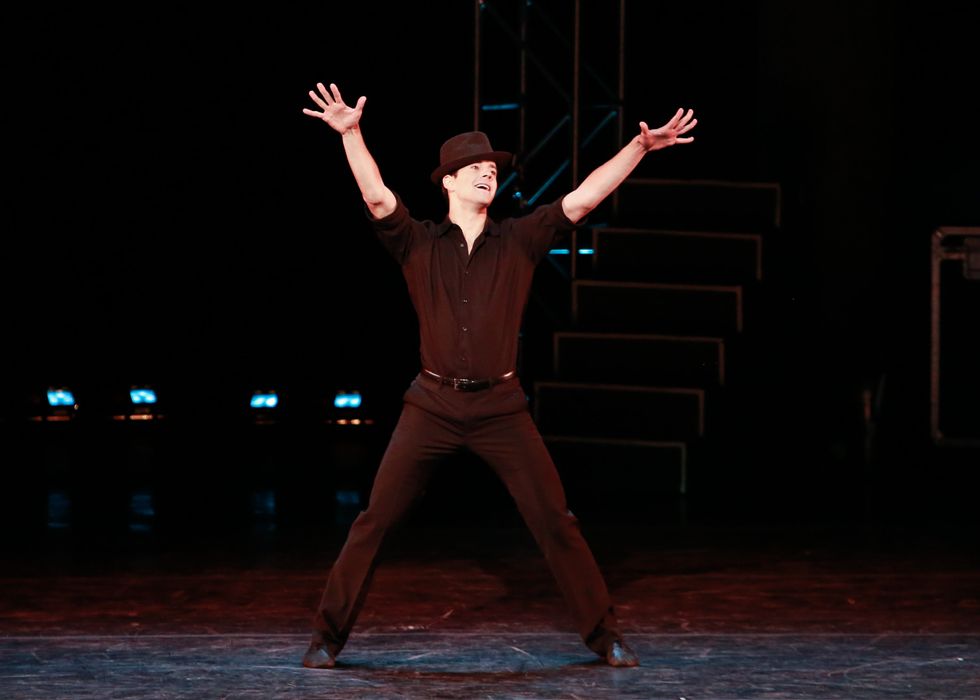 Robert Fairchild performs Gene Kelly's Ballin' the Jack in the Dance TV program of the 2014 Vail Dance Festival. Photo by Erin Baiano
Fairchild's retirement was announced less than three months after word broke that he was ending his high-profile marriage to fellow NYCB star Tiler Peck. But Fairchild maintains that the two life changes aren't related. "We are constantly changing variables in a constantly changing world," he explains, adding that his years with Peck were "incredibly special." But he needed to make a career change, and the timing, he says, was coincidence.
Today, he is exploring life outside of ballet. Now that his body isn't constantly fighting off injury, he can spend hours at museums without his back aching. He can walk around New York City without worry­ing about overworking his calves. He goes to the theater most nights of the week—plays, musicals, dance ("I've realized I love going to see the ballet!")—and has particularly devoted himself to friendships now that he has the time.
Yet he stays ready for whenever the right casting call comes his way by keeping up with singing and acting classes, and giving himself barre in his apartment building's yoga studio (sometimes with his sister, who lives nearby).

Although he's focused on performing opportunities, he's full of ideas for creative projects, including an animated movie. With endearing enthusiasm, he pronounces: "You gotta cast a wide net. Maybe you'll catch something." Then he catches himself dreaming out loud, and sort of apologizes for his optimism, adding, "Who knows? Maybe it won't happen. It's just an idea."
The thing is, however, he's got that special something that makes him succeed more often than not. "You cheer for him," says Rosenfels. Through a combination of his charm, his graciousness and, yes, his natural good looks and of course his talent, he has a way of getting people on his side, rooting for him.
"The game for me right now," he says, "is just to be ready at any point for when the right opportunity comes along. It's kind of really thrilling."
From Your Site Articles
Related Articles Around the Web
Rachel Papo
In the middle of one of New York City Center's cavernous studios, Misty Copeland takes a measured step backwards. The suggestion of a swan arm ripples before she turns downstage, chest and shoulders unfurling as her legs stretch into an open lunge. She piqués onto pointe, arms echoing the sinuous curve of her back attitude, then walks out of it, pausing to warily look over her shoulder. As the droning of Ryuichi Sakamoto and Alva Noto's mysterious "Attack/Transition" grows more insistent, her feet start to fly with a rapidity that seems to almost startle her.
And then she stops mid-phrase. Copeland's hands fall to her hips as she apologizes. Choreographer Kyle Abraham slides to the sound system to pause the music, giving Copeland a moment to remind herself of a recent change to the sequence.
"It's different when the sound's on!" he reassures her. "And it's a lot of changes."
The day before was the first time Abraham had seen Copeland dance the solo in its entirety, and the first moment they were in the studio together in a month. This is their last rehearsal, save for tech, before the premiere of Ash exactly one week later, as part of the opening night of City Center's Fall for Dance festival.
Keep reading...
Show less
Ailey II artistic director Troy Powell teaching an Ailey Workshop at NYCDA. Courtesy NYCDA
Back in 2011 when Joe Lanteri first approached Katie Langan, chair of Marymount Manhattan College's dance department, about getting involved with New York City Dance Alliance, she was skeptical about the convention/competition world.
"But I was pleasantly surprised by the enormity of talent that was there," she says. "His goal was to start scholarship opportunities, and I said okay, I'm in."
Today, it's fair to say that Lanteri has far surpassed his goal of creating scholarship opportunities. But NYCDA has done so much more, bridging the gap between the convention world and the professional world by forging a wealth of partnerships with dance institutions from Marymount to The Ailey School to Complexions Contemporary Ballet and many more. There's a reason these companies and schools—some of whom otherwise may not see themselves as aligned with the convention/competition world—keep deepening their relationships with NYCDA.
Now, college scholarships are just one of many ways NYCDA has gone beyond the typical weekend-long convention experience and created life-changing opportunities for students. We rounded up some of the most notable ones:
Keep reading...
Show less
Getty Images
Dancers are understandably obsessed with food. In both an aesthetic and athletic profession, you know you're judged on your body shape, but you need proper fuel to perform your best. Meanwhile, you're inundated with questionable diet advice.
"My 'favorite' was the ABC diet," says registered dietitian nutritionist Kristin Koskinen, who trained in dance seriously but was convinced her body type wouldn't allow her to pursue it professionally. "On the first day you eat only foods starting with the letter A, on the second day only B, and so on."
Keep reading...
Show less
Left: Hurricane Harvey damage in Houston Ballet's Dance Lab; Courtesy Harlequin. Right: The Dance Lab pre-Harvey; Nic Lehoux, Courtesy Houston Ballet.
"The show must go on" may be a platitude we use to get through everything from costume malfunctions to stormy moods. But when it came to overcoming a literal hurricane, Houston Ballet was buoyed by this mantra to go from devastated to dancing in a matter of weeks—with the help of Harlequin Floors, Houston Ballet's longstanding partner who sprang into action to build new floors in record time.
Keep reading...
Show less