Cover Story
Apr. 16, 2018 04:00PM EST
Robert Fairchild is Ready to Break The Rules
Robert Fairchild is jumping into the next phase of his career feet-first. Photo by Jayme Thornton
In his final bow at New York City Ballet, during what should have been a heroic conclusion to a celebrated ballet career, Robert Fairchild slipped and fell. His reaction? To lie down flat on his back like he meant to do it. Then start cracking up at himself.
"He's such a ham," says his sister Megan Fairchild, with a laugh. "He's really good at selling whatever his body is doing that day. He'll turn a moment that I would totally go home and cry about into something where the audience is like, 'That's the most amazing thing ever!' "

---
Fairchild admits that he kind of loves it when things go wrong onstage: "It's such a high!" Mistakes and slipups give him an excuse to come up with his own script in the moment. And, more often than not, they usually mean he was taking a risk. "I would rather try and fail than not try," he says.

He's applied that same philosophy to his career: Last fall, he decided to leave life as a ballet star behind to find out what possibilities might lie in musical theater, TV and film. In the course of our conversation, he repeats the same sentence over and over, like a mantra: "You never know how far you're gonna go if you don't jump." This is his jump.
His New Gig-To-Gig Career Has Changed Who He Is As An Artist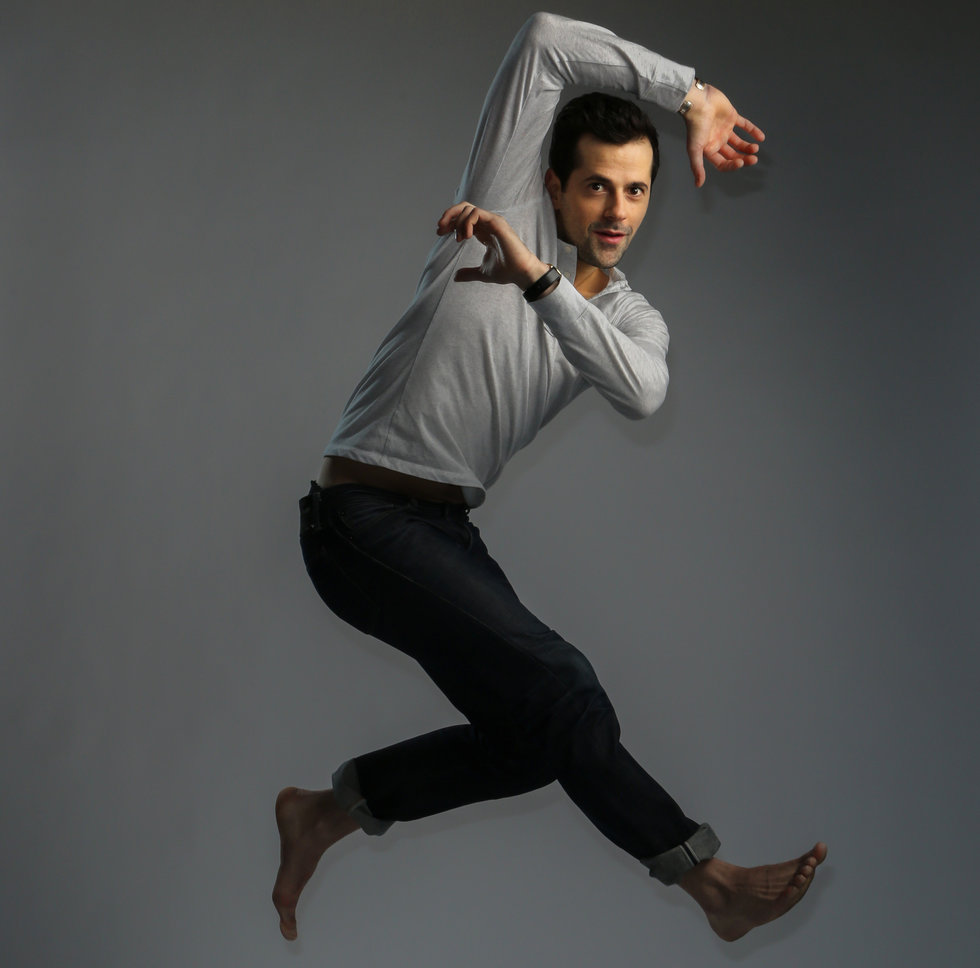 Fairchild is taking on any challenge that interests him. Photo by Jayme Thornton
Today, Fairchild is cobbling together a career built on whatever projects pique his interest: working on a one-man show; choreographing for Broadway Dance Lab; playing modern dance icon Ted Shawn in an upcoming film adaptation of The Chaperone, written by "Downton Abbey" creator Julian Fellowes. Over the holidays, Fairchild choreographed his own performance as the monster in Mary Shelley's Frankenstein off-Broadway. In February, he flew to Los Angeles to audition for TV pilots.
This new chapter in his career has puzzled some longtime fans. Only 30 years old, he still has several years of strong dancing left in him. But that's part of the point. "If you're dancing on film, that image lasts forever," he says. "You want to be at the top of your game."
Gigs outside of NYCB had been piling up ever since his Tony-nominated performance in Broadway's An American in Paris. After leaving the show in early 2016, he appeared in A Chorus Line at the Hollywood Bowl, Oklahoma! at London's Royal Albert Hall and Kiss Me, Kate for New York City's Roundabout Theatre Company. Fairchild felt simultaneously disconnected from NYCB and too restricted by it to say yes to all the projects he wanted to do.
What's more, he'd changed as a performer. Not only had he fallen in love with singing and acting, his Broadway experience had transformed his approach to dance. "I wanted to find a story in everything I was doing. I was thinking, Why am I doing these steps? What am I saying?" he recalls. "That's my favorite thing, to tell stories."
Yet in a company where Balanchine reportedly said, "Just go and do, and don't think so much about it," Fairchild's new strategy had mixed results. Eventually, he says, he felt like he didn't belong there anymore.
Getting Back To His Original Dreams: To Be Like Gene Kelly
What his fans at Lincoln Center might not realize is that this career change is simply getting Fairchild back on track to fulfill his original dreams. He explains by telling me about a fourth-grade assignment: "In it, I wrote, 'My special place is on Broadway because there's this guy named Gene Kelly and he's a dancer just like me. And I want to be just like him someday, and I also want to be in a movie.' "

Fairchild had fallen in love with Kelly through a VHS tape of Singin' in the Rain, and became the kind of kid who—despite school bullies—would find a way to turn book reports into tap presentations. "Robbie would spend four hours a day choreographing by himself in our living room every weekend," says Megan, who's three years older.
(Despite the siblings' dual success as NYCB principals, neither of their parents had a dance background—mom was a dietitian in a Salt Lake City hospital, dad was a habitat manager for Utah's wildlife resources.)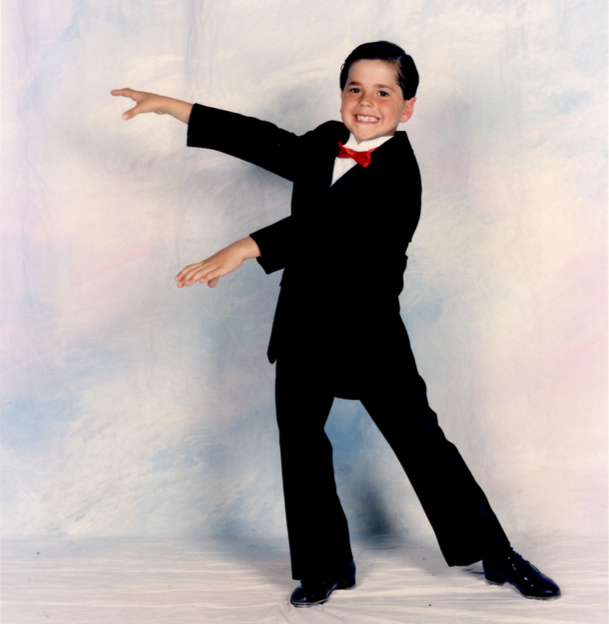 Fairchild was a jazz and tap kid growing up. Photo courtesy Fairchild
It was Megan who instigated Fairchild's detour to NYCB. When he was 15, she convinced him to attend a summer at the School of American Ballet to polish up his classical technique. To everyone's surprise, he fell in love with it, worked his "butt off" and joined the company.
What he lacked in ideal legs and feet he more than made up for in movement quality and presence. Christopher Wheeldon, who choreographed on him at NYCB and directed him in AAiP, says Fairchild's bold performance quality reminds him of dancers of a bygone generation, like Jacques d'Amboise and Edward Villella. "Not a refined, princely technique," he says, "but a raw, masculine theatricality, a real American male dancer style. Exciting, stage-devouring dancing."
What's propelled Fairchild through any new challenge, from ballet to Broadway, is his intense drive. "He just wants to keep on digging deeper and deeper and deeper," says acting coach Joan Rosenfels.
When he was in full rehearsals for AAiP while also performing with NYCB, instead of taking his Monday nights off, he'd book semiprivate lessons with Rosenfels. He continued to take her open class throughout the AAiP run. "There he was, starring on Broadway, and he'd cheer everybody else on," says Rosenfels. "He'd stand up and scream 'Bravo!' like we were at the ballet!"
Life Outside The Ballet Studio Has Its Benefits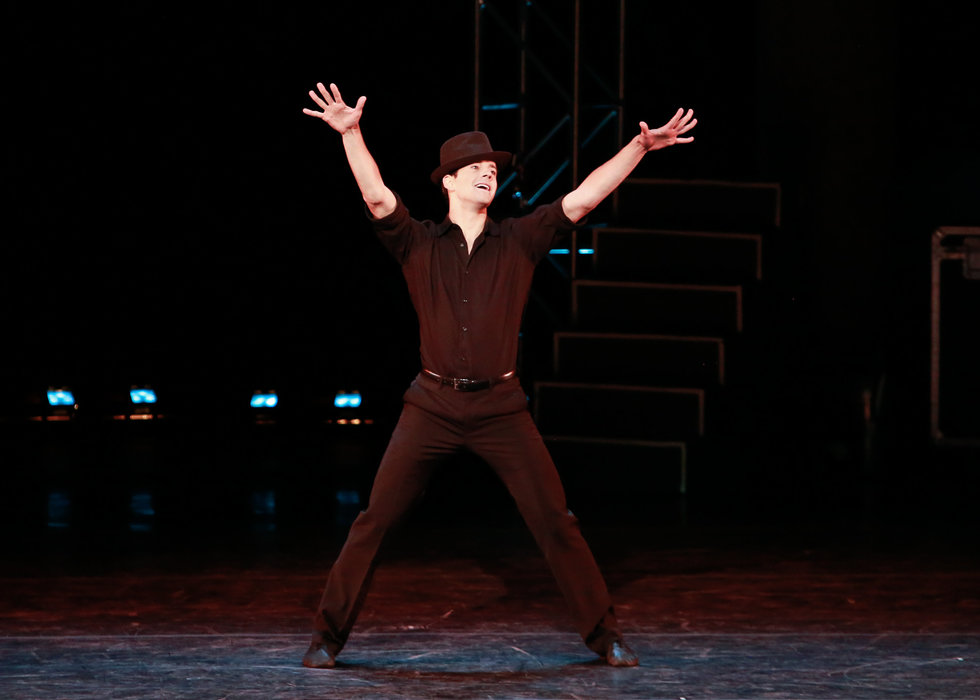 Robert Fairchild performs Gene Kelly's Ballin' the Jack in the Dance TV program of the 2014 Vail Dance Festival. Photo by Erin Baiano
Fairchild's retirement was announced less than three months after word broke that he was ending his high-profile marriage to fellow NYCB star Tiler Peck. But Fairchild maintains that the two life changes aren't related. "We are constantly changing variables in a constantly changing world," he explains, adding that his years with Peck were "incredibly special." But he needed to make a career change, and the timing, he says, was coincidence.
Today, he is exploring life outside of ballet. Now that his body isn't constantly fighting off injury, he can spend hours at museums without his back aching. He can walk around New York City without worry­ing about overworking his calves. He goes to the theater most nights of the week—plays, musicals, dance ("I've realized I love going to see the ballet!")—and has particularly devoted himself to friendships now that he has the time.
Yet he stays ready for whenever the right casting call comes his way by keeping up with singing and acting classes, and giving himself barre in his apartment building's yoga studio (sometimes with his sister, who lives nearby).

Although he's focused on performing opportunities, he's full of ideas for creative projects, including an animated movie. With endearing enthusiasm, he pronounces: "You gotta cast a wide net. Maybe you'll catch something." Then he catches himself dreaming out loud, and sort of apologizes for his optimism, adding, "Who knows? Maybe it won't happen. It's just an idea."
The thing is, however, he's got that special something that makes him succeed more often than not. "You cheer for him," says Rosenfels. Through a combination of his charm, his graciousness and, yes, his natural good looks and of course his talent, he has a way of getting people on his side, rooting for him.
"The game for me right now," he says, "is just to be ready at any point for when the right opportunity comes along. It's kind of really thrilling."
News
May. 24, 2018 01:26PM EST
New York City Ballet dancers will be led by the interim leadership team for at least several more months. Here, the company in Justin Peck's The Times Are Racing. Photo by Paul Kolnik, Courtesy NYCB.
Since December an interim artistic leadership team has been guiding New York City Ballet, and in January, Peter Martins officially resigned. But only now has the search for Martins' permanent replacement begun. Here's what we know about how the process will unfold.
Keep reading...
Show less
Dance As Activism
May. 24, 2018 11:54AM EST
Rebecca Warthen teaching at a public school in Dominica. Photo courtesy Peace Corps
Rebecca Warthen was on a year-long assignment with the Peace Corps in Dominica last fall when a storm started brewing. A former dancer with North Carolina Dance Theatre (now Charlotte Ballet) and Columbia City Ballet, she'd been sent to the Caribbean island nation to teach ballet at the Dominica Institute of the Arts and in outreach classes at public schools.
But nine and a half months into her assignment, a tropical storm grew into what would become Hurricane Maria—the worst national disaster in Dominica's history.
Keep reading...
Show less
News
May. 18, 2018 12:05PM EST
The inimitable Alicia Alonso, now 97, remains at the helm of Ballet Nacional de Cuba. Photo by Leysis Quesada, Courtesy BNC
On the occasion of its 70th anniversary, the Ballet Nacional de Cuba tours the U.S. this spring with the resolute Cuban prima ballerina assoluta Alicia Alonso a the helm. Named a National Hero of Labor in Cuba, Alonso, 97, has weathered strained international relations and devastating fiscal challenges to have BNC emerge as a world-class dance company. Her dancers are some of ballet's best. On offer this time are Alonso's Giselle and Don Quixote. The profoundly Cuban company performs in Chicago May 18–20, Tampa May 23, Washington, D.C., May 29–June 3 and Saratoga, New York June 6–8.
The baby swan can help strengthen your serratus anterior. Modeled by Marimba Gold-Watts, photographed by Jayme Thornton
Ever wonder why some dancers' port de bras appears to be disconnected from their body? It typically comes down to how they stabilize their shoulder blades, says Marimba Gold-Watts, Pilates instructor to dancers like Robert Fairchild.
"Dancers often hear the cue to pull down on their latissimus,"—the biggest muscle in the back—"which doesn't allow the shoulder blades to lie flat," she says. "It makes the bottom tips of the shoulder blades wing, or flare out, off the rib cage."
Keep reading...
Show less
In The Studio
May. 24, 2018 11:26AM EST
Choreographer Sidra Bell, Photo courtesy David Flores Productions
Sidra Bell is one of those choreographers whose movement dancers are drawn to. Exploring the juxtaposition of fierce athleticism and pure honesty in something as simple as stillness, her work brings her dancers to the depths of their abilities and the audience to the edge of their seats.
We stepped into the studio with Sidra Bell Dance New York as they prepare for their upcoming season at New York Live Arts.

Keep reading...
Show less
Rant & Rave
May. 23, 2018 04:25PM EST
Jessica Lang's Her Notes, one of ABT's few recent commissions from women. Photo by Rosalie O'Connor
A few weeks ago, American Ballet Theatre announced the A.B.T. Women's Movement, a new program that will support three women choreographers per season, one of whom will make work on the main company.
"The ABT Women's Movement takes inspiration from the groundbreaking female choreographers who have left a lasting impact on ABT's legacy, including Agnes de Mille and Twyla Tharp," said artistic director Kevin McKenzie in a press release.
Hypothetically, this is a great idea. We're all for more ballet commissions for women. But the way ABT has promoted the initiative is problematic.
Keep reading...
Show less


Get Dance Magazine in your inbox