Misty Copeland opened the 2018 Dance Magazine Awards. Photo by Christopher Duggan.
What does it mean to be human? Well, many things. But if you were at the Dance Magazine Awards last night, you could argue that to be human is to dance. Speeches about the powerful humanity of our art form were backed up with performances by incredible dancers hailing from everywhere from Hubbard Street Dance Chicago to Miami City Ballet.
Misty Copeland started off the celebration. A self-professed "Dance Magazine connoisseur from the age of 13," she not only spoke about how excited she was to be in a room full of dancers, but also—having just come from Dance Theatre of Harlem's memorial for Arthur Mitchell—what she saw as their duty: "We all in this room hold a responsibility to use this art for good," she said. "Dance unifies, so let's get to work."
That sentiment was repeated throughout the night.
Keep reading...
Show less
Portner's embrace of the unexpected has led to unexpected opportunities. Photo by Quinn Wharton for Dance Magazine
Clad in her signature loose black T-shirt and baggy gym shorts, Emma Portner is standing in a cavernous industrial space in downtown Los Angeles. A glass box—big enough to fit five dancers with only a little room to maneuver inside—sits in the middle. The five performers, Portner included, are standing inside it, side by side, palms on the glass.
"Question," Portner asks. "Are we looking at our hands?"
She steps out to watch the others try the phrase, and adds a few more steps. Quick, staccato movement, legs kicking out, torsos swiveling around, fists hitting glass. "This is a puzzle," she says, almost to herself. "I'm not sure I'll like it." The statement, like so many, is punctured with a sweet, nervous laugh.
Keep reading...
Show less
Black and Shannon in their Chicago kitchen. Photo by Greg Birman.
When Craig D. Black Jr. and Kevin J. Shannon began dating long-distance four years ago, eating together was a time to get to know each other—and challenge each other. "Craig used to be very picky," says Shannon. As they grew closer, he introduced Black to a wide variety of cuisines and vegetables. "I used to not even like Chinese food, or peas!" admits Black.
Now that they're married and both dancing at Hubbard Street Dance Chicago, cooking has become their bonding time. Shannon will make the main dish, like a veggie lasagna using kale from their garden, while Black bakes dessert, often a pie. Today, both dancers love trying out new foods, getting inspiration by eating out in Chicago's Restaurant Row or watching the "The Great British Baking Show."
Keep reading...
Show less
News
Jan. 27, 2018 09:00AM EST
Peter Chu's Space, In Perspective took audiences on unmapped tours through the Harris Theater's non-theatrical spaces. Photo by Todd Rosenberg, Courtesy Hubbard Street Dance Chicago
Donning sneakers, 24 dancers performed the rapid, rhythmic contemporary movement of Benjamin Millepied's Counterpoint for Philip Johnson during American Ballet Theatre's fall season. Using members of the ABT Studio Company and Jacqueline Kennedy Onassis School, the commission was an unusual late addition to the program. But even more unusual was its setting: The work was danced not behind the proscenium, but as an intermission interlude on the tiered balconies of the David H. Koch Theater promenade, with the dancers looking down on the patrons from above.
With pieces like Counterpoint at ABT and Peter Chu's Space, In Perspective at Hubbard Street Dance Chicago, and Paris Opéra Ballet looking to set work in the public spaces of the Palais Garnier this spring, in-theater site-specific works are trending among companies whose seasoned patrons are more used to sitting comfortably in the dark.

Keep reading...
Show less
One of my favorite parts of working with Wendy Perron over the past 12 years has been listening to her talk about dance. More than anyone I know, Wendy can explain a piece of choreography or a dancer's approach in the most visceral, compelling way. She doesn't even always use words—sometimes she turns to sounds or body language to fully describe something she loves.
Having a casual chat with her can be like getting a master class in the most interesting dance going on right now. And as Dance Magazine's editor at large, she sees a lot. She's one of the most well-connected people I know in the dance world, so more often than not she's got juicy insights, strong opinions and fascinating background info.
We decided to share this with you by filming a short video clip each week, capturing Wendy talking about the dance events she's most looking forward to in our new series, "What Wendy's Watching." Or, as she puts it: "Just wind me up and make me talk dance."
Keep reading...
Show less
Jim Lafferty
Late one Friday night, Daniil Simkin and Cassandra Trenary are running a new duet inside the Frank Lloyd Wright–designed rotunda in New York City's Guggenheim Museum. Trenary drops her weight back into Simkin's arms and lets him slide her, spinning, into the ground. They clasp hands like children to pull each other close, an intimate moment that lasts for a breath before it slips away, lost in a cascade of slippery, detailed movement.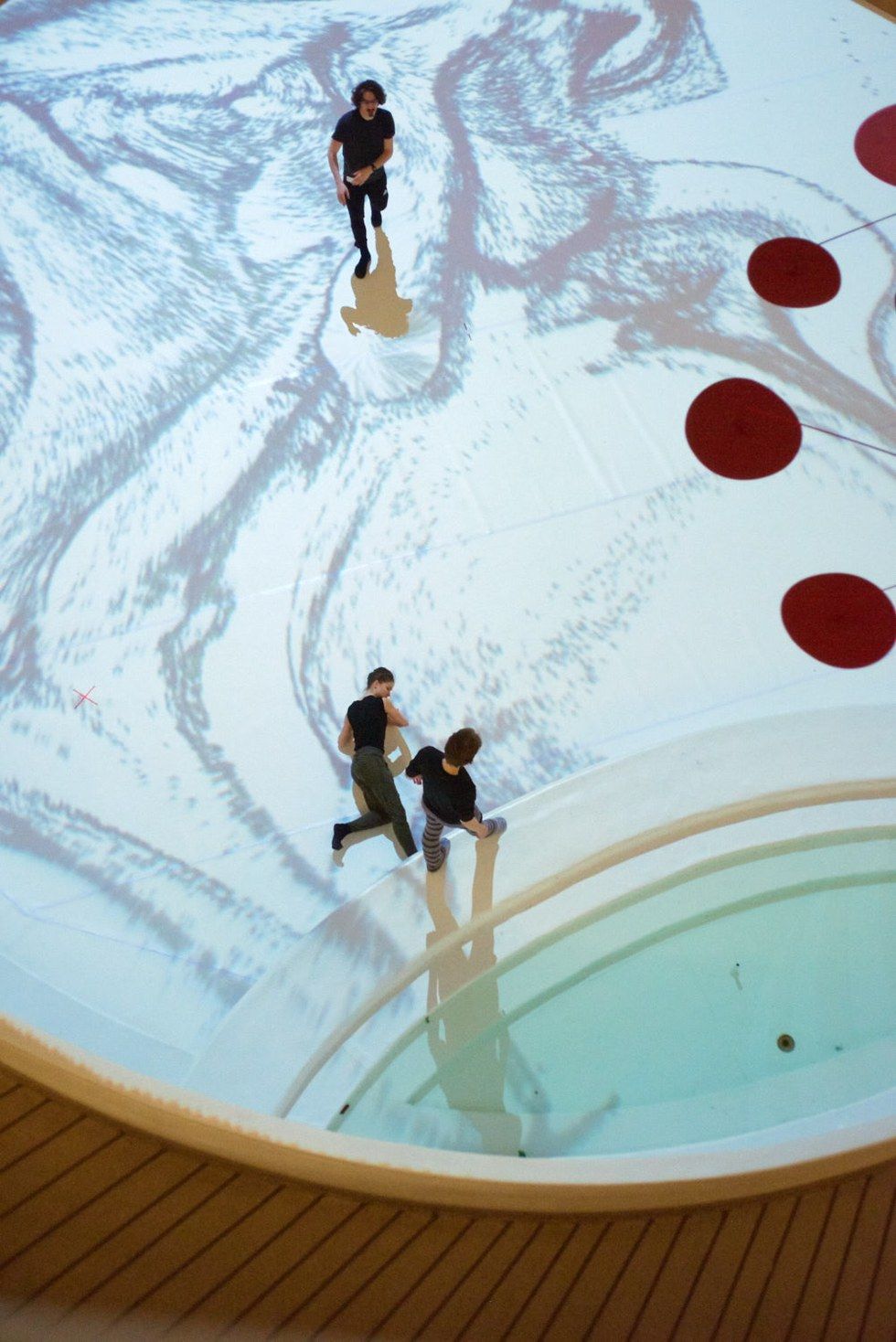 Alejandro Cerrudo (top) directing Simkin and Trenary. Photo by Jim Lafferty
Viewed from several stories up, Alejandro Cerrudo's gliding, seamless partnering becomes otherworldly. The dancers stir vaporous clouds or cast multi-hued shadows which battle each other for primacy—depending on what effect the video team is experimenting with at the moment.
Keep reading...
Show less
Hubbard Street's Andrew Murdock teaches repertoire during an HS Pro pilot program. Photo by Todd Rosenberg, Courtesy Hubbard Street.
Hubbard Street Dance Chicago enters its fifth decade with a new training program designed to propel young professionals toward careers in dance. The Hubbard Street Professional Program (nicknamed "HS Pro") provides a two-year postsecondary alternative to university dance programs.
Keep reading...
Show less
Get Dance Magazine in your inbox