News
Sep. 25, 2018 12:41PM EST
Pina Bausch's The Rite of Spring caused a sensation at the Next Wave Festival in 1984. Photo by Oliver Look, Courtesy Brooklyn Academy of Music
Brooklyn Academy of Music's Next Wave Festival, which contributed to the rise of dance icons like Trisha Brown, Pina Bausch and Bill T. Jones, will be memorialized in print this month. BAM: The Next Wave Festival offers an inside glimpse at the past 35 years.
Keep reading...
Show less
News
Nov. 23, 2017 11:00AM EST
Kimberly Bartosik's Ecsteriority4 (Part 2). Photo by Ryutaro Mishima, Courtesy BAM.
Showing choreography at a major venue in New York City is a goal and milestone for many dance artists. Yet when such an opportunity comes their way, choreographers frequently find themselves scrambling for time and technical resources to give their work that professional shine. What they end up performing may not have the polish they intended. "Far too often artists are arriving at their presenting house and the piece isn't ready," says Adrienne Willis, the executive and artistic director of Lumberyard Contemporary Performing Arts, an organization that helps dance artists develop new work.
Back when Lumberyard was known as the American Dance Institute and operated out of a strip mall in Rockville, Maryland, it pioneered its Incubator program to whip new pieces into shape, kind of like the "out-of-town" tryout model for theater. Several of the artists it supported ultimately brought their shows to the Brooklyn Academy of Music, one of New York City's most prestigious venues, which quickly recognized the positive influence of the Incubator on performances.
Keep reading...
Show less
Hofesh Shechter's Grand Finale. Photo by Rahi Rezvani, Courtesy Danse Danse.
The first time I saw a Hofesh Shechter work, the usher handed me a program and a pair of earplugs as I walked up to the theater door. I was running late so I stuffed the tiny foam pieces in my pocket. I could not imagine in what universe I would ever need such things if I didn't even use them at rock concerts. And then I walked into the theater. I was pleasantly surprised to be accosted by the decibel level of what appeared to be a death metal band playing live for Shechter's Political Mother. I never used the earplugs, but perhaps the usual concert dance audience was grateful for the gesture.
In 2012, the show was a surprise even by the standards of Brooklyn Academy of Music's Next Wave Festival. In the years since, the Israeli choreographer has continued to shock and awe American audiences with his powerful, raw dance theater. His latest creation, Grand Finale, is a mature study in the contrasts and contradictions, the violence and the transcendence, that mark the modern human condition. I caught up with Shechter, now based in London, ahead of the work's appearance at BAM Next Wave November 9–11.
Grand Finale. Photo by Rahi Rezvani, Courtesy Danse Danse
What was your inspiration for Grand Finale? Is it purely abstract or is there a story in it for you?

I try to make work that is like a real night dream: You feel a lot of things and kind of know where you are are, and you kind of understand what is happening. It is an opportunity to express and digest a lot of emotions in the world today and in my life. And the responses are subjective; some people speak to me about the absolute despair in it and some speak of the hope they see, a shining star in the dark or a celebration of life. I think these two powers just exist together. There is a feeling of celebrating life regardless of how difficult it is, and, perhaps new to me, the feeling that there is beauty in the horrifying truth of our world, in what people are and how they behave. I was trying to make poetry with atrocities around me.
Keep reading...
Show less
News
Nov. 01, 2017 08:59AM EST
ODC/Dance in Boulder and Bones
It's not often that you hear about dance companies that own not one, but two buildings, where they also run a school, theater, gallery and even a health clinic for dancers. But ODC/Dance is an inspiring success story. Since founding the company in 1971, Brenda Way, along with co-artistic director KT Nelson, has created a self-sustaining model that's still going strong almost five decades later.
Dance Magazine spoke to Way ahead of the company's performances at the Brooklyn Academy of Music this week to pick her brain on how she's done it. Here's the advice she has to offer the next generation of dance directors:
Keep reading...
Show less
Peggy Jarell Kaplan, Courtesy BAM
In 1984, New York was introduced to a choreographer who would influence generations of dance artists: Pina Bausch. Tanztheater Wuppertal stunned audiences at Brooklyn Academy of Music in performances of Bausch's now-iconic Café Müller and The Rite of Spring.
Since that groundbreaking premiere, Bausch has been revered as a genius, a trailblazer, a game changer in the dance world. And starting this Thursday, Bausch devotees will make a pilgrimage back to Brooklyn Academy of Music where Tanztheater Wuppertal reprises its historic debut program. To celebrate the occasion, BAM shared some archival photos of the choreographer and her work with Dance Magazine, and we reached out to several of today's choreographers and dancers about how Bausch inspired their own life's work.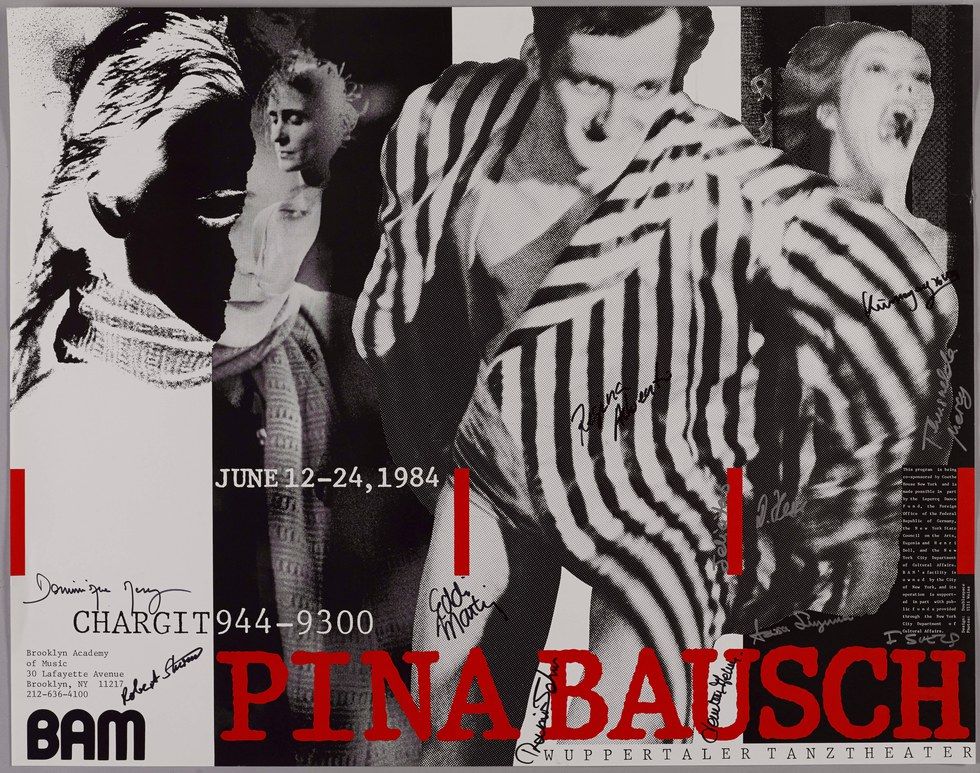 Poster signed by the company for the Tanztheater Wuppertal Pina Bausch self-titled production during BAM Spring Series, 1984
Keep reading...
Show less
Pina Bausch's The Rite of Spring. Photo by Oliver Look, Courtesy Brooklyn Academy of Music.
On the cusp of a new performance season, our calendars are chock full with shows we're dying to see. But it can be hard to know where to start with a season filled to bursting with promising premieres, tours and revivals. We've picked 12 shows that should definitely be on your radar.
Keep reading...
Show less
Get Dance Magazine in your inbox