Hamid Hamido/Unsplash
As a young dancer, I was taught that falling out of a relevé, even during class, was not an option. I was told to never, ever give up on it. "Die for it," my ballet master used to say.
I used to love, even dream, of being immersed in dance every day. But after 10 years of pushing myself beyond my limits as a full-time dancer, something started happening to me internally. My vision would get blurry, my body felt like I was spinning, and my ears would ring.
I did what I always did—I ignored the warning signs and pushed through it. I never wanted to look weak or incapable as a dancer, even if I was in a lot of pain. Even if I felt like I was going to pass out.
I began feeling this way every day. From what I can remember, that was when I started blacking out while I was dancing.
Keep reading...
Show less
Popular
Jun. 17, 2019 08:38AM EST
Photo by Jayme Thornton
In a studio high above Lincoln Center, Taylor Stanley is rehearsing a solo from Jerome Robbins' Opus 19/The Dreamer. As the pianist plays Prokofiev's plangent melody, Stanley begins to move, his arms forming crisp, clean lines while his upper body twists and melts from one position to the next.
All you see is intention and arrival, without a residue of superfluous movement. The ballet seems to depict a man searching for something, struggling against forces within himself. Stanley doesn't oversell the struggle—in fact he's quite low-key—but the clarity with which he executes the choreography draws you in.
Keep reading...
Show less
Martha Graham Dance Company in rehearsal for a new work by Bobbi Jene Smith and Maxine Doyle. PC Kelsey Grills.
In a sun-soaked studio in Manhattan, members of the Martha Graham Dance Company (all women) lie on the floor with their feet and heads hovering off the ground. Choreographer Bobbi Jene Smith encourages the dancers to be unapologetic about being looked at as their bodies begin to tremble with exhaustion and they move into a new formation.
Keep reading...
Show less
Danielle Agami in residency at The Center for Ballet and the Arts.
Los Angeles-based choreographer Danielle Agami is taking on a new role in New York City: performer. While her company Ate9 is on a "vacation," she is in residency at The Center for Ballet and the Arts at New York University.
We sat down with Agami to discuss creating her first solo titled framed, which she will perform May 6 at the NYU Tisch School of the Arts, and why she is excited to get back to her company.
Keep reading...
Show less
Gaga teacher Amy Morrow says investigative styles can help any dancer. PC Ascaf Avraham
In today's dance world, it seems to go without saying: The more varied the training, the better. But is that always the case? Rhonda Malkin, a New York City–based dance coach who performed with the Radio City Rockettes, thinks trendy contemporary techniques that emphasize improvisation and organic movement quality are detrimental to the precision and strength needed to be a Rockette, in a traditional Broadway show or on a professional dance team. Her view is controversial: "If you really want to work, making $40,000 in three months for the Rockettes or $25,000 in one day filming a commercial, you need ballet, Broadway jazz, tap, hip hop—not contemporary," she says.
On the flip side, techniques that allow dancers more freedom may help them connect more deeply with their body and artistry, while providing release for overused muscles. We broke down the argument for both sides:
Keep reading...
Show less
Ascaf, Courtesy Batsheva
A newcomer to Batsheva's main company, 23-year-old Amalia Smith is quickly learning how to keep her body safe and supple during Ohad Naharin's rigorous rehearsals and world tours. Fatigue has become both a hurdle and a teacher.
"Decadance is pretty much a marathon, and the new piece Venezuela is such crazy cardio I nearly had an asthma attack!" says Smith. Fortunately, the new discoveries she's made through Gaga have helped her handle its intense demands.
Keep reading...
Show less
Get Dance Magazine in your inbox
Katrina Lenk and Tony Shalhoub in The Band's Visit. Photo by Ahron R. Foster
When Katrina Lenk says her feet never touched the ground in her Broadway debut, as a replacement in Spider-Man: Turn off the Dark, she's not telling you how deliriously happy she was—though she was.
Lenk is being literal: Playing Arachne, the show's magical spider-woman, she was suspended in a gigantic web throughout. Her ability to fly and enjoy it—crucial to landing the role—was honed with a summer job "swimming" over the heads of the audience at Universal Studios. "You just never know where random experiences are gonna take you," she says.
Keep reading...
Show less
Smith dancing with Batsheva in Bobbi Jene
Elvira Lind's documentary Bobbi Jene took the 2017 Tribeca Film Festival by surprise last spring, sweeping the awards for Best Documentary, Best Editing and Best Cinematography. For those of us who have watched Batsheva and Bobbi Jene Smith's career, the film's success is not unexpected. It is a validation of what we already know: Bobbi Jene is absolutely fascinating.
She is the dance equivalent of a method actor, like a Daniel Day Lewis who lives inside his characters for months or years. Seeing her choreographic process first-hand reveals there is no trying to portray emotion through dance, what we see is true emotion as a result of dance.
Keep reading...
Show less
Jim Lafferty
"Start with less." Those are the first words that Keren Lurie Pardes says as she guides her fellow dancers through a pre-rehearsal class in New York City. They have recently arrived to make their debut at The Joyce Theater as members of L-E-V, the small, intriguing company founded in 2013 by Israeli artists Sharon Eyal and Gai Behar. Eyal is a former star dancer and choreographer-in-residence at Israel's renowned Batsheva Dance Company, and Behar is a former party producer.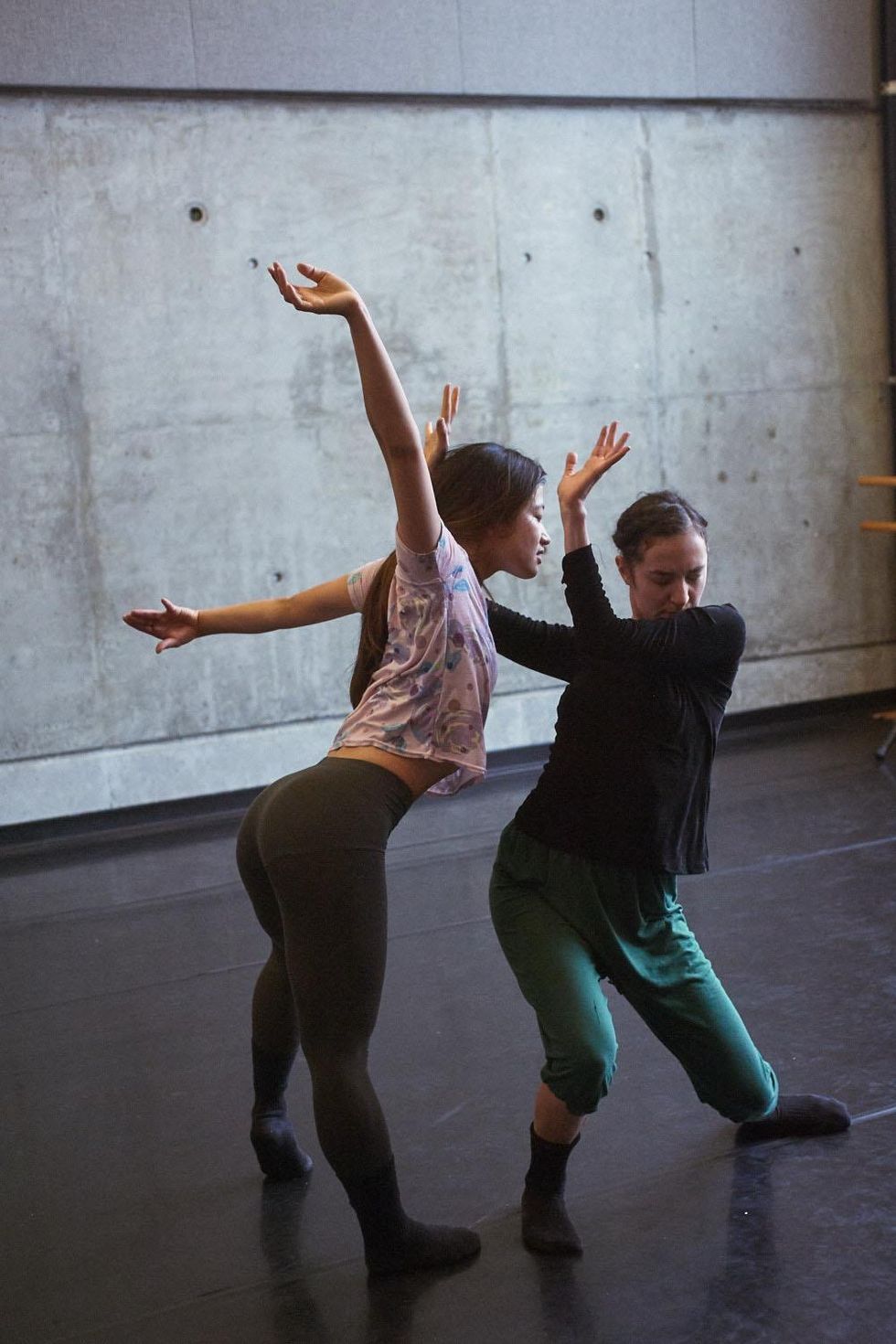 Keren Lurie Pardes with Mariko Kakizaki. Photo by Jim Lafferty.
Keep reading...
Show less
Feb. 01, 2015 04:59PM EST
Choose an improv method that will challenge your weaknesses.
Freedman (left) practices a phrase in the studio. Photo by Anna Maynard, Courtesy Helen Simoneau.
Often, the key to growing as a dancer is getting out of a mental or physical rut. One solution? Improvisation. Its unpredictable, uncomfortable challenges can help dancers find their voices while fostering playfulness and body awareness. But each style of improvisation—Gaga, Forsythe and contact are among today's most popular choices—has its own strengths. Whether you're looking to improve your partnering skills, inspire movement creation or become a more confident performer, choosing a method that targets your weaknesses can help you discover something new about yourself.
Gaga
Uninhibited and often wild, the stylistic qualities of Ohad Naharin's movement language Gaga are popular in choreography today. Naharin's work is performed by his Batsheva Dance Company (see page 48) and repertory troupes like Cedar Lake Contemporary Ballet, and has inspired flocks of successful choreographers like former Batsheva dancers Hofesh Shechter and Andrea Miller. "Gaga is certainly a window into a whole aesthetic, which seems to be pretty widespread at the moment," says Ariel Freedman, a former Batsheva dancer who teaches Gaga classes internationally. "It's very much about connecting to your untamed and unpredictable nature. And playing with the very fine line between being in and out of control."
Dancers enjoy Gaga classes because they're physically and mentally engaging from start to finish. But what's most difficult, for first-timers and experienced dancers alike, is letting go of the presentational quality that traditional training develops and embracing the style's raw nature. "Allow yourself to be very silly, perhaps absurd—the many versions of you that are less often asked for in a technique class," says Freedman. Gaga can help dancersovercome shyness and insecurity, which leads to making bold choices and dancing with abandon—all helpful whether you're choreographing, auditioning or taking the stage.
For Freedman, exploring her body's range in Gaga helped her become a more versatile and flexible dancer. "In the time since I've been doing Gaga, people comment on how unrestricted, how unbound my body is physically." She credits this as much to Gaga's mental training as its physical methods. "My mind and body together experienced a kind of unbinding, a release."
Contact Improvisation
At its finest, contact improvisation is complex and daring, with partners working through lifts, falls and counterbalances together. Because the study incorporates principals of martial arts (aikido and tai chi), dancers become very aware of energy, effort and the space around them.
One of contact's great learning curves is being able to trust another person with your body weight during moments of disorientation. "It can be quite scary for someone whose training has taught them to balance," says Chris Aiken, a dance professor at Smith College who studied under improv great Nancy Stark Smith. Dancers must rely less on visual stimuli and more on physical sensation. "When you practice contact, as much as 80 percent of what you're responding to is touch, and that has a way of reorganizing your perceptual systems," he says.
Because of this shift, Aiken says it's important to make peace with the fact that expertise takes time. Eventually, you'll take away fine-tuned partnering skills with a much sharper sense of exactly how much force a movement requires. This can make for more dynamic dancing—with or without a partner—and a heightened perception of how to adapt to the bodies around you.
Jill Johnson and dancer Sokvannara (Sy) Sar work through a Forysthe modality. Photo by Rachel Papo for Dance Teacher.
Forsythe Improvisation Technologies
Although William Forsythe designed his movement language on ballet dancers, its principles can boost anyone's creativity. "It's beyond a stylistic approach—it's an approach to the creative process," says Harvard University dance director Jill Johnson, who danced for Forsythe's Ballett Frankfurt. "We're cultivating the ability to respond to any given moment." With more than 130 modalities, or prompts, such as "room writing," which involves tracing an imagined room with a specific part of your body, the possibilities for invention are endless.
A challenging—and rewarding—element of Forsythe's technique is allowing each body part to process movement possibilities on its own. For instance, drawing a shape with your knee is a completely different experience than drawing it with your nose. But through these isolated studies, dancers discover the full range of their bodies, and learn how to initiate movement from unexpected places. "The hope is that the dancers will be empowered with new forms of self-expression that they can utilize as an artist, building a library of resources," says Johnson. "And it can be greatly individualized. Some may learn through imagery and others may find a structural sense that helps them soar."