Meet the "Bald Ballerina" Fighting Breast Cancer
Maggie Kudirka. Photo by Dancers Care Foundation/Andrew Holtz
Maggie Kudirka was just beginning her ballet career with the Joffrey Concert Group in New York when she discovered an ache and a knot in her sternum that would not go away. It became excruciating.
The company physical therapist gave her exercises and massages to assuage the pain. "I just thought it was a muscle mass…we were doing a lot of partnering, but it didn't get better," she says.
Months later, as her first season was ending, she found a doctor to take a look. It took a few appointments to get the diagnosis because, at 23, Kudirka was not in the risk group for breast cancer. But that's what the lump was. Within weeks she was in treatment for stage 4 metastatic breast cancer, meaning it had spread to other parts of her body and was incurable.
---
After a double mastectomy and the start of chemotherapy, Kudirka was advised to cut her hair so it wouldn't fall out in clumps on her pillow. She took the plunge and had it shaved. Bald Ballerina was born.

Kudirka was determined to share her treatment journey through a blog and other social media and it grew from there. One part of Bald Ballerina raises funds to cover the dancer's ever-growing medical costs, which now surpass $600,000, even with insurance.
But aside from helping pay expenses, Bald Ballerina's larger mission is awareness. "I want people to know that no one is immune. Anyone can get breast cancer," she says. "I want young girls to know they're in charge of their bodies and if they feel something is not right they should be able to ask for help and get what they need."
That means it's never too early to start teaching young girls to do breast self exams. "They should do it in the shower every day and get to know their bodies, so they can realize when something is wrong," Kudirka says.
She works with Starbound National Talent Competition, sharing her story and traveling the country teaching ballet master classes; in return, Starbound raises funds for cancer treatment and research. Kudirka recently visited the Capezio store in New York, where she shared her story for Breast Cancer Awareness Month.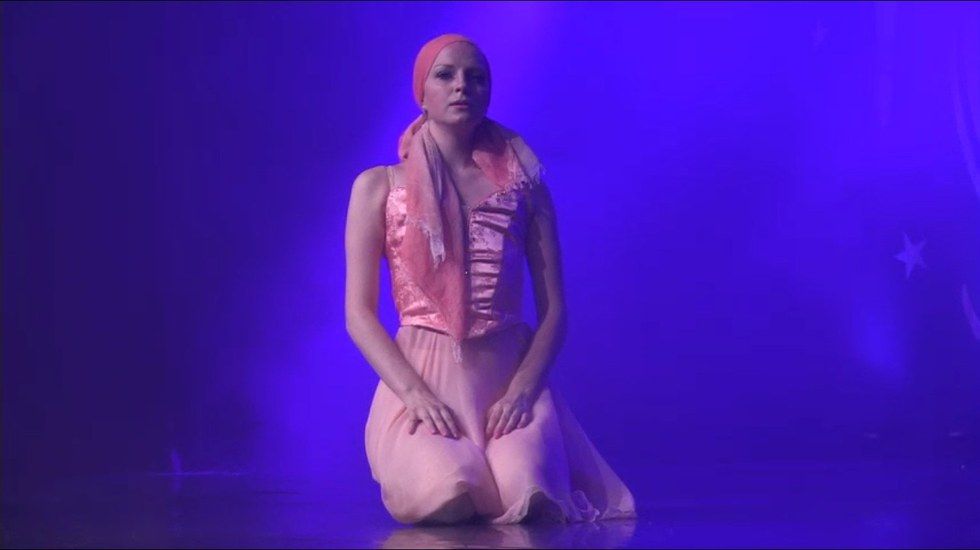 Performing at Starbound Finals
She still spends one day every three weeks at Mercy Medical Center in Baltimore for chemotherapy. In between, she continues to take class and perform when she's able, dropping in for classes at Towson University, her alma mater, or other local studios near her Ellicott City, Maryland, home.
She is in the midst of producing her fourth "No One Can Survive Alone" fundraising concert, scheduled for January 14 at Howard Community College's Smith Theater. Proceeds will contribute to her medical expenses. Dancer friends like Adrienne Canterna of Bad Boys of Ballet; Houston Ballet's Derek Dunn; Jon Ole Olstad, formerly of Netherlands Dans Theater; alums and students from Edna Lee Dance Studio and many others have signed on.
Kudirka says, "Anyone can get cancer at any age. Just because I was fit and healthy, dancing every day, doesn't mean I couldn't get cancer. That's my message to other young girls and women."
News
Oct. 17, 2019 02:02PM EST
Rauf "RubberlLegz" Yasit and Parvaneh Scharafali. Photo by Mohamed Sadek, courtesy The Shed
William Forsythe is bringing his multi-faceted genius to New York City in stripped down form. His "Quiet Evening of Dance," a mix of new and recycled work now at The Shed until October 25, is co-commissioned with Sadler's Wells in London (and a slew of European presenters).
As always, Forsythe's choreography is a layered experience, both kinetic and intellectual. This North American premiere prompted many thoughts, which I whittled down to seven.
Keep reading...
Show less
News
Oct. 17, 2019 01:39PM EST
Courtesy NBC
"Law & Order: SVU" has dominated the crime show genre for 21 seasons with its famous "ripped from the headlines" strategy of taking plot inspiration from real-life crimes.
So viewers would be forgiven for assuming that the new storyline following the son of Mariska Hargitay's character into dance class originated in the news cycle. After all, the mainstream media widely covered the reaction to Lara Spencer's faux pas on "Good Morning America" in August, when she made fun of Prince George for taking ballet class.
But it turns out, the storyline was actually the idea of the 9-year-old actor, Ryan Buggle, who plays Hargitay's son. And he came up with it before Spencer ever giggled at the word ballet.
Keep reading...
Show less
Chantelle Pianetta competing at a West Coast swing event. Courtesy Pianetta.
Just hearing the word "improvisation" is enough to make some ballet dancers shake in their pointe shoes. But for Chantelle Pianetta, it's a practice she relishes. Depending on the weekend, you might find her gracing Bay Area stages as a principal with Menlowe Ballet or sweeping in awards at West Coast swing competitions.

She specializes in Jack and Jill events, which involve improvised swing dancing with an unexpected partner in front of a panel of judges. (Check her out in action below.) While sustaining her ballet career, over the past four years Pianetta has quickly risen from novice to champion level on the WCS international competition circuit.
Keep reading...
Show less