Meet the "Bald Ballerina" Fighting Breast Cancer
Maggie Kudirka. Photo by Dancers Care Foundation/Andrew Holtz
Maggie Kudirka was just beginning her ballet career with the Joffrey Concert Group in New York when she discovered an ache and a knot in her sternum that would not go away. It became excruciating.
The company physical therapist gave her exercises and massages to assuage the pain. "I just thought it was a muscle mass…we were doing a lot of partnering, but it didn't get better," she says.
Months later, as her first season was ending, she found a doctor to take a look. It took a few appointments to get the diagnosis because, at 23, Kudirka was not in the risk group for breast cancer. But that's what the lump was. Within weeks she was in treatment for stage 4 metastatic breast cancer, meaning it had spread to other parts of her body and was incurable.
---
After a double mastectomy and the start of chemotherapy, Kudirka was advised to cut her hair so it wouldn't fall out in clumps on her pillow. She took the plunge and had it shaved. Bald Ballerina was born.

Kudirka was determined to share her treatment journey through a blog and other social media and it grew from there. One part of Bald Ballerina raises funds to cover the dancer's ever-growing medical costs, which now surpass $600,000, even with insurance.
But aside from helping pay expenses, Bald Ballerina's larger mission is awareness. "I want people to know that no one is immune. Anyone can get breast cancer," she says. "I want young girls to know they're in charge of their bodies and if they feel something is not right they should be able to ask for help and get what they need."
That means it's never too early to start teaching young girls to do breast self exams. "They should do it in the shower every day and get to know their bodies, so they can realize when something is wrong," Kudirka says.
She works with Starbound National Talent Competition, sharing her story and traveling the country teaching ballet master classes; in return, Starbound raises funds for cancer treatment and research. Kudirka recently visited the Capezio store in New York, where she shared her story for Breast Cancer Awareness Month.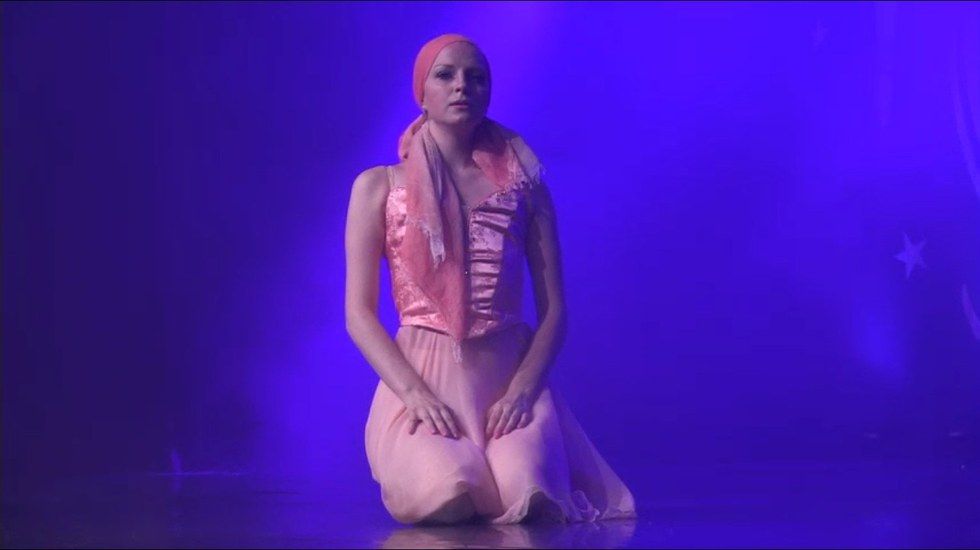 Performing at Starbound Finals
She still spends one day every three weeks at Mercy Medical Center in Baltimore for chemotherapy. In between, she continues to take class and perform when she's able, dropping in for classes at Towson University, her alma mater, or other local studios near her Ellicott City, Maryland, home.
She is in the midst of producing her fourth "No One Can Survive Alone" fundraising concert, scheduled for January 14 at Howard Community College's Smith Theater. Proceeds will contribute to her medical expenses. Dancer friends like Adrienne Canterna of Bad Boys of Ballet; Houston Ballet's Derek Dunn; Jon Ole Olstad, formerly of Netherlands Dans Theater; alums and students from Edna Lee Dance Studio and many others have signed on.
Kudirka says, "Anyone can get cancer at any age. Just because I was fit and healthy, dancing every day, doesn't mean I couldn't get cancer. That's my message to other young girls and women."
Peter Smith, courtesy of University Musical Society
What happens during a performance is the product of the painstaking process of realizing an artistic vision. Whether held beforehand, afterward, offsite or online, audience discussions tend not to be so preordained, easily thrown off track without a skilled moderator at the helm.
"I'm someone who dreaded talkbacks and Q&As," admits Bill Bragin, former director of public programming at Lincoln Center. "While I was in New York, a lot of the time it was just audience members trying to show off how smart they were."
These events present a pile of difficult questions: How much do you reveal about a piece before it's shown? How can a conversation designed to hit key points feel casual and spontaneous? How do you cater to the needs of diverse attendees, from novice dancegoers to lifelong fans to scholars and critics? And how do you avoid smothering dance with language, flattening all its complexity?
Keep reading...
Show less
UA Dance Ensemble members Candice Barth and Gregory Taylor in Jessica Lang's "Among the Stars." Photo by Ed Flores, courtesy University of Arizona
If you think becoming a trainee or apprentice is the only path to gaining experience in a dance company environment, think again.
The University of Arizona, located in the heart of Tucson, acclimates dancers to the pace and rigor of company life while offering all the academic opportunities of a globally-ranked university. If you're looking to get a head-start on your professional dance career—or to just have a college experience that balances company-level training and repertory with rigorous academics—the University of Arizona's undergraduate and graduate programs have myriad opportunites to offer:
Keep reading...
Show less
Alice Sheppard/Kinetic Light in DESCENT, which our readers chose as last year's "Most Moving Performance." Photo by Jay Newman, courtesy Kinetic Light
Yes, we realize it's only August. But we can't help but to already be musing about all the incredible dance happenings of 2019.
We're getting ready for our annual Readers' Choice feature, and we want to hear from you about the shows you can't stop thinking about, the dance videos that blew your mind and the artists you discovered this year who everyone should know about.
Keep reading...
Show less
Silas Farley in his Songs from the Spirit at the Metropolitan Museum of Art. Rosalie O'Connor, Courtesy Farley
I dance to encourage others. The longer I dance, the more I see that much of my real work is to speak life-giving words to my fellow artists. This is a multidimensionally grueling profession. I count it a privilege to remind my colleagues of how they are bringing beauty into the world through their craft. I recently noticed significant artistic growth in a fellow dancer, and when I verbalized what I saw, he beamed. The impact of positive feedback is deeper than we realize.
Keep reading...
Show less