Siobhan Burke
Siobhan Burke is a dance critic for The New York Times and a contributing writer for Dance Magazine. She has written on dance and performance for Artforum, Art in America, The Brooklyn Rail, Open Space, The Performance Club, and The Village Voice, among other publications.
Originally from Northampton, MA, Siobhan grew up studying Irish dance in Hartford, CT, and Tralee, County Kerry, Ireland. She shifted her focus to contemporary dance as a student at Barnard College. Between 2005 and 2014, she performed with the North American touring company of Riverdance and with artists including Hadley Smith, RoseAnne Spradlin, Jillian Sweeney, Rebecca Warner, and Narcissister.
Siobhan has been an adjunct lecturer in Barnard's Department of Dance since 2013. She was a 2013 USC Annenberg/Getty Arts Journalism Fellow and is the recipient of a 2018 Creative Capital/Warhol Foundation Arts Writers Grant.
(Headshot by Maria Baranova.)
News
Aug. 03, 2019 01:10PM EST
Pam Tanowitz. Photo by Sara Kerens, Courtesy Tanowitz
In the annals of dance history, 2019 may go down as the year Pam Tanowitz got the attention she deserved. In the past six months the New York City–based artist, 49, has brought her imaginative formalism to the Martha Graham Dance Company, New York City Ballet, the Paul Taylor Dance Company and the Kennedy Center's Ballet Across America festival. The recent recipient of an Alpert Award in the Arts, Tanowitz is not slowing down, with new works on deck for Vail Dance Festival this month and The Royal Ballet's Merce Cunningham celebration in October.
Keep reading...
Show less
News
May. 16, 2019 06:22PM EST
Walsh's Moon Fate Sin at Danspace Project. Like Fame Notions, the title was derived from Yvonne Rainer's "No" manifesto. Photo by Ian Douglas, Courtesy Danspace Project
The Brooklyn-based choreographer Gillian Walsh is both obsessed with and deeply conflicted about dance. With her latest work, Fame Notions, May 17–19 at Performance Space New York, she seeks to understand what she calls the "fundamentally pessimistic or alienating pursuit" of being a dancer. Noting that the piece is "quiet and introverted," like much of her other work, she sees Fame Notions as one step in a larger project examining why dancers dance.
Keep reading...
Show less
Photo by Jayme Thornton
Okwui Okpokwasili seems to gravitate toward tests of endurance.
At the beginning of Adaku's Revolt, a recent collaboration with her husband Peter Born, four women (herself included) lie on their backs, spines arched deeply into a shape resembling yoga's fish pose. They remain there, heads inverted and forearms pressed into the ground, for 15 minutes as the audience files in.
At the opening of Bronx Gothic, her 2014 one-woman show, Okpokwasili plants herself in a corner and shudders for half an hour, sometimes more—and that's just a prelude to the hour-long performance.
Keep reading...
Show less
Her unexpected post-Batsheva path has led to both solo shows and film work. Photo by Jayme Thornton
Even when marking a move in rehearsal, Bobbi Jene Smith seems to dance with her whole being. "It comes from the pelvis," she says while directing a few of her fellow dancers in an undulating phrase. Her lower body spirals, pulling her torso behind it in one swift, visceral motion. "Always keep a bit of groove somewhere in your body," she says during another, more improvisational section.
Dance audiences might be most familiar with this side of Smith: the heart—and the guts—that she brings to her dancing. But in the four years since she returned to the U.S. from Tel Aviv, where she spent a decade performing with the Batsheva Dance Company, she has achieved a balancing act of creative roles: dancer, choreographer, teacher and budding actor.
The scene she's rehearsing is one of 10 she choreographed for Aviva, an independent feature film directed by Boaz Yakin, best known for his 2000 blockbuster Remember the Titans. She also plays a main character in the movement-driven story, as part of a cast of more than 30 dancers that she helped to select—including 20 of her students from Philadelphia's University of the Arts.
Keep reading...
Show less
Cloud in Beth Gill's Catacomb. Photo by Brian Rogers, Courtesy Gill
Some dancers move to New York City with their sights set on a dream job: that one choreographer or company they have to dance for. But when Maggie Cloud graduated from Florida State University in 2010, she envisioned herself on a less straightforward path.
"I always had in mind that I would be dancing for different people," she says. "I knew I had some kind of range that I wanted to tap into."

Keep reading...
Show less
Ballez class staples include no mirrors and barres arranged in a circle. Photo by Elyssa Goodman, Courtesy Pyle
A flock of polyamorous princes, a chorus of queer dying swans, a dominatrix witch: These are a few of the characters that populate the works of Katy Pyle, who, with her Brooklyn-based company Ballez, has been uprooting ballet's gender conventions since 2011.
Historically, ballet has not allowed for the expression of lesbian, transgender or gender-nonconforming identities. With Ballez, Pyle is reinventing the classical canon on more inclusive terms. Her work stems from a deep love of ballet and, at the same time, a frustration with its limits on acceptable body types and on the stories it traditionally tells.
Keep reading...
Show less
Will Rawls in The Planet-Eaters: Seconds. Photo by Darial Sneed, Courtesy Rawls
"Do away with it."
"Over it."
"How about just plain old 'artist' or 'choreographer'?"
These are a few of the comments that popped up when, on a recent morning, I posted a query on Facebook fielding thoughts about the term "emerging"—as in "emerging choreographer." I can't remember when I first sensed disgruntlement toward the E-word. But in speaking with dancers and choreographers over the years, I've noticed that more often than not it elicits an eye roll, head shake, groan, sigh or shrug of "whatever that means."
Keep reading...
Show less
Get Dance Magazine in your inbox
Christopher Jones, courtesy of Martha Graham Dance Company
Martha Graham said that it takes 10 years to become a Graham dancer. But two years into her job with the Martha Graham Dance Company, Leslie Andrea Williams is well on her way, as luminous in the classics as she is in the troupe's more contemporary repertory. Whether mastering the sculptural specificity of Graham's Diversion of Angels (she's the stately Woman in White) or relishing the droll humor of Annie-B Parson's I used to love you, she's a dancer who can do it all.
Keep reading...
Show less
Brad Harris, courtesy Big Dance Theater
What is "dance theater"? Is it Pina Bausch's raw examinations of everyday life? Is it performance that mixes movement and text? Is it dance that tells a story? Dance Magazine talked with four choreographers who use elements of dance and theater—but whose work escapes easy categorization—about playing with narrative, integrating movement and words, and what "dance theater" means to them.
Annie-B Parson
Dance theater, to me personally, means that there's no hierarchy of materials you can use to make a piece. Movement is not more important; text and narrative aren't more important. I feel this complete free range as I try to express something, to use a whole variety of theatrical elements, like relationship, cause and effect, clothes, dance, singing, talking, found text, plays, literature—this cornucopia of theatrical possibilities.
Keep reading...
Show less
Photo by Jim Lafferty
The term "backup dancer" might bring to mind the army of women on Beyoncé's Formation tour, or the men who didn't miss a beat during Mariah Carey's recent New Year's Eve performance, maintaining flawless unison as she dealt with technical difficulties. Choreography for concerts tends to be almost aggressively slick and synchronized, a sea of dancers serving to multiply the image of the star.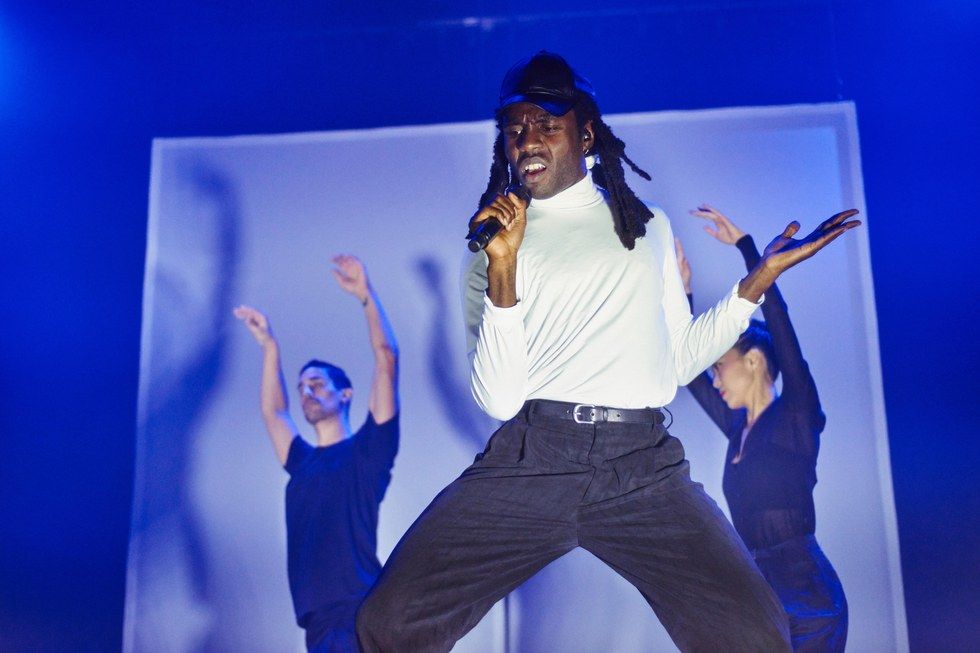 Jim Lafferty
But when it comes to making dance for the music industry's stages, the Japanese-born, Brooklyn-based choreographer Juri Onuki is in a league of her own. Last fall at Terminal 5 in New York, Onuki, 34, was one of three dancers accompanying Dev Hynes (also known as Blood Orange) during the tour of his new album Freetown Sound.
Keep reading...
Show less
With spidery limbs and a sprawling imagination, Brooklyn-based Raja Feather Kelly brings a vivid boundlessness to all he does. Whether dancing for the likes of Reggie Wilson or cooking up his own darkly entertaining dance-theater productions, he seems insatiably curious. Fascinated by pop culture and performance history, Kelly has been pursuing an unabashed obsession with Andy Warhol since 2009. His projects include a Warholian version of A Chorus Line and other works inspired by the artist's diaries.
Photo by Andy Toad, Courtesy Raja Feather Kelly
Companies: Artistic director of the feath3r theory and dancer with, most recently, Keely Garfield, Rebecca Lazier, Christopher Williams and Reggie Wilson
Age: 29
Hometown: Fort Hood, Texas
Training: Jazz, tap, modern, musical theater and competition dance at Long Branch High School, NJ; theater at the Governor's School of the Arts, NJ; BA in dance and English from Connecticut College
Accolades: 2016 Solange MacArthur Award for New Choreography; 2016 Gelsey Kirkland Academy Artist in Residence; two-time danceWEB scholar at ImPulsTanz
Falling for Fosse: Kelly traces his love for dance and theater to middle school, when he saw a performance by the high school dance club. "These students did Bob Fosse's Steam Heat, and I was like 'I'm supposed to do that.' As soon as I could, I signed up for anything with 'dance' in the title."
Breakout moment: Rehearsing for David Dorfman's Disavowal right after receiving his diploma in 2009. "I finished college and my career started two hours later," Kelly says. "I don't think I've stopped dancing or making since. To top it off, The New York Times called me the 'enthusiastic Raja Kelly,' and it felt like my 15 minutes."
What David Dorfman is saying: "There's no one I've met who moves like Raja," says Kelly's longtime mentor. "He has that long, lanky body, but plenty of people are tall and thin. It's the way he uses it. He works with an immediacy, a power and an element of surprise that's very exciting and human."
Warhol as muse: "I think Andy Warhol gets a bad rap as being superficial or vapid," Kelly says. "I feel the opposite, that his work speaks to something really humane and deep and sometimes dark." The latest installment of Kelly's Warhol Series, Andy Warhol's TROPICO—part performance, part graphic novel—comes to Danspace Project June 2–4.
Marketing magic: A web and media designer for his own company and others, Kelly approaches marketing as its own art. "I feel like a piece starts when you start talking about it. If that's not treated with the same integrity as the work itself, you could be selling yourself short."
Inside DM
Feb. 29, 2016 09:36PM EST
Jayme Thornton
On a Saturday in October, Omagbitse Omagbemi performed in Jon Kinzel's COWHAND CON MAN, for the eighth time in two weeks, at Gibney Dance in Lower Manhattan. Three days later and a few miles uptown, she was lighting up a new role in Ralph Lemon's Scaffold Room at The Kitchen. With cool delicacy in one work and searing drive in the other, she was at home in both, unequivocally herself even as she transformed.

While the freelancer's path is precarious, with unsteady work and unpredictable income, some dancers make it look easy. Omagbemi, Stuart Singer and Molly Lieber have that in common. In recent years, they've become three of the most in-demand performers in New York's experimental dance scene and beyond. Audiences relish watching them; choreographers seek them out. Strikingly individual and endlessly hard-working, they seem to bend the laws of space and time not only with their bodies but with their schedules, which accommodate many projects at once. Yet while they may be stellar multitaskers, they're above all dedicated artists. Dance Magazine asked them how they do it.
Molly Lieber
luciana achugar's The Pleasure Project. Photo by Alex Kangangi, courtesy achugar
"Strong" is an adjective that Lieber gets a lot, and for good reason: She dances like she can't be messed with. Insatiably curious about what the body can do—"It's kind of endless and awesome," she says—she welcomes the influx of new ideas that comes with a project-to-project career. "It's an amazing thing, bringing something new into the world, and I guess that's why I've gravitated away from repertory work. I love experimental dance because we're making it up as we go."
Growing up in Pittsburgh, Lieber attended the Creative and Performing Arts High School and Pittsburgh Ballet Theatre School, then headed to Connecticut College with multiple career paths in mind. After graduation, she worked as a special education teacher in New York, a hiatus from dance that made her want to dance more. Making connections through classes and the occasional audition, she began performing and being seen around town.
Neil Greenberg's This. Photo by Frank Mullaney, courtesy Greenberg.
While her strength gets noticed, so does her sensitivity to a range of aesthetics, whether dancing for other choreographers like Neil Greenberg, Melinda Ring and Donna Uchizono, or in the work that she makes collaboratively with her friend Eleanor Smith. Greenberg invited Lieber to work with him after seeing her perform with Anna Sperber and luciana achugar. "She was so committed to the moment," he says of her role in Sperber's austere duet, The Superseded Third. "Then I saw her again with luciana achugar"—in the much rowdier ritual-dance OTRO TEATRO—"and she was so completely in there, too, embodying in a very full way a very different kind of work."
Considering her workload, Lieber, 32, has stayed remarkably injury-free. That might have to do with her thorough warm-up regimen and her ongoing study of Klein Technique, which has helped her find range and stability in her legs and spine. She isn't immune to exhaustion, but, as she puts it, "I don't mind effort and endurance. Enjoying the process, the effort—that makes this life a lot more enjoyable."
Job advice: "If you're moving to the city, think of it as a continuation of whatever you've been studying. Things like seeing work and taking class are part of your profession."
See her dance with Maria Hassabi at the Museum of Modern Art, through March 20.
Stuart Singer
Gwen Welliver's What a Horse! Photo by Jinyoul Lim, courtesy Singer.
Singer vividly remembers his first "dream job": to join the Paul Taylor Dance Company. As a student at New York State Summer School of the Arts, he was introduced to Taylor's buoyant, athletic technique. Having grown up as a "nerdy and overweight kid," he says, it was a revelation. "That large-scale moving felt deeply empowering and expressive in a way I'd never experienced."
Singer never pursued that dream, but he did spend four years with the Bill T. Jones/Arnie Zane Dance Company, leaving SUNY Purchase after his sophomore year to dance full-time. While he grew exponentially as an artist, he also got restless. "I wanted a range of experiences," he says. "I think I perceived on some level that this long-term commitment to one choreographer wasn't how I wanted to build my career."
John Jasperse's Within between. Photo by Ian Douglas, courtesy Jasperse.
Since leaving the company in 2008, Singer, 30, has definitely broadened his range, dancing with Wally Cardona, Beth Gill, John Jasperse, Joanna Kotze, Pam Tanowitz and Gwen Welliver, and in the epic five-hour opera Einstein on the Beach. Amid more creative concerns, he doesn't underestimate the importance of a detailed calendar. "One of the biggest skills that gets called upon in this work is communication about schedule. I know it's so dry and so boring, but it's a huge part of my life."
While Singer can be pragmatic, he can also be wild, a quality he tapped into for his role in Jasperse's Within between, which earned him a 2014 Bessie for outstanding performer. Jasperse appreciates his fearlessness: "Not so much a physical fearlessness," he says, "but a willingness to look awkward, to go into a space of potential discomfort with excitement about the unknown."
Job advice: "Networking has this slimy reputation, but to me it's just finding like-minded people. Reach out to people you want to work for, and tell them you want to work for them. The worst that happens is you're exactly where you were when you started."
See him dance in a play by Andrew Ondrejcak, with choreography by John Jasperse, March 10–19 at The Kitchen, and with Beth Gill, May 18–28 at the Chocolate Factory.
Omagbitse Omagbemi
With Simon Courchel in Jon Kinzel's COWHAND COW MAN. Photo by Scott Shaw, courtesy Kinzel.
Of all she's learned throughout her career, one epiphany stands out to Omagbemi: "It's okay to be ugly." That came to her while rehearsing with Wally Cardona for his 2009 Really Real. "He said, 'You're a beautiful dancer. Now show me something else,' " she recalls. "It shifted everything: how I see myself, how I see dance and choose to be in it."
Maybe that explains the depth and nuance of her dancing, which has caught the attention of everyone from Vicky Shick, whose ornate works she's graced since 2011, to the creative team of Sleep No More, the popular immersive theater show in which she played Lady Macbeth. "There's an inherent drama in whatever she does, but it's not overdone," says Shick. "She has this pared-down elegance and this natural, unforced flamboyance."
Omagbemi, 42, grew up in Silver Spring, Maryland, and began dancing relatively late, at 16. After dabbling in fashion merchandising at Radford University, she majored in dance at Montclair State University and moved to New York. (Known among friends as a "fashion icon," she's still serious about clothes.) She says that while she's always thought about joining a company full-time ("it seems simpler"), she feels inspired by everyone she's worked with, an illustrious group that's only grown since 2012, when she won a Bessie for sustained achievement in the work of Keely Garfield, David Gordon, Ralph Lemon, Urban Bush Women and others.
Keely Garfield's Twin Pines. Photo by Julieta Cervantes, courtesy Garfield.
Nursing some aches and pains last fall, Omagbemi was considering a vacation—and potentially bigger changes: "Sometimes you have to reassess. How long can I actually do this?" Europe has been on her mind; she recently auditioned for Cullberg Ballet in Sweden. But for now she's staying stateside, in a community she's glad to be part of. "As crazy and competitive as New York is," she says, "people are really supportive."
Job advice: "It's not easy, but you've got to talk about money. When I start a new project, I try to ask right at the beginning about compensation. If someone can't pay, that's okay, but they need to tell me so it can be my decision."
See her dance with Vicky Shick, April 14–16 at Danspace Project, and Heather Kravas, April 27–30 at the Chocolate Factory.
Tricks of the Trade
Lieber, Omagbemi and Singer discuss three pillars of freelance life.
On side jobs
Singer: I always tell my students: Get a skill you can get paid for, some way to make money outside your dancing that doesn't make you insane. For me, when I started freelancing, it was part-time bookkeeping. Now I teach dance at Princeton and still do a bit of bookkeeping. Having other work gives me more freedom to be selective about the projects I take on.
On getting work
Omagbemi: I've been lucky in that people have seen me perform and asked me to work with them. I approach people, too, because for some reason they might think you're not interested. I still audition. I hate doing it, but that's how I got Sleep No More. It helps if you have friends in the company. Honestly, I can't say I've gotten a job from an audition where the people didn't know me.
On self-care
Lieber: It can be expensive, but I try to get body work every two or three weeks, mostly Zero Balancing with Barbara Mahler, and occasionally a massage. I should get acupuncture, but I'm scared of needles.
Dec. 29, 2015 02:50AM EST
Young (center) with some of her collaborators. Photo by Michael Guerrero, courtesy NYLA.
The controversial artist shares the stage with a pig in Elektra.
The performance artist Ann Liv Young is most notorious as her alter ego Sherry, a platinum-blonde provocateur who lashes out at audiences and gives free therapy (Sherapy) in her roving Sherry Truck. But she can do other characters, too, as her dark, deranged takes on Snow White, Cinderella and Sleeping Beauty have shown. Turning to Greek mythology with her latest works—Elektra and its more portable companion piece, Elektra Cabaret—she offers a sympathetic portrait of the princess who plots with her brother to kill their mother for killing their father. This Elektra even has a pet: a live pig in the role of the Chorus. Both versions come to New York Live Arts, January 20–23 and 26–30, and both boast more dancing than much of Young's recent work.
Why Elektra?
One of our producers actually suggested it. I read as many versions as I could find, and loved the story. I can relate to Elektra's character, and I think a lot of people can, this woman who has dedicated her life to avenging her father's death. I'm interested in that intense will, to be so devoted that nothing can deter you from your goal.
Keep reading...
Show less
Dec. 17, 2015 03:15PM EST
Advice from Clarice Marshall, the injury-prevention guru New York's top dancers swear by.
Marshall suggests translating somatics to dance: Here, Ailey II apprentice Djouliet Amara moves through a phrase. Photo by Nathan Sayers.
When American Ballet Theatre principal Gillian Murphy was looking for a new trainer eight years ago, she called the person every dancer seemed to be talking about: Clarice Marshall. Murphy was in search of a gentle but rigorous cross-training regimen, and found just that. "Clarice has an eagle-eye for spotting areas in my body that are compensating or firing unevenly," she says. When Murphy strained an inner thigh muscle, for example, Marshall helped her find "a lengthened sense of alignment" rather than giving in to her body's immediate, muscle-gripping response.
A former member of the Mark Morris Dance Group, Marshall is the injury-prevention guru who keeps some of New York City's finest dancers on the move. In addition to running her own practice, she teaches Pilates to ABT's apprentices, Studio Company members and Jacqueline Kennedy Onassis School students. She's been introducing New York City Ballet dancers to the GYROTONIC® equipment in their new gym, and teaches a company class combining Pilates and ballet at Mark Morris. Whether recovering from injury or working to maintain healthy alignment, her clients swear by her precise, sensitive approach to body conditioning.
Marshall's interest in what she calls "helping dancers back into dancing" stems from her own experience. At 27, having danced with David Gordon, Rosalind Newman and other choreographers, she sustained a severe knee injury caused by poor alignment and overuse. Dance medicine wasn't what it is today, and her 18-month rehabilitation was largely self-guided. Through a combination of physical therapy, Pilates and Alexander Technique—a method of improving ease and efficiency of movement—she pieced together the puzzle of returning to class. She joined Mark Morris Dance Group at 36 and performed into her 40s.
In order to meet the needs of increasingly versatile dancers, Marshall became certified in GYROTONIC®, which explores larger ranges of movement against the resistance of specialized equipment. She also became interested in choral master Carl Stough's method of breathing coordination, investigating its application to movement. 
Her own recovery taught her a few lasting lessons. "Too often and increasingly, our lives are rushed and we try to fast-track our bodies," Marshall says. "I try to provide dancers with a place that is safe for them to explore and develop in a way that puts them in charge of a process of discovery."
Marshall treats all dancers individually, working closely with physical therapists to understand each body's unique strengths and limitations. Asked how she addresses common habits such as forced turnout, she replies, "That depends on the person in front of me." Still, no matter the issue at hand, there are certain ideas she stands by.
Translate Exercise To Dance
Improving alignment during a Pilates session is one thing. Applying that new awareness while, say, learning a knotty Wayne McGregor ballet is another. "It's important to take the kind of work that I do and translate it into class, into dancing, into performing," Marshall says. "At almost every session, I try to finish by standing up and doing some dance-related movement or something on the equipment that has a more direct application to dance."
Keep Thoughts Simple
When a dancer is injured or in discomfort, Marshall says, "they can spiral into really complicated thinking." She tries to send them back to class with simple, straightforward, positive thoughts, without room for self-doubt. Those thoughts might take the form of a movement-focused mantra: "Say that someone thinks about going up so much that they're no longer feeling the floor. You want to keep that opposition equal. So I might tell them to keep telling themselves: 'Feel the floor, lengthen into the ground.' "
Find Fluidity
A common tendency is to lock the core or turnout into place—"like trying to put something in landing gear"—when more fluidity should be allowed. "The core is a dynamic muscle group that is connected to the movement of breathing," Marshall says, "not a girdle of muscles that can be held in place all day." Engaging too rigidly not only inhibits freedom of movement but can also lead to injury. Simple thoughts are useful here, too. "I might coach somebody into thinking about their torso in ballet class by saying to themselves, 'Lengthen and breathe and move'—to keep words like that going. The same with rotation: 'Spiral and open and move.' "  
Challenge Your Inner Core
"In general, the things that really challenge your core muscles are more subtle than most people think," Marshall says. "They're not heavy-duty ab-crunching series." She likens the core to a group of people collaborating on a project: Some people want to do everything, and others will let them. "Your external muscles can start to work hard to the point where your core muscles"—the diaphragm, pelvic floor, transversus abdominis and multifidus, all deep under the surface—"decide to take a backseat." The real core challengers, in her view, "are simple movements that require a refined sense of stability in the torso." For instance: a knee-fold while lying on your back, in neutral alignment, maintaining torso stability while breathing. Or a simple half sit-up or head-lift, maintaining pelvic stability while breathing.  
Give It Time
For dancers in their teens, the body's constant change calls for patience and attentiveness. "As a person grows, their core muscles are also growing and forming," Marshall says. "Teenage dancers are often given abdominal exercises that are overly challenging given that their core muscles are not fully developed." Another challenge: growth spurts. "At times the bones can outgrow the muscles, which have to catch up. This can lead to issues of tightness around joints that can lead to injuries." Young dancers can be skeptical of slow, subtle strengthening—another thing Marshall knows from experience. "When I was exposed to Pilates at 18, I thought it was stupid," she admits. "I wanted to dance. I didn't want somebody to tell me to lie down on the floor and feel something." Today she sometimes sees that restlessness in her students, but they grow out of it, too. "I'll run into somebody I taught when they were a teenager, and now they're dancing in a company, and they say, 'I had no idea what I was being exposed to, and now I know.' " 
Siobhan Burke writes on dance for The New York Times.
DIY Conditioning
There's no substitute for working in person with a body-conditioning expert, but if cost or travel time gets in the way of weekly sessions, try once a month, which has its own benefits. "Having to absorb and practice on your own can help to make you a more independent student," Clarice Marshall says. To supplement that training at home, here are two resources she recommends:
Pilates Anytime: Subscribe to pilatesanytime.com for access to hundreds of online tutorials with trusted instructors, plus a guide to Pilates history.
Alexander on DVD: The renowned Alexander teacher Jane Kosminsky introduces the foundations of Alexander Technique in a series of DVDs available through balanceofwellbeing.com. —SB
Jun. 01, 2015 02:37PM EST
A former Cunningham dancer, Toogood now juggles so many projects she has "often ended up at the wrong rehearsal space." Photos by Jim Lafferty.
As a former member of the Merce Cunningham Dance Company, Melissa Toogood knows about extremes. In the past few years, since the troupe's closure, she's taken the Cunningham ethos of attempting the impossible into her daily life as a freelancer. With her sparkling clarity and composure, she's one of the most captivating modern dancers in New York City—and one of the busiest.  
This spring, Toogood performed in full-fledged shows by Pam Tanowitz, David Parker, Sally Silvers, Rashaun Mitchell, Stephen Petronio, Kimberly Bartosik and Dylan Crossman, while teaching at Barnard College and squeezing in a trip to Paris for a film project with fellow Cunningham alumni. Dance Magazine caught up with her one Friday, which could hardly be called average. As Toogood says, "Every day is different."
Ready to go
Staying healthy is Toogood's top priority, so she starts her day with a homemade blend of fruits and veggies. "I began doing that last fall because so many people in New York were getting sick," she says. "I don't have time to take a day off, so I started using hand sanitizer religiously and making a green shake every morning with lots of dark greens, ginger, lemon, chia seeds, beets, nuts, whatever I can put in there to boost my immune system and energy. So far it's working!"
Morning is also a time for calm multitasking: "Often my feet are swollen and tight when I wake up, so I'll stand on my calf stretcher while having coffee and thinking about the day ahead—making sure that I'm going to the right places and have all the right things. I've often ended up at the wrong rehearsal space."
Morning commute
When their schedules allow, Toogood and her husband, Kenneth E. Parris III, try to leave their apartment in Brooklyn at the same time and travel together into Manhattan. Parris works as a visual artist and creative director, and their off-hours don't always align. "This way we can actually spend 30 minutes together on the subway," Toogood says.
10–11:30 am
Body conditioning with Clarice Marshall
If there's any constant in Toogood's schedule, it's her weekly visit to Clarice Marshall, a Pilates and body-conditioning guru who treats some of New York City's most illustrious freelance dancers. "She's amazing. I've been working with her for about eight years," Toogood says. "When she's out of town, we all freak out." Their sessions, at Marshall's midtown studio, change based on Toogood's needs, which include reining in hypermobility and improving proprioception. "Often it's just rehab and getting myself back to a neutral place, but when I'm not as tired, we push more."
Class at City Center
During her five years with the Cunningham company, Toogood took daily classes in Cunningham technique, which remains the most centering practice for her body and mind, she says. She tries to take class at New York City Center, home of the Merce Cunningham Trust, two or three times per week. While rehearsal is a place to explore and try new things, class offers a stabilizing—though still challenging—kind of familiarity.
"It's like meditation," Toogood says. "I'm in my own head and focused on me, rather than problem-solving with other people. When you're making new steps, you're not always so internally focused. Class is where I take care of myself."
2–5 pm
Rest and review
After class, Toogood cools down with stretching and a quick restorative nap. In a brief respite before evening rehearsal with Pam Tanowitz, also at City Center, she answers e-mails on her iPad and studies sections of Tanowitz's choreography on video. Her colleague Dylan Crossman, also a former Cunningham dancer, joins her to review their parts in Actual Size, an intricate work by Sally Silvers that they'll be reviving the following week at the 92nd Street Y. Toogood will be out of town until then, at an upstate residency with Stephen Petronio, so every free minute counts.
Extended downtime—anything longer than a midday break—is hard to come by for Toogood. But when she has it, she gravitates to the outdoors. "I'm definitely an Aussie girl," she says. (She grew up in Sydney, Australia, and attended New World School of the Arts in Miami.) "I love the water, the beach." For nature close to home, she and Parris take their folding bikes to Prospect Park, a short ride from their apartment.
5–8 pm
Rehearsal with Pam Tanowitz
Toogood thrives on the challenges of developing and performing new material. Her rehearsals with Tanowitz, generally in the evenings, are sometimes her second or third of the day. "I get tired, but once I'm in the work, it rejuvenates me, and I get really excited about it," she says. "I wouldn't want to do anything else."
Siobhan Burke writes on dance for The New York Times.
Mar. 01, 2015 04:40PM EST
For many years, the Chinese-born American artist Shen Wei has lived parallel lives—as a choreographer and as a painter. Though the two have intersected in his own visual design for his sweeping dance works, they've never been so fully, simultaneously on display as they were in December, when he premiered Shen Wei — In Black, White and Gray at Miami Dade College's Museum of Art + Design during Art Basel Miami Beach. The exhibition paired 11 of his vast canvases with a 12th, less stationary work: a dance for 12 members of his New York City–based company, Shen Wei Dance Arts. Choreographed for a mobile audience that followed the dancers through the galleries, the piece is now being reconfigured for more traditional stages at this summer's Spoleto Festival USA and American Dance Festival.

Kate Jewett
You've been painting since you were a child, but the Miami show was your first large-scale museum exhibition. Why now?
Being a painter feels so personal. It's like opening up your journal to the audience. Some painters want to be in the business sooner, have their name out there, but I don't rely on painting as a business. I think it takes a long time to find something you really want to share—something original, my own language. So I've always pulled back. But this felt like the right time with the right space and the right curator. Also, my dance company is a bit more stable now, so I am more able to focus on my painting. Everything fell into place.
Why are your paintings more private for you than your choreography?
It's such a different approach as an artist. I paint by myself. I lock myself in the room for a long time. It's really intimate. I dig deep into a lot of things. With making dance, there are so many dancers—you share everything with somebody else. You transmit the movement to other bodies, and the movement changes. It's much more about communication. By the end, when you see it onstage, your own thinking has gone through so many people.
The dancers perform movement inspired by the paintings.
What were you exploring with this series of paintings?
Artistically, it's almost the same thing I do making dance. It's about space, timing, textures, quality. It's about structures and rhythms. It's about the flow of movement, how I can feel the energy of movement. The main difference is that with dance, it's human energy. But onstage or on the canvas, I also have to think about a balance of composition.
How does movement come into your painting process?
My canvases are really big—the largest are almost 30 feet. When you make a big stroke, you need a big movement to physically make it happen. It's easier for a dancer to control the flow of energy. That's a benefit I think I have as a dancer and choreographer.
Do you begin with any particular concept or vision?
Usually I have to go into a zone, a kind of mental state. Physically and mentally I have to be really comfortable, with no noise. I have to go to a spiritual world, a meditation world. I lock my studio and don't start immediately. Normally it takes a few hours at least to become so controlled, so sensitive, so aware of what I'm doing, but at the same time so free to do anything I want. That determines what the quality and texture and flow are going to be during the moment of painting.
Shen Wei
What inspired the dance that accompanied these paintings?
It's super-different from my dance productions in the past. Usually when I do a piece, it's about something, but this is much more personal. I asked the dancers to go into a contemplative space—that zone I go into when I'm painting. It's like the painting has come alive, into three dimensions. Mentally, it's such a difficult piece for them to perform.
What qualities do you look for in a dancer?
I look for three things. Good technique—you have to have flexibility and understand your own body, and you have to be strong. And then artistically, you have to allow yourself to be open to new things. Lastly, working with a company, you have to be a generally nice, humble person. Of course, we all think about ourselves. But once you join a team, then it's not just you.
All photos by Moris Moreno
Dec. 01, 2014 08:03AM EST
What's behind the growing scientific curiosity among choreographers?
Rehearsals for Gilles Jobin's Quantum, created at CERN (3). Photos by Grégory Batardon, Courtesy Jobin.
A bespectacled man draws a line in mid-air, as if extending a string from his chest. He retracts his hands, cupping them in front of his sternum, and flutters his fingers. With the flourish of one palm, he circumscribes an invisible sphere: elegant, swift, precise. You might almost mistake him for a dancer.
In fact, he's a physicist, one of several featured in Three Views of the Higgs and Dance, a short film created by Emily Coates and Sarah Demers at CERN, the world's largest particle laboratory, near Geneva, Switzerland. As colleagues at Yale University, Coates, the director of the dance studies program, and Demers, a professor of physics, have teamed up in recent years to examine dance through the lens of physics and vice versa. The body language of researchers describing the Higgs boson—the elusive subatomic particle discovered at CERN in 2012—caught Coates' choreographic eye.
"It's like finding a trove of new sea life or something," she says, laughing. "The repertoire of gestures is innovative, continually changing and, to my mind, doing a lot of work in terms of how discoveries in that field get pushed forward."
The collaboration between Coates and Demers, who have also developed a cross-disciplinary course at Yale called The Physics of Dance, is just one example of dance-science projects that seem to be proliferating lately, from Gilles Jobin's 2013 Quantum, also created at CERN, to Jody Oberfelder's participatory study of the human heart, 4Chambers, staged at a former hospital in Brooklyn earlier this year. In the past five years, artists from Jonah Bokaer to Miguel Gutierrez to Wayne McGregor have peered into the science of the brain, exploring memory and perception in relation to movement. Last fall in London, McGregor gathered more than a decade's worth of his science-inspired research into a gallery exhibition, Thinking with the Body. That title might resonate with Jennifer Monson, another choreographer whose work has long bridged science and dance. And don't forget Karole Armitage, who tackled relativity, string theory and quantum mechanics in her 2010 Three Theories and whose next production, premiering at the Museum of Natural History this spring, addresses global warming.
The heart, the mind, the planet, the universe; realms both too small and too large to imagine: It's no wonder choreographers are drawn from the studio to subjects more often examined in the lab. If a dancemaker's most basic materials are the body, space and time, science offers ways of newly understanding and shaping all three.
Gilles Jobin, who is based in Switzerland, notes that while he has observed a growing scientific curiosity among choreographers, it's not a passing craze. "I think it's more than a trend," he says. "Our world is increasingly fragmented, and we have a different mental picture of how things are organized around us." As technology and science grow more entwined with our daily lives, art reflects that. And scientists need artists, too. As Jobin says, "We can teach them different ways of thinking. Artists tend to go around problems in very original ways."
Of course, "dance" and "science" are massive fields that could interact in as many ways as there are species of sea life. As one of the first participants in Collide@CERN, a residency program founded in 2011 to support artist-scientist exchanges, Jobin turned to science for structure, using principles of particle physics to devise movement.
"I wanted to find systems where the dancers could generate their own choreography in a very precise way—like rules of a game," he says. "Particle physics is a lot about interactions and collisions, and I thought that inside those I could find some system to apply to our scale." That approach didn't quite pan out. "The problem with particle physics is you're talking about the smallest of the small," he adds, "and the rules that apply on that scale have nothing to do with the rules we apply on our scale." But his conversations with physicists unveiled other ideas—about gravity and electromagnetism, for instance—that gave rise to choreographic devices. He stresses that Quantum, for six dancers, is not about physics. ("You're not going to learn anything about particle physics by looking at it.") Science is a means to the end of dance.
For others, like Jennifer Monson, the opposite is true: Dance is, among many things, a prism through which to appreciate the natural world. In BIRD BRAIN, developed with environmental scientists between 2000 and 2006, Monson followed the migratory routes of birds and gray whales across large stretches of space and time. BIRD BRAIN: Ducks and Geese Migration, for example, took her from Texas to Minnesota over 10 weeks, with around 30 site-specific, outdoor performances along the way. That investigation continues to inform her current project, Live Dancing Archive.
"I found that dance itself is a research tool for understanding the relationships in ecosystems," says Monson, who was interested in biology from a young age. "When I'm dancing in a landscape, I sense that my body is able to generate knowledge about time and scale and space on multiple levels; it has this knowledge about geologic time, plant time, animal time and the relationship between those. It's a kind of embodied knowledge that's different from just collecting data and analyzing it."
Right: Jennifer Monson's BIRD BRAIN: Ducks and Geese Migration performance in Minneapolis. Photo by Cameron Wittig, Courtesy Walker Art Center.
For the audience, too, BIRD BRAIN wasn't so much about dance itself. "I was really thinking of the dancing as a vehicle to experience the environment," Monson says.
Other artists choose to zoom in on the science of the human body. In 4Chambers, Jody Oberfelder used interactive movement, installation and video to heighten participants' awareness of their own beating hearts. That inspired her next project, still in progress, about the brain. "I'm thinking of it as a choreographed experience for people to learn more about how their mind makes connections," she says, "how the society of your brain interacts with the society of the world."
Behind every dance-science collaboration is the potential for creative breakthroughs, the kind that can only come from a fresh perspective on one's own field. In 2004, Monson established iLAND (the Interdisciplinary Laboratory for Art, Nature and Dance) to encourage what she calls "hybrid processes" between life scientists and movement artists. All are encouraged to delve into the others' methods and practices: Choreographers dissect fish; botanists dance. "We talk a lot about how exciting it is to be a beginner at one thing when you're an expert at something else," Monson says.
At Yale, Coates and Demers similarly keep disciplines in flux. Their Physics of Dance course—and the forthcoming textbook they're co-authoring based on their curriculum—involves as much movement as math, both in and out of the classroom. One unit, for instance, "looks at angular momentum and torque in relation to the ways in which Balanchine, as if he were a physicist, really brilliantly altered the pirouette," Coates says.
Above: Emily Coates and Sarah Demers lead a workshop: "Discovering the Higgs through Physics and Dance." Photo by Mike Marsland, Courtesy Coates.
"When we started planning the course," says Demers, "one of our basic principles was to place physics and dance on equal footing, meaning we wouldn't use dance to teach physics exclusively or vice versa. We were interested in diving into both disciplines with real integrity.
"That said," she adds, "I haven't found a better way to teach concepts like Newton's Third Law, the idea that anytime two things are in contact, they give each other equal and opposite force. It's a very tricky, counterintuitive thing, and this class was the first time I felt like it really clicked. It was obvious that working through these ideas with your body was incredibly powerful in getting an intuition for the science."
Siobhan Burke is a dance critic for The New York Times.
Oct. 01, 2014 10:37PM EST
When Marilyn Maywald dances, it's hard to imagine her doing anything else. Whether tracing fine lines in space, as she does in the work of Beth Gill, or ambling through Vicky Shick's whimsical worlds, she gives her whole self over to the present moment. Her steady focus seems to reach so deeply inward that it doubles back on itself: radiating outward, drawing the audience in.

She brings that kind of attention to her life offstage, too. Like many independent dancers in New York City, Maywald splits her time between creative pursuits and work that more reliably pays the bills. A typical week finds her shuttling between sessions with Pilates clients and rehearsals with contemporary choreographers like Gill, Shick, Melinda Ring and Melanie Maar. Since moving to New York City in 2007, equipped with a BFA from Arizona State University, she has embraced the unpredictability of freelancing, finding ways to create structure while welcoming constant change.
For freelance dancers, scheduling can be like a part-time job in itself. Maywald, 32, has carved out specific days and times to teach Pilates—Monday and Wednesday afternoons and evenings, and all day Sunday. It's smart financially; though she earns some money through dancing, teaching is her primary source of income. Her classes at Finetune Pilates Studio in Brooklyn are all one-on-one, combining mat and apparatus work. The studio director is a former dancer who understands when Maywald needs to take time off for performances or touring. "That's made teaching at that studio really sustainable," says Maywald.
At her busiest, Maywald might dance for eight hours a day: one rehearsal in the morning, another in the afternoon, with a subway ride (lunch break) in between. She prefers to be actively rehearsing for no more than two projects at a time. Anything beyond that, she says, and she can't commit to each as fully as she would like. When her schedule allows, she takes class, mostly Janet Panetta's Ballet for Contemporary Dancers and somatic practices like Klein Technique and Feldenkrais. To keep her own teaching methods fresh, she also takes Pilates once a week. She does her best to make Saturday a dance-free, work-free day.
Between projects, Maywald seeks out more in-depth training opportunities, which can lead to new professional connections. It was during a weeklong Trisha Brown repertory workshop that she first met Shick, the former Brown dancer who was teaching the course—and who soon invited Maywald to dance for her. She's landed other jobs through auditions and the recommendations of friends.
Maywald aspires to burrow into the mind of each artist she works with, "to decode the mystery of what the choreographer wants," she says. "Somehow I cultivated this idea that I should be able to totally shape-shift." Bouncing between different aesthetics is a challenge that excites her. As she puts it, "I love learning from the particularities of each person."
Her own artistry, as she sees it, lies in this process of adapting to different choreographic methods. She delights in the idiosyncrasies of each approach: the precision of Beth Gill's dances versus the freewheeling improvisation that underlies Melanie Maar's; the singular spirit of hard but lighthearted work that Vicky Shick conjures in the studio. But even as she morphs from one project to the next, she does so in a way that's distinctively hers. "She can come across as really fearless and open, and she has the capacity to be incredibly present," says Gill. "She's found a way to really channel an experience of herself into her dancing."
Over the past eight months, Maywald has been going through a different kind of transformation: She's expecting a baby, due in November. How will it affect her dance life? "Maybe I won't be able to do as much in one season, but I want to keep developing as an artist," she says. "I'll have to wait and see."
Aug. 01, 2014 06:55PM EST
With her wacky charm, Celia Rowlson-Hall has become the dance darling of fashion and film. 
Photo by Jayme Thornton (2)
When Celia Rowlson-Hall found out she would be choreographing for HBO's "Girls," she felt like she was in the right place. Woven into the drama of last season's "Beach House" episode, her coy, catchy moves had the actors chugging, grapevining and otherwise grooving around kitchen counters and living room furniture. For those 45 seconds, their characters—four feuding friends—managed to get along.
"The job was serendipitous in terms of the style," says Rowlson-Hall. "I mean, making up a dance in the living room is really all I like to do anyway."
She's joking, but not entirely. Much of what this Brooklyn-based choreographer, filmmaker and performer makes has the impromptu, wacky charm of the stuff you do at home when no one's watching. And her passion for telling stories through film and movement is no less zealous than that of a kid staging a backyard musical. But her work is also remarkably sophisticated, in all of its onscreen forms: her own surreal, wordless short films; choreography for music videos and commercials; off-the-cuff dances on Instagram; and, coming soon, her first feature-length film, MA, a silent movie about a virgin mother's pilgrimage across the American  Southwest. (More on that later.) At a time when many people would sooner spend $300 on an iPad than on tickets to the ballet, she's telling smart, whimsical stories that dance across our devices.
Rowlson-Hall, 30, started out in contemporary dance, but the "highs and heartbreaks" of live performance, she says, became too taxing: all that work and emotional investment for just a few fleeting shows. "Maybe I'm too sentimental," she says, "but I needed something to hold on to."
Her path isn't easy to trace. Slipping between high-profile gigs and DIY adventures, Rowlson-Hall is something of a chameleon. Her clients range from independent designers to big-name brands (Kate Spade, Lee Jeans), from cult electronic artists to popular Indie bands (MGMT, Sleigh Bells). When "Girls" writer and star Lena Dunham appeared on the cover of Vogue, Rowlson-Hall choreographed the cheeky companion video. She seems to be that magazine's go-to dance consultant, having also directed a Vogue video of the Memphis jookin' virtuoso Lil Buck.
Her own films, in which she often stars—all spindly, elegant limbs and wild blue eyes—lure the viewer into strange, hyper-saturated worlds unto themselves, where movement does the talking in both loud and subtle ways. They can be disturbing or disarming, garish or achingly poignant. A few of her shorts have earned the exclusive "Staff Pick" stamp at Vimeo, and two of those made it to South by Southwest last year: her haunting si nos dejan and hilarious The Audition, an absurdist one-take perhaps inspired by her own auditioning past.
It's hard to imagine anyone seeing "zero professional promise" in Rowlson-Hall. But such was the assessment, as she remembers it, from her professors at the University of North Carolina School of the Arts, where she spent her college years. (She grew up in the tiny town of Urbanna, Virginia.) While most dance majors auditioned for the work of guest artists and spent their afternoons in rehearsal, Rowlson-Hall, not the most conventionally technical dancer—as she puts it, "I move a little weird"—never made the cut.
"I could have been done with classes by 3 pm and messed around the rest of the day," she recalls. "But that's when I started to really choreograph. I made my own work."
Upon graduating in 2006, Rowlson-Hall plunged into New York City life, exploring every creative outlet in sight. The so-called awkwardness that had hindered her in college endeared her to a couple of audacious choreographers: Faye Driscoll and Monica Bill Barnes. "She had this gangliness," Driscoll says, "but it became for me the thing that was so beautiful about her." Driscoll also admired her up-for-anything attitude, "this willingness to try, to just go for things, whether or not they ended up being a horrible idea. She's really just an idea machine." Barnes, who mentored Rowlson-Hall through Lincoln Center's Kenan Fellowship, an opportunity for emerging artists from UNCSA, describes her as "an incredibly genuine performer, with these bold instincts and a sense of how to carry them out."
Rowlson-Hall danced with Driscoll and Barnes for several years, even winning a Bessie Award as a performer in Driscoll's 837 Venice Blvd. But her interests had always varied, darting between dance, photography and fashion. Through a growing network of artist friends willing to teach her new skills—and through modeling jobs that connected her with commercial casting directors—she discovered that her passions could converge in a single, less ephemeral medium: film. The first time she walked onto a music video set, she says, "it felt like home."
"I think filmmaking in itself is a bit of a dance," she says, "whether it's how the camera is moving or how you're editing; it all has momentum and lyricism and tempo."
Her versatility—her fluency in choreographing both for and with the camera—makes her a sought-after collaborator. As "Girls" director Jesse Peretz puts it, "I could tell I was working with someone who had not only a choreographer's brain but also a director's brain." Other colleagues, like the clothing designer Rachel Antonoff, for whom Rowlson-Hall directed a fanciful five-minute promo, note her almost telepathic intuition. "She has this ability to extract what's in your head," Antonoff says, "to take something you weren't able to totally verbalize and not only verbalize it perfectly, but make it better than you ever thought it could be."
Rowlson-Hall also has an uncanny way of rallying people behind her ideas—no matter how out-there they may seem. Last year she raised $50,000 on Kickstarter to fund MA, her most ambitious project yet, in which she'll play the title role: "a virgin mother on a pilgrimage to Las Vegas to give birth to our savior." (She's on location in Arizona and Nevada this month.) The choreographer Sydney Skybetter was among her backers. "At a time when Kickstarter had gotten so obnoxious and noisy, she commanded it for something meaningful and highly personal and utterly nonsensical," he says. "I honestly don't understand what she's doing, and it's great."
Rowlson-Hall admits that she doesn't completely understand either. But she loves the journey of finding out, and she knows what fascinates her: the untold stories of women—"the mother of the hero," she says—and myths of all kinds, including biblical ones. (Raised  in a Christian Scientist family, she has since settled into a broader kind of spirituality.) In MA, those fascinations collide with the help of a sprawling creative team. Her cast features the dancers Jason Kittelberger (formerly of Cedar Lake) and Bobbi Jene Smith (formerly of Batsheva).
As untamed as her work can be—see the punch-bowl scene in Prom Night or the confectionary ghost in Piñata—Rowlson-Hall loves to tunnel into a simple idea. At a residency last May, she spent days refining how Ma will walk: How does she carry herself? Where is her focus? Outside the studio, she keeps her eyes peeled for naturally occurring choreography. On a recent trip to India, from the 30th floor of a hotel, she spotted four boys frolicking on the street below. "I swear, it was more beautiful than a Cunningham piece," she says. From that image, a section of MA was born.
As a performer in her own work, Rowlson-Hall likes to capture herself in a single take. It's like being onstage: no second chances. "I do miss performing live," she says, "so in my filmmaking, I try to bring a sense of that aliveness—try to get the best of both worlds."
Siobhan Burke, a former Dance Magazine editor, is a dance critic for The New York Times.
Four photos from top: Making a video with Hamish Bowles, international editor at large of Vogue; Rowlson-Hall's choreography for "Girls"; performing in her short films All the World's a Stage and Mariah's Lollipop. All photos courtesy Rowlson-Hall, except "Girls" by Mark Schafer/HBO, Courtesy HBO.
Jul. 01, 2014 08:22PM EST
What do choreographers see in their dancers' physiques?
Ballet BC dancer Darren Devaney. Photo by Michael Slobodian, Courtesy Ballet BC.
Inspiration can come from anywhere, but for choreographers, the body itself is a rich source. Some dancemakers may be drawn to specific physical traits: lanky limbs, an articulate spine, a muscular build. But those features can't move on their own. There's always a heart, a mind, a spirit, a psyche—some form of inner life propelling what we see externally, animating what the body can do. Dance Magazine asked four choreographers: What body inspires you?
Bill T. Jones
Artistic director, Bill T. Jones/Arnie Zane Dance Company
We're a company that started out with very eccentric bodies: Larry Goldhuber, Arthur Aviles, people like that. Some of the repertory has such a strong imprint from those dancers that you're always looking for some version of it, though you don't want to be shameless about trying to reproduce it. Of course, there aren't many Larry Goldhubers with 300 pounds, but my company must always have a very large man, somebody with stature. Larry always made me feel small when I danced with him.
For the kind of movement we do, it's good to have long arms, a supple back, to be able to find stillness in a way that's hopefully not dead. We talk about the skeleton as rock-and-roll: the bones of the skeleton, the way you let your backbone slip. It's first got to be strong, like a marionette, so you can articulate from some central point.
Shayla-Vie Jenkins is one example of that. I love her beauty. When Arnie and I started out, we never had a regal black woman with training. They were going to Mr. Ailey or somewhere else. But Shayla was attracted to my movement. Because of the length of her limbs, the way there's something aloof about her, she can deliver abstract movement convincingly. That's more about the quality of interpretation than the body, but the two work together in my mind.
Photo of Bill T. Jones, Courtesy NYLA.
Emily Molnar
Artistic director, Ballet BC
There's not one body type that interests me. What interests me is a dancer who is fully engaged inside of their body. There's no blockage, no insecurity. They're confident in who they are, and you can sense it in the way they dance. That usually leads, for me, to a body that is strong, agile, vulnerable, expressive and can really move through three-dimensional space.
Ballet BC is reflective of that. Every one of the dancers looks very different. They're not the same height; some are more muscular. What's interesting to me is how a group of individuals works as a collective. I think that when everybody is a carbon copy it misses the point of what artistic expression is.
There's a dancer in Ballet BC, Darren Devaney, who is very slight. One would think on first observation that he wouldn't be able to partner, but he's one of the strongest and most supple dancers I've seen. Some of the greatest artists I've seen are the dancers with more difficult bodies: Maybe they don't have the greatest arched feet, or the most flexibility, or an enormous amount of rotation or that fabulous arabesque. But it can be more interesting to watch, because they've had to create a real understanding of how their body works and what they're saying with it.
Photo of Emily Molnar courtesy Ballet BC.
Michelle Dorrance
Artistic director, Dorrance Dance
I like working with a diverse range of individuals. A great example is Ryan Casey, who's 6' 8" and really lanky. He stands out the second he's onstage. That's not just another body to me. It's a body that inspires character work specifically. I centered a lot of scenes around him. I liked playing with the idea that he could look totally gangly, almost absurd, and still execute every sound with utmost precision and clarity and tone and nuance. You'd never think that someone with feet that big and a body that long could wield it with the same efficiency as a smaller, more compact dancer. I love that paradox and the character that comes from it.
I don't mind if a dancer has some extra weight, some extra meat, a lot of muscle or barely any, as long as they have control. I want dancers who are strong and sharp but also capable of great subtlety. Of course, they have to have incredibly intelligent feet. The music and the integrity of our technique comes first. I want that clarity. But I do ask for more.
Dorrance (left) rehearsing a Petite Suite, with Ryan Casey (right). Photo by Joni Lohr, Courtesy Dorrance.
Andrea Miller
Artistic director, Gallim Dance
I could tell you everything that's physically beautiful about any of my dancers. But if someone didn't have the soul or the imagination or the depth to try something new and be bold, I don't think those physical features would matter.
I see the body in its most inspiring state when a dancer lets their imagination change the makeup of their structure from one moment to the next, like the softness or thickness of their skin. One of my dancers, Dan Walczak, has really transformed in that way. He came from an approach that was more release-based, I think. There was something hesitant in his movement. We really had to get him to engage: engage his fire, his muscles, his focus, his jump. And he completely changed. He has a huge range of expressivity. You can feel his soul, his compassion, his sadness or his silliness. His heart is all over his body.
Miller watching Gallim's Gwyneth Mackenzie and Matthew Perez. Photo by Carey Kirkella.
Siobhan Burke, a former Dance Magazine associate editor, is a dance critic for The New York Times.
Jun. 01, 2014 09:46PM EST
The postmodern flamenco star on working with Akram Khan.
Israel Galván's irreverence and imagination make him one of today's most fascinating flamenco dancers. He is always searching for new sources of rhythm: In La Curva, he drums his fingers and fists on a wooden chair slung around his neck. In Lo Real, he drags himself along the ground with his forearms, palms slapping the floor. His latest endeavor, TOROBAKA, is a collaboration with the British-Bangladeshi choreographer Akram Khan, who has pushed the boundaries of another percussive tradition: kathak, the classical dance form of North India. The duet premieres June 2–7 at MC2 in Grenoble, France.
How are flamenco and kathak similar?
Both are very rich in rhythm. In the zapateado, the percussion with the feet in flamenco, some of the rhythms and patterns are very similar to kathak. But there is a big difference: Kathak is rhythmically very mathematical and flamenco is freer. The mix of both systems can create a very interesting result, like chaos in mathematical order.
What were the first few rehearsals with Akram like?
When I work with Akram, I feel like I'm moving ahead in my dancing. We have the same kind of intuition. There are moments when he reminds me of a traditional flamenco dancer from the old times. It's in his gestures.
How does each person contribute to the process?
One of us proposes a movement, then the other. It's like putting the movements on a table and mixing them all together, putting one sentence after another. We create the concept as we work; there is not a preconceived idea.
What's the biggest challenge of working together?
It doesn't feel like a challenge but a conversation—a meeting between two dancers who want to enjoy dancing. That is the important thing: We want to enjoy. We are both 40 and in the same moment of life where you go from very athletic to a more spiritual way of working.
Above: Khan and Galván workshopping TOROBAKA
Where does the title come from?
The bull (toro) is an important animal in Spanish culture, and baka means cow, which is a sacred animal in India. We are interested in going back to our roots. But also, the word torobaka is very rhythmic. Even if you don't understand the meaning, it can still tell you something because of the music of the word.
Is it difficult switching between dance forms?
In fact, that's the challenge. We don't want to make a comparison between them. Ideally, the audience won't be able to tell whether we are dancing kathak or flamenco.
Photos from top: Luis Castilla; Jean Louis Fernandez; both Courtesy A Negro Producciones