Why I'm Already Planning My Return To Vail Dance Festival
Tiler Peck, Christopher Grant and Roman Mejia in Peck's choreographic debut: Lincoln Square. Photo by Erin Baiano, courtesy Vail Dance Festival
Last week, Dance Magazine's owner Frederic Seegal visited the Vail Dance Festival. He was so excited by what he saw there that he wanted to share with Dance Magazine readers a few of the highlights that made the biggest impression on him.

Having been fortunate enough to be on the board of New York City Center when Arlene Shuler introduced Fall for Dance in 2004, I never thought that I would see anything that could rival its inventiveness, assemblage of talent and audience enthusiasm. That is, until this week when I spent fours days at the Vail Dance Festival.
---
As its impresario (and there is no better word to describe him), Damian Woetzel has often said that the goal of the festival is to bring dancers, choreographers and musicians together to explore and create programming that they rarely have a chance to do in their normal lives. That sounds extraordinarily ambitious, but certainly this week, reality exceeded expectations.
I will leave it to others to chronicle and review the performances, but I would like to share some of my personal highlights:
Being one of the few people in the amphitheater at 11:30 pm in 45-degree weather watching a rehearsal for Michelle Dorrance's Ex Pluribus One which, given the collection of talent, may only be seen once in that iteration
How the lighting cast shadows of the dancers on the side walls, which were bordered by birches and highlighted the forest behind the stage
Lil Buck on "pointe"
Justin Peck tap dancing
The voice and compositions of Carolyn Shaw (the festival's composer in residence this year)
The artist Andrea Selby who completed her drawings at a pace equal to the dancers
Tiler Peck performing in her own choreography, and singing and dancing "The Music and the Mirror" from A Chorus Line
Herman Cornejo floating through Jerome Robbins' Suite of Dances, which remarkably he has never performed before
Justin Peck's In Creases and Dorrance's Ex Pluribus One showcasing Philip Glass's extraordinary danceabilty
Merce Cunningham's Scenario performed by many dancers who had never before participated in his choreography
The list could go on and on. I am both envious of those who are able to attend the entire festival and already planning for next year.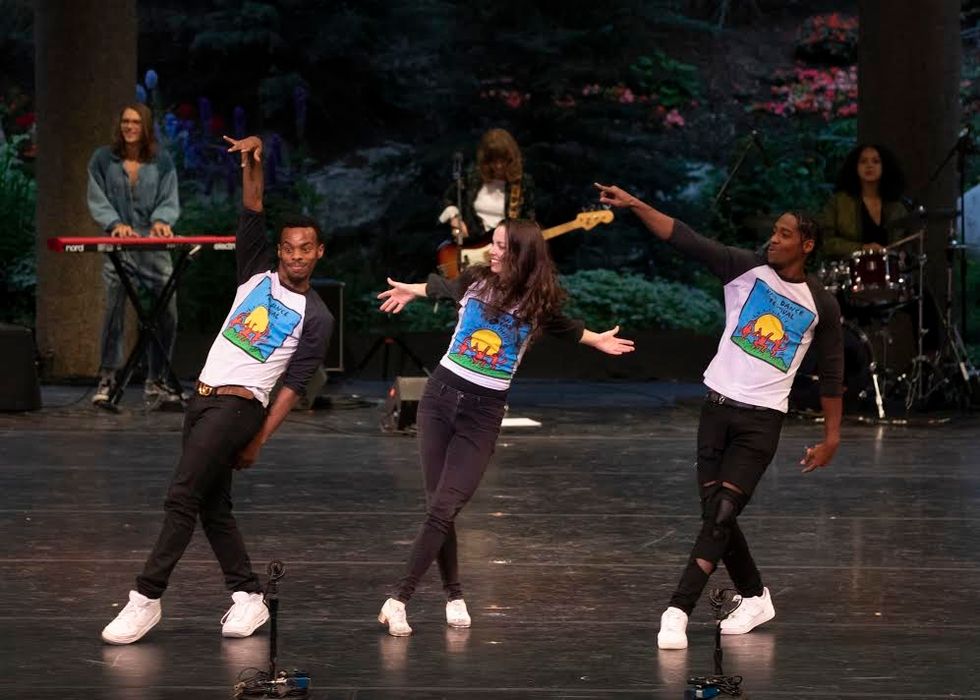 Lil Buck, Michelle Dorrance and Ron "Prime Tyme" Myles in Vail Dance Jam 3.0. Photo by Erin Baiano, courtesy Vail Dance Festival
Rehearsal of Yvonne Rainer's Parts of Some Sextets. Photo by Paula Court, Courtesy Performa.
Yvonne Rainer's Parts of Some Sextets (AKA "the mattress dance") hasn't been revived since it premiered in 1965. Nor has Rainer had any wish to do it again, to ask performers to heave 10 mattresses around while carrying out 31 tasks that changed every 30 seconds. It was an unwieldy, difficult dance. (Even the title is unwieldy.) But Emily Coates, who has danced in Rainer's work for 20 years, became curious about this piece and was determined to see it again—and to dance in it. She will get her wish November 15–17, when the mattress dance will be performed as part of the Performa 19 Biennial.
Keep reading...
Show less
Ailey II artistic director Troy Powell teaching an Ailey Workshop at NYCDA. Courtesy NYCDA
Back in 2011 when Joe Lanteri first approached Katie Langan, chair of Marymount Manhattan College's dance department, about getting involved with New York City Dance Alliance, she was skeptical about the convention/competition world.
"But I was pleasantly surprised by the enormity of talent that was there," she says. "His goal was to start scholarship opportunities, and I said okay, I'm in."
Today, it's fair to say that Lanteri has far surpassed his goal of creating scholarship opportunities. But NYCDA has done so much more, bridging the gap between the convention world and the professional world by forging a wealth of partnerships with dance institutions from Marymount to The Ailey School to Complexions Contemporary Ballet and many more. There's a reason these companies and schools—some of whom otherwise may not see themselves as aligned with the convention/competition world—keep deepening their relationships with NYCDA.
Now, college scholarships are just one of many ways NYCDA has gone beyond the typical weekend-long convention experience and created life-changing opportunities for students. We rounded up some of the most notable ones:
Keep reading...
Show less
Left: Hurricane Harvey damage in Houston Ballet's Dance Lab; Courtesy Harlequin. Right: The Dance Lab pre-Harvey; Nic Lehoux, Courtesy Houston Ballet.
"The show must go on" may be a platitude we use to get through everything from costume malfunctions to stormy moods. But when it came to overcoming a literal hurricane, Houston Ballet was buoyed by this mantra to go from devastated to dancing in a matter of weeks—with the help of Harlequin Floors, Houston Ballet's longstanding partner who sprang into action to build new floors in record time.
Keep reading...
Show less