Why I'm Already Planning My Return To Vail Dance Festival
Tiler Peck, Christopher Grant and Roman Mejia in Peck's choreographic debut: Lincoln Square. Photo by Erin Baiano, courtesy Vail Dance Festival
Last week, Dance Magazine's owner Frederic Seegal visited the Vail Dance Festival. He was so excited by what he saw there that he wanted to share with Dance Magazine readers a few of the highlights that made the biggest impression on him.

Having been fortunate enough to be on the board of New York City Center when Arlene Shuler introduced Fall for Dance in 2004, I never thought that I would see anything that could rival its inventiveness, assemblage of talent and audience enthusiasm. That is, until this week when I spent fours days at the Vail Dance Festival.
---
As its impresario (and there is no better word to describe him), Damian Woetzel has often said that the goal of the festival is to bring dancers, choreographers and musicians together to explore and create programming that they rarely have a chance to do in their normal lives. That sounds extraordinarily ambitious, but certainly this week, reality exceeded expectations.
I will leave it to others to chronicle and review the performances, but I would like to share some of my personal highlights:
Being one of the few people in the amphitheater at 11:30 pm in 45-degree weather watching a rehearsal for Michelle Dorrance's Ex Pluribus One which, given the collection of talent, may only be seen once in that iteration
How the lighting cast shadows of the dancers on the side walls, which were bordered by birches and highlighted the forest behind the stage
Lil Buck on "pointe"
Justin Peck tap dancing
The voice and compositions of Carolyn Shaw (the festival's composer in residence this year)
The artist Andrea Selby who completed her drawings at a pace equal to the dancers
Tiler Peck performing in her own choreography, and singing and dancing "The Music and the Mirror" from A Chorus Line
Herman Cornejo floating through Jerome Robbins' Suite of Dances, which remarkably he has never performed before
Justin Peck's In Creases and Dorrance's Ex Pluribus One showcasing Philip Glass's extraordinary danceabilty
Merce Cunningham's Scenario performed by many dancers who had never before participated in his choreography
The list could go on and on. I am both envious of those who are able to attend the entire festival and already planning for next year.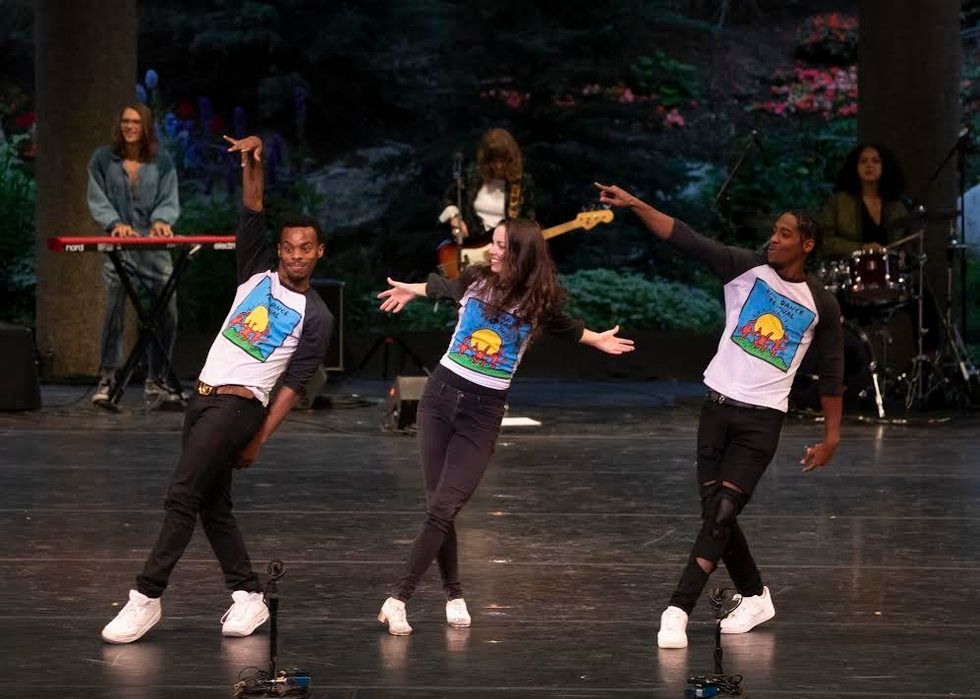 Lil Buck, Michelle Dorrance and Ron "Prime Tyme" Myles in Vail Dance Jam 3.0. Photo by Erin Baiano, courtesy Vail Dance Festival
Michelle Dorrance. Photo by Jayme Thornton
What do Percy Jackson, Princess Diana and Tina Turner have in common? They're all characters on Broadway this season. Throw in Michelle Dorrance's choreographic debut, Henry VIII's six diva-licious wives and the 1990s angst of Alanis Morissette, and the 2019–20 season is shaping up to be an exciting mix of past-meets-pop-culture-present.
Here's a look at the musicals hitting Broadway in the coming months. We're biding our time until opening night!

Keep reading...
Show less
UA Dance Ensemble members Candice Barth and Gregory Taylor in Jessica Lang's "Among the Stars." Photo by Ed Flores, courtesy University of Arizona
If you think becoming a trainee or apprentice is the only path to gaining experience in a dance company environment, think again.
The University of Arizona, located in the heart of Tucson, acclimates dancers to the pace and rigor of company life while offering all the academic opportunities of a globally-ranked university. If you're looking to get a head-start on your professional dance career—or to just have a college experience that balances company-level training and repertory with rigorous academics—the University of Arizona's undergraduate and graduate programs have myriad opportunites to offer:
Keep reading...
Show less
Alice Sheppard/Kinetic Light in DESCENT, which our readers chose as last year's "Most Moving Performance." Photo by Jay Newman, courtesy Kinetic Light
Yes, we realize it's only August. But we can't help but to already be musing about all the incredible dance happenings of 2019.
We're getting ready for our annual Readers' Choice feature, and we want to hear from you about the shows you can't stop thinking about, the dance videos that blew your mind and the artists you discovered this year who everyone should know about.
Keep reading...
Show less
Getty Images
Ah, stretching. It seems so simple, and is yet so complicated.
For example: You don't want to overstretch, but you're not going to see results if you don't stretch enough. You want to focus on areas where you're tight, but you also can't neglect other areas or else you'll be imbalanced. You were taught to hold static stretches growing up, but now everyone is telling you never to hold a stretch longer than a few seconds?
Considering how important stretching correctly is for dancers, it's easy to get confused or overwhelmed. So we came up with 10 common stretching scenarios, and gave you the expert low-down.
Keep reading...
Show less