What It Takes To Warm Up For & Wind Down From Tough Performances
Every dancer has their own pre-performance routine. Photo by Lindsay Thomas
For demanding, vulnerable performances, the mental warm-up and wind-down is unique to each artist. Three dancers share how they get in the zone, and come back to normal life afterward:
---
Erina Takahashi, English National Ballet Principal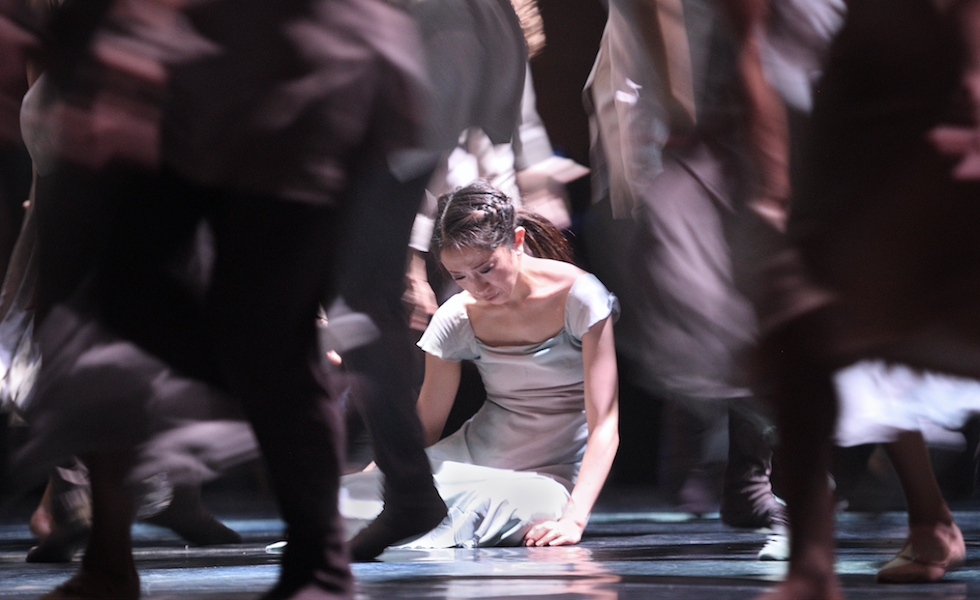 On performance days, Erina Takahashi (here in Akram Khan's Giselle) doesn't think about her character until she's putting on her makeup and costume. Photo by Laurent Liotardo, courtesy ENB
Takahashi prefers not to think about a character too much during the day, otherwise she can get overwhelmed. "I get into the zone when I start hair and makeup, and once the costume goes on, I am Giselle," she says. Listening to music in her dressing room keeps her relaxed.
After a show, she needs to mentally recover: In Giselle's final pas de deux, Takahashi describes her own heart physically aching, and sometimes she feels unable to smile during the curtain call. "It is such a deeply internal show—it takes a while to come back to reality."
Samantha Speis, Urban Bush Women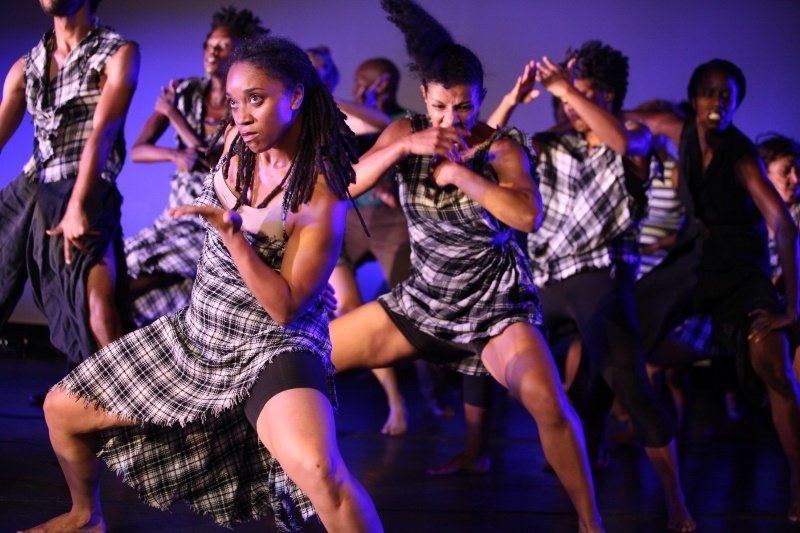 Spies (left) showers before and after tough performances. Photo by Nathea Lee, courtesy UBW
Spies finds a cleansing power in water. "I take a shower beforehand. It's a refreshing restart," she says. "What we do onstage can be really emotionally taxing, so I have to prepare for that." After bows, she again showers to rinse off the performance, and move into a different state. "If I don't," she says, "I feel a little off, not myself." She also gives herself at least two hours to stretch post-performance.
Tsai-Wei Tien, Tanztheater Wuppertal Pina Bausch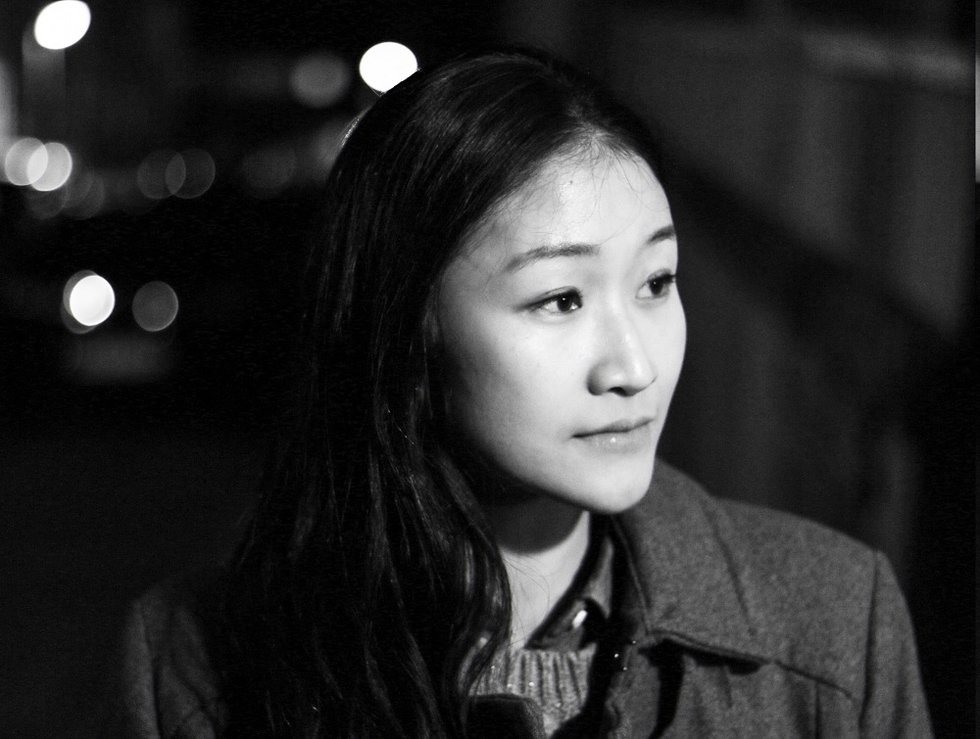 Tien is sometimes so exhausted after emotional performances that she can barely walk. Photo via peculiarman.com.
Tien says there is surprisingly little mental transition needed after the extreme sacrifice as the Chosen One in Pina Bausch's epic Rite of Spring. "The moment I fall and die, it is over in my brain," she says. Instead, it's her body that takes a while to recover. "Sometimes I cannot walk properly because my muscles are so exhausted."
Rant & Rave
May. 23, 2018 04:25PM EST
Jessica Lang's Her Notes, one of ABT's few recent commissions from women. Photo by Rosalie O'Connor
A few weeks ago, American Ballet Theatre announced the A.B.T. Women's Movement, a new program that will support three women choreographers per season, one of whom will make work on the main company.
"The ABT Women's Movement takes inspiration from the groundbreaking female choreographers who have left a lasting impact on ABT's legacy, including Agnes de Mille and Twyla Tharp," said artistic director Kevin McKenzie in a press release.
Hypothetically, this is a great idea. We're all for more ballet commissions for women. But the way ABT has promoted the initiative is problematic.
Keep reading...
Show less
Cloud in Beth Gill's Catacomb. Photo by Brian Rogers, Courtesy Gill
Some dancers move to New York City with their sights set on a dream job: that one choreographer or company they have to dance for. But when Maggie Cloud graduated from Florida State University in 2010, she envisioned herself on a less straightforward path.
"I always had in mind that I would be dancing for different people," she says. "I knew I had some kind of range that I wanted to tap into."

Keep reading...
Show less
News
May. 18, 2018 12:05PM EST
The inimitable Alicia Alonso, now 97, remains at the helm of Ballet Nacional de Cuba. Photo by Leysis Quesada, Courtesy BNC
On the occasion of its 70th anniversary, the Ballet Nacional de Cuba tours the U.S. this spring with the resolute Cuban prima ballerina assoluta Alicia Alonso a the helm. Named a National Hero of Labor in Cuba, Alonso, 97, has weathered strained international relations and devastating fiscal challenges to have BNC emerge as a world-class dance company. Her dancers are some of ballet's best. On offer this time are Alonso's Giselle and Don Quixote. The profoundly Cuban company performs in Chicago May 18–20, Tampa May 23, Washington, D.C., May 29–June 3 and Saratoga, New York June 6–8.
Dance in Pop Culture
May. 17, 2018 10:12AM EST
Participants show off their plié. Screenshot via YouTube
We all know that the general population's knowledge of ballet is sometimes...a bit skewed. (See: people touching their fingertips to the top of their head, and Kendall Jenner hopping around at the barre.)
Would your average Joe know how to do ballet's most basic step: a plié? Or, more to the point, even know what it is?
SELF decided to find out.
Keep reading...
Show less
What Wendy's Watching
May. 22, 2018 02:50PM EST
PC Paul Kolnik
New York City Ballet is celebrating the Jerome Robbins Centennial with twenty (20!) ballets. The great American choreographer died in 1998, so very few of today's dancers have actually worked with him. There are plenty of stories about how demanding (at times brutally so) he could be in rehearsal. But Peter Boal has written about Robbins in a more balanced, loving way. In this post he writes about how Robbins' crystal clear imagery helped him approach a role with clarity and purpose.
Keep reading...
Show less
92Y Harkness Dance Center is hosting the first festival dedicated to dance films captured on mobile devices. Photo by Adam Grannick, Courtesy 92Y
Who says you need fancy equipment to make a festival-worthy dance film? Right now, two New York City–based dance film festivals are calling for aspiring filmmakers to show their stuff—and you don't need anything more cumbersome than a smartphone to get in on the action.

Here's everything you need to know about how to submit:
Keep reading...
Show less


Get Dance Magazine in your inbox