Why Okwui Okpokwasili Is Just the Kind of Artist We Need in 2019
Photo by Jayme Thornton
Okwui Okpokwasili seems to gravitate toward tests of endurance.
At the beginning of Adaku's Revolt, a recent collaboration with her husband Peter Born, four women (herself included) lie on their backs, spines arched deeply into a shape resembling yoga's fish pose. They remain there, heads inverted and forearms pressed into the ground, for 15 minutes as the audience files in.
At the opening of Bronx Gothic, her 2014 one-woman show, Okpokwasili plants herself in a corner and shudders for half an hour, sometimes more—and that's just a prelude to the hour-long performance.
---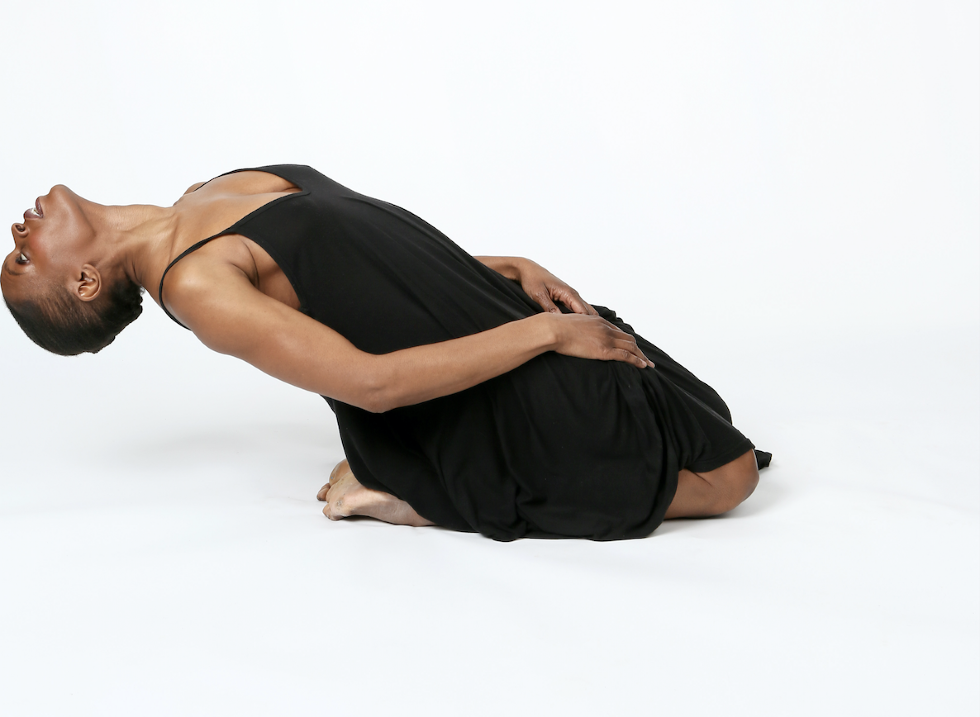 Jayme Thornton
You could think of these spells of doing one thing, intensively, as portals into her work, between wherever you are and whatever plane she is inhabiting.
"How to open up channels—between me, or the folks who are performing with me, and the folks who are watching?" she says, articulating one of her recurring concerns. "I think time does that for me. If there's time, maybe looking differently can happen."
A riveting presence in her own unclassifiable creations, Okpokwasili can leave an audience vibrating, moved by images and incantations that linger long after a performance has ended. Whether exploring the paradoxes of black American girlhood (as she does in the Bessie Award–winning Bronx Gothic), the history of Nigerian women's resistance movements (Poor People's TV Room) or the politics of hair (Adaku's Revolt), she approaches her material obliquely, as if keeping its secrets hidden even from herself. Though often rooted in specific events and lived experiences, the worlds she imagines, and the people in them, are expansive, enigmatic, their logic not easy to untangle.
"Trying to make a space for strangeness, a space that isn't the virtuosity one might expect in a performing black woman's body, is really critical to me," she says. "I want a liberated space that goes beyond expectations about what my body should be doing—expectations of a particular beauty or power or invulnerability."
While her work straddles categories—dance, theater, poetry, song—the body in motion, or in charged stillness, is always central. And while her own body, nearly six feet tall, does emanate beauty and power, it also carries her to more precarious, ambiguous places: ecstasy, grief, confusion, contemplation and states in between.
"How can someone be so completely fierce, putting all this energy out there, and then in a split second pull it back with such incredible restraint?" says Judy Hussie-Taylor, the executive director of Danspace Project, which co-commissioned Bronx Gothic with Performance Space 122. "That never ceases to amaze me in her."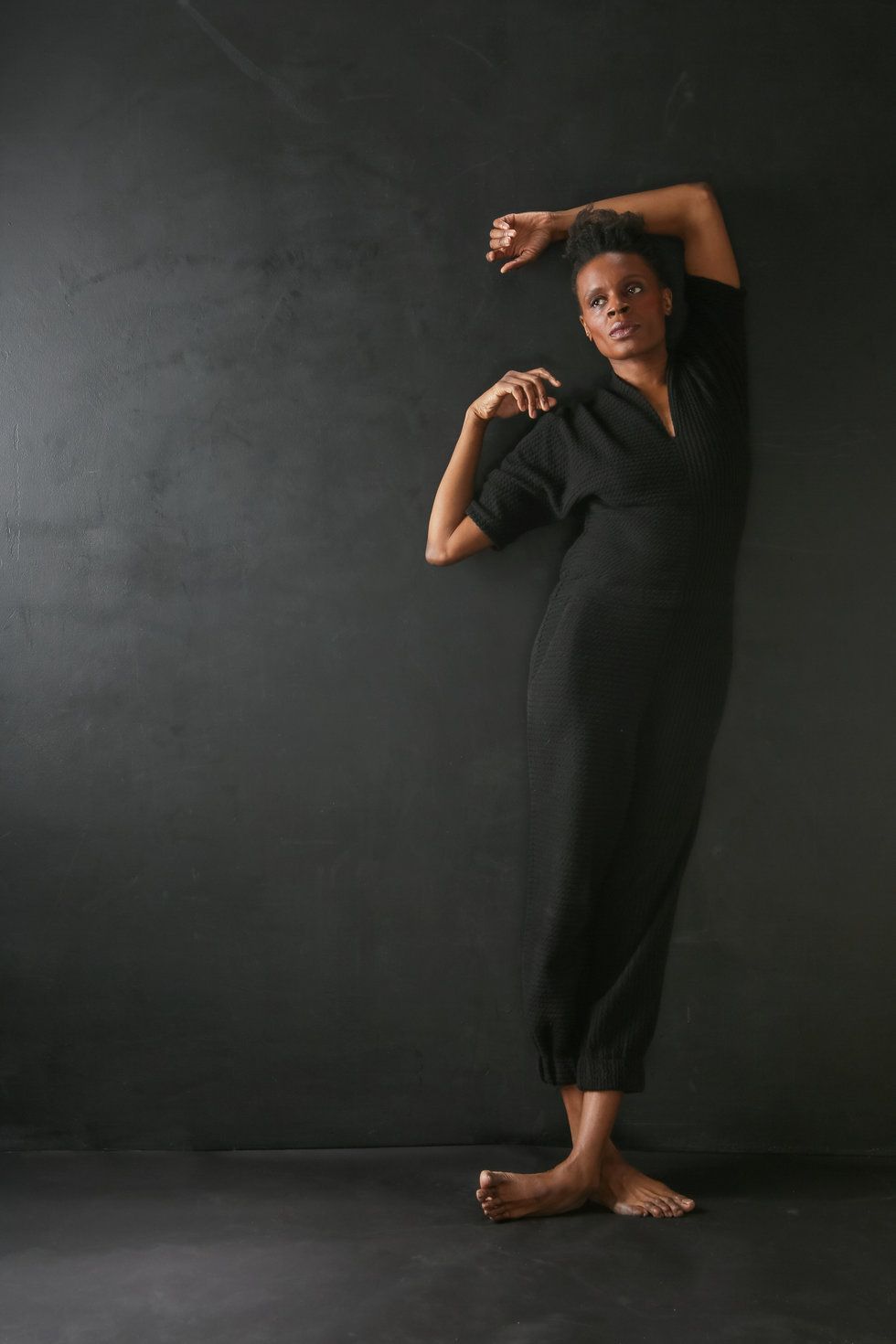 Jayme Thornton
The daughter of Nigerian immigrants, Okpokwasili, 46, grew up around dance as a social activity. Recalling parties at her childhood home in the Bronx, she says: "People would come over, and there would be music and dancing. We would eat and dance. It just would be happening."
Her interest in movement—its theatrical possibilities—deepened in college, at Yale, when she saw a showing of Ralph Lemon's Geography. (She would go on to become a pivotal performer in his work.) Later she studied at Min Tanaka's butoh-influenced Body Weather Farm in Japan. Watching dancers like Tanaka and members of Sankai Juku, she observed "a kind of timelessness, where you could be a child, then grow old, then become a child again," she says. She began to think of dance as "a form that can contain the vast experience of being in the human body."
Her investigations with that form have earned widespread recognition. Last year alone, Okpokwasili, who now lives in Brooklyn with Born and their daughter, received a Doris Duke Award, an Alpert Award, a United States Artists Award and a Hodder Fellowship from Princeton University.
Perhaps most momentously, while on her way to do laundry one day last summer, she answered a call from an unknown number to find out that she was one of 25 MacArthur Fellows (or "genius grant" recipients) for 2018.
"It was an amazing year for me, just in terms of gifts," she says, offering a humble hypothesis that "some kind of weird vortex" had opened up for her. "I was like, 'Wow, I happen to be occupying the right space in the right moment.' "
While the recognition has helped her financially, the impact—especially of the $625,000 MacArthur prize—hasn't completely sunk in, as her life as a freelance artist continues at its usual speed.
Over the past few months, Okpokwasili has been preparing for a London run of Bronx Gothic at the Young Vic theater, June 1–29. Directed by Born, who also designed the lighting and set, the semi-autobiographical work tells a story of two young black women—or two sides of the same woman—coming of age in the Bronx. Plunging into its haunting songs and turbulent movement, Okpokwasili barely comes up for air.
"It's like you get on a train, a fast train, and just go," she says. The critic Hilton Als, writing in The New YorkerThe New Yorker, called the show "a tour de force on the order of Toni Morrison's The Bluest Eye, the author's seminal text on black girlhood and power."
In the field of experimental dance and theater, where Okpokwasili tends to reside (though you may have also seen her in Jay-Z's "4:44" video, or on the HBO series "Random Acts of Flyness"), the longevity of Bronx Gothic is rare. Its reach has to do, in part, with Andrew Rossi's widely seen documentary of the same name, which follows Okpokwasili as she tours the work, engaging in tough conversations about race and identity along the way.
The film also captures the collaborative relationship between Okpokwasili and Born (disagreements included), a partnership that allows disciplines to jostle and blur. Okpokwasili often uses text she has written—precursors to a script or songs—as a starting point for generating movement.
"We don't really do choreography, like 'Do these moves,' " says Born. "Okwui might have a specific gestural phrase, but then she'll be like, 'What does your body want to do with that?' "
Their process is as rigorous as it is open-ended. While doing everything with conviction, Okpokwasili likes to keep herself wondering what exactly she is up to. "I want it to be a mystery," she says. "I don't always want to know."
Related Articles Around the Web
From Your Site Articles
A still from the documentary American Tap
Thirty years ago, U.S. Joint Resolution 131, introduced by congressman John Conyers (D-MI) and Senator Alphonse D'Amato (R-NY), and signed into law by President G. W. Bush declared:
"Whereas the multifaceted art form of tap dancing is a manifestation of the cultural heritage of our Nation...
Whereas tap dancing is a joyful and powerful aesthetic force providing a source of enjoyment and an outlet for creativity and self-expression...
Whereas it is in the best interest of the people of our Nation to preserve, promote, and celebrate this uniquely American art form...
Whereas May 25, as the anniversary of the birth of Bill "Bojangles" Robinson is an appropriate day on which to refocus the attention of the Nation on American tap dancing: Now therefore, be it resolved by the Senate and House of Representatives of the United States of America in Congress that May 25, 1989, be designated "National Tap Dance Day."
Happy National Tap Dance Day!
Keep reading...
Show less
Hive by Boston Conservatory student Alyssa Markowitz. Photo by Jim Coleman
The way we create and consume dance is changing every day. Now more than ever, the field demands that dancers not only be able to perform at the highest level, but also collaborate with choreographers to bring their artistic visions to life. Dancers who miss out on choreographic training may very well find themselves at a disadvantage as they try to launch their careers.

Keep reading...
Show less
James Fosberg, courtesy Mason
Over the past 15 years, Gesel Mason has asked 11 choreographers—including legends like Donald McKayle, David Roussève, Bebe Miller, Jawole Willa Jo Zollar, Rennie Harris and Kyle Abraham—to teach her a solo. She's performed up to seven of them in one evening for her project No Boundaries: Dancing the Visions of Contemporary Black Choreographers.
Now, Mason is repackaging the essence of this work into a digital archive. This online offering shares the knowledge of a few with many, and considers how dance can live on as those who create it get older.
Keep reading...
Show less
News
May. 22, 2019 05:57PM EST
Fox produced a live broadcast of Rent in January—but could an original musical be next? Photo by Kevin Estrada, Courtesy Fox
When a musical prepares to make the transfer from a smaller, lesser-known venue to Broadway (where theaters hold 500-plus seats), often there's a collective intake of breath from all involved. After all, a bigger house means more tickets to sell in order to stay in the black, and sometimes shows with even the most tenacious fan bases can't quite navigate such a jump. But what about the transfer from stage…to screen? Is Broadway ready to be consumed from the comfort of your couch?
Keep reading...
Show less
Last year's winner: Manuel Vignoulle's EARTH. Jack Hartin Photography, Courtesy McCallum Theatre
It's not often that a promising choreographer gets to stage work in a world-class theater, on a skillfully-curated program with professional dancers, and with the possibility of winning a substantial cash prize. But at the McCallum Theatre's Palm Desert Choreography Festival, that's been the status quo for over twenty years.
Since Shea New, the festival's artistic director, founded the festival in 1998, she's worked tirelessly with McCallum's director of education and festival producer, Kajsa Thuresson-Frary, and stage manager and festival production manager Joanna Fookes to build a festival that nurtures choreographers, highlights high quality work, powerfully engages the local community and cultivates an audience base for dance in the Coachella Valley. The trio is backed by a strong team of professionals at McCallum and the brilliant volunteers from the local and national level who serve as adjudicators.
Keep reading...
Show less
Get Dance Magazine in your inbox
Courtesy Lee
Daphne Lee was dancing with Collage Dance Collective in Memphis, Tennessee, when she received two difficult pieces of news: Her mother had been diagnosed with multiple myeloma cancer, and her father had Parkinson's disease, affecting his mobility and mental faculties.
The New Jersey native's reaction: "I really need to move home."
Keep reading...
Show less
Bruce Mars via Unsplash
Summer is almost upon us, and whether you're a student about to go on break or a pro counting the days till layoff, don't forget that with warm weather comes a very serious responsibility: To maintain your cross-training routine on your own.
Those of us who've tried to craft our own cross-training routine know it's easier said than done. So we consulted the stars, and rounded up the best options for every zodiac sign. (TBH, you should probably consult an expert, too—we'd recommend a physical therapist, a personal trainer or your teacher.)
Keep reading...
Show less
It's become second nature in dance studios: The instant anyone gets hurt, our immediate reaction is to run to the freezer to grab some ice (or, more realistically, a package of frozen peas).
But as routine as icing our injuries might be, the benefits are not actually backed up by scientific studies. And some experts now believe icing could even disrupt the healing process.
Keep reading...
Show less
Getty Images
I'm a contemporary dancer, and I'm nervous about trying to get pregnant since I can't predict if it might happen during the middle of the season. We have a union contract that is supposed to protect us. But I'm scared because several of my colleagues' contracts weren't renewed for no particular reason. Having a big belly could be a big reason to get rid of me!
—Andrea, New York, NY
Keep reading...
Show less
From Dance of Urgency. © Ekvidi
When the going gets tough, the tough start dancing: That's the premise behind "Dance of Urgency," a recently opened exhibit at MuseumsQuartier Vienna that features photos, video and other documentary material relating to the use of dance as political protest or social uprising.
The groups featured in the show, largely based around clubs and electronic dance music scenes, span the globe and respond to a variety of issues—from inequality and social stratification to racial divides to crackdowns on club culture itself.
Keep reading...
Show less
News
May. 20, 2019 04:24PM EST
Last night, longtime theater legends (including Chita Rivera herself!) as well as rising stars gathered to celebrate one of Broadway's danciest events: the third annual Chita Rivera Awards.
The evening paid tribute to this season's dancer standouts, fabulous ensembles, and jaw-dropping choreography—on- and off-Broadway and on film.
As usual, several of our faves made it into the mix. (With such a fabulous talent pool of nominees to choose from, we're glad that ties were allowed.) Here are the highlights from the winner's list:
Keep reading...
Show less
Lorenzo Di Cristina/Unsplash
When you're a foreign dancer, gaining legal rights to work in the U.S. is a challenging process. It's especially difficult if you're petitioning to work as a freelance dancer without an agent or company sponsorship.
The process requires professional muscle along with plenty of resources and heart. "There's a real misnomer that it's super easy," says Neena Dutta, immigration attorney and president of Dutta Law Firm. "People need to educate themselves and talk to a professional."
Here are four things every foreign dancer who wants to work in the U.S. needs to know to build a freelance dance career here.
Keep reading...
Show less
Quinn Wharton
What does it take to "make it" in dance? It's no secret that turning this passion into a profession can be a struggle. In such a competitive field, talent alone isn't enough to get you where you want to be.
So what kinds of steps can you take to become successful? Dance Magazine spoke to 33 people from all corners of the industry to get their advice on the lessons that could help us all, no matter where we are in our careers.
Keep reading...
Show less