Why Okwui Okpokwasili Is Just the Kind of Artist We Need in 2019
Photo by Jayme Thornton
Okwui Okpokwasili seems to gravitate toward tests of endurance.
At the beginning of Adaku's Revolt, a recent collaboration with her husband Peter Born, four women (herself included) lie on their backs, spines arched deeply into a shape resembling yoga's fish pose. They remain there, heads inverted and forearms pressed into the ground, for 15 minutes as the audience files in.
At the opening of Bronx Gothic, her 2014 one-woman show, Okpokwasili plants herself in a corner and shudders for half an hour, sometimes more—and that's just a prelude to the hour-long performance.
---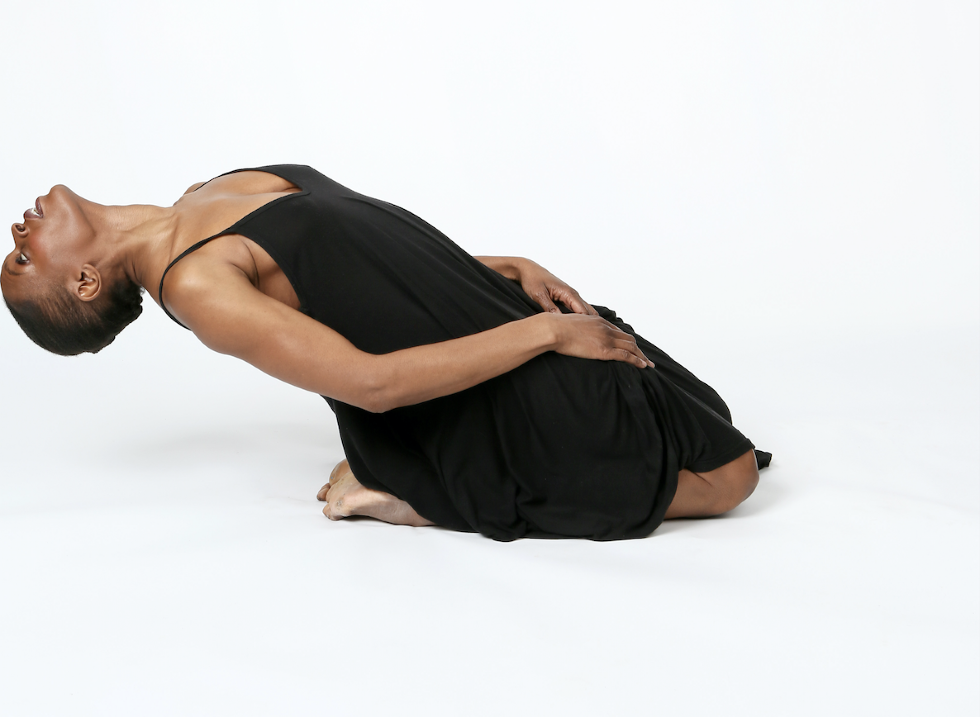 Jayme Thornton
You could think of these spells of doing one thing, intensively, as portals into her work, between wherever you are and whatever plane she is inhabiting.
"How to open up channels—between me, or the folks who are performing with me, and the folks who are watching?" she says, articulating one of her recurring concerns. "I think time does that for me. If there's time, maybe looking differently can happen."
A riveting presence in her own unclassifiable creations, Okpokwasili can leave an audience vibrating, moved by images and incantations that linger long after a performance has ended. Whether exploring the paradoxes of black American girlhood (as she does in the Bessie Award–winning Bronx Gothic), the history of Nigerian women's resistance movements (Poor People's TV Room) or the politics of hair (Adaku's Revolt), she approaches her material obliquely, as if keeping its secrets hidden even from herself. Though often rooted in specific events and lived experiences, the worlds she imagines, and the people in them, are expansive, enigmatic, their logic not easy to untangle.
"Trying to make a space for strangeness, a space that isn't the virtuosity one might expect in a performing black woman's body, is really critical to me," she says. "I want a liberated space that goes beyond expectations about what my body should be doing—expectations of a particular beauty or power or invulnerability."
While her work straddles categories—dance, theater, poetry, song—the body in motion, or in charged stillness, is always central. And while her own body, nearly six feet tall, does emanate beauty and power, it also carries her to more precarious, ambiguous places: ecstasy, grief, confusion, contemplation and states in between.
"How can someone be so completely fierce, putting all this energy out there, and then in a split second pull it back with such incredible restraint?" says Judy Hussie-Taylor, the executive director of Danspace Project, which co-commissioned Bronx Gothic with Performance Space 122. "That never ceases to amaze me in her."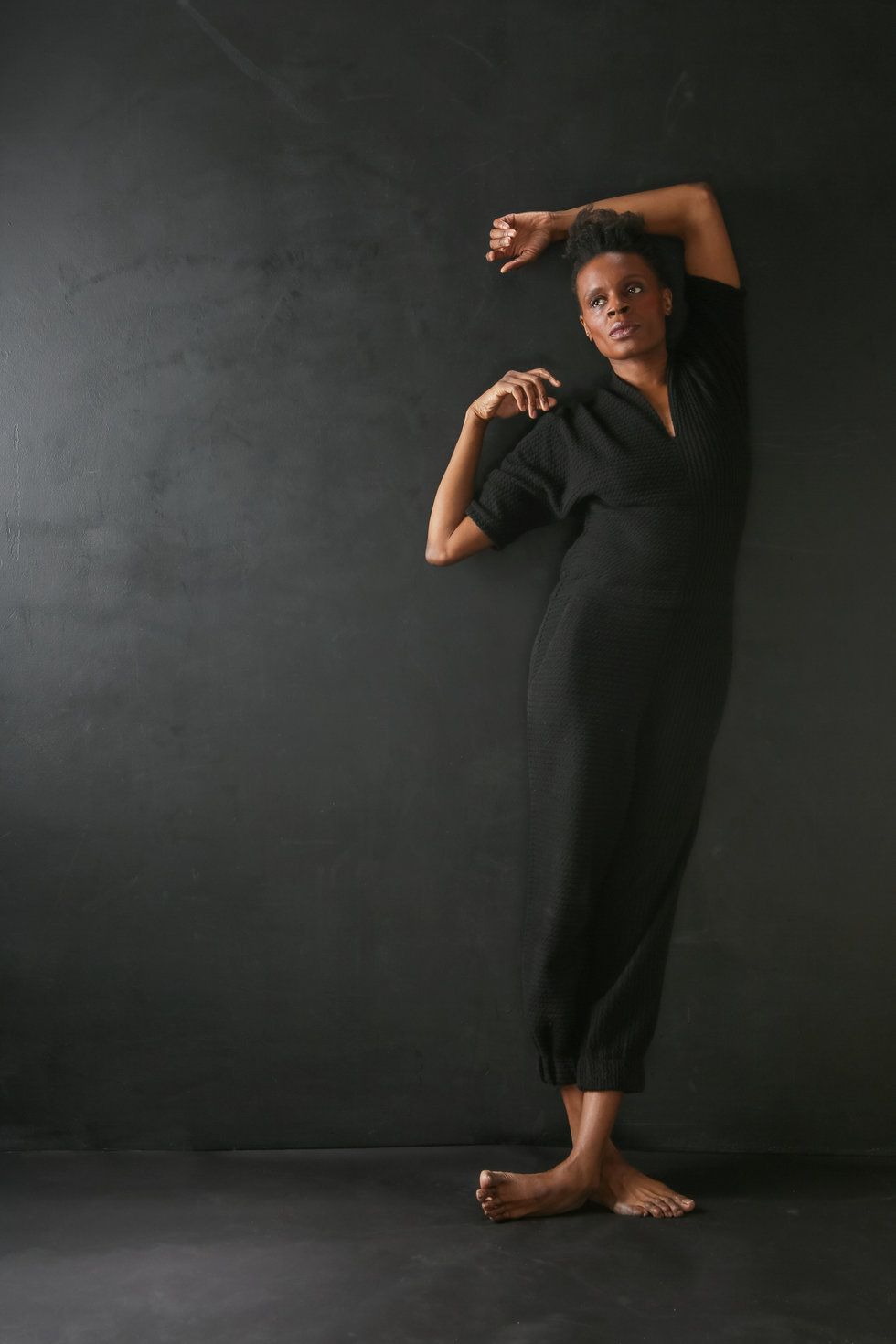 Jayme Thornton
The daughter of Nigerian immigrants, Okpokwasili, 46, grew up around dance as a social activity. Recalling parties at her childhood home in the Bronx, she says: "People would come over, and there would be music and dancing. We would eat and dance. It just would be happening."
Her interest in movement—its theatrical possibilities—deepened in college, at Yale, when she saw a showing of Ralph Lemon's Geography. (She would go on to become a pivotal performer in his work.) Later she studied at Min Tanaka's butoh-influenced Body Weather Farm in Japan. Watching dancers like Tanaka and members of Sankai Juku, she observed "a kind of timelessness, where you could be a child, then grow old, then become a child again," she says. She began to think of dance as "a form that can contain the vast experience of being in the human body."
Her investigations with that form have earned widespread recognition. Last year alone, Okpokwasili, who now lives in Brooklyn with Born and their daughter, received a Doris Duke Award, an Alpert Award, a United States Artists Award and a Hodder Fellowship from Princeton University.
Perhaps most momentously, while on her way to do laundry one day last summer, she answered a call from an unknown number to find out that she was one of 25 MacArthur Fellows (or "genius grant" recipients) for 2018.
"It was an amazing year for me, just in terms of gifts," she says, offering a humble hypothesis that "some kind of weird vortex" had opened up for her. "I was like, 'Wow, I happen to be occupying the right space in the right moment.' "
While the recognition has helped her financially, the impact—especially of the $625,000 MacArthur prize—hasn't completely sunk in, as her life as a freelance artist continues at its usual speed.
Over the past few months, Okpokwasili has been preparing for a London run of Bronx Gothic at the Young Vic theater, June 1–29. Directed by Born, who also designed the lighting and set, the semi-autobiographical work tells a story of two young black women—or two sides of the same woman—coming of age in the Bronx. Plunging into its haunting songs and turbulent movement, Okpokwasili barely comes up for air.
"It's like you get on a train, a fast train, and just go," she says. The critic Hilton Als, writing in The New YorkerThe New Yorker, called the show "a tour de force on the order of Toni Morrison's The Bluest Eye, the author's seminal text on black girlhood and power."
In the field of experimental dance and theater, where Okpokwasili tends to reside (though you may have also seen her in Jay-Z's "4:44" video, or on the HBO series "Random Acts of Flyness"), the longevity of Bronx Gothic is rare. Its reach has to do, in part, with Andrew Rossi's widely seen documentary of the same name, which follows Okpokwasili as she tours the work, engaging in tough conversations about race and identity along the way.
The film also captures the collaborative relationship between Okpokwasili and Born (disagreements included), a partnership that allows disciplines to jostle and blur. Okpokwasili often uses text she has written—precursors to a script or songs—as a starting point for generating movement.
"We don't really do choreography, like 'Do these moves,' " says Born. "Okwui might have a specific gestural phrase, but then she'll be like, 'What does your body want to do with that?' "
Their process is as rigorous as it is open-ended. While doing everything with conviction, Okpokwasili likes to keep herself wondering what exactly she is up to. "I want it to be a mystery," she says. "I don't always want to know."
From Your Site Articles
Related Articles Around the Web
Most people may know Derek Dunn for his impeccable turns and alluring onstage charisma. But the Boston Ballet principal dancer is just as charming offstage, whether he's playing with his 3-year-old miniature labradoodle or working in the studio. Dance Magazine recently spent the day with Dunn as he prepared for his debut as Albrecht in the company's upcoming run of Giselle.
Rosalie O'Connor, Courtesy Mark Morris Dance Group
You know compelling musicality when you see it. But how do you cultivate it? It's not as elusive as it might seem. Musicality, like any facet of dance, can be developed and honed over time—with dedicated, detailed practice. At its most fundamental, it's "respect for the music, that this is your partner," says Kate Linsley, academy principal of the School of Nashville Ballet.
Keep reading...
Show less
The USC Kaufman graduating class with Mikhail Baryshnikov. Gus Ruelas/USC
Just four years ago, the University of Southern California's Glorya Kaufman School of Dance welcomed its first class of BFA students. The program—which boasts world-class faculty and a revolutionary approach to training focused on collaboration and hybridity—immediately established itself as one of the country's most prestigious and most innovative.
Now, the first graduating class is entering the dance field. Here, six of the 33 graduates share what they're doing post-grad, what made their experience at USC Kaufman so meaningful and how it prepared them for their next steps:
Keep reading...
Show less
Ross Parkes, right, teaching in Shanghai in 1983. Lan-Lan Wang is at left. Courtesy Lan-Lan Wang.
Notable dancer and beloved teacher, Ross Parkes, 79, passed away on August 5, 2019 in New York City. He was a founding faculty member at Taipei National University of the Arts in Taiwan, where he taught from 1984 to 2006. Lin Hwai-min, artistic director of Cloud Gate Dance Theater, said: "He nurtured two generations of dancers in Taiwan, and his legacy will continue."
About his dancing, Tonia Shimin, professor emerita at UC Santa Barbara and producer of Mary Anthony: A Life in Modern Dance, said this: "He was an exquisite, eloquent dancer who inhabited his roles completely."
Keep reading...
Show less