On Sunday, the dance world lost a gentle giant: Dr. Charles R. Davis, known to most as "Baba Chuck," the man who bridged the world of African dance and drumming between Africa and America.
Davis, 80, died from complications due to cancer. As founder and artistic director of the African American Dance Ensemble (1983) and DanceAfrica (1977), he'd become everyone's mentor and teacher. He stood an impressive 6' 5'', and always had room for one more hug.
---
Born in Raleigh, North Carolina, he came to dance after taking classes at Howard University, studying with pioneers such as Katherine Dunham, Pearl Primus and the 6' 6"-tall performer Geoffrey Holder, with whom he learned to embrace his height. Baba Chuck later danced with companies formed by Babatunde Olatunji, Eleo Pomare and Bernice Johnson, among others. In 1964, he saw the Sierra Leone National Dance Company perform at New York World's Fair, then in 1968 formed the Chuck Davis Dance Company.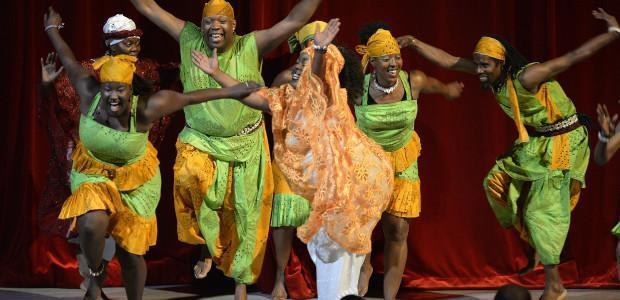 Davis taught African Dance & Drumming classes at ADF
In 1977 when he took his company to Nigeria. This marked the beginning of years of travel and study, and the beginning of DanceAfrica at Brooklyn Academy of Music. Mikki Shepard, the original producer of DanceAfrica recalls, "Chuck Davis built a village. From the very beginning, DanceAfrica was never meant to be just a festival of dance, music, and vendors. For Chuck Davis it was always about building and nourishing community, exchanging ideas, building knowledge, and celebrating and passing on the cultural traditions of Africa and the African diaspora while creating new traditions. The heartbeat of Chuck Davis's village is dance and music."
Baba Chuck was an endearing, yet powerful force to everyone from his colleagues at the International Association of Blacks in Dance, to the very young dancers at BAM/Restoration. Denise Saunders Thompson, president and CEO of IABD remembers: "He helped lay the groundwork for IABD and made sure all benefited from what he had to give. At the close of every conference, he would bring us together in a circle, made us join hands, and repeat "Peace, love, respect ... for everybody!" A mantra that is repeated at every DanceAfrica performance."
For his decades of unwavering service, among many accolades, Baba Chuck received awards from Dance Magazine and The Bessies, plus an honorary doctorate from Medgar Evers College. He is cited as one of America's "Irreplaceable Dance Treasures" by the Dance Heritage Coalition, American Dance Festival dedicated its 2015 season to him, and in 2016, BAM established the "Chuck Davis Emerging Choreographer Fellowship."
Three years ago, Abdel R.Salaam was named Baba Chuck's successor to DanceAfrica. Salaam says, "Forty years ago, Chuck brought many of us together to demonstrate how important the practice of African dance and music are to the living intelligence of African-Americans. He truly believed that dance and music is cultural medicine that has a universal value."
True to form, dance and music remained his medicine until his last days. After one last visit with Baba Chuck, Saunders Thompson says, "We just listened to his stories. Though he was frail, he was lucid and jovial, talking about his next choreographic work, travels to DanceAfrica, his clothes, and even his false teeth. And when I kissed him on his cheeks, and held his face in my hands, his eyes said that everything was going to be all right. I was comforted by his faith."
Baba Chuck's legacy lives on in so many of us.
"Chuck Davis realized his big vision and leaves a unique legacy in dance. Unique because he leaves behind a village of people who don't just attend or perform in DanceAfrica, they own it," Shepard says.
"The love Chuck and I shared is like that of father and son," says Salaam. For DanceAfrica, now in its 40th year, he adds, "As I continue to build on his legacy and trace a path of my own, I will always be true to his vision."
Dance in Pop Culture
May. 25, 2018 01:48PM EST
Ne-Yo, Jennifer Lopez and Derek Hough return to "World of Dance" on May 29
Season 2 of World of Dance is almost here! The new season officially kicks off on Tuesday on NBC, and it's bringing a whole new crew of talented dancers with it (plus, some old favorites). Dance pro judges Jennifer Lopez, Derek Hough and Ne-Yo are back, too, with Jenna Dewan serving as the show's host.
Obviously we'll be watching, but just in case you're not completely sold, here's why you're not going to want to miss out:
JLo Might Be Performing
Earlier this week, JLo (who serves as the show's executive producer) posted this insane promo clip to her Instagram. Dancing to a mashup of Cardi B's "Bodak Yellow" and her new single "Dinero," JLo reminded us all of her dance skills while also leading us to believe she might just hit the stage herself for a performance.

Keep reading...
Show less
May. 25, 2018 12:14PM EST
Travis Wall draws inspiration from dancers Tate McCrae, Timmy Blankenship and more.
One often-overlooked relationship that exists in dance is the relationship between choreographer and muse. Recently two-time Emmy Award Winner Travis Wall opened up about his experience working with dancers he considers to be his muses.
"My muses in choreography have evolved over the years," says Wall. "When I'm creating on Shaping Sound, our company members, my friends, are my muses. But at this current stage of my career, I'm definitely inspired by new, fresh talent."
Wall adds, "I'm so inspired by this new generation of dancers. Their teachers have done such incredible jobs, and I've seen these kids grown up. For many of them, I've had a hand in their exposure to choreography."

Keep reading...
Show less
Rant & Rave
May. 23, 2018 04:25PM EST
Jessica Lang's Her Notes, one of ABT's few recent commissions from women. Photo by Rosalie O'Connor
A few weeks ago, American Ballet Theatre announced the A.B.T. Women's Movement, a new program that will support three women choreographers per season, one of whom will make work on the main company.
"The ABT Women's Movement takes inspiration from the groundbreaking female choreographers who have left a lasting impact on ABT's legacy, including Agnes de Mille and Twyla Tharp," said artistic director Kevin McKenzie in a press release.
Hypothetically, this is a great idea. We're all for more ballet commissions for women. But the way ABT has promoted the initiative is problematic.
Keep reading...
Show less
News
May. 18, 2018 12:05PM EST
The inimitable Alicia Alonso, now 97, remains at the helm of Ballet Nacional de Cuba. Photo by Leysis Quesada, Courtesy BNC
On the occasion of its 70th anniversary, the Ballet Nacional de Cuba tours the U.S. this spring with the resolute Cuban prima ballerina assoluta Alicia Alonso a the helm. Named a National Hero of Labor in Cuba, Alonso, 97, has weathered strained international relations and devastating fiscal challenges to have BNC emerge as a world-class dance company. Her dancers are some of ballet's best. On offer this time are Alonso's Giselle and Don Quixote. The profoundly Cuban company performs in Chicago May 18–20, Tampa May 23, Washington, D.C., May 29–June 3 and Saratoga, New York June 6–8.
Courtesy Soffe, Dicsount Dance Supply, Danskin. LeaMarie leotard photographed by Jayme Thornton
Considering we practically live in our dance clothes, there's really no such thing as having too many leotards, tights or leggings (no matter what our mom or friends say!). That's why we treat every sale as an opportunity to stock up. And thanks to the holiday weekend, you can shop all of your dancewear go-tos or try something totally new for as much as 50% less than the usual price.
Here are the eight sales we're most excited about—from online options to in-store retailers that will help you find the perfect fit. Happy Memorial Day (and shopping)!
Now through Monday, Danskin's site will automatically take 25% off your entire purchase at checkout. Even new items like their Pintuck Detail Floral Print Sports Bra and Pintuck Detail Legging (pictured here) are fair game.
Keep reading...
Show less
News
May. 25, 2018 12:38PM EST
Ailey dancers and stagehands rallied together yesterday. Photo by Jen Peters
"The sun may be shining brightly, but we are not in a very sunny mood today!" said New York State assemblywoman Linda Rosenthal during yesterday's rally for the Artists of Ailey.
The dancers and stage crew are demanding increased wages and more comprehensive benefits, what they have termed "reaching for the standard" and "fair wages."
Keep reading...
Show less


Get Dance Magazine in your inbox