On Sunday, the dance world lost a gentle giant: Dr. Charles R. Davis, known to most as "Baba Chuck," the man who bridged the world of African dance and drumming between Africa and America.
Davis, 80, died from complications due to cancer. As founder and artistic director of the African American Dance Ensemble (1983) and DanceAfrica (1977), he'd become everyone's mentor and teacher. He stood an impressive 6' 5'', and always had room for one more hug.
---
Born in Raleigh, North Carolina, he came to dance after taking classes at Howard University, studying with pioneers such as Katherine Dunham, Pearl Primus and the 6' 6"-tall performer Geoffrey Holder, with whom he learned to embrace his height. Baba Chuck later danced with companies formed by Babatunde Olatunji, Eleo Pomare and Bernice Johnson, among others. In 1964, he saw the Sierra Leone National Dance Company perform at New York World's Fair, then in 1968 formed the Chuck Davis Dance Company.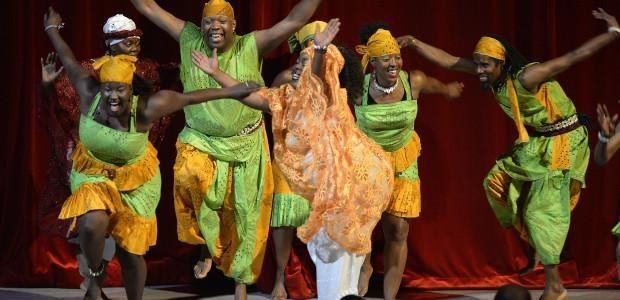 Davis taught African Dance & Drumming classes at ADF
In 1977 when he took his company to Nigeria. This marked the beginning of years of travel and study, and the beginning of DanceAfrica at Brooklyn Academy of Music. Mikki Shepard, the original producer of DanceAfrica recalls, "Chuck Davis built a village. From the very beginning, DanceAfrica was never meant to be just a festival of dance, music, and vendors. For Chuck Davis it was always about building and nourishing community, exchanging ideas, building knowledge, and celebrating and passing on the cultural traditions of Africa and the African diaspora while creating new traditions. The heartbeat of Chuck Davis's village is dance and music."
Baba Chuck was an endearing, yet powerful force to everyone from his colleagues at the International Association of Blacks in Dance, to the very young dancers at BAM/Restoration. Denise Saunders Thompson, president and CEO of IABD remembers: "He helped lay the groundwork for IABD and made sure all benefited from what he had to give. At the close of every conference, he would bring us together in a circle, made us join hands, and repeat "Peace, love, respect ... for everybody!" A mantra that is repeated at every DanceAfrica performance."
For his decades of unwavering service, among many accolades, Baba Chuck received awards from Dance Magazine and The Bessies, plus an honorary doctorate from Medgar Evers College. He is cited as one of America's "Irreplaceable Dance Treasures" by the Dance Heritage Coalition, American Dance Festival dedicated its 2015 season to him, and in 2016, BAM established the "Chuck Davis Emerging Choreographer Fellowship."
Three years ago, Abdel R.Salaam was named Baba Chuck's successor to DanceAfrica. Salaam says, "Forty years ago, Chuck brought many of us together to demonstrate how important the practice of African dance and music are to the living intelligence of African-Americans. He truly believed that dance and music is cultural medicine that has a universal value."
True to form, dance and music remained his medicine until his last days. After one last visit with Baba Chuck, Saunders Thompson says, "We just listened to his stories. Though he was frail, he was lucid and jovial, talking about his next choreographic work, travels to DanceAfrica, his clothes, and even his false teeth. And when I kissed him on his cheeks, and held his face in my hands, his eyes said that everything was going to be all right. I was comforted by his faith."
Baba Chuck's legacy lives on in so many of us.
"Chuck Davis realized his big vision and leaves a unique legacy in dance. Unique because he leaves behind a village of people who don't just attend or perform in DanceAfrica, they own it," Shepard says.
"The love Chuck and I shared is like that of father and son," says Salaam. For DanceAfrica, now in its 40th year, he adds, "As I continue to build on his legacy and trace a path of my own, I will always be true to his vision."
The "Merde" bag. Courtesy Scenery
Jennifer Kahn knew the theater industry could do better. As a professional stage manager for 17 years she worked on regional, off-Broadway and Broadway shows. Nearly each time a show closed, something unsettling happened: "I would watch them throw away our shows. All of the beautiful artwork by my friends in the paint shop would go in the trash." The elaborate backdrops? Gone.

But she had an idea: What if the material used in the backdrops and legs could be upcycled into something new? And what if theater lovers could literally keep a piece of a beloved show?
Keep reading...
Show less
Left: Hurricane Harvey damage in Houston Ballet's Dance Lab; Courtesy Harlequin. Right: The Dance Lab pre-Harvey; Nic Lehoux, Courtesy Houston Ballet.
"The show must go on" may be a platitude we use to get through everything from costume malfunctions to stormy moods. But when it came to overcoming a literal hurricane, Houston Ballet was buoyed by this mantra to go from devastated to dancing in a matter of weeks—with the help of Harlequin Floors, Houston Ballet's longstanding partner who sprang into action to build new floors in record time.
Keep reading...
Show less
News
Oct. 18, 2019 11:54AM EST
Photo by Gabriel Davalos, Courtesy Valdés
For decades the name Alicia Alonso has been virtually synonymous with Ballet Nacional de Cuba, the company she co-founded in Havana in 1948. Alonso died on October 17, just shy of what would have been her 99th birthday. In recent years, she had stepped back from day-to-day decision-making in the company. As if preparing for the future, in January, the company's leading ballerina, 42-year-old Viengsay Valdés, was named deputy director, a job that seems to encompass most of the responsibilities of a traditional director. Now, presumably, she will step into her new role as director of the company. Her debut as curator of the repertory comes in November, when the troupe will perform three mixed bills selected by her at the Gran Teatro de la Habana Alicia Alonso. The following has been translated from a conversation conducted in Spanish, Valdés' native tongue.
Keep reading...
Show less
Sara Mearns in the gym. Photo by Kyle Froman.
New York City Ballet principal Sara Mearns wasn't sure she was strong enough. A ballerina who has danced many demanding full-length and contemporary roles, she was about to push herself physically more than she thought was possible.
"I said, 'I can't. My body won't,' " she says. "He told me, 'Yes, it will.' "
She wasn't working with a ballet coach, but with personal trainer Joel Prouty, who was asking her to do squats with a heavier barbell than she'd ever used.
Keep reading...
Show less