Dance Magazine Award Honoree: Linda Celeste Sims
Andrew Eccles, courtesy AAADT
Yes, she's small, but the word "mighty" doesn't even begin to get to the root of Linda Celeste Sims' startling magnetism. She joined Alvin Ailey American Dance Theater in 1996 and now, at 41, it's as if her luminous dancing has entered another realm.
"I don't feel tired," she says. "I don't feel like I hate it. I don't feel like it's redundant. I can express different things. I can see what's happening in a more mature way, and I'm intrigued by this moment."
It's not that she isn't aware of her aging body. "I'm not as quick and as fast as I used to be," Sims says. "It's a challenge, but how can I express movement in a new way?"
---
Born in the Bronx, Sims trained at the Ballet Hispánico School of Dance and graduated from the Fiorello H. LaGuardia High School of Music & Art and Performing Arts. While dancing with Ballet Hispánico, she attended an audition at the Ailey company on a whim. She got the job and, in the end, even more—Ailey is where she met her dancer-husband, Glenn Allen Sims.
She thrives in works by Ailey: Like him, she understands theater and doesn't overpower the stage, but pulls you in with her simmering dramatic power. "I think I was probably born to be an actress and just fell into dance," she says, with a laugh.
But she's also left her mark in the works of others, namely the choreographer Ronald K. Brown, whose mix of African and modern dance is potently served by Sims—she slips inside of his steps with such ease and litheness that it seems as though music is coursing through her veins. She credits Brown for encouraging her to be softer. "He has a vision of women being powerful, but they don't have to show their power," she explains. "I've had to learn how to be this woman."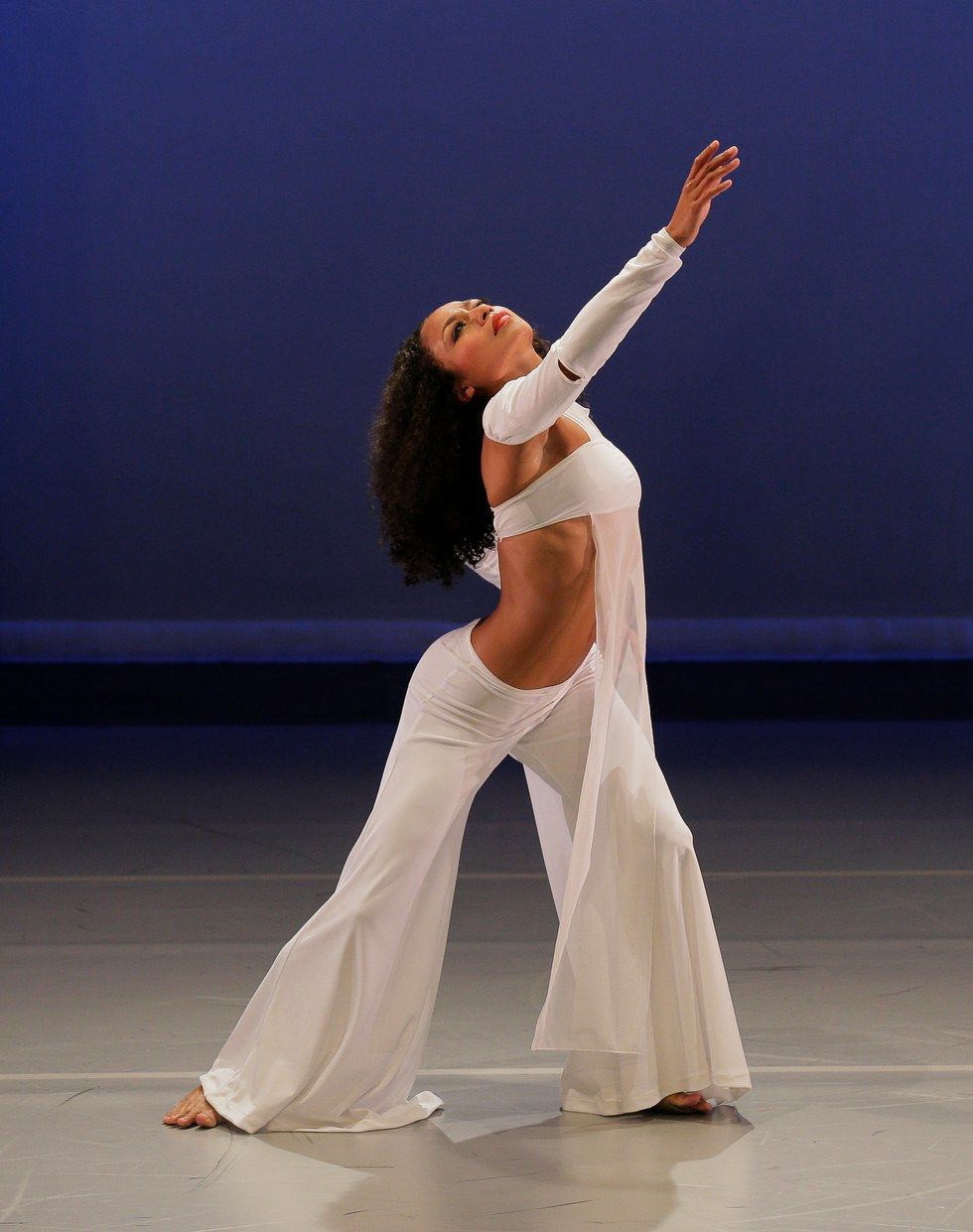 Sims in Ronald K. Brown's Grace. Photo by Paul Kolnik, courtesy AAADT
While she has no plans to stop dancing, Sims is the assistant to Ailey's rehearsal director. She recently oversaw Paul Taylor's Piazzolla Caldera, and she also coaches individual dancers.
"When I feel I'm done, I'm going to be done," she says. "But I don't feel done. How can I be so efficient in using less energy yet touch people's hearts and change your mood in the seat? How can I do this and still touch you and reach you and make you feel what I feel? That's really a goal."
For information about the Dance Magazine Awards ceremony on December 4, click here.
Related Articles Around the Web
From Your Site Articles
Just for Fun
Jul. 16, 2019 02:13PM EST
As Dance Magazine editors, we admittedly spend more time than we'd like sifting through stock photography. Some of it is good, more of it is bad and most of it is just plain awkward.
But when paired with the right caption, those shots magically transform from head-scratchers to meme-worthy images that illustrate our singular experience as dancers. You can thank the internet for this special salute to dancer moods.
Keep reading...
Show less
Wayne McGregor. Photo by Johan Persson, Courtesy ROH
It's no surprise that dancers make some of the best TED Talk presenters. Not only are they great performers, but they've got unique knowledge to share. And they can dance!
If you're in need of a midweek boost, look no further than these eight presentations from some incredibly inspiring dance artists.
Keep reading...
Show less
News
Jul. 16, 2019 03:58PM EST
Including this extraordinary Travis Wall number for "So You Think You Can Dance" (Adam Rose/FOX)
The Primetime Emmy Award nominations are out! Congrats to the seven choreographers who earned nods for their exceptional TV work this year. Notably, that work was made for just two shows, "So You Think You Can Dance" and "World of Dance."
And there was a particularly remarkable snub: While the dance-filled hit "Fosse/Verdon" earned 17 nominations across many of the major categories, Andy Blankenbuehler's fabulous Fosse remixes weren't recognized in the Outstanding Choreography field.
Here are all the dance routines up for Emmys:
Keep reading...
Show less

abezikus/Getty Images
"Dancers can do everything these days," I announced to whoever was in earshot at the Jacob's Pillow Archives during a recent summer. I had just been dazzled by footage of a ballet dancer performing hip hop, remarkably well. But my very next thought was, What if that isn't always a good thing? What if what one can't do is the very thing that lends character?
Keep reading...
Show less