#DancersToo: Is The Dance World Ready To Address Sexual Harassment?​
The power dynamics and working environments in dance can leave women vulnerable. Photo by Soragrit Wongsa/Unsplash
When an anonymous letter accused former New York City Ballet leader Peter Martins of sexual harassment last year, it felt like what had long been an open secret—the prevalence of harassment in the dance world—was finally coming to the surface. But the momentum of the #MeToo movement, at least in dance, has since died down.
Martins has retired, though an investigation did not corroborate any of the claims against him. He and former American Ballet Theatre star Marcelo Gomes, who suddenly resigned in December, were the only cases to make national headlines in the U.S. We've barely scratched the surface of the dance world's harassment problem.
---
One reason why: The same culture that makes harassment possible in dance makes it uniquely difficult for artists to speak up.
Where It Begins
The problem starts with the way we train dancers: "The dance world has held on to a pedagogical method that disempowers the dancer before sexual abuse would even occur," says Robin Lakes, a University of North Texas professor whose research focuses on dance pedagogy.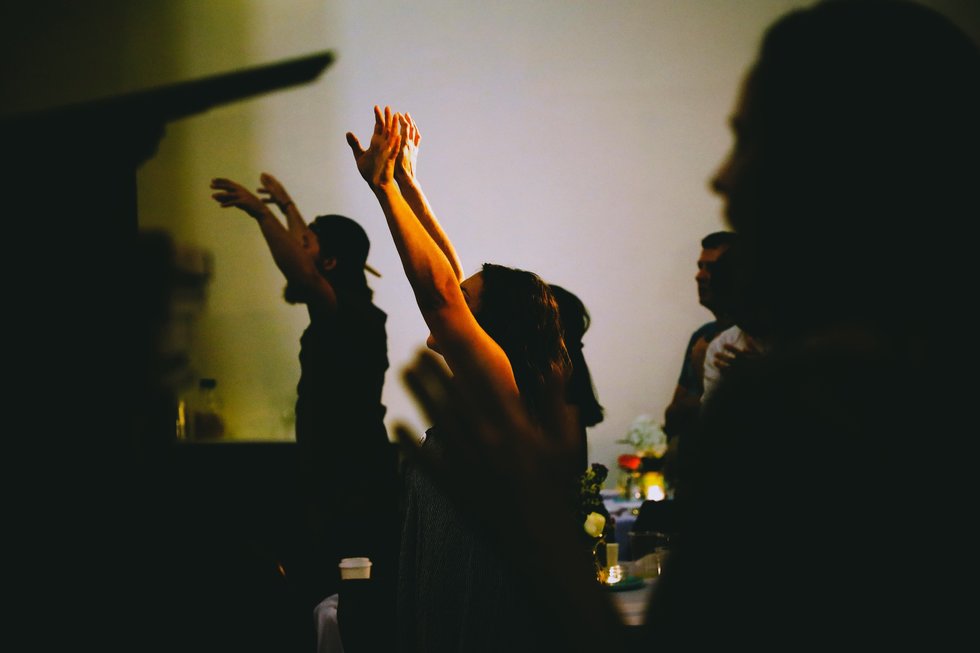 Dancers are taught not to question those in roles of authority. Photo by Jon Tyson/Unsplash
Dance training can create an environment where students depend on teachers for validation and are taught to accept any rules or roles they're given without questioning them. The extreme power differential that often exists in the classroom usually doesn't change much once dancers reach the professional level, where directors can single-handedly decide a dancer's fate and powerful choreographers can get away with inappropriate behavior.
While it's easy to blame the physical intimacy of dance jobs for sexual harassment, power dynamics and working environments are the bigger culprits.
What Harassment Looks Like Today
Although, so far, the dance world's most prominent examples have come from large ballet companies, harassment can happen within any genre and at every scale. In fact, the increasingly freelance nature of the field makes artists especially vulnerable.
Catherine Drury, a licensed clinical social worker for The Dancers' Resource at The Actors Fund, points out that having multiple employers or sporadic work can leave dancers unclear about what their rights are, who they should report to and what protections are in place. Institutions are responsible for providing a safe and harassment-free workplace; however, some might not take freelance artists fully into account when developing policies.
For instance, an anonymous New York City–based performer and choreographer told Dance Magazine that she was sexually harassed during her time as an artist in residence at a prominent dance theater. The photographer who shot her piece, an independent contractor hired for the season, asked her to come to his apartment to review and purchase photos, where he touched her without her consent and verbally harassed her. Because there was no procedure for how freelance artists should purchase photos, the harassment occurred off-site and without witnesses. At the time, the institution's sexual harassment policy did not apply to independent contractors.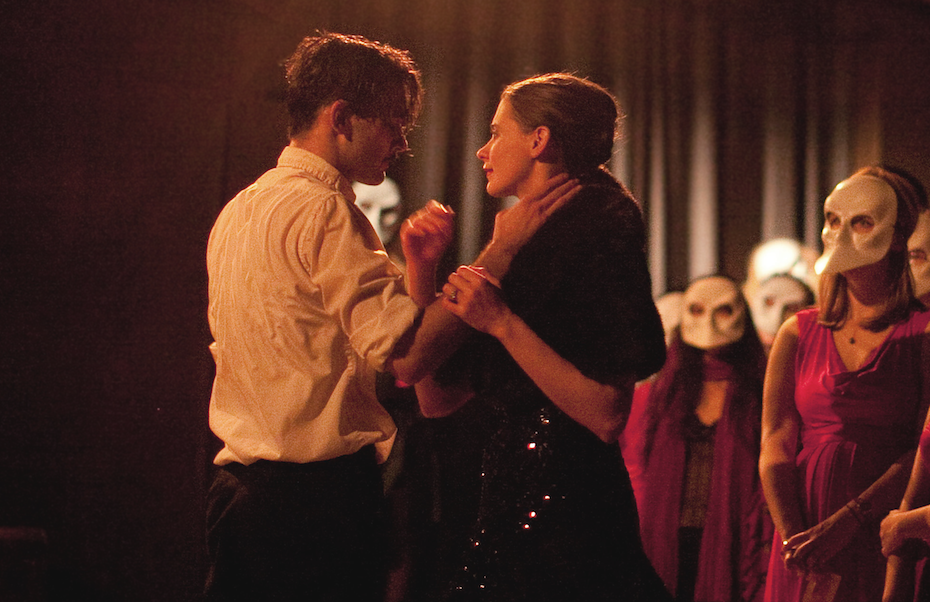 Immersive shows like Sleep No More should establish clear guidelines for audience behavior
As dance evolves into new spaces and contexts, action around sexual harassment needs to evolve with it. A recent BuzzFeed News story reported 17 incidents of groping or sexual misconduct by patrons of the immersive show Sleep No More. Audiences, who are masked for the entirety of the performance, are encouraged to buy alcoholic drinks, but have traditionally not been told to refrain from touching performers or given parameters regarding acceptable behavior. Cast members are sometimes naked and at other points are alone with a single audience member.
Sleep No More isn't the only immersive production that's dealt with harassment. Contemporary dancer and choreographer Kate Ladenheim performed in an immersive show where she was physically and verbally harassed by audience members. When she spoke to her artistic team about the incidents, they took her feedback and worked together to address the situation so performers felt safer in the role.
"I think that immersive theater as a genre thrives largely on exoticism and heightened sensuality," she says. "This expectation can lead audience members to think they have permission to play around with performers." Today, when Ladenheim produces her own immersive-like events, she makes it clear to audiences that they will be removed without a refund should they touch a performer.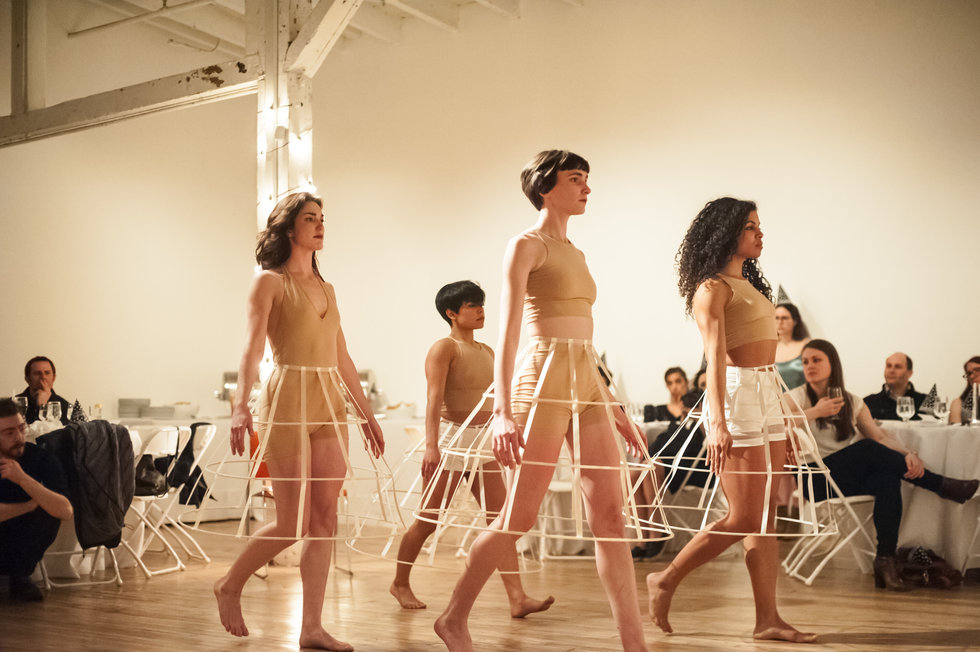 Kate Landenheim has written agreements with her dancers that cover safe rehearsal practices. Photo by Keira Chang, courtesy Landenheim.
What's Onstage Matters
The content we see onstage can perpetuate—or reflect—a culture of sexual harassment. Last May, Siobhan Burke wrote a story in The New York Times titled "No More Gang Rape Scenes in Ballets, Please," in response to Alexei Ratmansky's Odessa for New York City Ballet. Many responded with similar reactions, while others—including Odessa cast members—argued that there was no such scene. The debate also touched on the issue of censorship: Is there a way to depict sexual violence onstage that isn't problematic?
As often as women are oversexualized and their characters abused onstage, few choreographers intend to normalize sexual harassment in their work. Still, that doesn't make their depictions any less harmful.
Contemporary choreographer Brendan Drake works hard to make art that reflects his values. But at a showing of his work, someone pointed out that one of his pieces—which featured women in red lipstick, tight vintage dresses and thigh-slapping—could be interpreted as misogynist. He changed the piece, then eventually decided to scrap it altogether. To avoid putting unintentionally sexist or unnecessarily violent work onstage, he suggests that dancemakers continually question how each of their choreographic choices serves the work, and get feedback multiple times before formally presenting it.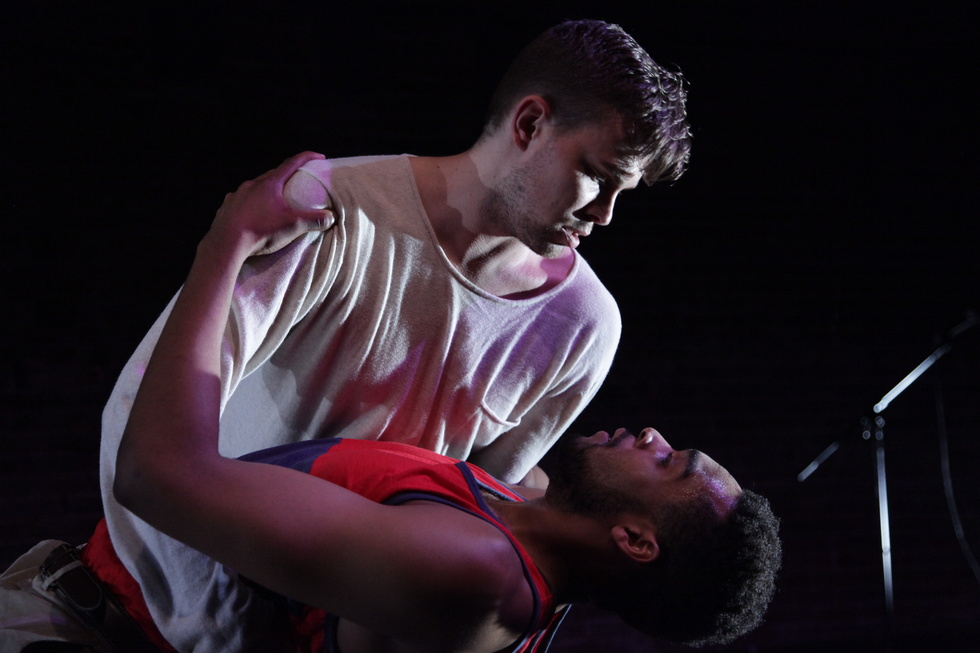 Brendan Drake evaluates his work for unintentionally sexist themes. Photo by Theo Cote, courtesy Drake.
We Can Do Better
Much of what are considered best practices in other fields don't easily apply to the dance world: Corporate sexual harassment training may instruct employees to avoid touching one another and to wear modest clothing. Standard policies don't take into account the unique demands of dance. And creating rules around affirmative verbal consent in the studio can feel at odds with dancers' ability to communicate through their bodies with intention and nuance.
So what would dance-specific policies look like? As Boglárka Simon-Hatala, a physiotherapist and health sciences teacher who works with dancers, points out, we need more research around how sexual harassment plays out in the dance world to thoroughly answer this question.
But we do know some of the factors that make dance artists vulnerable: The extreme competition in the field can lead to a culture where harassment is tolerated for fear of losing a job or being black-balled. The importance of informal networking, the irregular working hours and the frequency that dancers travel with co-workers can lead to blurred lines. Dancers are often relatively young, and their short careers create added pressure to tolerate poor treatment or stay in an unsafe environment. We need strategies that address these challenges head-on.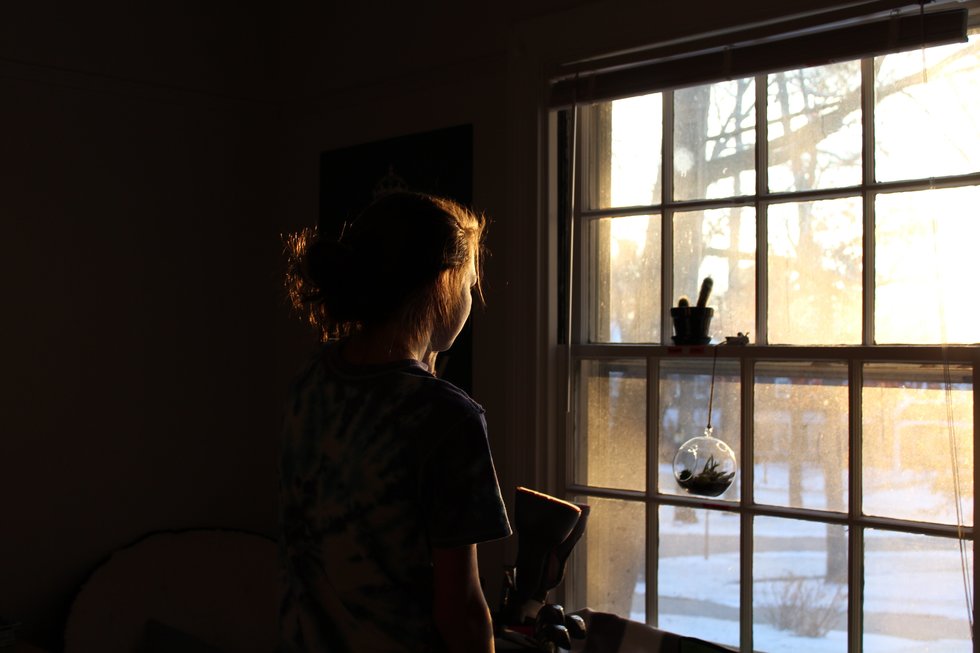 Extreme competition can drive dancers to settle for poor treatment. Photo by Kate Williams/Unsplash
The real onus for preventing sexual harassment lies with institutions and their leaders. Clear policies that encourage reporting inappropriate interactions should be widely distributed. Everyone—especially those in leadership positions—should undergo harassment training that is specific to their role. Response to claims of harassment should be proactive, not reactionary; compassionate, not defensive.
Finding chains of accountability—even within small companies or projects—is also key. Since being harassed by the photographer, the anonymous NYC-based artist has considered implementing a system through which all collaborators would be held accountable via the institution they're working with. Contracts with all parties would stipulate that the collaborators could go to the institution should any issue arise, and it would then investigate and mediate the situation.
Ladenheim has carefully crafted written agreements with all her dancers that discuss their safety and encourage them to express their discomfort if any explorations in rehearsals go too far. Similarly, performer and choreographer Ricarrdo Valentine has daily check-ins, both one-on-one and in groups, with his dancers about their physical and emotional boundaries. He emphasizes that these can shift daily—what's okay one day may not be the next—and that even as dancers, having a practice of verbal consent around physical contact is essential.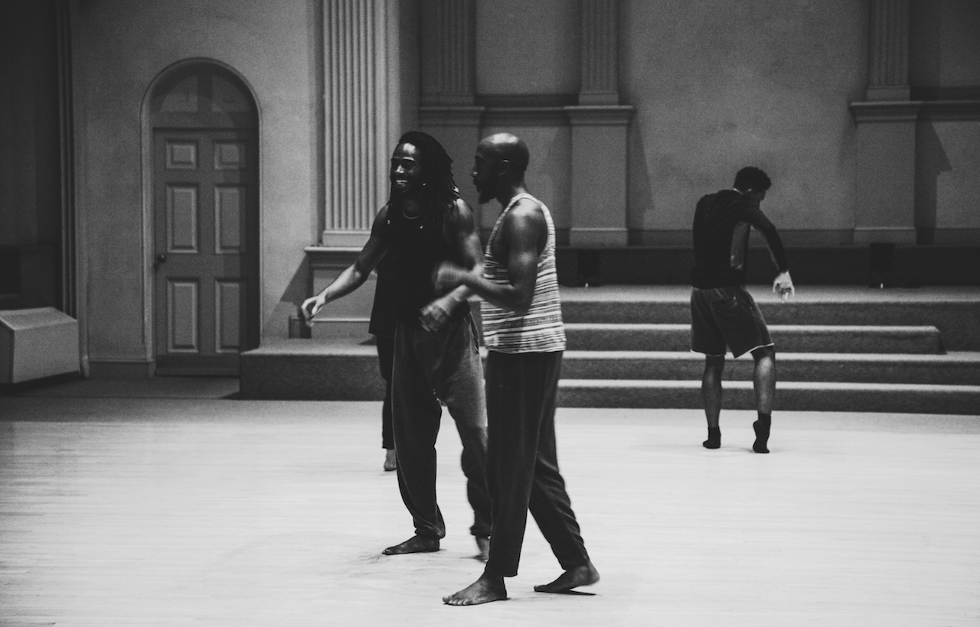 Ricarrdo Valentine checks in with his dancers daily. Photo courtesy Valentine.
Another strategy for institutions could be decentralizing power. For example, NYCB's appointment of four interim leaders to replace Peter Martins means they must at least be held accountable to each other. While it's unclear how long this setup will remain, there have been outside suggestions of breaking down the ballet master in chief position into multiple roles.
Of course, who is filling these roles is what matters most. We need leaders dedicated to equity and accountability. We also need more women in positions of power: Researchers have found that male-dominated organizations are more prone to sexual harassment.
Though it can feel like a daunting challenge, numerous studies show that companies whose leaders believe that harassment is wrong and convey a sense of urgency in preventing it have less harassment. Yes, organizations should have clear and specific policies, safe working environments and thorough training. But they also need leaders who care. It's not going to be an easy fix, but it's what the dance community needs.
Where to Turn
Resources for preventing and reporting sexual harassment in dance:
News
Jun. 16, 2018 09:15AM EST
Gina Gibney's organization has grown invaluable to the NYC dance scene. Photo by Scott Shaw, Courtesy Gibney
New York City–based dancers know Gibney. It's a performance venue, a dance company, a rehearsal space, an internship possibility—a Rubik's Cube of resources bundled into two sites at 280 and 890 Broadway. And in March of this year, Gibney (having officially dropped "Dance" from its name) announced a major expansion of its space and programming; it now operates a total of 52,000 square feet, 23 studios and five performance spaces across the two locations.
Six of those studios and one performance space are brand-new at the 280 Broadway location, along with several programs. EMERGE will commission new works by emerging choreographic voices for the resident Gibney Dance Company each year; Making Space+ is an extension of Gibney's Making Space commissioning and presenting program, focused on early-career artists. For the next three years, the Joyce Theater Foundation's artist residency programs will be run out of one of the new Gibney studios, helping to fill the gap left by the closing of the Joyce's DANY Studios in 2016.
Keep reading...
Show less
Popular
Jun. 06, 2018 01:13PM EST
Stagestep's Encore hardwood flooring for full-service broadcast production facility, dance center and venue, Starwest, in Burbank, CA.
What is the right flooring system for us?

So many choices, companies, claims, endorsements, and recommendations to consider. The more you look, the more confusing it gets. Here is what you need to do. Here is what you need to know to get the flooring system suited to your needs.
Keep reading...
Show less
Get the print edition!
Yuka Oba, Ednis Ariel Gomez Mallol and Connie Flachs in Swing by Olivier Wevers. Photo by Ryan Jackson, courtesy Flachs
"I'm sorry, but I just can't possibly give you the amount of money you're asking for."
My heart sinks at my director's final response to my salary proposal. She insists it's not me or my work, there is just no money in the budget. My disappointment grows when handed the calendar for Grand Rapids Ballet's next season with five fewer weeks of work.
Keep reading...
Show less
"Off Kilter" has real dancers playing dancers. Still courtesy CBC Arts
"It just...always looks better in my head."
While that might not be something any of us would want to hear from a choreographer, it's a brilliant introduction to "Off Kilter" and the odd, insecure character at its center, Milton Frank. The ballet mockumentary (think "The Office" or "Parks and Recreation," but with pointe shoes) follows Frank (dancer-turned-filmmaker Alejandro Alvarez Cadilla) as he comes back to the studio to try his hand at choreographing for the first time since a plagiarism scandal derailed his fledgling career back in the '90s.
We've been pretty excited about the series for a while, and now the wait is finally over. The first episode of the show, "The Denial," went live earlier today, and it's every bit as awkward, hilarious and relatable as we hoped.
Keep reading...
Show less
Jay Sullivan Photography, courtesy Julie Granger
Dancers crossing over into the fitness realm may be increasingly popular, but it was never part of French-born Julie Granger's plan. Though Granger grew up a serious ballet student, taking yoga classes on the side eventually led to a whole new career. Creating her own rules along the way, Granger shares how combining the skills she learned in ballet with certifications in yoga, barre and personal training allowed her to become her own boss (and a rising fitness influencer).
Keep reading...
Show less
Popular
May. 25, 2018 12:14PM EST
Travis Wall draws inspiration from dancers Tate McCrae, Timmy Blankenship and more.
One often-overlooked relationship that exists in dance is the relationship between choreographer and muse. Recently two-time Emmy Award Winner Travis Wall opened up about his experience working with dancers he considers to be his muses.
"My muses in choreography have evolved over the years," says Wall. "When I'm creating on Shaping Sound, our company members, my friends, are my muses. But at this current stage of my career, I'm definitely inspired by new, fresh talent."
Wall adds, "I'm so inspired by this new generation of dancers. Their teachers have done such incredible jobs, and I've seen these kids grown up. For many of them, I've had a hand in their exposure to choreography."

Keep reading...
Show less
News
Jun. 15, 2018 11:29AM EST
Ensemble Español Spanish Dance Theater. Photo by Cheryl Mann, Courtesy Carol Fox and Associates
José Greco popularized Spanish dance in 1950s and '60s America through his work onstage and on screen. Ensemble Español Spanish Dance Theater's American Spanish Dance & Music Festival is honoring the icon in recognition of what would have been his 100th birthday. As part of the tribute, Greco's three dancing children are reuniting to perform together for the first time since their father's death in 2000. Also on the program is the premiere of contemporary flamenco choreographer Carlos Rodriguez's Mar de Fuego (Sea of Fire). June 15–17, North Shore Center for the Performing Arts. ensembleespanol.org.
Get the print edition!
Give your partner space to process their own emotions about the injury. Photo via Thinkstock
Dance Theatre of Harlem dancers Chris­topher McDaniel and Crystal Serrano were working on Nacho Duato's Coming Together in rehearsal when McDaniel's foot hit a slippery spot on the marley. As they attempted a swinging lift, both dancers went tumbling, injuring Serrano as they fell. She ended up being out for a week with a badly bruised knee.
"I immediately felt, This is my fault," says McDaniel. "I broke my friend."
Keep reading...
Show less
University of Texas at Austin students in When. Photo by Lawrence Peart, courtesy ACDA
What's on the minds of college students today?
I recently had the honor of adjudicating at the American College Dance Association's National College Dance Festival, along with choreographer Dana Tai Soon Burgess and former National Endowment for the Arts dance specialist Douglas C. Sonntag. We chose three winners—one for Outstanding Choreography and two for Outstanding Performance—from 30 pieces representing schools throughout the country. It was a great opportunity to see what college dance students are up to—from the issues they care about to the kinds movement they're interested in exploring.
Here were the biggest trends and takeaways:
Keep reading...
Show less
News
Jun. 14, 2018 03:03PM EST
Herman Cornejo and Tiler Peck at Vail Dance Festival. Photo by Erin Baiano, Courtesy Vail
It's summer festival season! If you're feeling overwhelmed by the dizzying array of offerings, never fear: We've combed through the usual suspects to highlight the shows we most want to catch.
Keep reading...
Show less
Courtesy of barre + bag
Subscription box services have quickly gained a dedicated following among the fashion and fitness set. And while we'd never say no to a box with new jewelry or workout wear to try, we've been waiting for the subscription model to make its way to the dance world.
Enter barre + bag, a new service that sends a curated set of items to your door each season. Created by Faye Morrow Bell and her daughter Tyler, a student in the pre-professional ballet program at University of North Carolina School of the Arts, this just-launched service offers dance, lifestyle and wellness finds in four themed bags each year: Spring Performance, Summer Study, Back-to-Studio and Nutcracker. Since all the products are specifically made for dancers, everything barre + bag sends you is something you'll actually use, (Plus, it all comes in a bag instead of a box—because what dancer can ever have enough bags?).
barre + bag's Summer Collection
Keep reading...
Show less
Get the print edition!
News
Jun. 14, 2018 11:59AM EST
Henry Leutwyler
Today, American Ballet Theatre announced a new initiative to foster the development of choreography by company members and freelance dancemakers. Aptly titled ABT Incubator, the program, directed by principal David Hallberg, will give selected choreographers the opportunity to spend two weeks workshopping new dances.
"It has always been my vision to establish a process-oriented hub to explore the directions ballet can forge now and in the future," said Hallberg in a press release from the company. Interested? Here's how you can apply to participate.
Keep reading...
Show less
Chase Johnsey quietly made modern ballet history when he performed as part of the women's ensemble in English National Ballet's The Sleeping Beauty. Photo by Elliot Franks, Courtesy In the Lights PR
Back in January, Chase Johnsey grabbed headlines when he resigned from Les Ballets Trockadero de Monte Carlo, where his performances had garnered critical acclaim for over a decade, alleging a culture of harassment and discrimination. (An independent investigation launched by the company did not substantiate any legal claims.) Johnsey, who identifies as genderqueer, later told us that he feared his dance career was at an end—where else, as a ballet dancer, would he be allowed to perform traditionally female roles?
But the story didn't end there. After a surprise offer from Tamara Rojo, artistic director of English National Ballet, Johnsey has found a temporary artistic home with the company, joining as a guest at the rank of first artist for its run of The Sleeping Beauty, which continues this week. After weeks of working and rehearsing with the company, last week Johnsey quietly marked a new milestone: He performed with ENB's corps de ballet as one of the ladies in the prince's court.
Keep reading...
Show less


Get Dance Magazine in your inbox