Op-Ed: It's Time to ​Talk About the Harsh Reality of Running a Dance Company
Jessica Lang Dance in Lang's Thousand Yard Stare. Photo by Todd Rosenberg
When I read last month that Jessica Lang Dance had announced its farewell, I'm sure I wasn't the only dancer surprised. In the same way that many of us, when reading an obituary, instinctively look for the cause of death, I searched for a reason for the company's unexpected folding. It was buried in the fifth paragraph of The New York Times article:
Her manager, Margaret Selby, said in an interview that Jessica Lang Dance's closing showed how difficult it is to keep a small dance company running these days. "You have to raise so much money, the smaller companies don't have enough staff, and Jessica was running the company for the last seven years without a day off," she said. "She wants to focus on creative work."
Whereas the announcement itself may have come as a shock, the root cause certainly doesn't. All of us in the field are familiar with the conditions to which Selby refers. But that these problems can topple the success of a company like Lang's, which boasts seven years of national and international touring that include commissions from Jacob's Pillow and The Joyce, among others, is sobering.
---
It reminded me of Time magazine's September 24, 2018 cover story, "I Am a Teacher in America." Peppered with personal narratives of educators across the country who are working and living in subpar conditions, the piece arrived on the crest of a wave of teacher walkouts. It is time, the article implied, to engage in broad, frank conversations about the realities of being a teacher in the United States so that we can make some necessary improvements.
I couldn't help but imagine what a similar story would look like about dancers.

Can the end of Jessica Lang Dance finally catalyze some much-needed dialogue about the harsh realities of running a small dance company?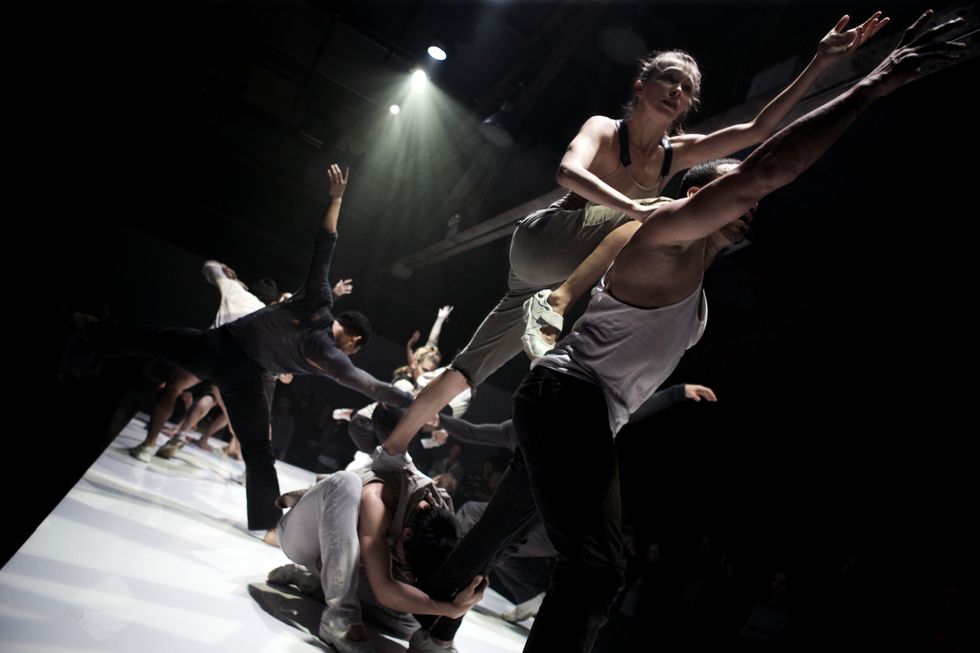 The shuttering of Cedar Lake Contemporary Ballet—underwritten by a single patron—shocked many in the dance world. Photo by Julieta Cervantes.
It's not that we'd be surprised to hear what our peers are experiencing. I know I'm not the only company director to have funded gigs with my personal savings, spent thousands of dollars on largely unsuccessful APAP showings, received rejections for grant applications that took hours to complete, or lost money on events I produced. But watching ensembles such as Trey McIntyre Project, Cedar Lake Contemporary Ballet and now Jessica Lang Dance announce their final bows in recent years has made it clear that we're all waging similar battles, and they're not going to be won alone.
The reason for JLD's demise isn't even mentioned in the company's official announcement. If we can't be transparent with each other and with the public about the issues we're facing, we're doomed to similar fates—which, as in the case of JLD, ultimately means depriving audiences of innovative, transformative art.
Yet talking about this makes artists vulnerable. "You can't say you're in financial hardship, because dancers will flee to other companies looking for stability," points out Lisa Swenton-Eppard, artistic director of Capitol Tap and District Tap in Washington, D.C. "Donors don't want to know their money isn't making a difference, so they're less likely to donate again; many will think you're just mismanaging and keeping the money for yourself; and it's like admitting you aren't successful if you aren't making money."
Last year I took part in the New England Choreographers' Retreat at Jacob's Pillow, where 33 choreographers convened to discuss the region's dance ecology. The opportunity to dialogue outside of our personal vacuums, and to be collaborators rather than rivals, was healthy for community-building as well as for art-making.
"There is an inherent sense of competition, perhaps stemming from the struggle to stay afloat, that keeps small companies from coming together to solve mutual problems and work towards mutual goals," says Kimberleigh Holman, artistic director of Boston's Luminarium Dance Company.
Our problem-solving not only led to a greater clarity of—and renewed optimism for—the region's dance landscape, but influenced a meeting of New England Cultural Dance Organizers, who pledged individual commitments to supporting New England dance. I hope that the report, commissioned by the New England Foundation for the Arts, becomes available to a broader audience. The more conversations we can facilitate about the realities of our work, and the more we can share with each other, the healthier our field will be.
Perhaps because I believe so firmly in the role of dance and art-making in a democratic society, I believe that we must raise our voices if we want to protect the artistic ones of valuable companies like Jessica Lang Dance. Will we sit by and watch more great troupes come to a close? Or will we begin the difficult but necessary conversations that might save them?
From Your Site Articles
Related Articles Around the Web
Rehearsal of Yvonne Rainer's Parts of Some Sextets. Photo by Paula Court, Courtesy Performa.
Yvonne Rainer's Parts of Some Sextets (AKA "the mattress dance") hasn't been revived since it premiered in 1965. Nor has Rainer had any wish to do it again, to ask performers to heave 10 mattresses around while carrying out 31 tasks that changed every 30 seconds. It was an unwieldy, difficult dance. (Even the title is unwieldy.) But Emily Coates, who has danced in Rainer's work for 20 years, became curious about this piece and was determined to see it again—and to dance in it. She will get her wish November 15–17, when the mattress dance will be performed as part of the Performa 19 Biennial.
Keep reading...
Show less
Ailey II artistic director Troy Powell teaching an Ailey Workshop at NYCDA. Courtesy NYCDA
Back in 2011 when Joe Lanteri first approached Katie Langan, chair of Marymount Manhattan College's dance department, about getting involved with New York City Dance Alliance, she was skeptical about the convention/competition world.
"But I was pleasantly surprised by the enormity of talent that was there," she says. "His goal was to start scholarship opportunities, and I said okay, I'm in."
Today, it's fair to say that Lanteri has far surpassed his goal of creating scholarship opportunities. But NYCDA has done so much more, bridging the gap between the convention world and the professional world by forging a wealth of partnerships with dance institutions from Marymount to The Ailey School to Complexions Contemporary Ballet and many more. There's a reason these companies and schools—some of whom otherwise may not see themselves as aligned with the convention/competition world—keep deepening their relationships with NYCDA.
Now, college scholarships are just one of many ways NYCDA has gone beyond the typical weekend-long convention experience and created life-changing opportunities for students. We rounded up some of the most notable ones:
Keep reading...
Show less
Left: Hurricane Harvey damage in Houston Ballet's Dance Lab; Courtesy Harlequin. Right: The Dance Lab pre-Harvey; Nic Lehoux, Courtesy Houston Ballet.
"The show must go on" may be a platitude we use to get through everything from costume malfunctions to stormy moods. But when it came to overcoming a literal hurricane, Houston Ballet was buoyed by this mantra to go from devastated to dancing in a matter of weeks—with the help of Harlequin Floors, Houston Ballet's longstanding partner who sprang into action to build new floors in record time.
Keep reading...
Show less