Treat Your Feet: The Foot-Care Products Dancers Love
Ashley Ellis, photo by Albert Ayzenberg, courtesy of Ashley Ellis
Every dancer has learned—probably the hard way—that healthy feet are the foundation of a productive and happy day in the studio. As dancers, our most important asset has to carry the weight (literally) of everything we do. So it's not surprising that most professional dancers have foot care down to an art.
Three dancers shared their foot-care products they can't live without.
---
Ashley Ellis, Boston Ballet Principal
Ashley Ellis and Eris Nezha in The Sleeping Beauty. Photo by Liza Voll, courtesy Boston Ballet
Massage tool: Gua sha. "It's an Eastern-medicine practice that uses a tiny tool that's round like an animal horn. I usually use a scraping motion along the bottom of my foot with one of the long edges and use a narrower side to get softly in between the metatarsals on top of my foot, always being careful not to press too hard or scrape directly over any of the bones. I also scrape upward along the front of my ankle and then on my peroneals and the muscles in my shin."
For blisters: 2nd Skin squares. "I cover up blisters and corns with the little blue gel 2nd Skin squares and then tape over that—it's a really good cushion."
Warm-up wear: Bbooties. "They have a really good structure with thick foam on the bottom. The company was created by former Hamburg Ballet principal dancer Otto Bubenícek and produced by his mother."
Jaclyn Wheatley, Spectrum Dance Theater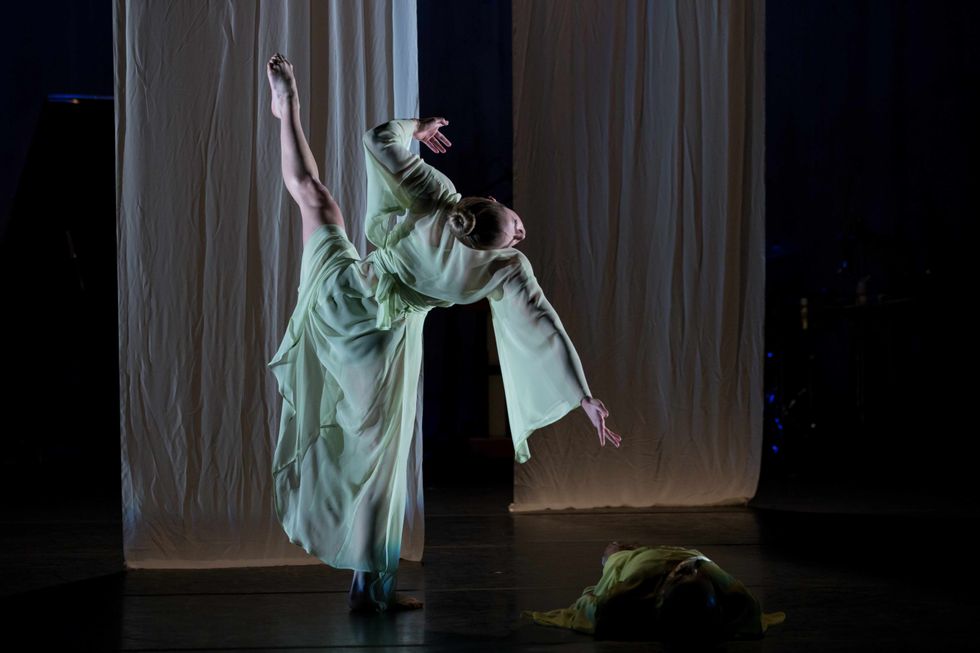 Jaclyn Wheatley in Donald Byrd's Roaming Ghosts, a piece from Rambunctious Iteration #3 "The Immigrant. Photo by Joseph Lambert, courtesy Spectrum
Favorite ointment: Bag Balm. "It's a super-thick ointment designed for cow udders. I have scary calluses that get really dry and cracked, so I lather up my feet and put on some fuzzy socks before I go to bed."
Massage tools: Golf ball and racquet ball. "I always keep a golf ball in my backpack for all the hard-to-reach places in the metatarsals, and my choice for a bigger ball is a racquet ball. They have just enough give."
Compression socks: Apolla Shocks. "Whenever I'm feeling super-sore, I'll take a shower and put on my creams—Bag Balm and sometimes antifungal cream if I have an open crack or blister—and slip my Apolla Shocks on. I always wear them on planes when we're on tour, to keep the blood flow going and make sure I don't get swollen."
Sarah Cordia, Nashville Ballet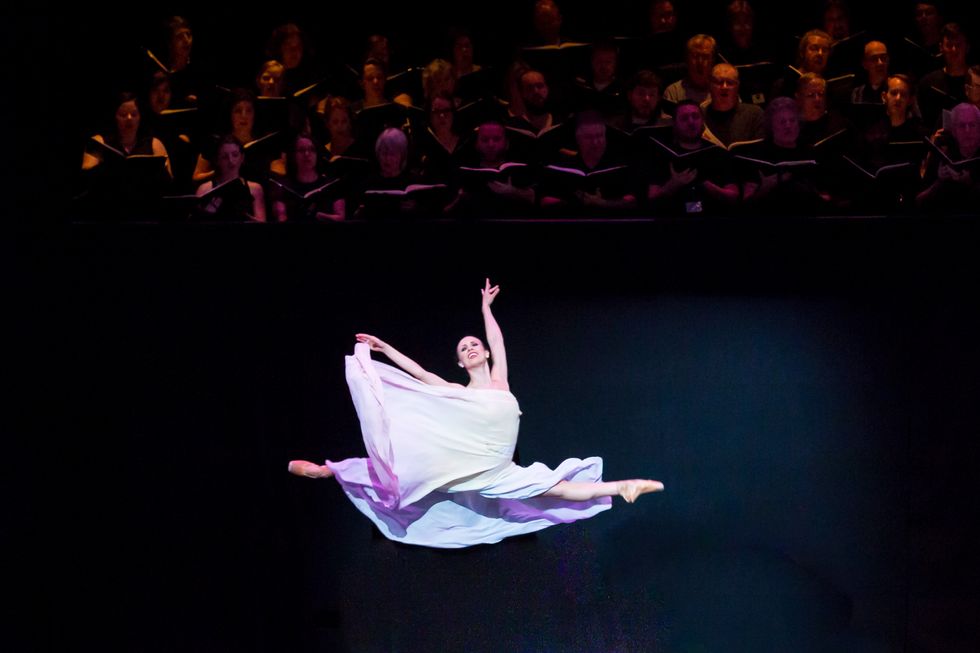 Sarah Cordia in Paul Vasterling's Carmina Burana. Photo by Karyn photography, courtesy Nashville Ballet.
Skin care oils: Peppermint oil, coconut oil and Betadine. "I mix a couple drops of peppermint oil with coconut oil (a natural antibacterial) every night and moisturize right before I go to bed. And every morning and night I soak my feet in an Epsom salt bath. Whenever I have a wound, I use Betadine. It's good at drying things out and disinfecting but also moisturizing."
Pointe shoe padding: Half-toe sock. "I get soft corns in between my toes is because I have sweaty feet. Wearing toe socks helps keep that area dry. I found a half-toe sock called 'five-toe heelless half-boat socks' that I now wear in my pointe shoes."
After-hours footwear: Orthaheel. "I wear these fancy flip-flops with built-in arch support in summertime, when I'm not in pointe shoes."
From Your Site Articles
Related Articles Around the Web
Rachel Papo
In the middle of one of New York City Center's cavernous studios, Misty Copeland takes a measured step backwards. The suggestion of a swan arm ripples before she turns downstage, chest and shoulders unfurling as her legs stretch into an open lunge. She piqués onto pointe, arms echoing the sinuous curve of her back attitude, then walks out of it, pausing to warily look over her shoulder. As the droning of Ryuichi Sakamoto and Alva Noto's mysterious "Attack/Transition" grows more insistent, her feet start to fly with a rapidity that seems to almost startle her.
And then she stops mid-phrase. Copeland's hands fall to her hips as she apologizes. Choreographer Kyle Abraham slides to the sound system to pause the music, giving Copeland a moment to remind herself of a recent change to the sequence.
"It's different when the sound's on!" he reassures her. "And it's a lot of changes."
The day before was the first time Abraham had seen Copeland dance the solo in its entirety, and the first moment they were in the studio together in a month. This is their last rehearsal, save for tech, before the premiere of Ash exactly one week later, as part of the opening night of City Center's Fall for Dance festival.
Keep reading...
Show less
Ailey II artistic director Troy Powell teaching an Ailey Workshop at NYCDA. Courtesy NYCDA
Back in 2011 when Joe Lanteri first approached Katie Langan, chair of Marymount Manhattan College's dance department, about getting involved with New York City Dance Alliance, she was skeptical about the convention/competition world.
"But I was pleasantly surprised by the enormity of talent that was there," she says. "His goal was to start scholarship opportunities, and I said okay, I'm in."
Today, it's fair to say that Lanteri has far surpassed his goal of creating scholarship opportunities. But NYCDA has done so much more, bridging the gap between the convention world and the professional world by forging a wealth of partnerships with dance institutions from Marymount to The Ailey School to Complexions Contemporary Ballet and many more. There's a reason these companies and schools—some of whom otherwise may not see themselves as aligned with the convention/competition world—keep deepening their relationships with NYCDA.
Now, college scholarships are just one of many ways NYCDA has gone beyond the typical weekend-long convention experience and created life-changing opportunities for students. We rounded up some of the most notable ones:
Keep reading...
Show less
Getty Images
Dancers are understandably obsessed with food. In both an aesthetic and athletic profession, you know you're judged on your body shape, but you need proper fuel to perform your best. Meanwhile, you're inundated with questionable diet advice.
"My 'favorite' was the ABC diet," says registered dietitian nutritionist Kristin Koskinen, who trained in dance seriously but was convinced her body type wouldn't allow her to pursue it professionally. "On the first day you eat only foods starting with the letter A, on the second day only B, and so on."
Keep reading...
Show less
Left: Hurricane Harvey damage in Houston Ballet's Dance Lab; Courtesy Harlequin. Right: The Dance Lab pre-Harvey; Nic Lehoux, Courtesy Houston Ballet.
"The show must go on" may be a platitude we use to get through everything from costume malfunctions to stormy moods. But when it came to overcoming a literal hurricane, Houston Ballet was buoyed by this mantra to go from devastated to dancing in a matter of weeks—with the help of Harlequin Floors, Houston Ballet's longstanding partner who sprang into action to build new floors in record time.
Keep reading...
Show less