Treat Your Feet: The Foot-Care Products Dancers Love
Ashley Ellis, photo by Albert Ayzenberg, courtesy of Ashley Ellis
Every dancer has learned—probably the hard way—that healthy feet are the foundation of a productive and happy day in the studio. As dancers, our most important asset has to carry the weight (literally) of everything we do. So it's not surprising that most professional dancers have foot care down to an art.
Three dancers shared their foot-care products they can't live without.
---
Ashley Ellis, Boston Ballet Principal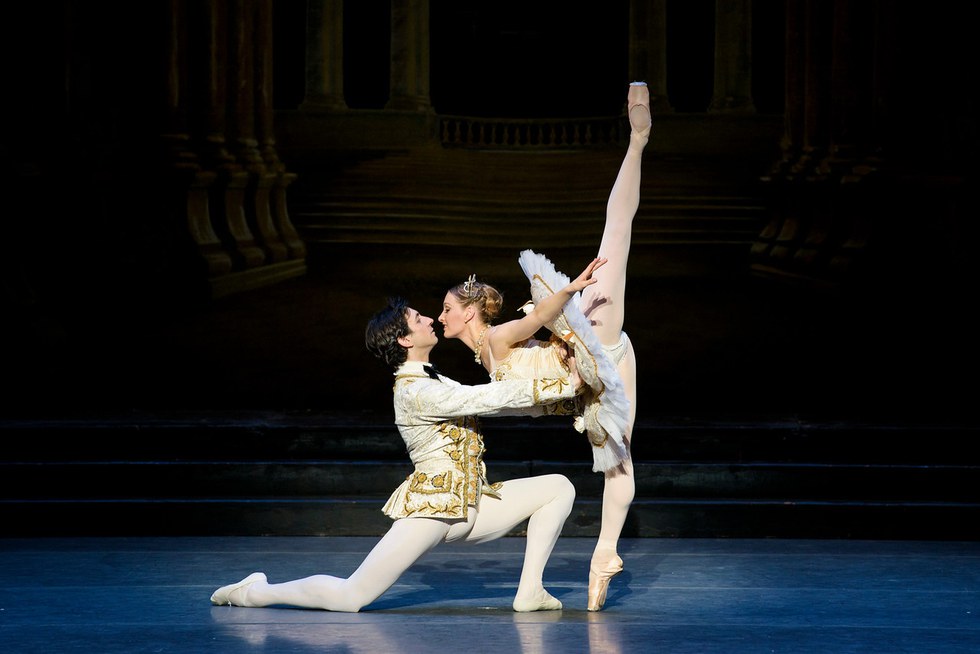 Ashley Ellis and Eris Nezha in The Sleeping Beauty. Photo by Liza Voll, courtesy Boston Ballet
Massage tool: Gua sha. "It's an Eastern-medicine practice that uses a tiny tool that's round like an animal horn. I usually use a scraping motion along the bottom of my foot with one of the long edges and use a narrower side to get softly in between the metatarsals on top of my foot, always being careful not to press too hard or scrape directly over any of the bones. I also scrape upward along the front of my ankle and then on my peroneals and the muscles in my shin."
For blisters: 2nd Skin squares. "I cover up blisters and corns with the little blue gel 2nd Skin squares and then tape over that—it's a really good cushion."
Warm-up wear: Bbooties. "They have a really good structure with thick foam on the bottom. The company was created by former Hamburg Ballet principal dancer Otto Bubenícek and produced by his mother."
Jaclyn Wheatley, Spectrum Dance Theater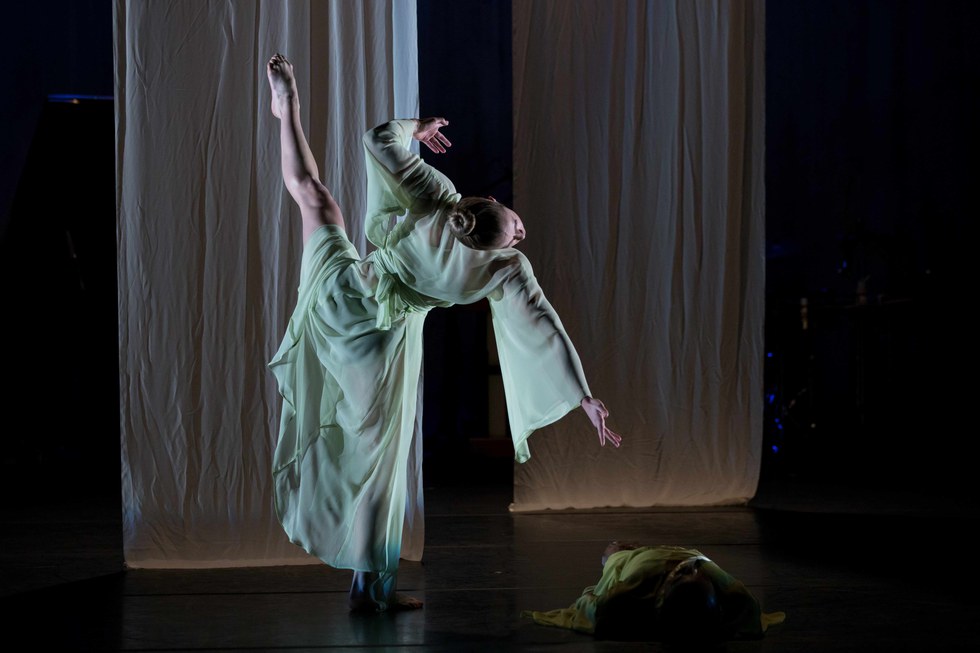 Jaclyn Wheatley in Donald Byrd's Roaming Ghosts, a piece from Rambunctious Iteration #3 "The Immigrant. Photo by Joseph Lambert, courtesy Spectrum
Favorite ointment: Bag Balm. "It's a super-thick ointment designed for cow udders. I have scary calluses that get really dry and cracked, so I lather up my feet and put on some fuzzy socks before I go to bed."
Massage tools: Golf ball and racquet ball. "I always keep a golf ball in my backpack for all the hard-to-reach places in the metatarsals, and my choice for a bigger ball is a racquet ball. They have just enough give."
Compression socks: Apolla Shocks. "Whenever I'm feeling super-sore, I'll take a shower and put on my creams—Bag Balm and sometimes antifungal cream if I have an open crack or blister—and slip my Apolla Shocks on. I always wear them on planes when we're on tour, to keep the blood flow going and make sure I don't get swollen."
Sarah Cordia, Nashville Ballet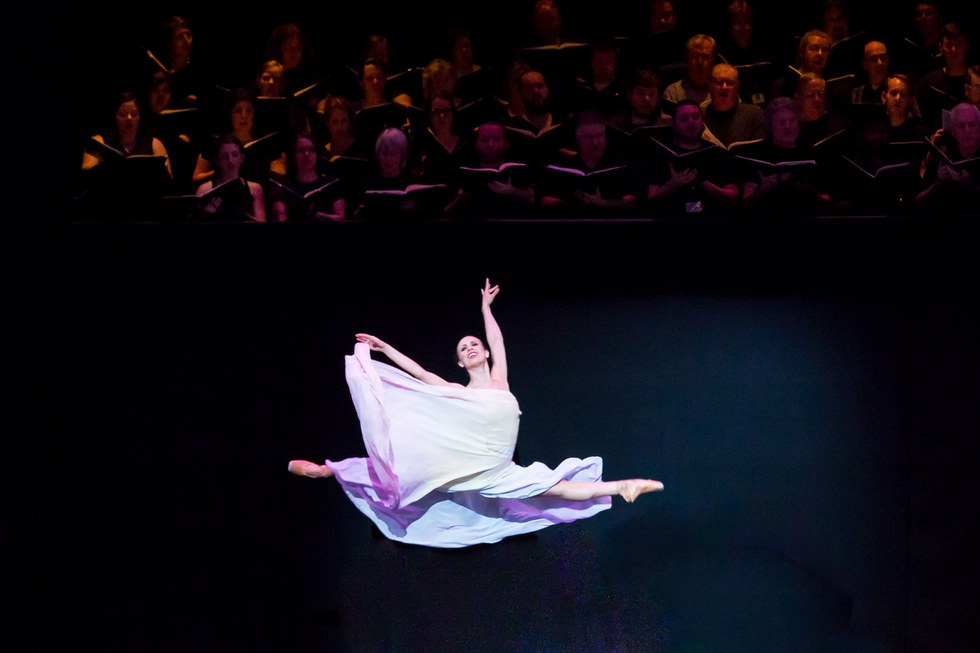 Sarah Cordia in Paul Vasterling's Carmina Burana. Photo by Karyn photography, courtesy Nashville Ballet.
Skin care oils: Peppermint oil, coconut oil and Betadine. "I mix a couple drops of peppermint oil with coconut oil (a natural antibacterial) every night and moisturize right before I go to bed. And every morning and night I soak my feet in an Epsom salt bath. Whenever I have a wound, I use Betadine. It's good at drying things out and disinfecting but also moisturizing."
Pointe shoe padding: Half-toe sock. "I get soft corns in between my toes is because I have sweaty feet. Wearing toe socks helps keep that area dry. I found a half-toe sock called 'five-toe heelless half-boat socks' that I now wear in my pointe shoes."
After-hours footwear: Orthaheel. "I wear these fancy flip-flops with built-in arch support in summertime, when I'm not in pointe shoes."
Maria Kochetkova blatantly breaks the not-eating-in-your-
Serenade
-costume rules with a personal pint backstage. Photo via
Instagram
One of the biggest myths about ballet dancers is that they don't eat. While we all know that, yes, there are those who do struggle with body image issues and eating disorders, most healthy dancers love food—and eat plenty of it to fuel their busy schedules.
Luckily for us, they're not afraid to show it:
Keep reading...
Show less
Popular
Apr. 24, 2018 03:00PM EST
Looking for your next audition shoe? Shot at and in collaboration with Broadway Dance Center, Só Dança has launched a new collection of shoes working with some pretty famous faces of the musical theater world! Offered in two different styles and either 2.5" or 3" heels, top industry professionals are loving how versatile and supportive these shoes are! Pro tip: The heel is centered under the body so you can feel confident and stable!
StockSnap
When I wrote about my struggle with depression, and eventual departure from dance because of it, I expected criticism. I was prepared to be challenged. But much to my relief, and horror, dancers from all over the world responded with support and stories of solidarity. The most critical response I saw was this one:
"Dance isn't for everyone."
This may as well be a mantra in the dance world. We have become entrenched in the Darwinian notion that the emotionally weak will be weeded out. There is no room for them anyway.
Keep reading...
Show less
Name calling, physical intimidation and cyberbullying are all-too-common experiences among male dancers. Photo by Goh Rhy Yan/Unsplash
Growing up in a family-owned dance studio in Missouri had its perks for tap dancer Anthony Russo. But it also earned him constant taunting, especially in high school.
"There was a junior in my sophomore year health class who was absolutely relentless," he says. "I'd get tripped on my way to the front of the classroom and he'd say, 'Watch out, twinkle toes.' If I raised my hand and answered a question incorrectly, I'd hear a patronizing 'Nice one, Bojangles.' "
Keep reading...
Show less
Acosta Danza in Jorge Crecis' Twelve. Photo by Johan Persson, Courtesy Sadler's Wells
What does a superstar like Carlos Acosta do after bidding farewell to his career in classical ballet? In Acosta's case, he returns to his native country, Cuba, to funnel his fame, connections and prodigious energies back into the dance scene that formed him. Because of its top-notch, state-supported training programs and popular embrace of the art of dance, Cuba is brimming with talented dancers. What it has been short on, until recently, are opportunities outside of the mainstream companies, as well as access to a more international repertoire. That is changing now, and, with the creation of Acosta Danza, launched in 2016, Acosta is determined to open the doors even wider to new ideas and audiences.
Keep reading...
Show less
University of Kentucky students travel to Arts Advocacy Day in DC each year. PC Dana Rogers Photography
There's so much more to the dance world than making and performing dances. Arts administrators do everything from raising money to managing companies to building new audiences. With the growing number of arts administration programs in colleges, dancers have an opportunity to position themselves for a multifaceted career on- or offstage—and to bring their unique perspective as artists to administrative work.
Keep reading...
Show less


Get Dance Magazine in your inbox