5 Reasons We're Obsessed With James Whiteside
James Whiteside is known for being something of a fashionista. Here, he wears pants and boots by Prada, belt by Jean Paul Gaultier and a vintage jacket styled by Brandon Veloria. Photo by Jayme Thornton for Dance Magazine.
James Whiteside isn't your typical American Ballet Theatre star. So when we asked writer Brian Schaefer to write a cover story on him for our August issue, we knew we were in for a treat. But the piece ended up making us fall in love with Whiteside even more.
Here are a few of our favorite excerpts from Schaefer's story:
---
He's a Master of Super Smash Bros
Right away in the first paragraph, Schaefer shares this fun insight:
At a bar in New York City's East Village, where a Wii system is set up, Whiteside easily beats me in a series of matches. (Even during interviews, he insists on having fun.) At work, he's gotten many of his fellow American Ballet Theatre dancers hooked on the game—which seems like an apt metaphor for the way he has brought a bit of playfulness to a company best known for its serious and refined stagings of classical ballets.
He Has Redefined The Modern Male Principal By Simply Being Himself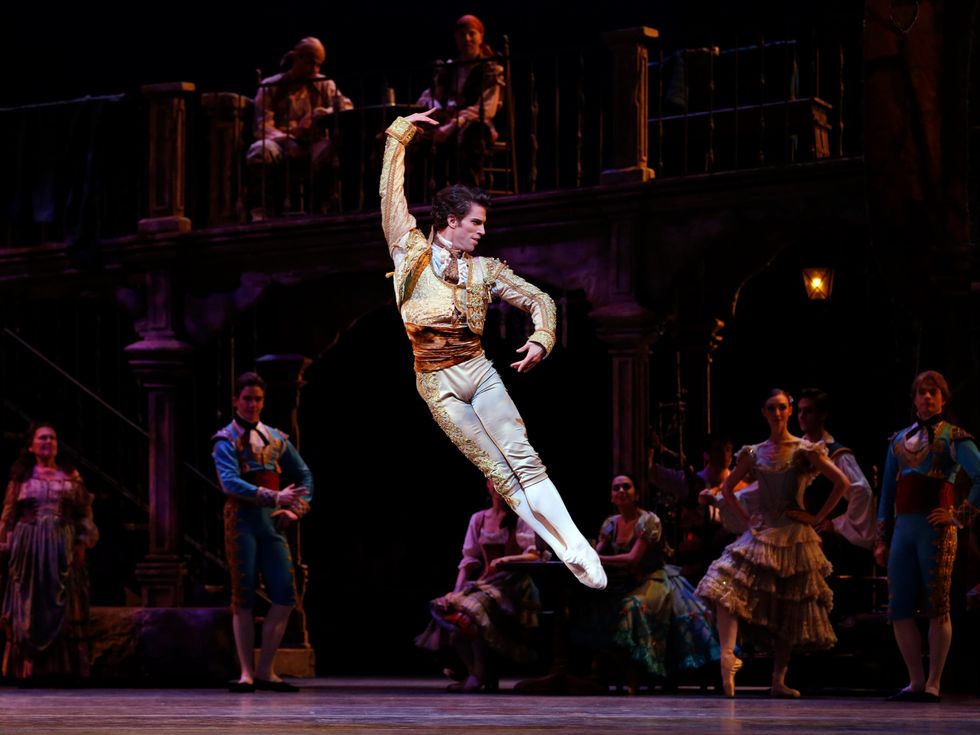 James Whiteside as Espada in Don Quixote. Photo by Marty Sohl.
Since joining ABT in 2012, Whiteside has gained a large flock of fans for both his princely roles and for his extracurricular pursuits in contemporary dance and fashion, as well as for his outrageous (and hilarious) personas as the pop star JbDubs and the drag queen Ühu Betch."I'm just doing whatever the hell I want to do on a daily basis, and it feels good," he says.
Later in the story, Schaefer writes:
Audiences have come to embrace him in all his quirks and color, though not necessarily right away. "It takes time to build a relationship," he says, "and I feel like I've finally built a relationship with the New York audience." For some, that required getting past an initial hesitation that he attributes to his not fitting the mold of more genteel colleagues like David Hallberg and Roberto Bolle. "I'm not like them," he says. "I never was, I never will be."
As Bold As He May Seem, Whiteside Still Gets Embarrassed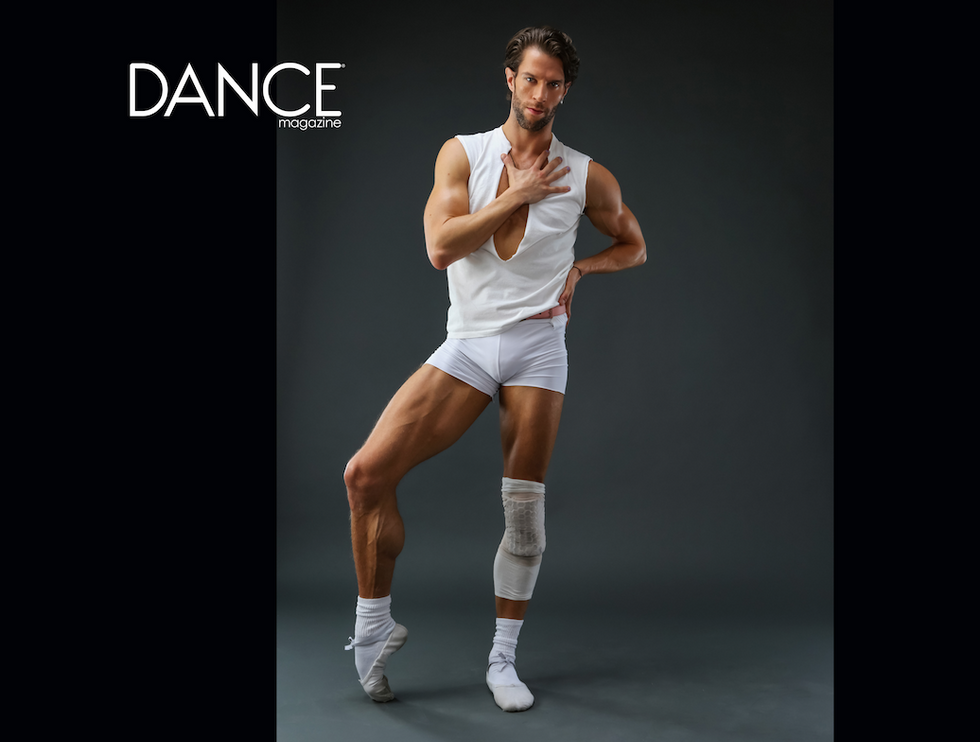 Photo by Jayme Thornton for Dance Magazine
Schaefer tells this adorable anecdote from a rehearsal he visited:
To his embarrassment, Irina Kolpakova, the ABT ballet mistress running the rehearsal, dramatizes Whiteside's development over the past six years, first taking a shy, stiff walk before opening up with grace and confidence. Whiteside blushes.
Whiteside's own retelling of his progress to an ABT principal goes something like this:
"I learned everything off the videos before I got to work. I pretended I wasn't injured when I was. I got in line because I wanted it so bad." As much as Whiteside gives the impression of always having a good time, his discipline is undeniable. "I'm very good at pushing through," he says. "I'm very persistent."
He May Be Insta-Famous, But He Questions Social Media
On Instagram, where Whiteside has over 165,000 followers...his high profile has also become a source of income, helping him build relationships with brands like Marc Jacobs, Capezio, Koio shoes, MAC and Glossier. (Whiteside is represented by the modeling agency Wilhelmina.) But to hear him talk about it, social media seems more a duty than a hobby. "I think we're all going to feel really silly in a decade," he says.
Today, Whiteside Is Experimenting With Dance Theater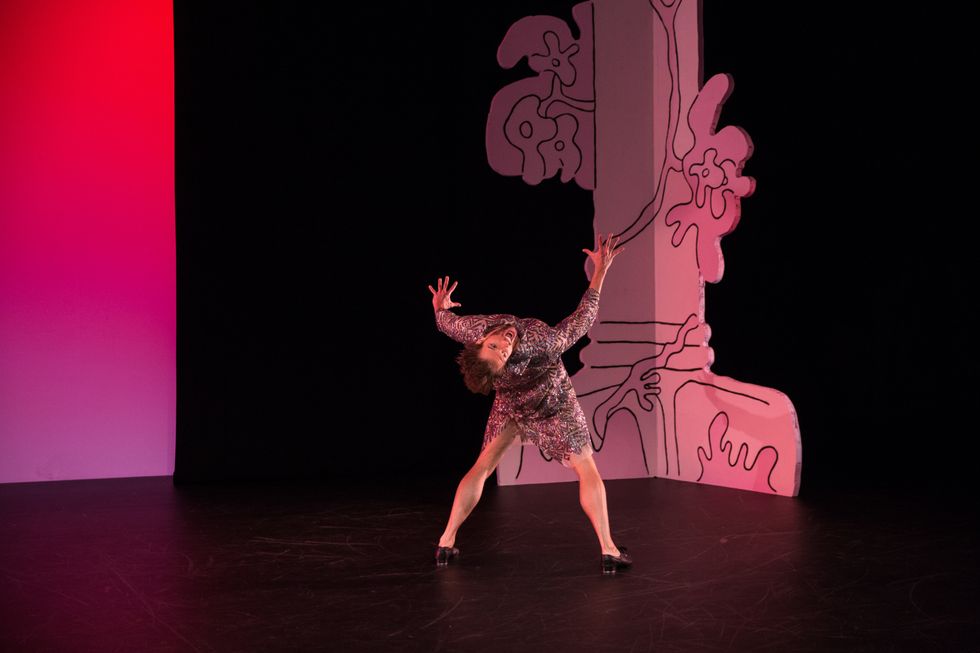 Whiteside channeled Judy Garland in Jack Ferver's Everything Is Imaginable. Photo by Scott Shaw, courtesy Ferver
This fall, Whiteside will partner with choreographer Arthur Pita in a new work based on The Tenant, a psychosexual thriller inspired by a 1964 novel and 1976 film. Early press materials describe the dance drama as "gender-fluid, rich in narrative, disturbing." Pita had been wanting to tell the story for years but needed a fearless and technically ferocious dancer to bring it to life. Whiteside was a perfect fit.

"James is so finely tuned-in with his body that he can explore so many ways to move," Pita says. Perhaps even more important is White­side's willingness to be seen in an unflattering light to serve the story. "He doesn't really care what people think," says Pita, who notes that some dance stars insist on feeding their fans a familiar, polished image. "James isn't attached to any of that. That's very liberating."
To read Dance Magazine's full cover story on James Whiteside, get your copy of our August issue.
From Your Site Articles
Related Articles Around the Web
Rachel Papo
In the middle of one of New York City Center's cavernous studios, Misty Copeland takes a measured step backwards. The suggestion of a swan arm ripples before she turns downstage, chest and shoulders unfurling as her legs stretch into an open lunge. She piqués onto pointe, arms echoing the sinuous curve of her back attitude, then walks out of it, pausing to warily look over her shoulder. As the droning of Ryuichi Sakamoto and Alva Noto's mysterious "Attack/Transition" grows more insistent, her feet start to fly with a rapidity that seems to almost startle her.
And then she stops mid-phrase. Copeland's hands fall to her hips as she apologizes. Choreographer Kyle Abraham slides to the sound system to pause the music, giving Copeland a moment to remind herself of a recent change to the sequence.
"It's different when the sound's on!" he reassures her. "And it's a lot of changes."
The day before was the first time Abraham had seen Copeland dance the solo in its entirety, and the first moment they were in the studio together in a month. This is their last rehearsal, save for tech, before the premiere of Ash exactly one week later, as part of the opening night of City Center's Fall for Dance festival.
Keep reading...
Show less
Ailey II artistic director Troy Powell teaching an Ailey Workshop at NYCDA. Courtesy NYCDA
Back in 2011 when Joe Lanteri first approached Katie Langan, chair of Marymount Manhattan College's dance department, about getting involved with New York City Dance Alliance, she was skeptical about the convention/competition world.
"But I was pleasantly surprised by the enormity of talent that was there," she says. "His goal was to start scholarship opportunities, and I said okay, I'm in."
Today, it's fair to say that Lanteri has far surpassed his goal of creating scholarship opportunities. But NYCDA has done so much more, bridging the gap between the convention world and the professional world by forging a wealth of partnerships with dance institutions from Marymount to The Ailey School to Complexions Contemporary Ballet and many more. There's a reason these companies and schools—some of whom otherwise may not see themselves as aligned with the convention/competition world—keep deepening their relationships with NYCDA.
Now, college scholarships are just one of many ways NYCDA has gone beyond the typical weekend-long convention experience and created life-changing opportunities for students. We rounded up some of the most notable ones:
Keep reading...
Show less
Getty Images
Dancers are understandably obsessed with food. In both an aesthetic and athletic profession, you know you're judged on your body shape, but you need proper fuel to perform your best. Meanwhile, you're inundated with questionable diet advice.
"My 'favorite' was the ABC diet," says registered dietitian nutritionist Kristin Koskinen, who trained in dance seriously but was convinced her body type wouldn't allow her to pursue it professionally. "On the first day you eat only foods starting with the letter A, on the second day only B, and so on."
Keep reading...
Show less
Left: Hurricane Harvey damage in Houston Ballet's Dance Lab; Courtesy Harlequin. Right: The Dance Lab pre-Harvey; Nic Lehoux, Courtesy Houston Ballet.
"The show must go on" may be a platitude we use to get through everything from costume malfunctions to stormy moods. But when it came to overcoming a literal hurricane, Houston Ballet was buoyed by this mantra to go from devastated to dancing in a matter of weeks—with the help of Harlequin Floors, Houston Ballet's longstanding partner who sprang into action to build new floors in record time.
Keep reading...
Show less