Never Not Fabulous: Peek Inside James Whiteside's Offstage Life
Photo by Andrew Werner
James Whiteside sometimes seems larger than life. He knows how to effortlessly command any room he's in, whether he's playing a noble prince onstage or appearing in fashion campaigns for designers like Marc Jacobs and Thom Browne. During a rare day off, Whiteside gave us a glimpse into a quieter side of his personality—which is perhaps most endearing of all.
---
His Style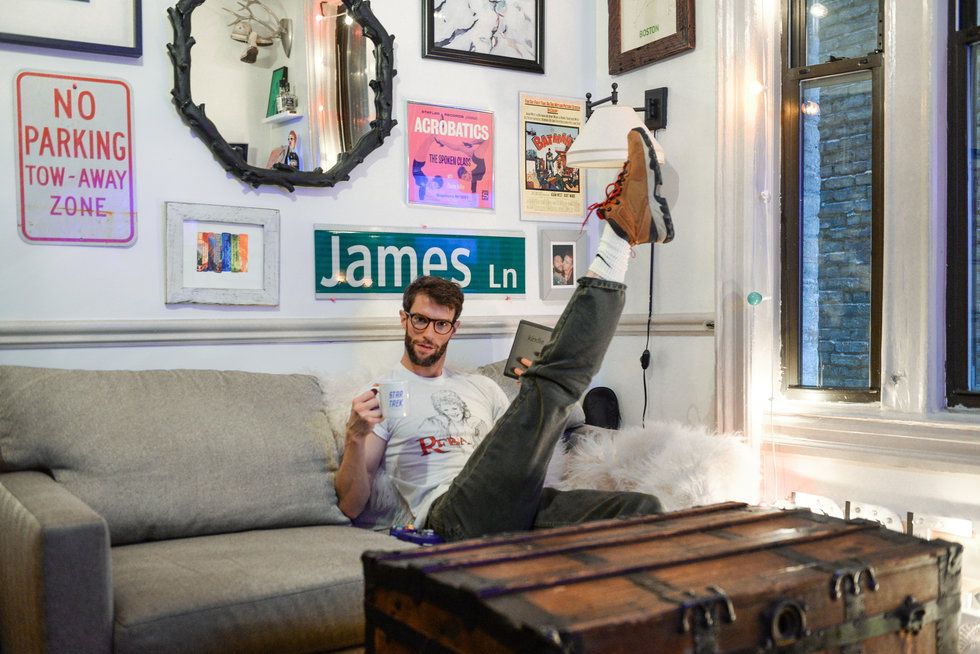 Whiteside in his Manhattan apartment
Andrew Werner
The piece of clothing he collects the most: "T-shirts. When they start to wear out as my real clothes, I transition them into dancewear, so it's fun to cycle through. I found this vintage Reba McEntire shirt from a 1988 tour at an amazing shop in the East Village."
Fashion philosophy: "I want to be comfortable. I like traditional, American clothing—T-shirts, jeans, leather jackets, cowboy boots, Chucks. I like to keep it simple with a James Dean sort of vibe."
Perks of stardom: "My shoes, I actually snagged off the set for the Valentine's Day Macy's shoot that I did with my boyfriend, Dan."
Frugal finds: "The couch is something a friend was getting rid of, the trunk was $1 at a flea market and everything on the walls, people have given me."
How He Fuels the Fierceness
Daily indulgence: "I eat dessert like every night. I'll get a pint of ice cream, or there's a 16 Handles around the corner from my apartment. My order is usually the peanut butter ice cream, and then I put in peanut butter cups, plus Reese's Pieces and Cap'n Crunch cereal."
Pre-show ritual: "Isabella Boylston and I always have lunch at Fiorello's. We get pasta with a side of pizza and really carbo-load."
Post-show ritual: "I go back to Fiorello's and have a Manhattan and maybe some chicken parmigiana."
Coffee order: "Just a small, black coffee."
What His Downtime Looks Like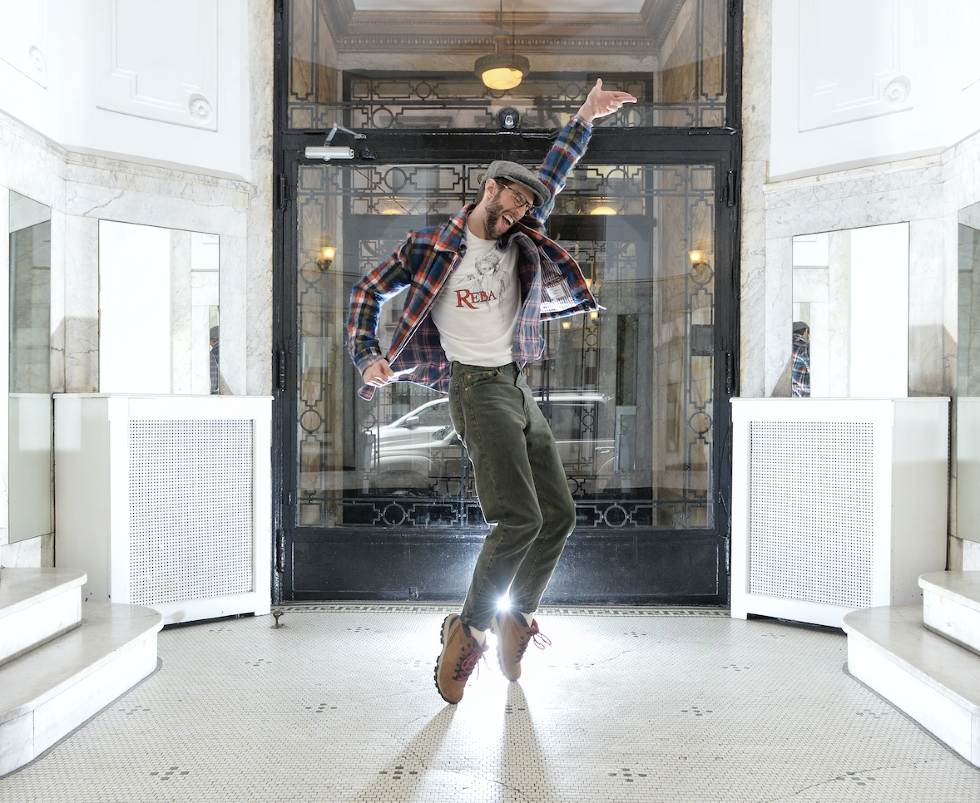 Andrew Werner
What he's reading: "Jane Eyre, because ABT is staging it this spring. I read every day. I recently loved The Dispossessed and Oathbringer."
Ideal day off: "My favorite thing to do is wake up slow, have coffee, go to my bagel shop, read, play video games. Maybe I'll meet up with some friends for lunch or see a movie. I usually work on my days off though, and I'll schedule a photo shoot or meetings. I can't do this forever, and I really want to solidify my place in the dance legacy. I want to get better all the time, and I like to make things and choreograph. I think in the future perhaps, you'll see more of that side of me."
Related Articles Around the Web
From Your Site Articles
News
Jul. 15, 2019 12:30PM EST
Courtesy Ritzel
Capezio, Bloch, So Dança, Gaynor Minden.
At the top of the line, dancers have plenty of quality footwear options to choose from, and in most metropolitan areas, stores to go try them on. But for many of North America's most economically disadvantaged dance students, there has often been just one option for purchasing footwear in person: Payless ShoeSource.
Keep reading...
Show less
Jayme Thornton
When Sonya Tayeh saw Moulin Rouge! for the first time, on opening night at a movie theater in Detroit, she remembers not only being inspired by the story, but noticing the way it was filmed.
"What struck me the most was the pace, and the erratic feeling it had," she says. The camera's quick shifts and angles reminded her of bodies in motion. "I was like, 'What is this movie? This is so insane and marvelous and excessive,' " she says. "And excessive is I think how I approach dance. I enjoy the challenge of swiftness, and the pushing of the body. I love piling on a lot of vocabulary and seeing what comes out."
Keep reading...
Show less
Robbie Fairchild in a still from In This Life, directed by Bat-Sheva Guez. Photo courtesy Michelle Tabnick PR
Back when Robbie Fairchild graced the cover of the May 2018 issue of Dance Magazine, he mentioned an idea for a short dance film he was toying around with. That idea has now come to fruition: In This Life, starring Fairchild and directed by dance filmmaker Bat-Sheva Guez, is being screened at this year's Dance on Camera Festival.
While the film itself covers heavy material—specifically, how we deal with grief and loss—the making of it was anything but: "It was really weird to have so much fun filming a piece about grief!" Fairchild laughs. We caught up with him, Guez and Christopher Wheeldon (one of In This Life's five choreographers) to find out what went into creating the 11-minute short film.
Keep reading...
Show less
Terry Notary in a movement capture suit during the filming of Rise of the Planet of the Apes. Photo by Sigtor Kildal, Courtesy Notary
When Hollywood needs to build a fantasy world populated with extraordinary creatures, they call Terry Notary.
The former gymnast and circus performer got his start in film in 2000 when Ron Howard asked him to teach the actors how to move like Whos for How the Grinch Stole Christmas. Notary has since served as a movement choreographer, stunt coordinator and performer via motion capture technology for everything from the Planet of the Apes series to The Hobbit trilogy, Avatar, Avengers: Endgame and this summer's The Lion King.
Since opening the Industry Dance Academy with his wife, Rhonda, and partners Maia and Richard Suckle, Notary also offers movement workshops for actors in Los Angeles.
Keep reading...
Show less