Never Not Fabulous: Peek Inside James Whiteside's Offstage Life
Photo by Andrew Werner
James Whiteside sometimes seems larger than life. He knows how to effortlessly command any room he's in, whether he's playing a noble prince onstage or appearing in fashion campaigns for designers like Marc Jacobs and Thom Browne. During a rare day off, Whiteside gave us a glimpse into a quieter side of his personality—which is perhaps most endearing of all.
---
His Style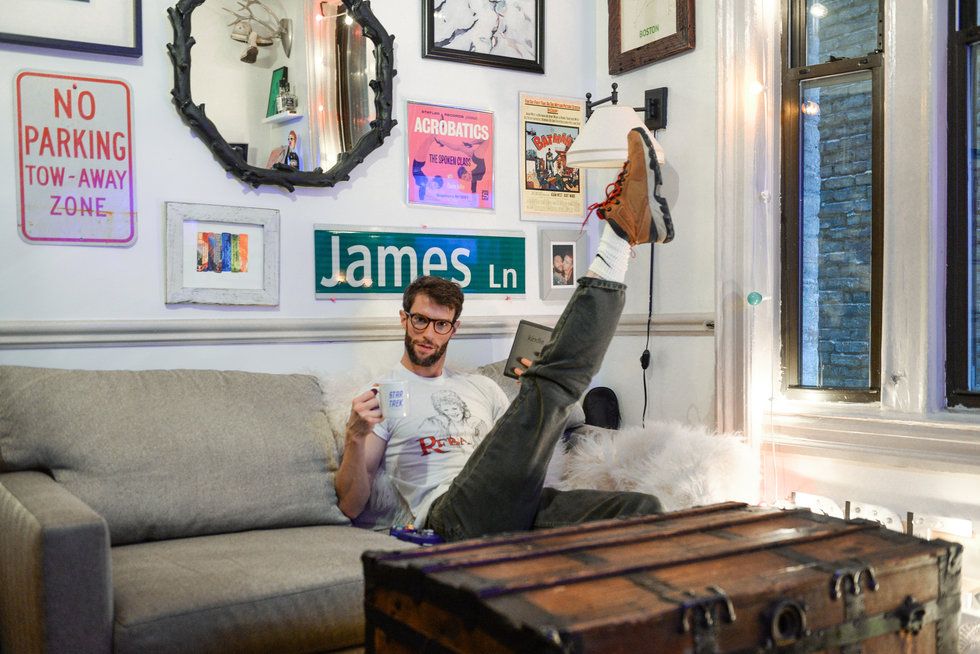 Whiteside in his Manhattan apartment
Andrew Werner
The piece of clothing he collects the most: "T-shirts. When they start to wear out as my real clothes, I transition them into dancewear, so it's fun to cycle through. I found this vintage Reba McEntire shirt from a 1988 tour at an amazing shop in the East Village."
Fashion philosophy: "I want to be comfortable. I like traditional, American clothing—T-shirts, jeans, leather jackets, cowboy boots, Chucks. I like to keep it simple with a James Dean sort of vibe."
Perks of stardom: "My shoes, I actually snagged off the set for the Valentine's Day Macy's shoot that I did with my boyfriend, Dan."
Frugal finds: "The couch is something a friend was getting rid of, the trunk was $1 at a flea market and everything on the walls, people have given me."
How He Fuels the Fierceness
Daily indulgence: "I eat dessert like every night. I'll get a pint of ice cream, or there's a 16 Handles around the corner from my apartment. My order is usually the peanut butter ice cream, and then I put in peanut butter cups, plus Reese's Pieces and Cap'n Crunch cereal."
Pre-show ritual: "Isabella Boylston and I always have lunch at Fiorello's. We get pasta with a side of pizza and really carbo-load."
Post-show ritual: "I go back to Fiorello's and have a Manhattan and maybe some chicken parmigiana."
Coffee order: "Just a small, black coffee."
What His Downtime Looks Like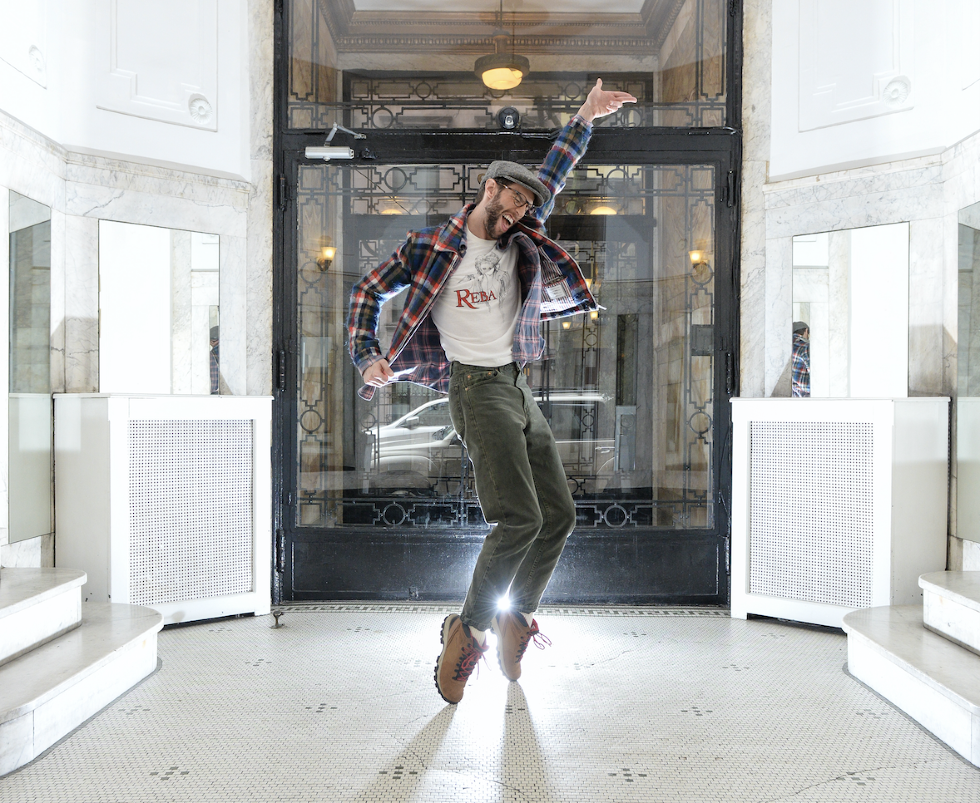 Andrew Werner
What he's reading: "Jane Eyre, because ABT is staging it this spring. I read every day. I recently loved The Dispossessed and Oathbringer."
Ideal day off: "My favorite thing to do is wake up slow, have coffee, go to my bagel shop, read, play video games. Maybe I'll meet up with some friends for lunch or see a movie. I usually work on my days off though, and I'll schedule a photo shoot or meetings. I can't do this forever, and I really want to solidify my place in the dance legacy. I want to get better all the time, and I like to make things and choreograph. I think in the future perhaps, you'll see more of that side of me."
From Your Site Articles
Related Articles Around the Web
Courtesy Boneau/Bryan-Brown
If "Fosse/Verdon" whet your appetite for the impeccable Gwen Verdon, then Merely Marvelous: The Dancing Genius of Gwen Verdon is the three-course meal you've been craving. The new documentary—available now on Amazon for rental or purchase—dives into the life of the Tony-winning performer and silver-screen star lauded for her charismatic dancing.

Though she's perhaps most well-known today as Bob Fosse's wife and muse, that's not even half of her story. For starters, she'd already won four Tonys before they wed, making her far more famous in the public eye than he was at that point in his career. That's just one of many surprising details we learned during last night's U.S. premiere of Merely Marvelous. Believe us: You're gonna love her even more once you get to know her. Here are eight lesser-known tidbits to get you started.
Keep reading...
Show less
Lindsay Thomas
Every dancer knows that how you fuel your body affects how you feel in the studio. Of course, while breakfast is no more magical than any other meal (despite the enduring myth that it's the most important one of the day), showing up to class hangry is a recipe for unproductive studio time.
So what do your favorite dancers eat in the morning to set themselves up for a busy rehearsal or performance day?
Keep reading...
Show less
News
Sep. 20, 2019 09:17AM EST
Simon Soong, Courtesy DDT
When it comes to dance in the U.S., companies in the South often find themselves overlooked—sometimes even by the presenters in their own backyard. That's where South Arts comes in. This year, the regional nonprofit launched Momentum, an initiative that will provide professional development, mentorship, touring grants and residencies to five Southern dance companies.
Keep reading...
Show less
News
Sep. 19, 2019 12:46PM EST
Alice Pennefather, Courtesy ROH
You ever just wish that Kenneth MacMillan's iconic production of Romeo and Juliet could have a beautiful love child with the 1968 film starring Olivia Hussey? (No, not Baz Luhrmann's version. We are purists here.)
Wish granted: Today, the trailer for a new film called Romeo and Juliet: Beyond Words was released, featuring MacMillan's choreography and with what looks like all the cinematic glamour we could ever dream of:
Keep reading...
Show less