Sara Mearns and Joshua Bergasse Gave Us the Scoop on What It's Actually Like to Work Together
Paula Lobo, Courtesy Matt Ross PR
It was only a matter of time before dance super couple Sara Mearns and Joshua Bergasse did a major project together.
After all, the newlyweds first met when Mearns, a New York City Ballet star, was being considered for a part on the TV show "Smash," which Bergasse was choreographing. They hit it off, but the role ended up getting cut.

Fast-forward to today, and they're working on their first full-length musical together: I Married an Angel, which opens next week as part of New York City Center's Encores! season, with Bergasse as director and choreographer and Mearns as the star.
---
"We've done a number here, a number there together before, but this is the first time we're doing something of this scope," says Bergasse.
"It's been really fun. He gets red in the face when we're fooling around in the studio and I joke around with him," says Mearns, adding, "It's really cute."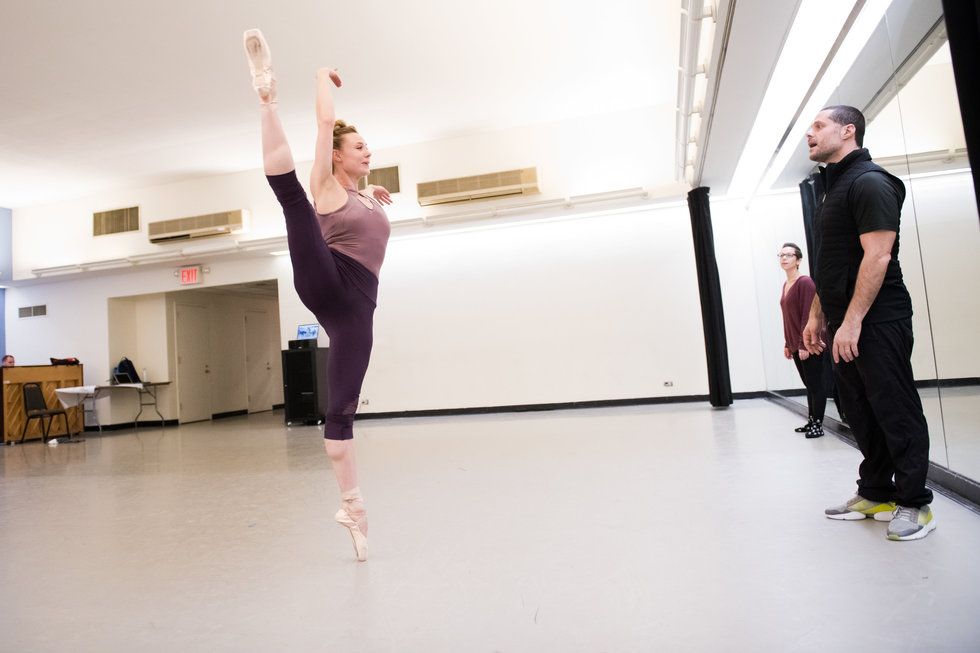 Paula Lobo, Courtesy Matt Ross PR
This particular show has special significance: I Married an Angel was originally choreographed by George Balanchine in 1938 (a decade before he founded New York City Ballet), and it starred his wife at the time, Vera Zorina. That sparked the idea for Encores! artistic director Jack Viertel to approach Mearns and Bergasse not long after they started dating, hoping they would re-create that historic dynamic together.
Bergasse says their personal relationship does make their creative collaboration more instinctive: "There's a certain understanding we have of each other's personalities. We can read each other in the room."
But being married comes with its own wrinkles. Bergasse and Mearns admit that the work inevitably follows them home, where they'll end up talking through ideas, and getting each other's opinions on things like costume design right when one of them comes out of the shower, for instance.
Fortunately, they have a simple answer for when they need to completely tune out their work. "We binge-watch 'Game of Thrones,' " says Bergasse. "Though, with the limited time we have, that means like maybe one episode a night."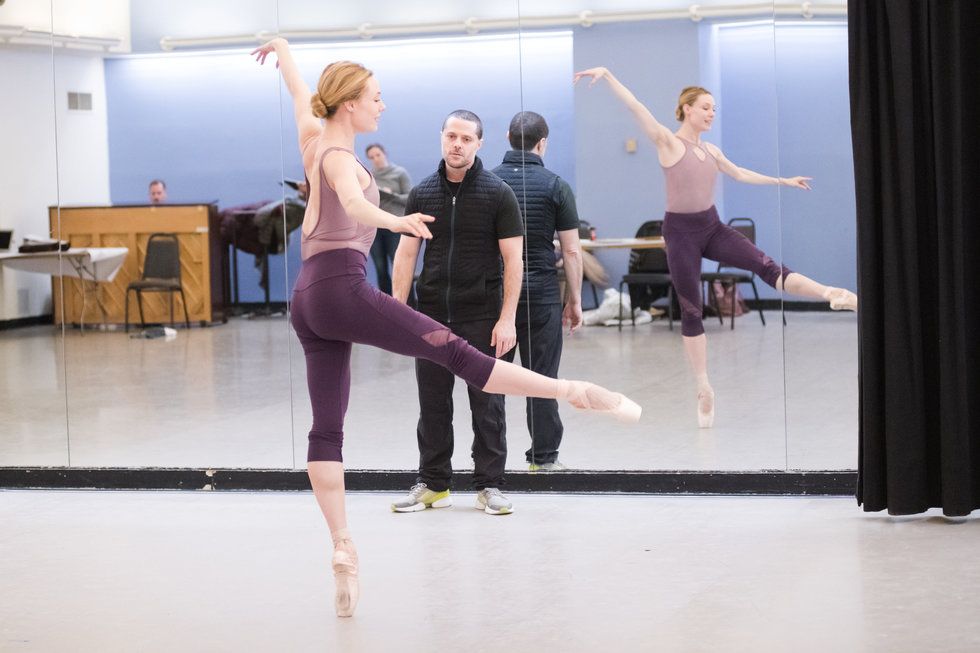 Paula Lobo, Courtesy Matt Ross PR
Although their wedding was only four months ago, the pair already has their married couple banter down. When asked what working with Bergasse has taught her, Mearns pauses, thinking.

"Not too much apparently," Bergasse jokes, before Mearns laughs and then talks about how he's helped her make storytelling more central to her dancing.
And when Bergasse is asked what he's learned from Mearns, she's the first to answer, saying, "Everything!" (Bergasse says he's learned from her intuition, how her body naturally moves.)
But no matter how silly or heated things get in the studio or at home, both say they appreciate the sense of security that has come with marriage. "No matter what is happening," says Mearns, "we're in this together. Officially."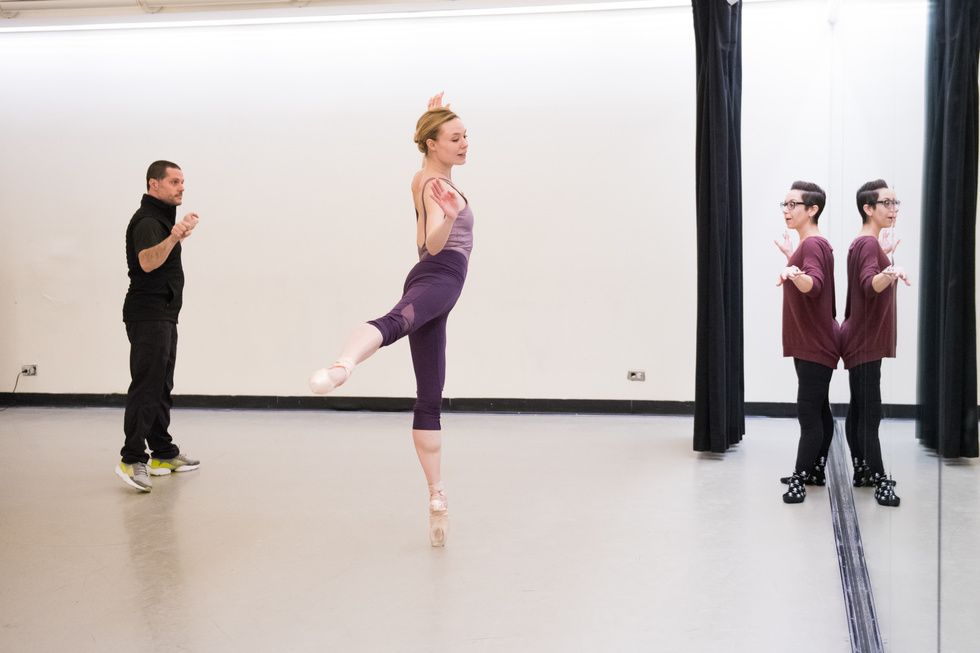 Paula Lobo, Courtesy Matt Ross PR
Related Articles Around the Web
From Your Site Articles
Just for Fun
Jul. 16, 2019 02:13PM EST
As Dance Magazine editors, we admittedly spend more time than we'd like sifting through stock photography. Some of it is good, more of it is bad and most of it is just plain awkward.
But when paired with the right caption, those shots magically transform from head-scratchers to meme-worthy images that illustrate our singular experience as dancers. You can thank the internet for this special salute to dancer moods.
Keep reading...
Show less
Wayne McGregor. Photo by Johan Persson, Courtesy ROH
It's no surprise that dancers make some of the best TED Talk presenters. Not only are they great performers, but they've got unique knowledge to share. And they can dance!
If you're in need of a midweek boost, look no further than these eight presentations from some incredibly inspiring dance artists.
Keep reading...
Show less
News
Jul. 16, 2019 03:58PM EST
Including this extraordinary Travis Wall number for "So You Think You Can Dance" (Adam Rose/FOX)
The Primetime Emmy Award nominations are out! Congrats to the seven choreographers who earned nods for their exceptional TV work this year. Notably, that work was made for just two shows, "So You Think You Can Dance" and "World of Dance."
And there was a particularly remarkable snub: While the dance-filled hit "Fosse/Verdon" earned 17 nominations across many of the major categories, Andy Blankenbuehler's fabulous Fosse remixes weren't recognized in the Outstanding Choreography field.
Here are all the dance routines up for Emmys:
Keep reading...
Show less

abezikus/Getty Images
"Dancers can do everything these days," I announced to whoever was in earshot at the Jacob's Pillow Archives during a recent summer. I had just been dazzled by footage of a ballet dancer performing hip hop, remarkably well. But my very next thought was, What if that isn't always a good thing? What if what one can't do is the very thing that lends character?
Keep reading...
Show less