Robert Altman
Dancer/choreographer Ephrat "Bounce" Asherie's background is a melting pot of cultures from all over the world—which you can vividly see reflected in her work. But the recent Harkness Promise Awardee attributes the cross-pollination of genres in her work to more than just her background.
Keep reading...
Show less
News
Jan. 31, 2019 12:00PM EST
Johan Persson, via Sadler's Wells
By now, these formulas aren't anything new: Choreographers are increasingly recruiting pop stars to create scores. And Broadway producers have long followed the time-honored (not to mention moneymaking) tradition of building shows from an artist's hit catalog (see: the currently running Cher Show and Beautiful: The Carole King Musical, and the Broadway-bound Jagged Little Pill and Don't Stop 'Til You Get Enough.)

But choreographer Kate Prince is putting a new twist on the dance-meets-pop-star story: pairing street dance with the iconic songs of Sting and The Police. The show, Message in a Bottle, is currently in development and slated to open at Sadler's Wells in February 2020.
Keep reading...
Show less
Just for Fun
May. 25, 2018 12:43PM EST
Popular
Apr. 24, 2018 03:00PM EST
Looking for your next audition shoe? Shot at and in collaboration with Broadway Dance Center, Só Dança has launched a new collection of shoes working with some pretty famous faces of the musical theater world! Offered in two different styles and either 2.5" or 3" heels, top industry professionals are loving how versatile and supportive these shoes are! Pro tip: The heel is centered under the body so you can feel confident and stable!
Osamu Inoue, courtesy Harris
It makes sense that Dance Magazine long ago dubbed Rennie (Lorenzo) Harris the "high priest of hip hop." When the often shy, Philadelphia-born choreographer founded his company Rennie Harris Puremovement in 1992, he planted a prodigious seed in the dance world. Then and now, Harris' mission has been to examine, preserve and share the culture of hip hop, decisively away from the commercially exploited view.
Harris remembers that when he started in the '90s, it was rough; a lot of his work was direct, so picketing and policing RHPM shows was the norm. But that time also harkened the birth of his well-thought-out launch of street dance onto the concert stage. There was the politically charged March of the Antmen, the pointed look at brotherhood and neighborhoods in P-Funk, and the tour de force Students of the Asphalt Jungle. His chilling solos, Lorenzo's Oil and Endangered Species, screamed chaos, contradiction and culture. In the 2000s, Rome & Jewels, his first evening-length work, garnered a Bessie Award. Facing Mekka followed, celebrating women of hip hop.
Keep reading...
Show less
Danielle Peazer, photo by David Salafia
When commercial dancer Danielle Peazer took on an ambassadorial role with Reebok in early 2016, she didn't realize the gig would also lead to a career shift. But while traveling with and teaching workshops for the brand, the idea for DDM (Danielle's Dance Method) Collective started to take shape.
Keep reading...
Show less
Rennie Harris' Lifted. Photo by Brian Mengini, courtesy Harris
Dance Magazine reached out to us with the questions: Over the years, how has increased acceptance and visibility on concert-dance stages affected hip hop and its artists? And how has hip hop influenced concert dance?
Our response? Whoa! Acceptance? Visibility? Immediately we knew that any conscientious attempt to unpack these questions would easily exceed the maximum word count. But we also acknowledged that questions like these affect what we do as dancemakers and artist-citizens.
So we interviewed our colleague Nicole Klaymoon and mentor Rennie Harris to contribute to a conversation. We are all multilingual dance artists with our own unique voices in hip hop and street-dance theater. We are from different backgrounds and generations whose work is presented as concert dance and builds on the groundwork of Rennie Harris Puremovement.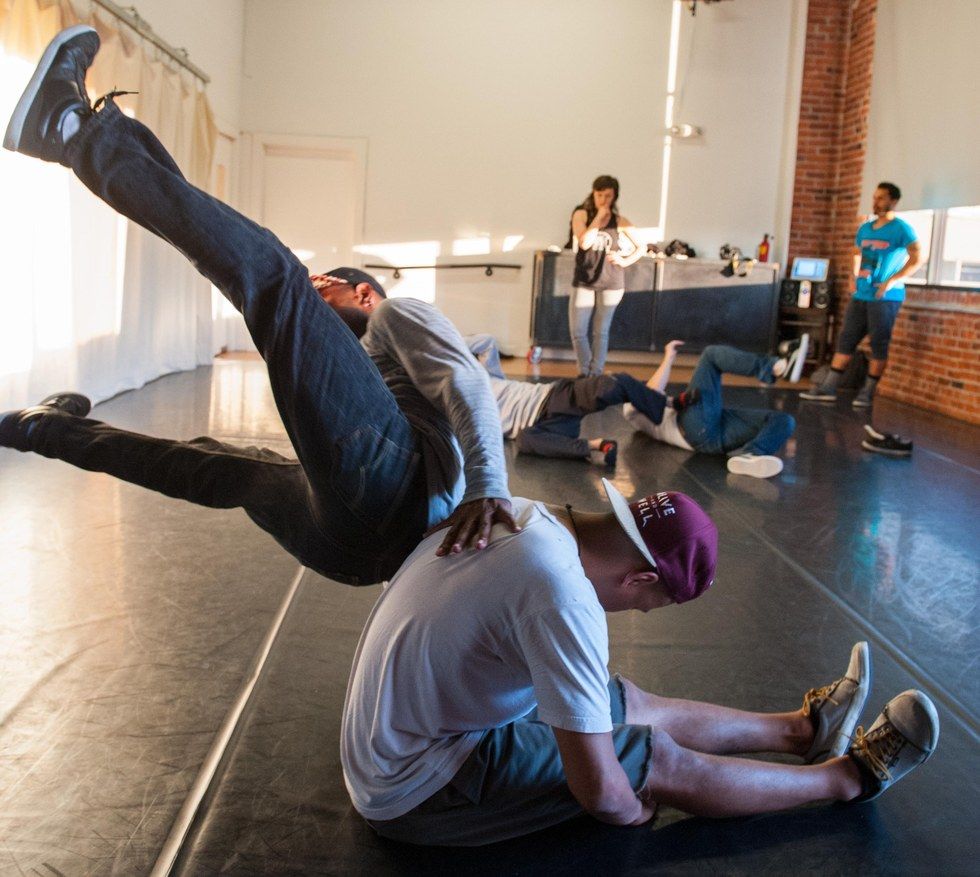 Amy O'Neal's Opposing Forces. Photo by Bruce Clayton Tom, courtesy O'Neal
Keep reading...
Show less
Get Dance Magazine in your inbox
Jul. 01, 2015 03:22PM EST
Hamilton may pave the way for hip hop in musicals
A rap breaks out. Photo by Joan Marcus, Courtesy Hamilton.
Given the Revolutionary War battles, pistol duels, political rivalries, sex scandals and explosive cabinet meetings taking place during Alexander Hamilton's short, busy whoosh through American history, his life hardly seems to have the makings of a typical Broadway musical. But if you've been paying attention, you know that Lin-Manuel Miranda is telling the story through rap and other genres and Andy Blankenbuehler is choreographing the battles, duels and romantic entanglements through hip hop and other moves. This unlikely show is Hamilton, the runaway off-Broadway hit of last season now likely to repeat history on Broadway—and maybe make it.
Phillipa Soo plays Hamilton's wife, Eliza Schuyler Hamilton. Photo by Joan Marcus, Courtesy Hamilton.
Broadway has not been particularly welcoming to hip hop, although Miranda and Blankenbuehler, along with Hamilton's director, Thomas Kail, cracked the door open in 2008 with their Tony-winning In the Heights. But there hasn't been a rush to follow them through that door. Despite its gold-plated Tupac Shakur score and vibrant performances, Holler If Ya Hear Me garnered tepid reviews and ran only a month last season. Bring It On, with music cowritten by Miranda and direction and choreography by Blankenbuehler, lasted for all of five in 2012. But given its critical kudos and sold-out performances at The Public Theater in the spring, Hamilton could be the show that establishes hip hop once and for all as a viable vocabulary for musical theater, in the way that Hair allowed Broadway to accept rock.
Miranda's Hamilton score is not confined to hip hop—he's included elements of R&B, jazz and standard Broadway show tunes. But Miranda, who also stars in the title role, tells much of Hamilton's story in rap, for two reasons. "One, the incredible unlikeliness of his arc, from penniless orphan in the Caribbean to architect of our financial system at the birth of our country," says Miranda. "That's a hip-hop story to me. This is a guy who consistently, against insane odds, wrote his way out of his circumstances. Hip hop was created out of the ashes of something else, and Alexander Hamilton created an incredible life out of the ashes of a very traumatic early one."
Daveed Diggs plays Thomas Jefferson. Photo by Joan Marcus, Courtesy Hamiton.
The other reason rap seemed a natural fit, Miranda says, is that "Alexander Hamilton produced over 27 volumes of written work. He's always bursting at the seams with language." Hip hop, he notes, offers "more words per capita" than other song forms. "Our country was created from indelible words, from 'life, liberty and the pursuit of happiness' all the way through Thomas Paine and all the way through our Constitution."
Like Miranda, Blankenbuehler admires Hamilton's restless need to "constantly reinvent himself," allowing the choreographer the flexibility to draw on a variety of dance forms. "There's a little bit of everything," he says. "There's a Fosse-esque number. There's a social-dance sequence where we do a contemporary take on formal social dances of the period." There's even a smattering of jitterbug and tap.
In conversation, Blankenbuehler and Miranda regularly applaud each other. The choreographer loves the nonstop music; the composer loves the nonstop movement. And they both love the idea that this show about America's rebellious youth is being told in the language of America's rebellious youth. But when Miranda praises a particular choreographic moment, Blankenbuehler credits Jerome Robbins for having invented it. "We really idolize the people who made great work before us," he says. "It's so important for us to always look back and forward at the same time." And Miranda echoes the idea in his own terms. "To me a verse by Rakim is every bit as compelling as a verse by Sondheim," he says. Together, Miranda and Blankenbuehler could turn out to be the Founding Fathers of a new kind of musical.
Keep reading...
Show less